12 Questions For Brooklyn's HQtie Scott Rogowsky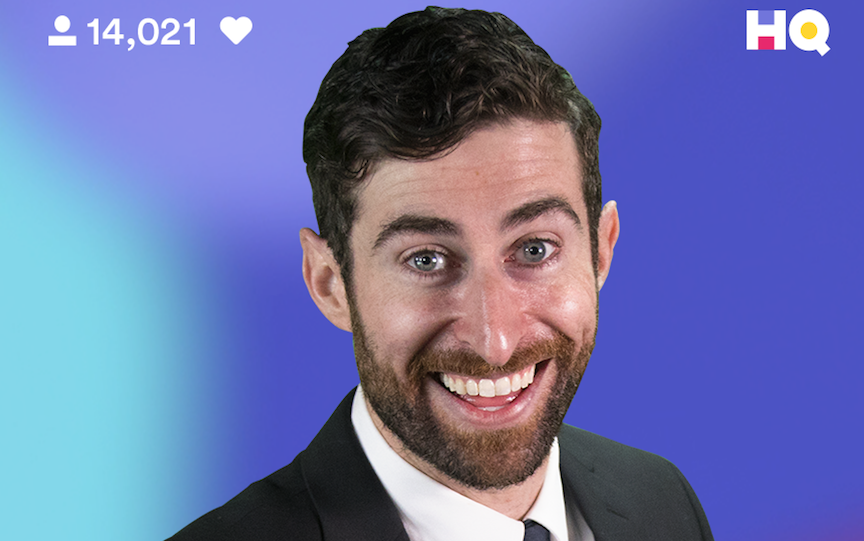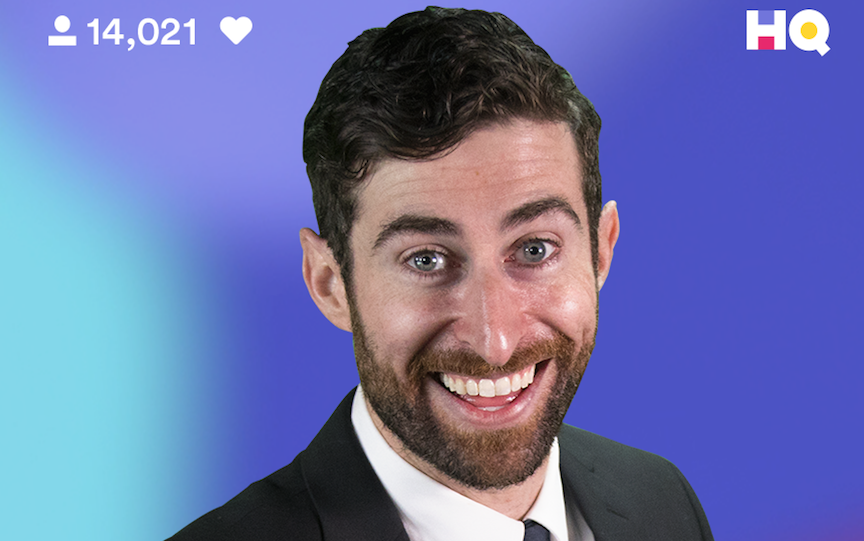 PARK SLOPE – Scott Rogowsky, the host of the popular HQ Trivia, has gained quite a bit of fame. This comedian literally shows up on phone screens in the hands of a million (more or less) people almost every day.
Before HQ, a live show trivia game where players answer questions to win money, he was known for reading books with fake covers on the subway while documenting the hilarious reactions of straphangers. Plus, he has his very own live comedy show, Running Late with Scott Rogowsky. But what many people don't know about him is that he's a Brooklynite at heart.
Yup, that's right. He's lived in Park Slope, Bushwick, Greenpoint, Boerum Hill, and Williamsburg. In fact, he points out, he lived in Williamsburg twice. When in Park Slope, he lived directly above Song, a Thai restaurant. He'd sit at home, order Thai food, and walk downstairs to pick it up in his pajamas, he tells us. He lived there with two roommates and loved going to flea and farmers markets. Playing baseball in Prospect Park was also one of his go-to things, as was "kibbitzing" with Brooklyn artist Jonathan Blum in his Fifth Avenue studio.
We asked him 12 questions (just like in the game). While he no longer lives in Brooklyn, in the words of the HQ host himself, "Brooklyn will always be my beloved."
1. Favorite Diner?
Jimmy's Diner in Williamsburg. Used to live near there; the breakfast bowls made me whole. But beware: they don't take credit card. I'm convinced they pay their rent with the fees from the on-site ATM.
2. Best hangout spot?
A park. Any park. McCarren, Prospect, Central, the traffic median on Park Avenue.
3. Go-to drink at a bar?
Virgin Pina Colada.
4. Subway or Citi Bike?
CitiBike!
5. Backyard or rooftop?
Backyard. Can't fall off.
6. Reading books with fake covers on the subway OR hosting HQ?
Reading books with fake covers on HQ.
7. How do you like your coffee? Favorite coffee place?
I don't often drink coffee, but when I do it has to be iced, mocha'd, and latte'd with a non-dairy milk alternative. Found a very cool underground (literally) spot near my apartment called Ad Hoc Collective (13 Christopher Street).
8. How do you like your pizza? Favorite pizza place?
My all-time favorite is outside city limits – the Sicilian slice at Sal's in Mamaroneck. Sorry, I'm a homer. But for a sit-down pie in the city, Emily Squared (and Emily closer to me in West Village) does wonders. I've never tasted pizza so perfectly crusted on the outside and so doughy soft on the inside. But as a two-time veteran of my pal Scott Weiner's Scott's Pizza Tours, I've been to all the top spots – Di Fara's, Ben's, Joe's, John's, Lombardi's, Keste, Motorino, Prince Street, Roberta's, Rubirosa, Speedy Romeo's, Paulie Gee's… they're ALL great in their own way. I tend to stick with margarita, Sicilian, grandma slice. No need to get fancy. It's pizza. It's already the best.
9. Is it easier to get dates now? Especially since you did that video on offline dating.
I joined this incredible new dating app. It's called HQ. You sign up, become the host, and the rest pretty much takes care of itself.
10. What do you miss most about Brooklyn since you moved out?
My roommate's fish! I loved staring at that tank, entranced by the little guys swimming mindlessly in circles, perfectly oblivious to their meaningless existence. I'm sure they stared back at me thinking the same thing.
But also, I miss being described as "Brooklyn-based comedian Scott Rogowsky." It's that cachet that makes it worth living off the G.
11. Do you think you've made it? How do you know?
None of us ever makes it. We're all scrambling to do more, to reach higher. The suckerfish in my roommate's tank – they made it. Sucking away on that sweet, sweet algae…
12. Where do you see yourself in 10 years?
Making the rounds at nostalgia conventions with Stormy Daniels and the Balloon Boy.
For more of everything Scott Rogowsky, you can find him on the HQ Trivia app weekdays at 3 pm and 9 pm, and weekends at 9 pm. For even more Scott Rogowsky, you can catch him at his live show at the Gramercy Theatre tonight at 8 pm with guests Desus & Mero, Soledad O'Brien, Marc Summers, and Nikki Glaser.