Here's Your Passover Miracle: Matzo Ice Cream Unites Ample Hills Creamery With The Matzo Project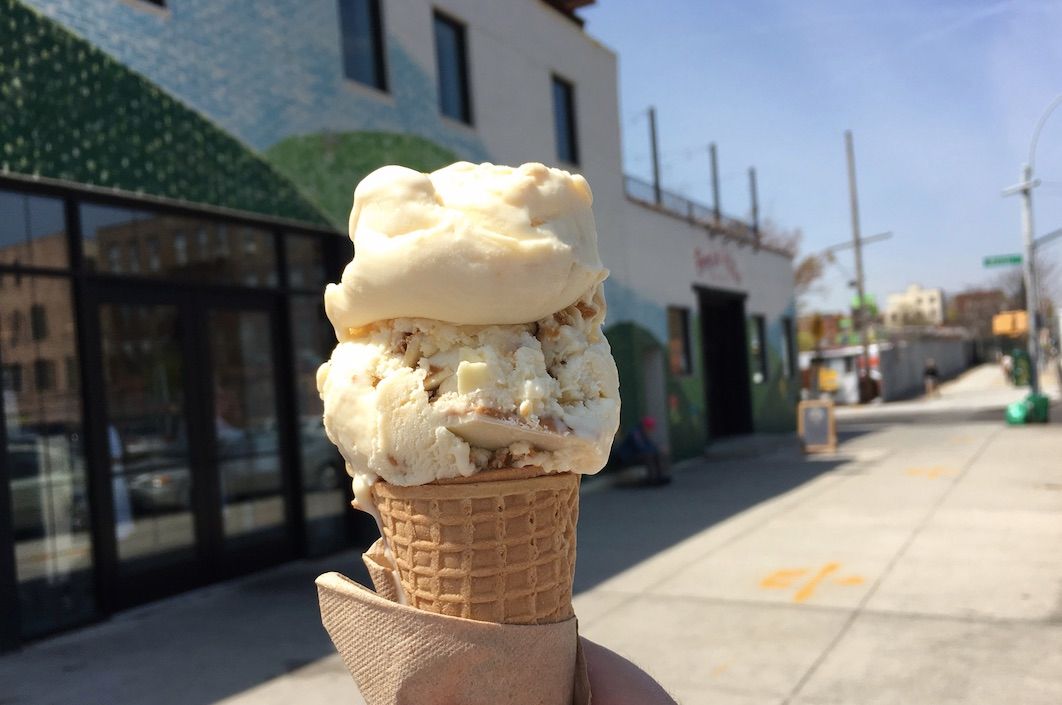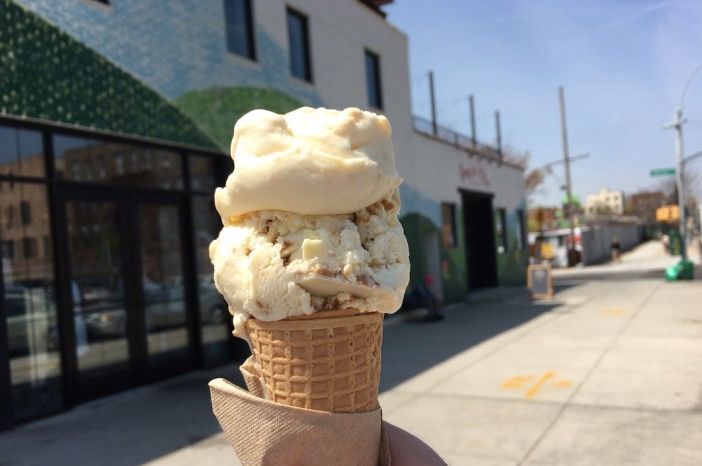 The Passover holiday is a fusion of bitter and sweet, as the story goes. And if you want to celebrate the holiday in the sweetest of ways, you best head over to Gowanus.
What's going on at the Ample Hills Creamery (305 Nevins Street at Union Street) is a far cry from the dry deserts of ancient Egypt. Actually, it doesn't matter if you're celebrating Passover or not, because all are welcome into The Land Of Milk & Honey.
The newly-formed Matzo Project has joined forces with Brooklyn's beloved Ample Hills Creamery to come up with an ice cream flavor so delicious that you risk falling on your tush when you take a bite out of your first cone.
Actually, that's what we did yesterday after having the opportunity to be the first samplers of "The Land Of Milk & Honey" which is filling up the freezers as we speak. Keep in mind — the flavor is available for a limited time only.
The local business collaboration began when co-founder of The Matzo Project/co-owner of Royal Palms Shuffleboard Ashley Albert brought up the idea to Ample Hills' co-owner Jackie Cuscuna.
"It was pretty simple," says Cuscuna. "Ashley said to me, 'What do you think of this?' and I said 'Yeah!'"
The flavor is a salt honey iced cream with pieces of cinnamon bun ButterCrunch matzo — and we're happy to report that, yes, it's as good as it sounds. The creamy/crunchy combo will ward off all ten plagues.
The ice cream brings together the best of both worlds — the ever-interesting flavors you'll find at Ample Hills with The Matzo Project's new mash-ups.
So is matzo having its moment?
"Eating matzo is nostalgic, it's a heritage food," Albert told us when we spoke with her a few weeks back.
"The possibilities with a cracker are endless," says Cuscuna.
The honey-laced crunchiness is a stunner — so much so that I wasn't even that embarrassed when matzo pieces escaped from my cone and started falling on the floor. Cuscuna beat me to it by wiping up my mess. (My bad, Jackie.)
I took the rest outside and admittedly dripped The Land of Milk & Honey all over the place.
And with that, Union Street has been blessed.
The Matzo Project/Ample Hills Matzo Ice Cream Rundown
Where: Available at Ample Hills Creamery stores for a limited time only. Have a cup, cone, or take some home in pints.
Available for Shipping: The Four Answers 4-Pack contains 4 pints of The Land of Milk & Honey and is available for purchase online.
For Those Observing Passover: Keep in mind that the matzo is super delicious and kosher, but not kosher for Passover.