Greenmarket Recipe: Zucchini and Summer Squash Sauté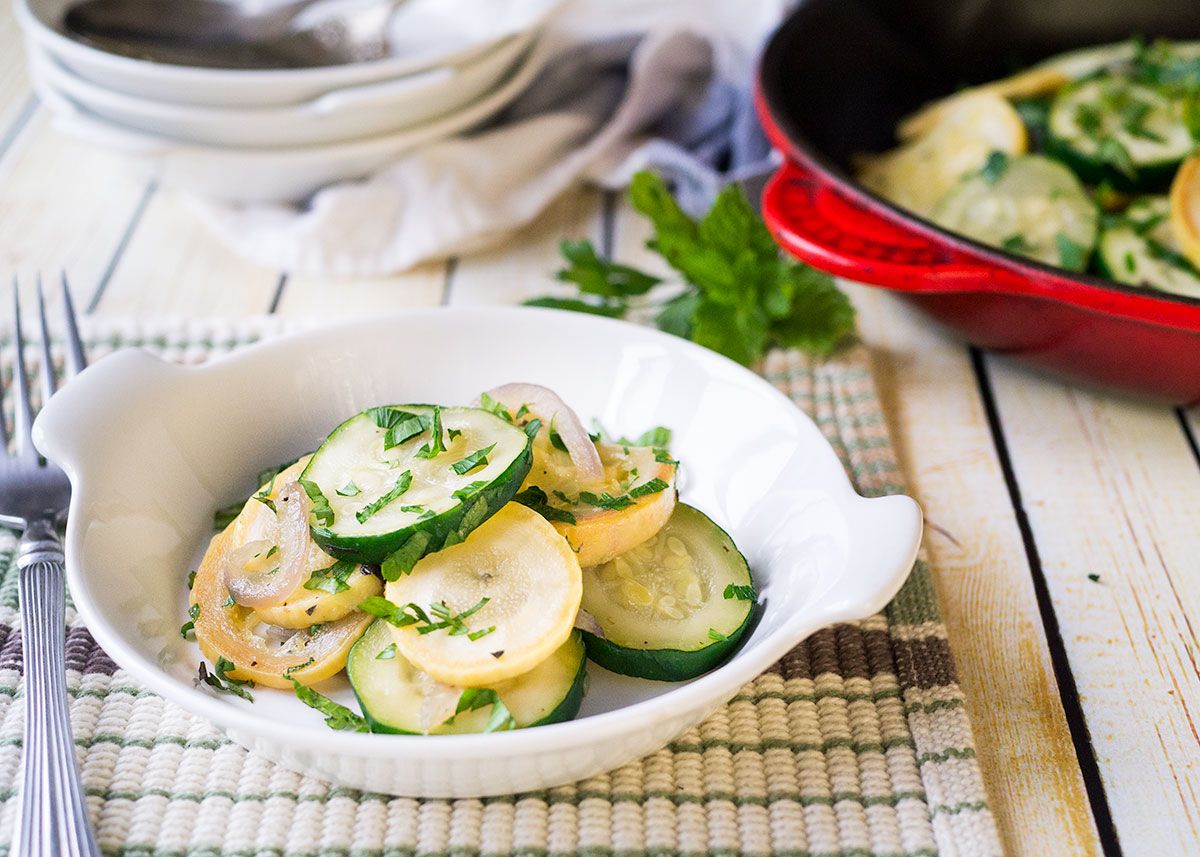 Get to your neighborhood green market and grab all the squash you can find to make this easy, flavorful sauté. Quick! Before pumpkins start taking over the stalls.
I have nothing against pumpkin. In fact, I'm excited to dive deep into fresh pumpkin this year and explore its savory side.
But not at the expense of summer squash's last hurrah.
I'm really not going to miss the heat one bit.
But the produce! I'm going to be very sorry to see it go. This was a really good summer for produce.
And zucchini and summer squash just don't seem to get the attention their round, autumnal cousin commands. Possibly because they can get a little mushy if you cook them too long. That's why this light sauté only calls for about 5 to 7 minutes cooking time.
You'll want to slice them thin and as soon as the flesh softens, toss in the fresh herbs, give it a few more stirs and remove your skillet from the heat.
Speaking of those fresh herbs, use whatever you've got. You can't go wrong. I used parsley and mint because its what I had on hand (and was in danger of going bad.) They really brighten this dish right up and make salt almost an afterthought.
So you can file this recipe under Easy, Vegetarian, AND Healthy. Do treat yourself to it soon.
Before we're all buried under root vegetables.
And pumpkin.
Zucchini and Summer Squash Sauté
This simple sauté celebrates the summer bounty of zucchini and summer squash, and can help to use up all those herbs you probably have on hand!
Ingredients
1 Tbsp olive oil
* 1 medium red spring onion, thinly sliced
* 1 lb small, firm zucchini, thinly sliced into rounds
* 1 lb small, firm summer squash, thinly sliced into rounds
* 1 bunch fresh herbs, finely chopped (parsley or basil are good here)
Salt and pepper to taste
* Ingredients available seasonally at your neighborhood Greenmarket
Instructions
Heat olive oil over medium high heat until shimmering. Add onion and cook, stirring frequently, until translucent. Add zucchini and summer squash and cook until squash becomes tender, about 5-7 minutes. In the last few minutes of cooking, add the chopped herbs and salt and pepper to taste and mix thoroughly.
Mid-Life Croissant food blog is also on Facebook, Twitter and Instagram.
Here are the nearest Greenmarkets:
Brooklyn Greenmarkets:

Fort Greene Park on Saturdays
Grand Army Plaza on Saturdays
Bartell Pritchard Square on Wednesdays
PS 154 on Sundays
Parkside on Sundays
Cortelyou Road between Argyle & Rugby on Sundays – open year round.
Borough Park on Thursdays – 14th Avenue between 49th and 50th St.
Sunset Park on Sundays – 4th Ave btwn 59th & 60th St, Brooklyn. Open Saturdays, July 9 – November 19
Bensonhurst on Sundays – 18th Ave between 81st and 82nd St