Politicians Demand Safety Improvements After Gravesend Woman Killed in Hit-and-Run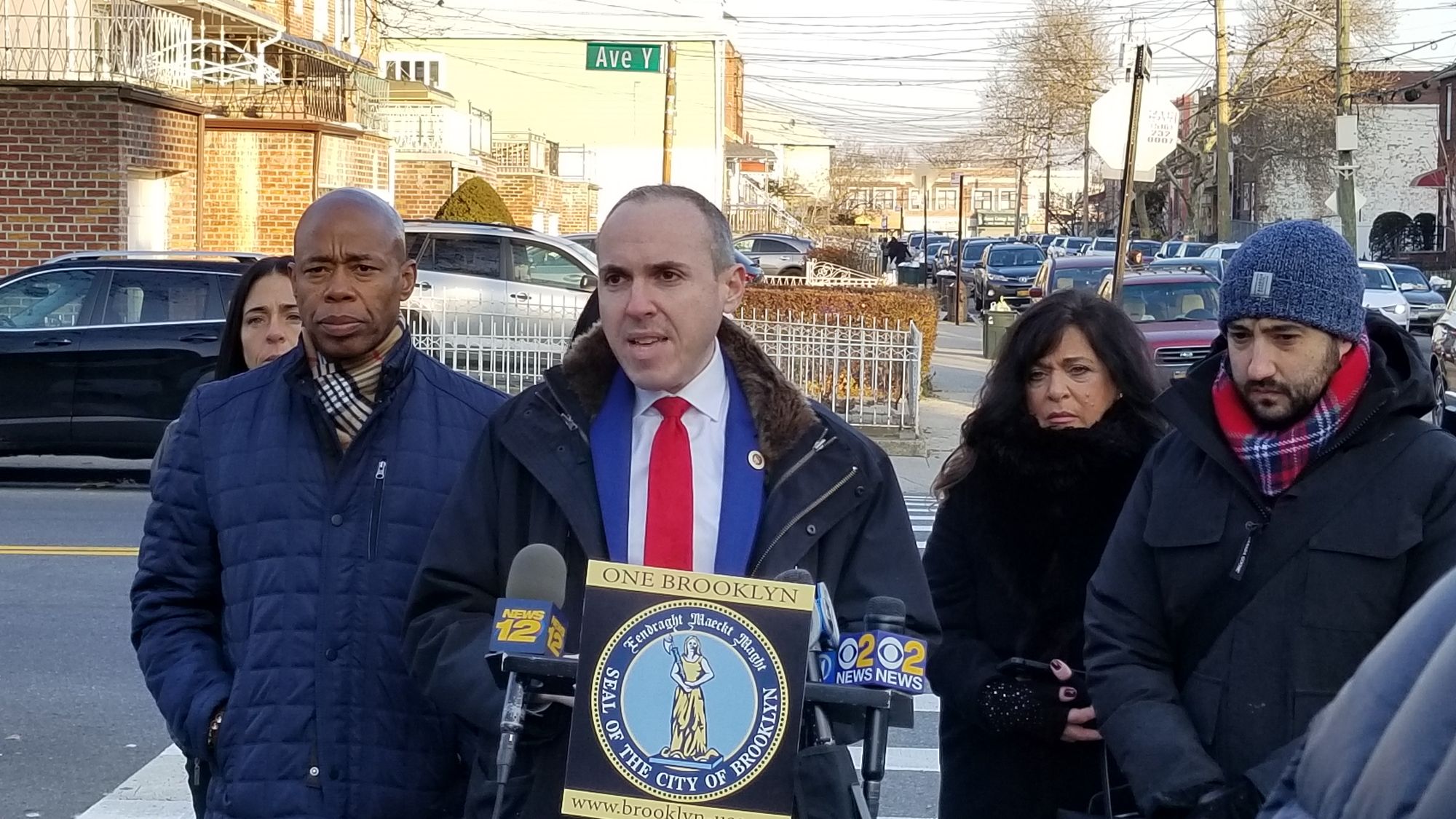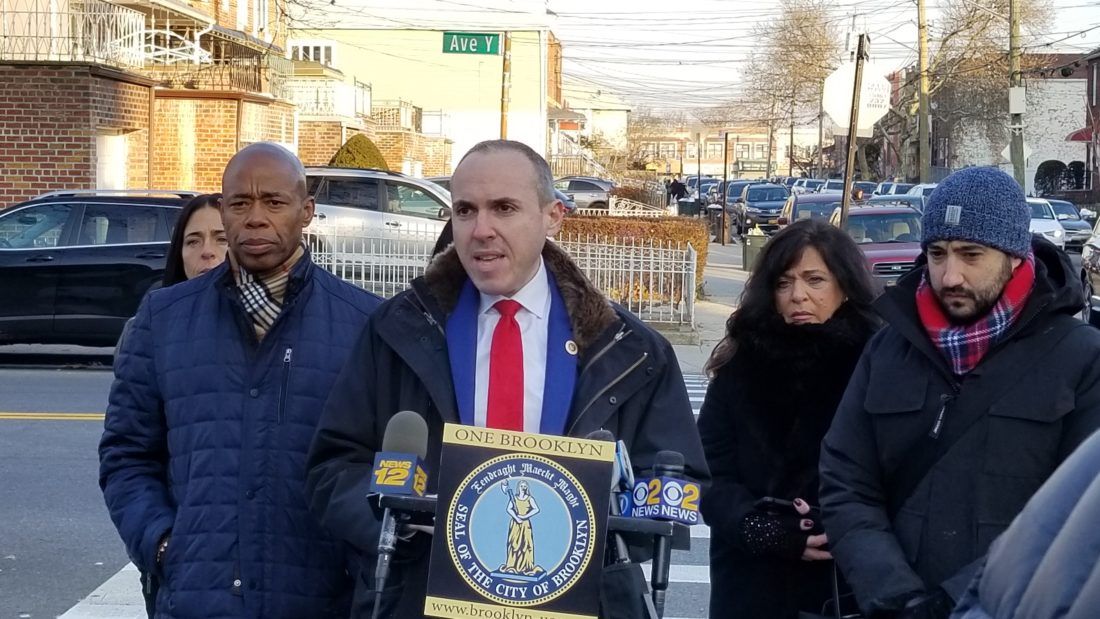 This morning, Borough President Eric Adams and Councilmember Mark Treyger arrived at the corner of West 2nd Street and Avenue Y to call on the city to improve street safety at the intersection where a local woman was killed yesterday in a hit-and-run collision.
Francine LaBarbara, 57, was walking home from the grocery store on Tuesday, December 11, around 8:00 am, returning from shopping just blocks from her home. As she crossed Avenue Y on West 2nd Street, headed to her home on East 4th, LaBarbara was struck and killed a Ford Econoline van headed southbound on West 2nd Street as the driver attempted to make a right onto Avenue Y, police said.
LaBarbara was thrown to the roadway, but the van's driver kept going.
Police responded to the scene, finding LaBarbara unconscious and unresponsive. EMS rushed the victim to Coney Island Hospital where she was pronounced deceased.
LaBarbara was the single mother of twin teenage boys, and the marketing director of The Bagel Store in Williamsburg, where she helped make the "rainbow bagel" an internet sensation. An emotional tribute was posted on Instagram following her death:
Details about the vehicle involved in the hit-and-run quickly circulated on social media and just before midnight, the NYPD announced they'd apprehended their suspect: Susan Leibowitz, 55, of Brighton Beach.
Leibowitz was arrested on charges of leaving the scene of an accident, failure to yield to a pedestrian, and failure to exercise due care, police said.
Since 2012, there have been eight accidents at the intersection of West 2nd and Avenue Y, with two motorist injuries, according to NYPD Motor Vehicle Collision data.
At the press conference this morning, local Councilmember Mark Treyger (D-47) not only called on the city to install additional safety measures at the intersection, but also chastised the State Senate for their failure to expand the contentious speed camera program to all schools.
In September, Mayor de Blasio and the City Council enacted a workaround to keep speed cameras running and double the size of the program, adding 150 cameras, but not all schools are covered in the expansion.
"How many serious incidents resulting in catastrophic injury or death to members of our communities do we need to witness before measures are put in place to prevent tragedies like this from taking place?" Treyger asked.
The councilmember has been a vocal proponent of installing speed cameras at every school and cited a nearby pre-kindergarten site as a location that, having a speed camera, might have prevented the driving that likely led to LaBarbara's death.
"In addition to speed cameras, we are calling for a traffic light at this intersection, and we need speed bumps on West 2nd Street, between Avenues X and Y, as well as Avenues Y and Z. I am also going to speak with the Department of Transportation about placing a traffic light at the nearby Avenue Z and West Street intersection," he said.
Following the conference, the DOT confirmed to Treyger's office that they would expedite a study of speedbumps on West 2nd Street, a spokesman said.
And yet even before Adams and Treyger reached the scene of one Brooklynite's death, another pedestrian was killed by a vehicle just before 7:00 am this morning.
Police confirmed that a tractor-trailer struck a 71-year-old pedestrian while making a right turn onto McDonald Avenue from Cortelyou Road in Kensington this morning, killing the elderly man.
The driver, Gilbert Demello, 54, remained at the scene and was taken into custody by police. Demello, from Youngstown, Ohio, was arrested by the NYPD and charged with failure to yeild to a pedestrian and failure to exercise due care, police said.
This week alone, three pedestrians have been killed by drivers on Brooklyn streets, plus another on the first of the month.
Pedro Jiminez, 63, was killed on Monday, December 10, when he was hit by the driver of a Ford Explorer outside 9 Douglass Street, near Court Street in Carroll Gardens.
Jiminez was setting up cones along the parking lane of Douglass Street around 4:20 am in preparation for an exterior shoot for the Starz program "Power," which is set in New York.
Jiminez, a resident of Manhattan, was pronounced dead on arrival at Brooklyn Hospital, while the driver remained on scene. Production shut down for the day in the wake of Jiminez's death, but no arrests were made, police said.
And at the beginning of the month, yet another pedestrian was killed in a hit-and-run, this time in Sheepshead Bay.
On Saturday, December 1, Iosef Morgenshteyn, 65, was kneeling to change the tire of his car while parked on East 28th Street, near Shore Parkway, when he was struck by the driver of a white Toyota Siena around 6:30 pm, police said.
Responding EMS provided emergency care and transported the victim to NYC Health + Hospitals Coney Island, where Morgenshteyn, a Staten Island resident, was pronounced deceased.
The van in question was found by police a short time after the accident, after it was abandoned at Emmons Avenue and Bragg Street, police said.
A few days later, the NYPD arrested Anton Panamarenko, a resident of Dunne Court, and charged him with second-degree manslaughter, criminally negligent homicide, leaving the scene of an accident involving a serious injury and reckless driving.
Update 12/13/18: This story has been updated to reflect additional details from the police investigation into the death in Kensington