Gone Fishing, On The Gowanus Bay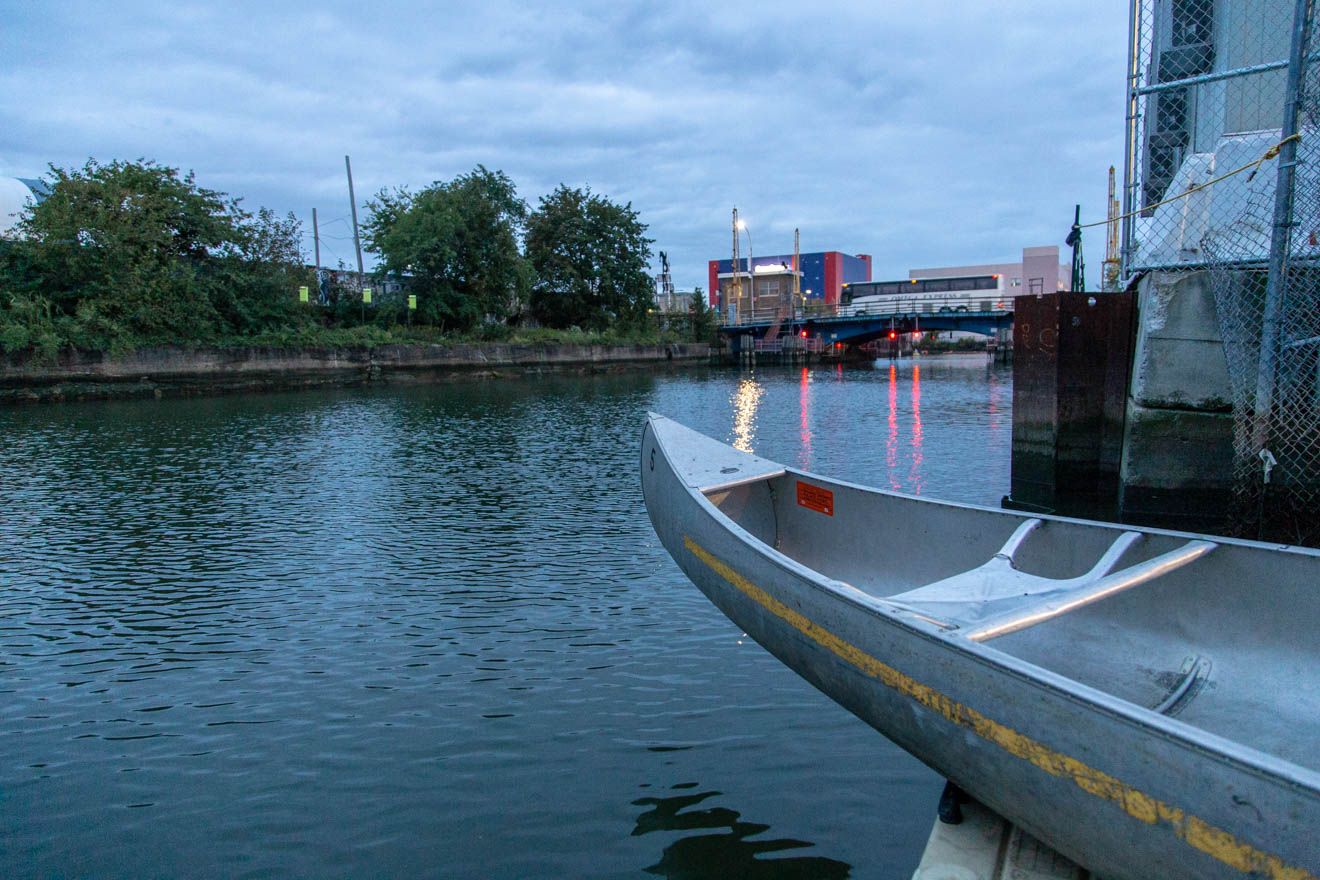 GOWANUS – When two Brooklyn-based clubs known for venturing into the local waterways —Brooklyn Fishing Club and Gowanus Dredgers Canoe Club—announced a joint fishing expedition on Saturday morning, I set an early alarm to meet the group and get a glimpse of New York Harbor from inside of a canoe.
Standup paddleboard aficionado Gary Francis, a member of both clubs, led the trip. Originally from England, where childhood holidays at the seaside meant brief dips into freezing water "whether we needed it or not," Francis made up for lost time on the water as an adult, learning to surf and paddleboard while living in Australia and later the Caribbean.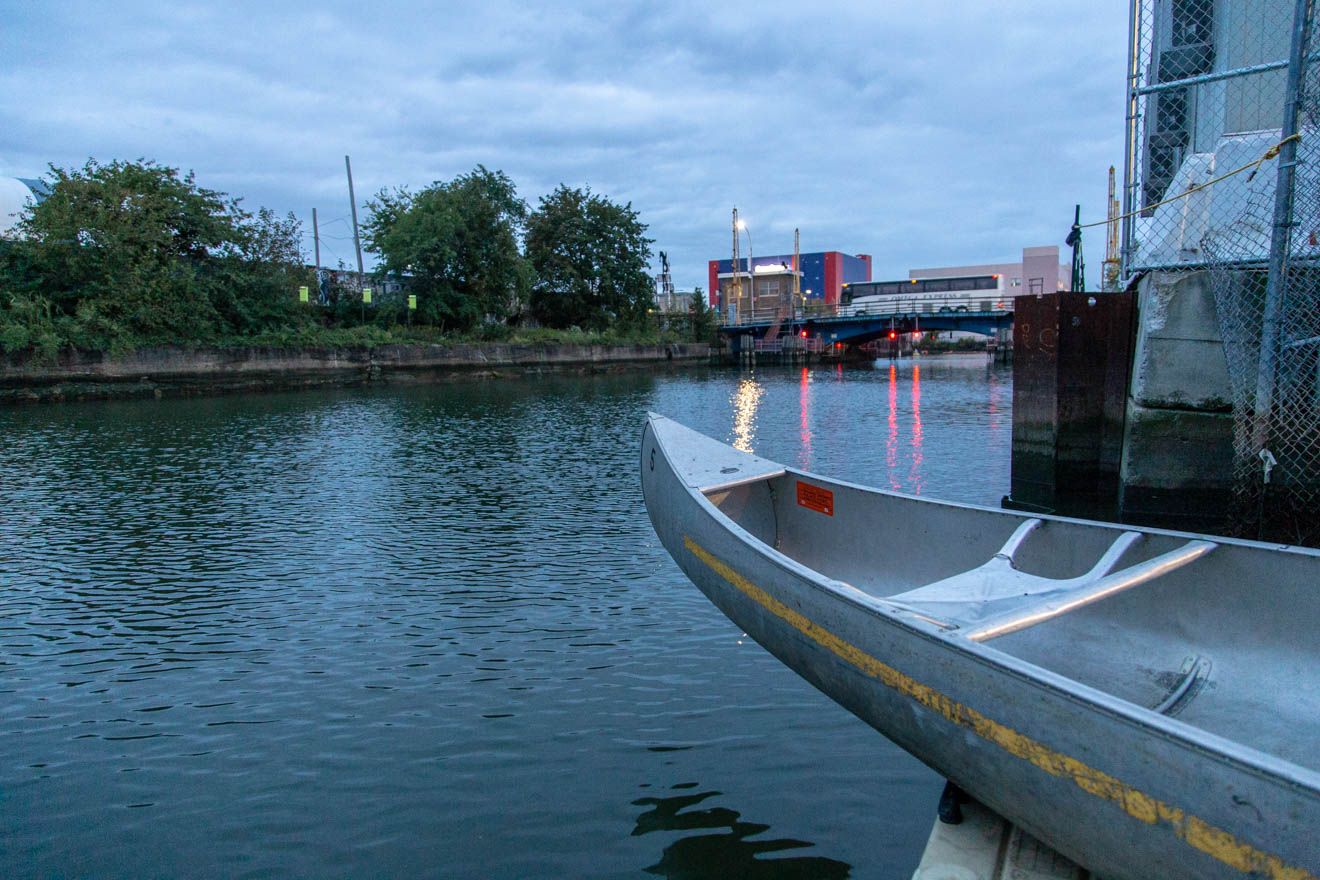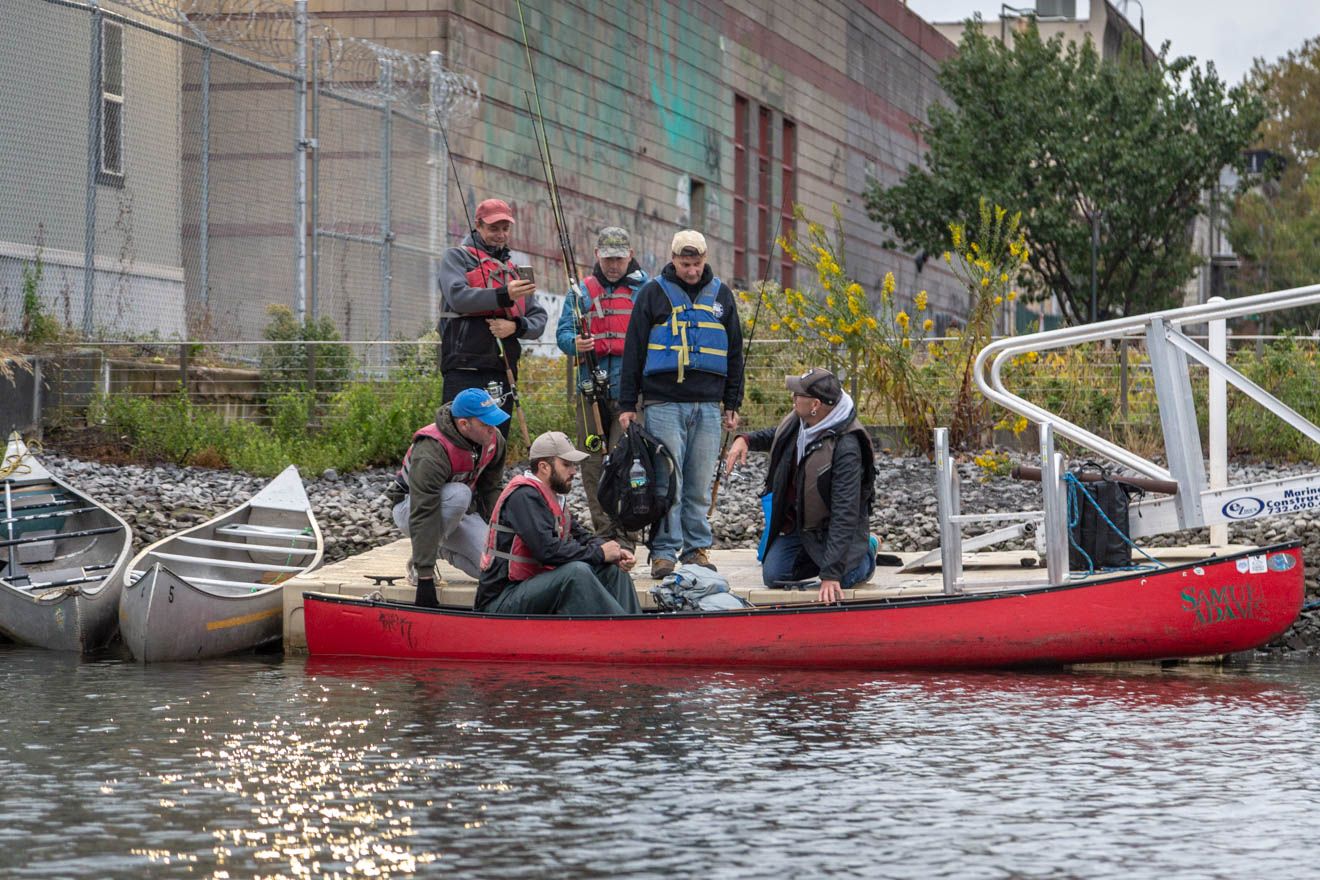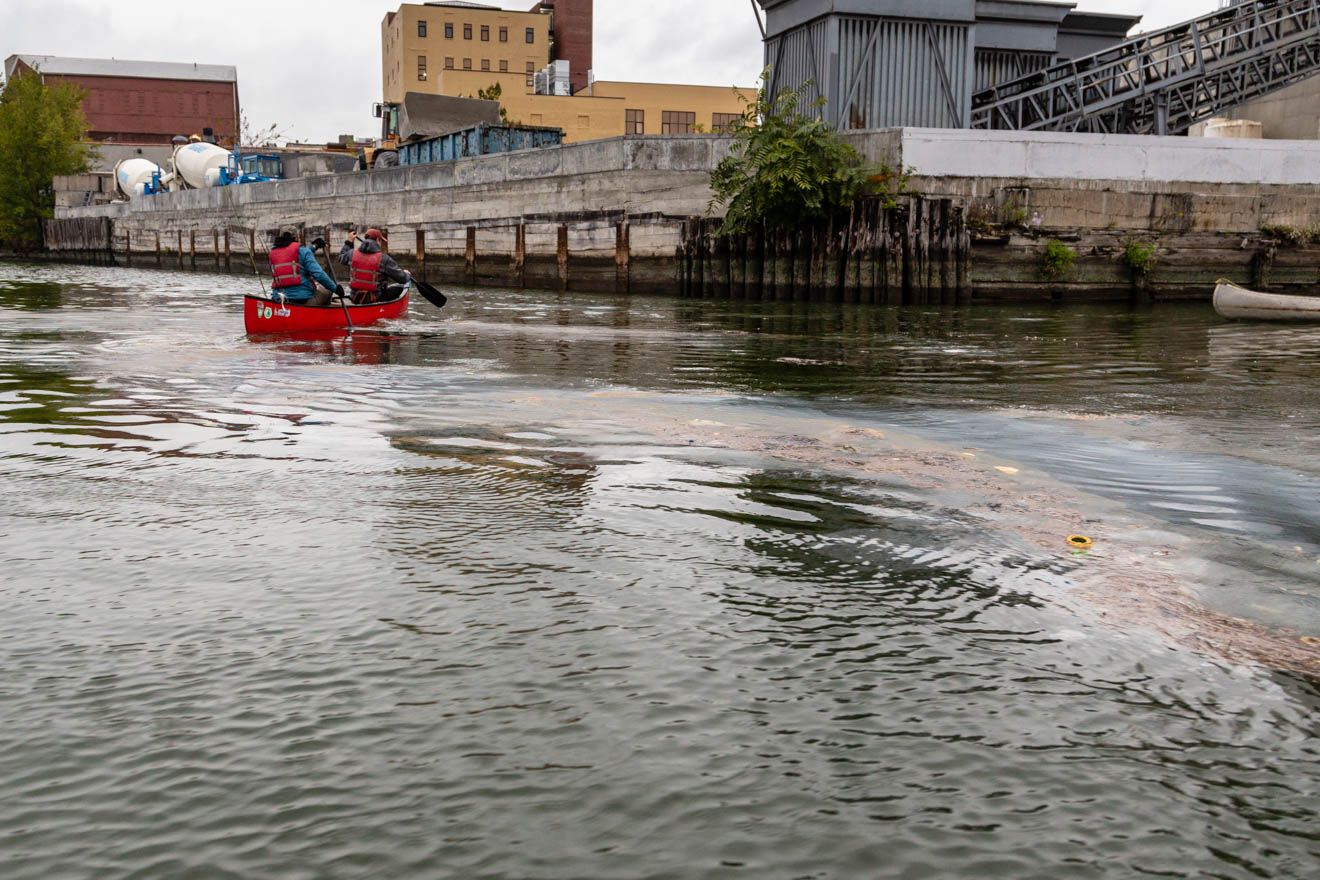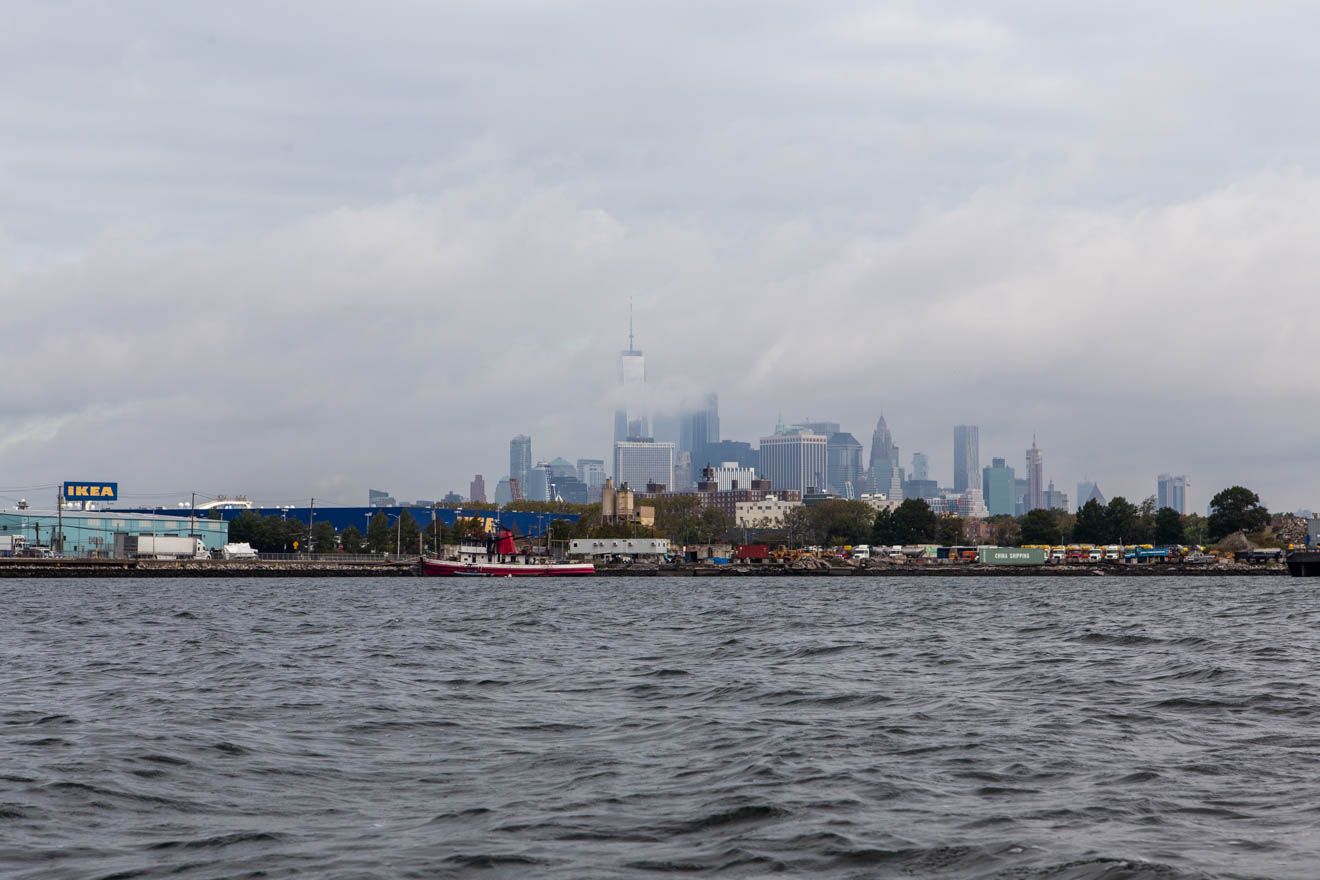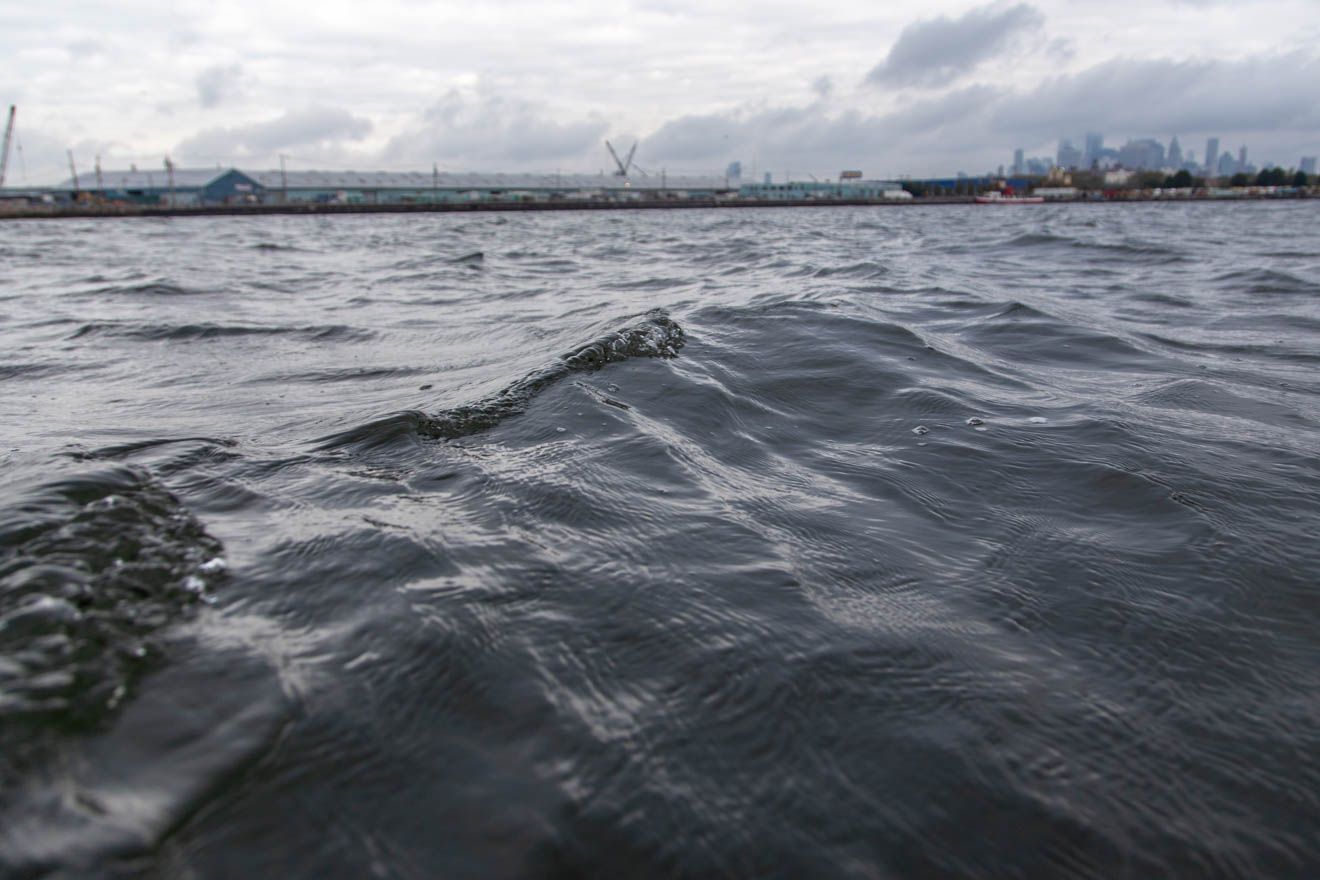 When Francis moved to New York ten years ago, he took his board directly to the East River and found the unpredictable currents very unconducive to paddleboarding. A search for calmer waters led him to the Gowanus Canal and eventually a membership with the Gowanus Dredgers. (He still takes his board to the East River, in part for the paddleboard races, but also to fish directly from his board in the style of his friend Pierre Champion.)
Francis loves to fly fish and while paddling on the river a few years ago he met Victor Lucia, who convinced him to join Lucia's newly formed Brooklyn Fishing Club (BFC). While a student at Brooklyn College doing research on fishing folklore—a common superstition: "never bring a banana on the boat"—Lucia found the New York fishing scene fragmented and secretive with no way for the community to embrace an activity that he believes unites nearly every human culture. Victor later formed the BFC in 2014, steadily attracting anglers from the boroughs such as Kimberly Lee who heads the Manhattan branch of the club.
In interviews and in promotional materials Lucia lays out some "rules" for club members—"if you keep a fish, you better consume it," to name one—all of which demonstrate a deep respect for the environment, a conviction that to use the water is to take care of it. The kindred philosophies of BFC and the Dredgers, both advocating for cleaner water and increased public access to the waterways, make them ready partners.
Before setting out this past Saturday, Francis warned participants to watch for traffic in the bay—barges, the harbor patrol, and especially tug boats, whose captains might send a "prop wash" surging toward our canoes. A more ominous warning was not to stand up in the canoe, lest we capsize and join the many deceased fishermen who have been found drowned with their flies open while trying to relieve themselves of too much beer. To round out the list of dangers we might face, he gave us a quick history of the canal and New York's "archaic" sewer system with its CSOs that still dump sewage into the canal after heavy rains. In case we might be tempted, we were warned against licking our fingers during the voyage.
With fears of falling into the polluted canal stoked and still fresh in my memory from having canoed down the Gowanus in April, I discovered as soon as our canoe entered the appeal that draws people to even Superfund designated waters. Gliding effortlessly and noiselessly over the low surface, industrial Brooklyn takes on a character that is impossible to appreciate from the congested city streets punctuated by pot holes and road rage.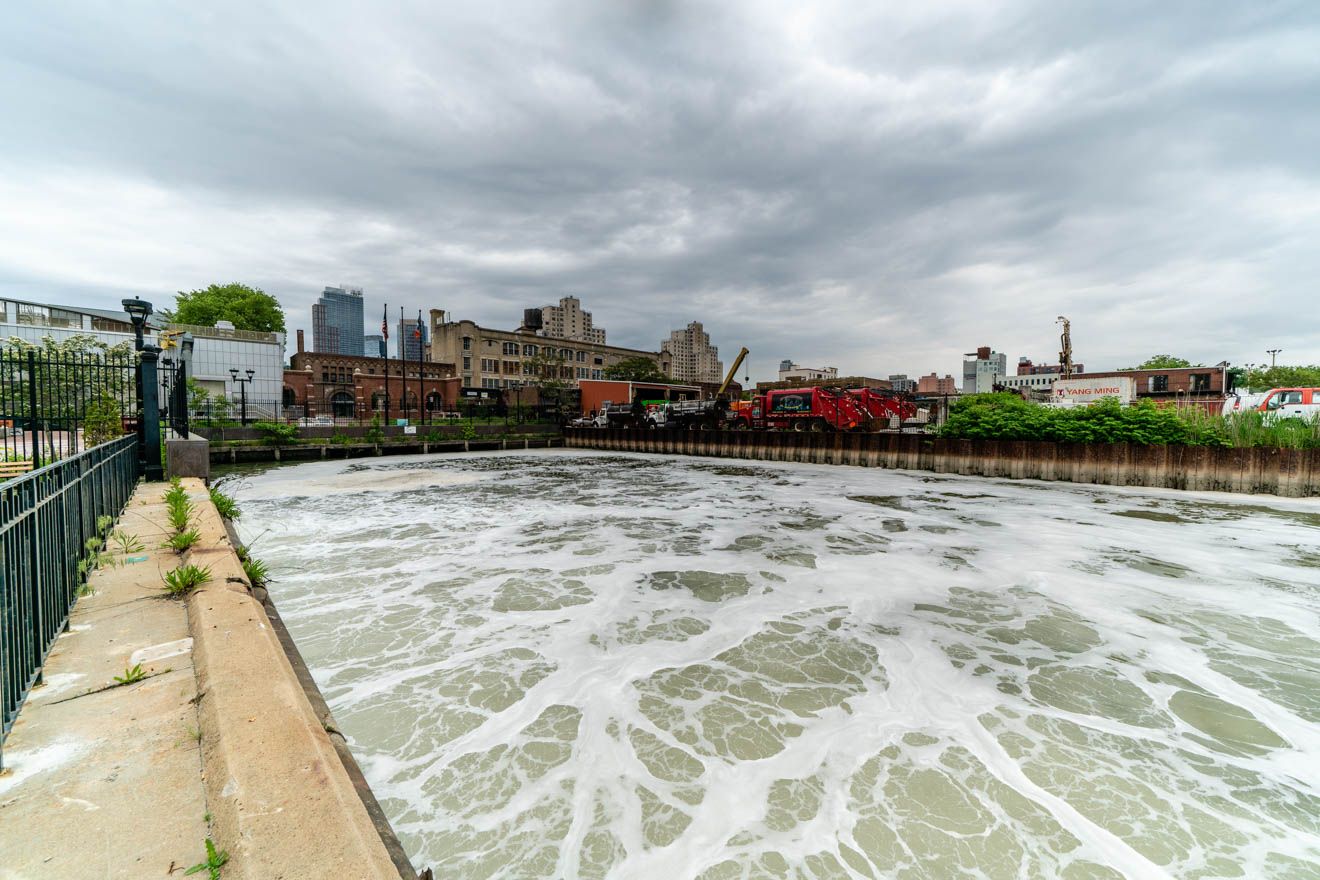 Thanks in part to the nearby Gowanus Flushing Tunnel, the waters at the 2nd Street dock looked so clean and clear that the hopeful anglers cast lines right there. Our guide had already explained that fish sometimes make their way from Buttermilk Channel through the flushing tunnel into the head of the canal. Without any bites to detain us, we pulled in the lines and traveled south through the stagnant water of the central canal.
We passed the EPA dredging site beside Whole Foods and weaved through floating color bands of oil slicks and even stuffed garbage bags floating like corpses. The visible pollution made an impression on the fishing club members, who except for Francis were seeing the canal up close for the first time. After this brief reminder of the canal's historical neglect, we reached the edge of the bay with rain beginning to fall. We now had to paddle with effort against growing waves.
Fishing from a canoe at the edge of the ocean is a challenge in ideal conditions. Francis admitted that today would be a little harder and tried to help us Gowanus novices to "hide from the wind." Hugging a pier where bait fish could be seen below the water's surface seemed promising until a Coast Guard employee scolded us for not staying at least 25 yards away from the structure, citing homeland security regulations. Away from the pier in the open water our makeshift anchor—a red brick on a rope—did little to stabilize us. We ventured a little further towards the Henry Street Basin and settled next to the Loujaine, a massive old ship streaked with rust and emblazoned with a black jaguar leaping out of the flaking paint. The vessel hasn't moved since the 1980s and seems trapped in time along with the Port Authority Grain Terminal crumbling beside it.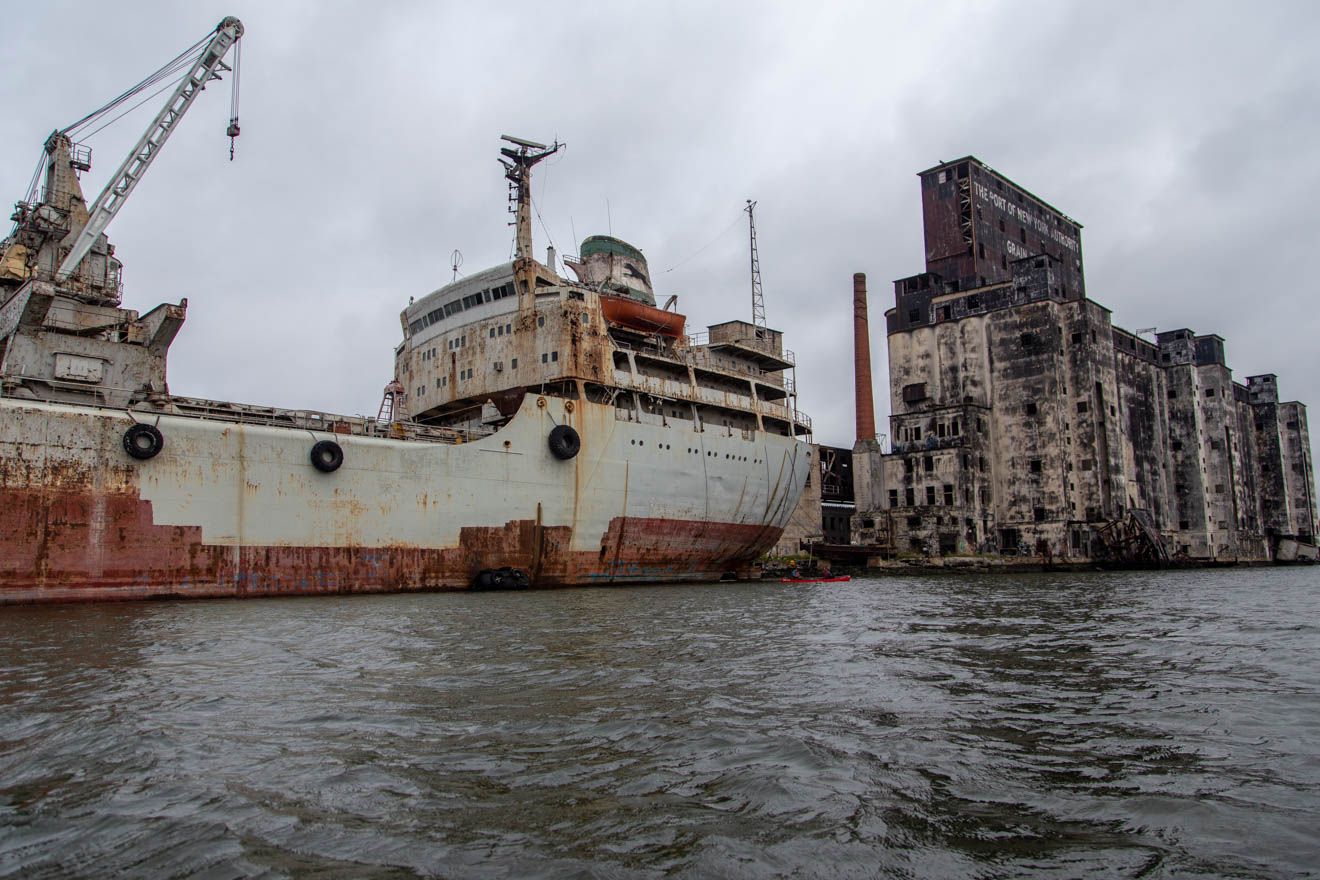 As we moved into the bay, the waves only got stronger. Lucia and his canoe partner, Jim, paddled against a strong current all the way to the pier outside of Ikea, while the rest of us anchored in slightly calmer water next to the Sunset Park wind turbine.
Before we knew it, the half-day trip (6:30am to 10:30am) was coming to an end. All of that paddling was a lot of work but the time flew despite no one catching any fish. In all, we tallied perhaps three bites, one of which claimed an artificial lure. A local fisherman using oysters as bait had more success fishing from a pier, but it was not meant to be for the Brooklyn Fishing Club that day.
Although there were no trophy photos Saturday it was an unforgettable experience that I highly recommend for anyone interested in fishing, paddling, or just seeing Brooklyn from a new perspective.
Learn more at Brooklyn Fishing Club, Gowanus Dredgers Canoe Club, and check out New York Magazine's guide on where to fish in NYC and what you can eat.