Girl Power: Celebrate Women's History Month In Brooklyn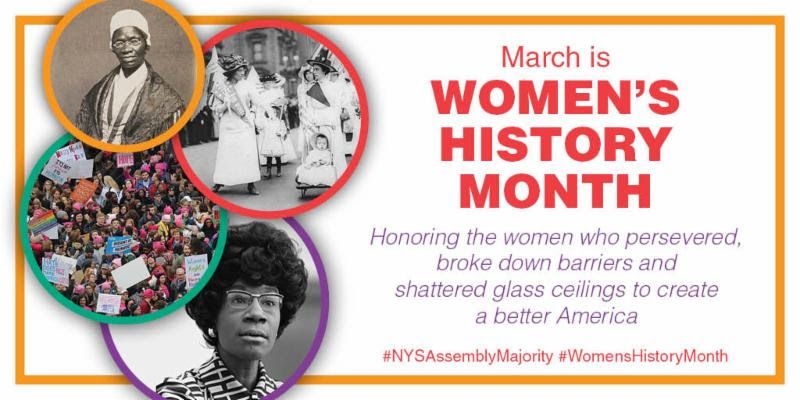 Happy Women's History Month! For more than 30 years March has been the designated month to commemorate the many contributions women have made in American history.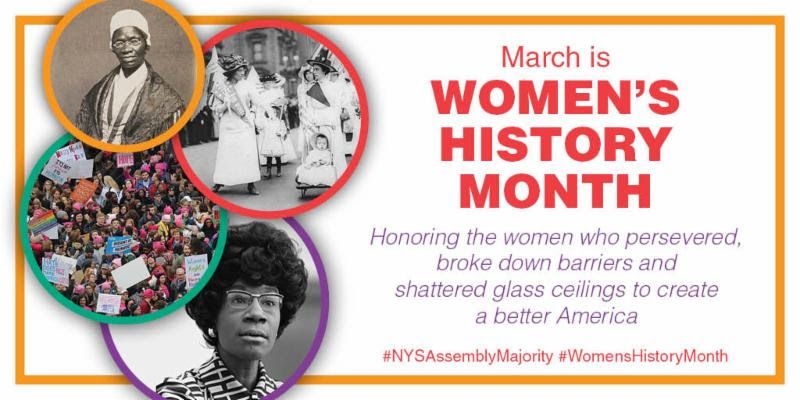 The national celebration began in 1981 when Congress passed a bill authorizing the President to proclaim the week of March 7, 1982 as "Women's History Week." The week-long observance continued for five years until in 1987—after a petition by the Women's History Project—Congress passed a bill designating the entire month of March as "Women's History Month."
Today, March 6, NYC First Lady Chirlane McCray and former Deputy Mayor Alicia Glen announced the next four She Built NYC monuments—statues honoring five trailblazing women—including Billie Holiday, Elizabeth Jennings, Dr. Helen Rodríguez Trías, and Katherine Walker. In November, McCray announced that a monument of Shirley Chisholm will be placed at the Parkside Avenue entrance of Prospect Park. Read more about the She Built NYC program here.
On Friday, March 8—International Women's Day—the Park Slope Fifth Avenue BID will honor the 50+ women-owned businesses located along the corridor by tying red ribbons on each of the shops, including Bhoomki (158 5th Ave), BodyTonic Pilates (150 5th Ave), and Diane Kane (229B 5th Ave).
Here are 7 ways you can celebrate Girl Power in Brooklyn.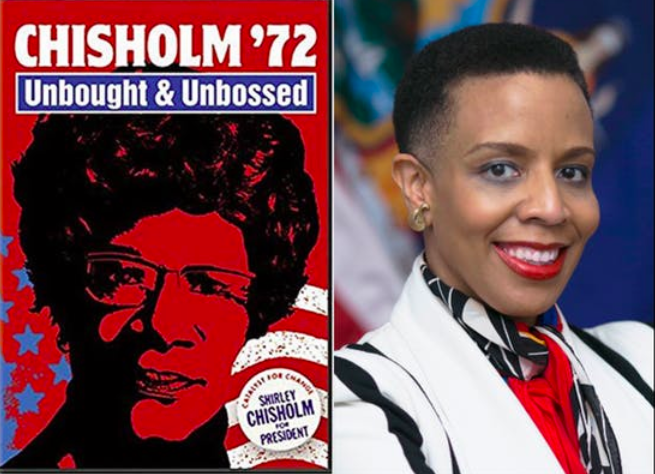 The Feature is Female: Chisholm '72: Unbought and Unbossed
When: Thursday, March 7, 6:30pm – 8pm
Where: Brooklyn Historical Society, 128 Pierrepont Street, Brooklyn Heights
What: In honor of Women's History Month, the Brooklyn Historical Society presents "The Feature is Female," a free weekly documentary series showcasing films about inspiring women. The series kicks off with Chisholm '72 which tells the story of Shirley Chisholm's pioneering 1972 presidential run. City Council Majority Leader Laurie Cumbo will introduce the film. Subsequent screenings include: RGB (March 12), Joan Rivers: A Piece of Work (March 19), and Citizen Jane: Battle for the City (March 26).
How Much: Free (registration recommended)
To Keep The Light: Erica Fae
When: Tuesday, March 12, 7:30pm (doors at 6:30pm)
Where: Wythe Hotel, 80 Wythe Avenue, Williamsburg
What: Erica Fae's first feature film as writer/director/producer/actor was inspired by true stories of female lighthouse keepers. Set in 1867, To Keep The Light tells the story of Abbie, tasked with caring for her bedridden husband and maintaining the lighthouse— a job forbidden to women at the time—on an isolated island along the coast of Maine. She believes she may have caused a sailor's ship to crash before secrets buried in the waters begin to emerge.
How Much: Free, RSVP to rachael@wythehotel.com
Roundtable & Happy Hour | In the Company of Women: Entrepreneurs at the Yard
When: Thursday, March 14, 5pm – 7:30pm
Where: BLDG 92, Brooklyn Navy Yard
What: Brooklyn Navy Yard hosts a happy hour and roundtable discussion inspired by the women entrepreneurs working on the Navy Yard campus. Moderated by Toni Yuille Williams, the roundtable conversation will include several women entrepreneurs based at the Brooklyn Navy Yard, including Elizabeth Kennedy, Anna Lee, Nanette Lepore, and Ashley Platt, discussing a variety of topics from their experiences starting and running successful businesses to navigating male-dominated fields.
How Much: Tickets $10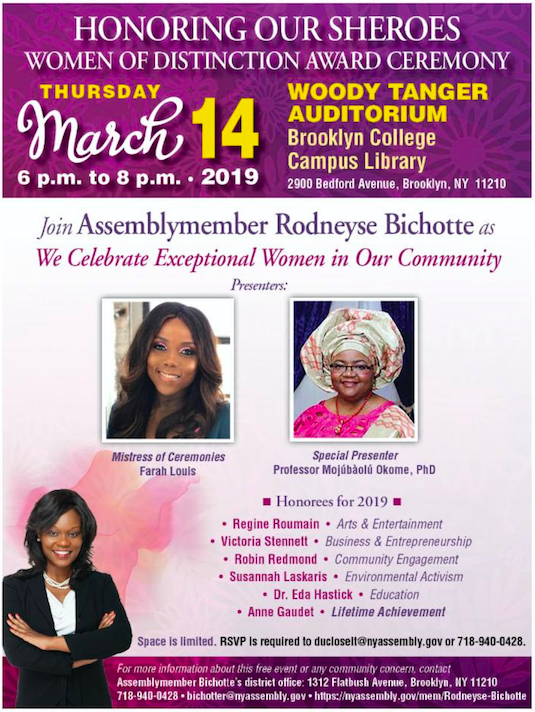 Women Of Distinction Award Ceremony
When: Thursday, March 14, 6pm – 8pm
Where: Brooklyn College, Campus Library, 2900 Bedford Avenue, Midwood
What: Join Rodneyse Bichotte for her annual Women of Distinction Award Ceremony, celebrating women who have made a difference in the Assembly Member's district and the greater community. Honorees include: Regine Roumain, Victoria Stennett, Robin Redmond, Susannah Laskaris, Dr. Eda Hastick, and Anne Gaudet.
How Much: Free, RSVP to ducloselt@nyassembly.gov or 718.940.0428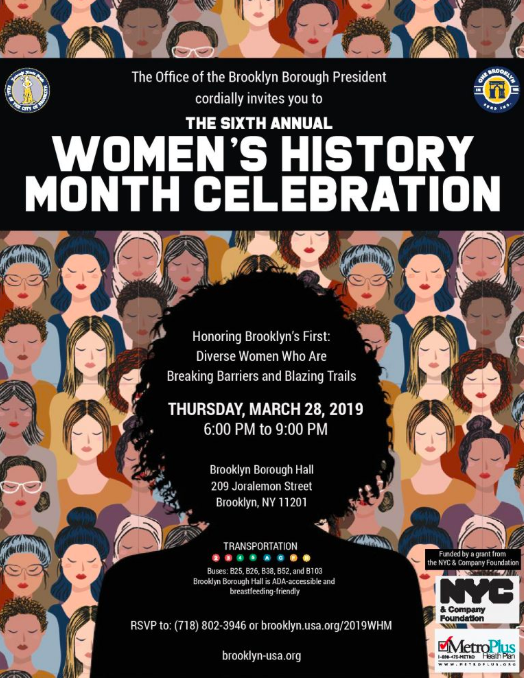 6th Annual Women's History Month Celebration
When: Thursday, March 28, 6pm – 9pm
Where: Brooklyn Borough Hall, 209 Joralemon Street, Downtown Brooklyn
What: Join Brooklyn Borough President Eric Adams in honoring local trailblazing women.
How Much: Free, RSVP here
Feminist Film Night
When: Thursday, March 28, 7pm – 9pm
Where: Brooklyn Museum, 200 Eastern Parkway, Prospect Heights
What: Head to the Brooklyn Museum for an evening of new shorts produced by local filmmakers who explore themes of self-representation and the construction of femininity. A Q&A with the filmmakers will take place following the screening.
How Much: Tickets $16 (include general admission to Museum)
Nitehawk Cinema: HERO Series
When: Through March
Where: Nitehawk Cinema Williamsburg, 136 Metropolitan Avenue, Williamsburg
What: Nitehawk presents a month-long series honoring iconic women in comic book and science-fiction films (Aliens, Buffy the Vampire Slayer, Princess Mononoke) including Pam Grier, Milla Jovovich, Charlize Theron, Sigourney Weaver, Pamela Anderson, and more.
How Much: $13 general admission