Friend Of A Farmer—Home-Cooking For Those Who Don't, Or Can't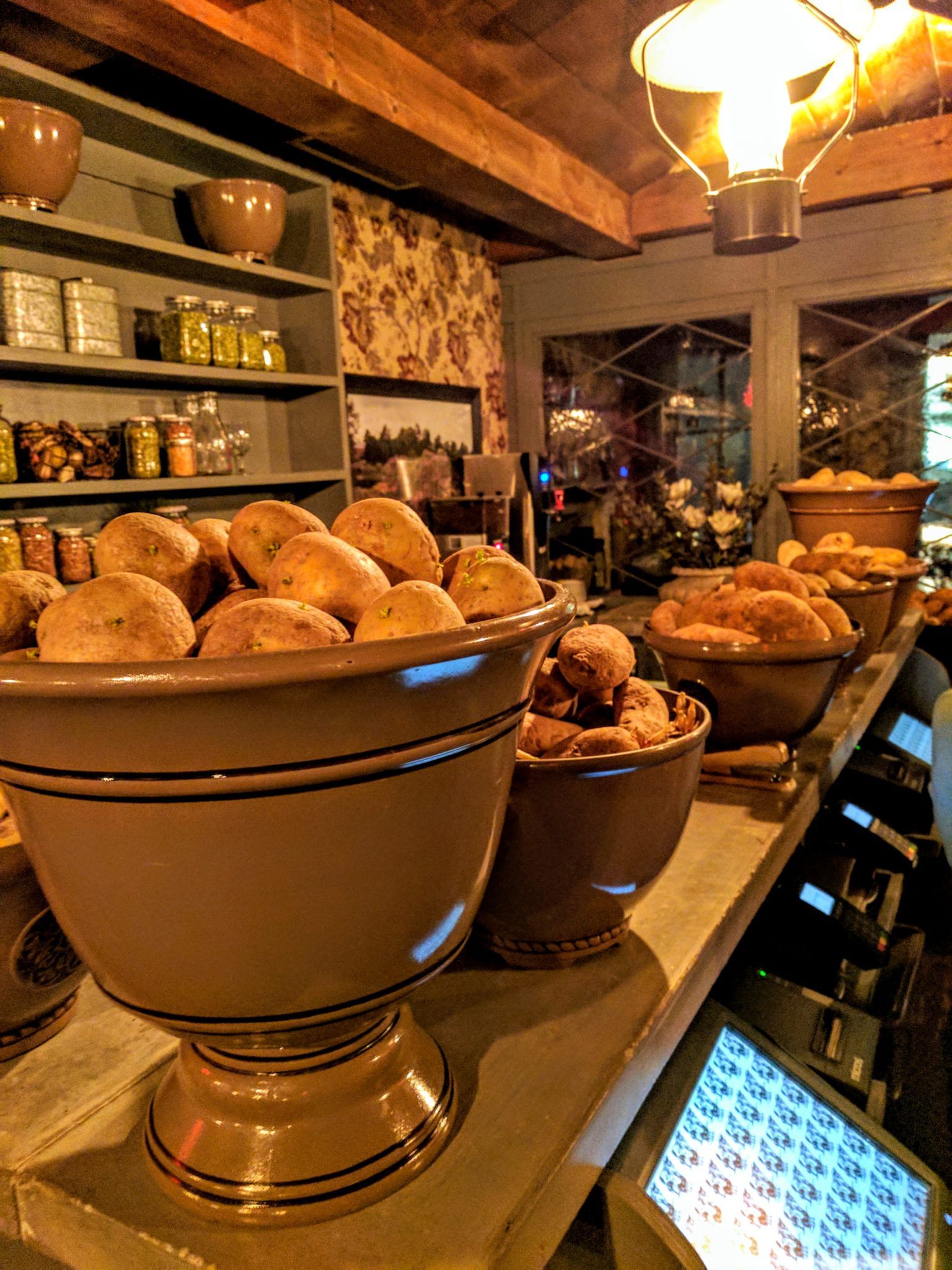 Before Whole Foods and organic food became mainstream, before "locavore" was anointed Oxford Word of the Year in 2007, before CSAs [Community Supported Agriculture] and starting my job as resident film reviewer for the Park Slope Food Coop's Plow to Plate Film Series, there was Friend of a Farmer restaurant.
The original Friend of a Farmer, located at 77 Irving Place in Manhattan, was founded by Carrie Morabito in 1986 as a six-table café to sell her homemade baked goods, sandwiches, jams, and preserves. Today many of these items are still sold, though the menu has grown to include an array of classic American comfort foods made with local farm fresh ingredients.
In late 2015, Friend of a Farmer opened a second, much larger location at 76 Montague Street in Brooklyn Heights. The brand also includes Stuey's Smokehouse BBQ, a take-out rib shack located in Locust Valley, Long Island, which opened in 2016.
Friend of a Farmer is a family operation. Terry, Carrie's husband and co-owner, designed and built the concrete topped tables and chairs and helps with the menu. Their two grown sons Taylor and Weston direct operations.
Taylor also oversees the Brooklyn location's beverage program which showcases locally brewed beers and distilled spirits and house-made infusions. I tried one of Taylor's creations, a sweet bright green cocktail that was the essence of cucumber.
This was followed by an assortment of appetizers—freshly baked crackers served with home-made apple butter, an avocado tartar, which my colleague Priya accurately described as a fancy guacamole, the Gramercy Park Salad (a mainstay of the menu), and fried oysters.
For the main course, I sampled salmon served over barley and summer squash, an enormous family-sized Old Fashioned Chicken Pot Pie, and mushroom cavatelli. The dessert, which the menu described as "the best part" was the chocolate chip cookie skillet—a cookie still hot from the oven served with warm maple syrup, walnuts, bananas, and vanilla ice cream.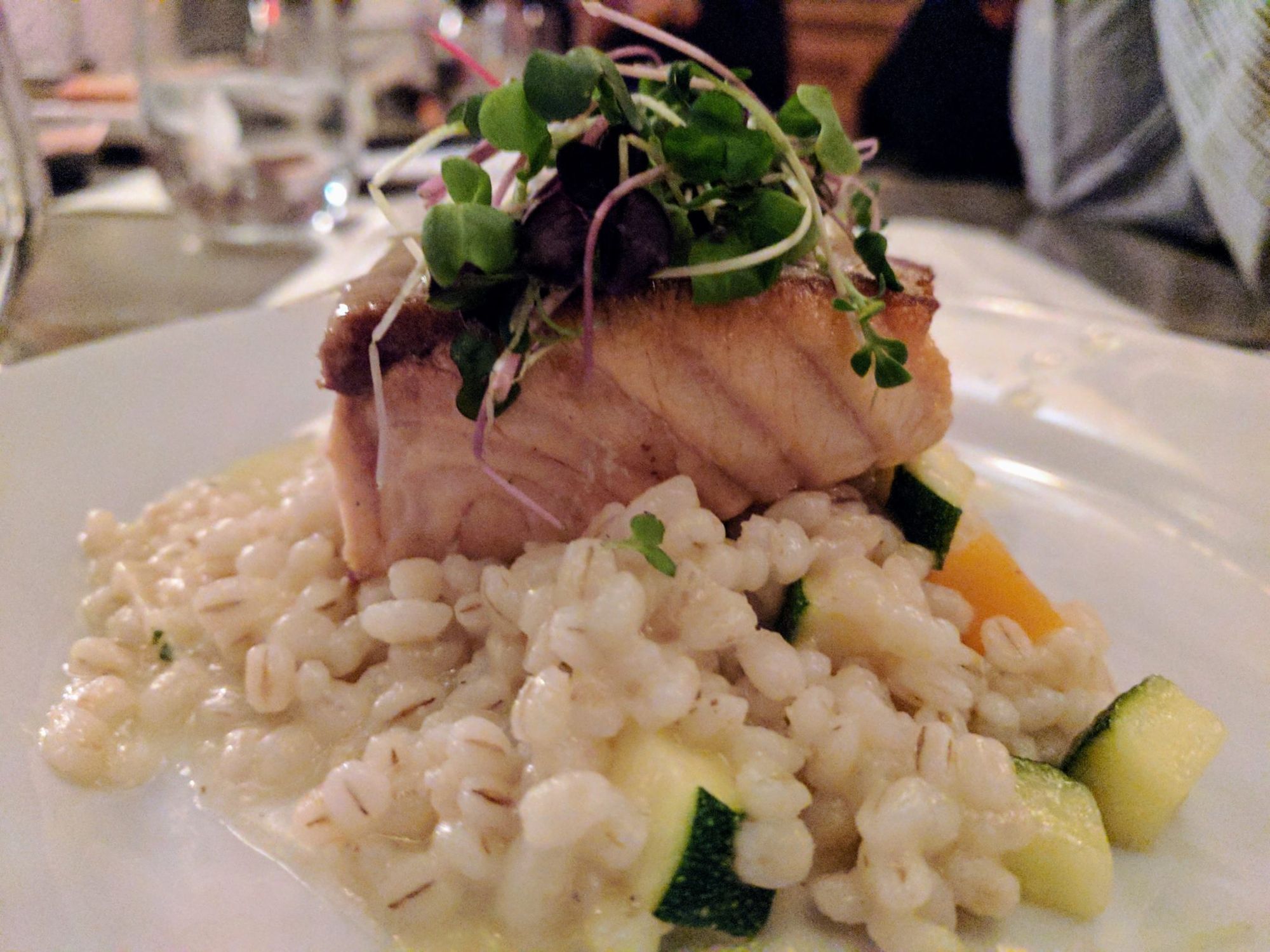 This farm-to-table meal was tasty and fresh. While some of the dishes were simple, they were expertly prepared. While the "Don't Try This at Home" warning should probably be heeded for the chicken pot pie, a confident home cook could probably pull off an equally good pasta. This is essentially home-cooking for those who don't like to, or can't.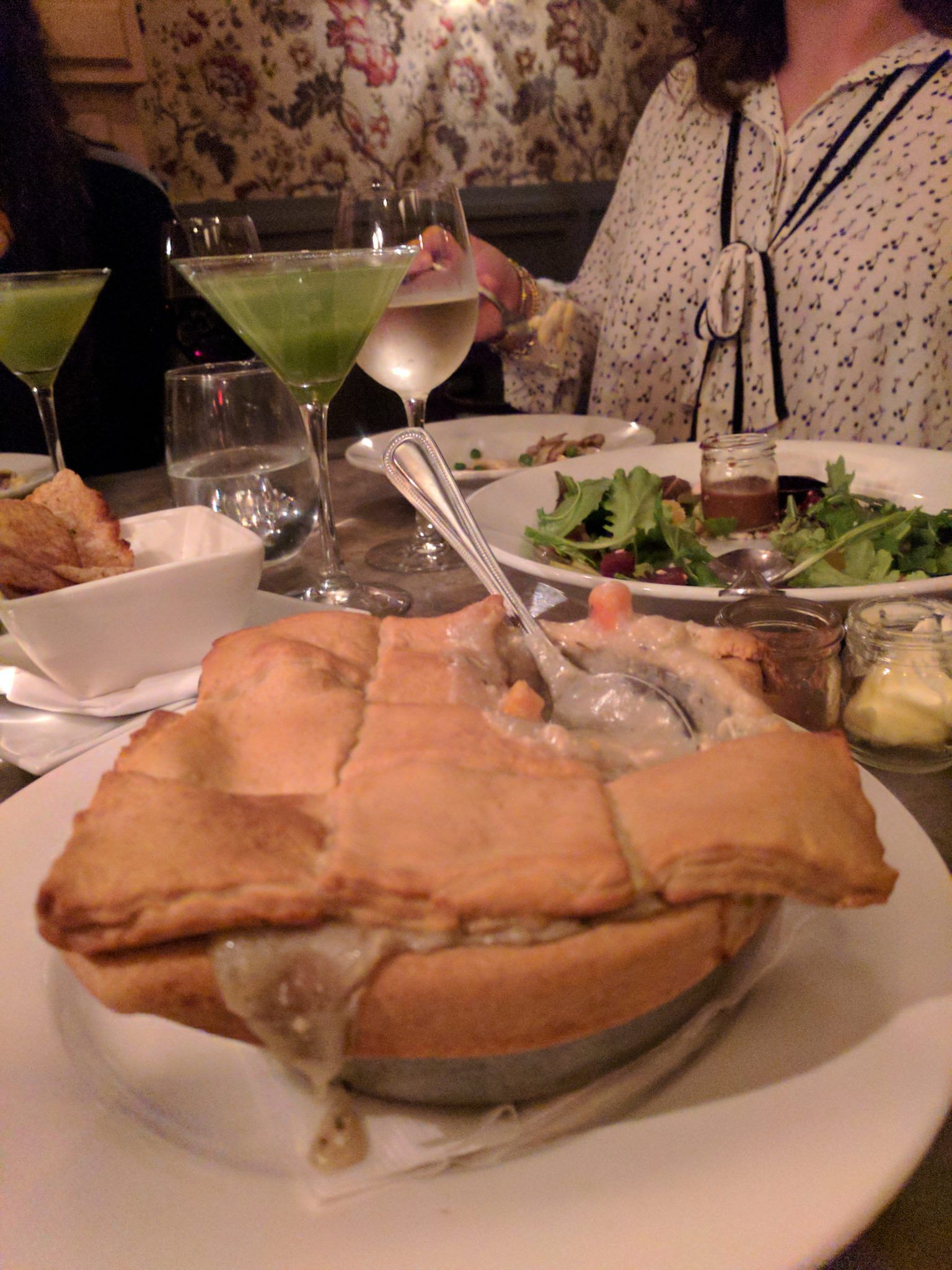 I had the opportunity after the meal to pose some questions to Weston Morabito, whose formal title is Assistant Director of Operations.
BKLYNER: After more than 30 years in Manhattan, why did Friend of a Farmer decide to open Brooklyn and Long Island locations?
Weston: We chose Brooklyn Heights for a few reasons. The area is reminiscent of Gramercy in terms of the community, look, and feel of the neighborhood. This isn't our first time out of Manhattan—we had a location in Roslyn Village out on Long Island for about a decade, but Brooklyn felt like the right move in terms of a true expansion. The location feels up-and-coming with Downtown Brooklyn, DUMBO and the promenade becoming such high traffic areas.
Stuey's Smokehouse started as a passion project, just as the first Friend of a Farmer did, which I think is the only way to have a successful business. And who doesn't love authentic smoked meat?
BKLYNER: In many ways the city (and country) finally caught up to Friend of the Farmer's farm-to-table ethos and sensibility. How do you feel about being ahead of your time?
Weston: It's definitely validating to see our parents' vision pay off and catch on. Who knew the name Friend of a Farmer would be so fitting 30 years later? My mom also banned smoking in the restaurant, which was considered business suicide in the late 80's, but I think it's risks like that that separate us from the rest of the pack.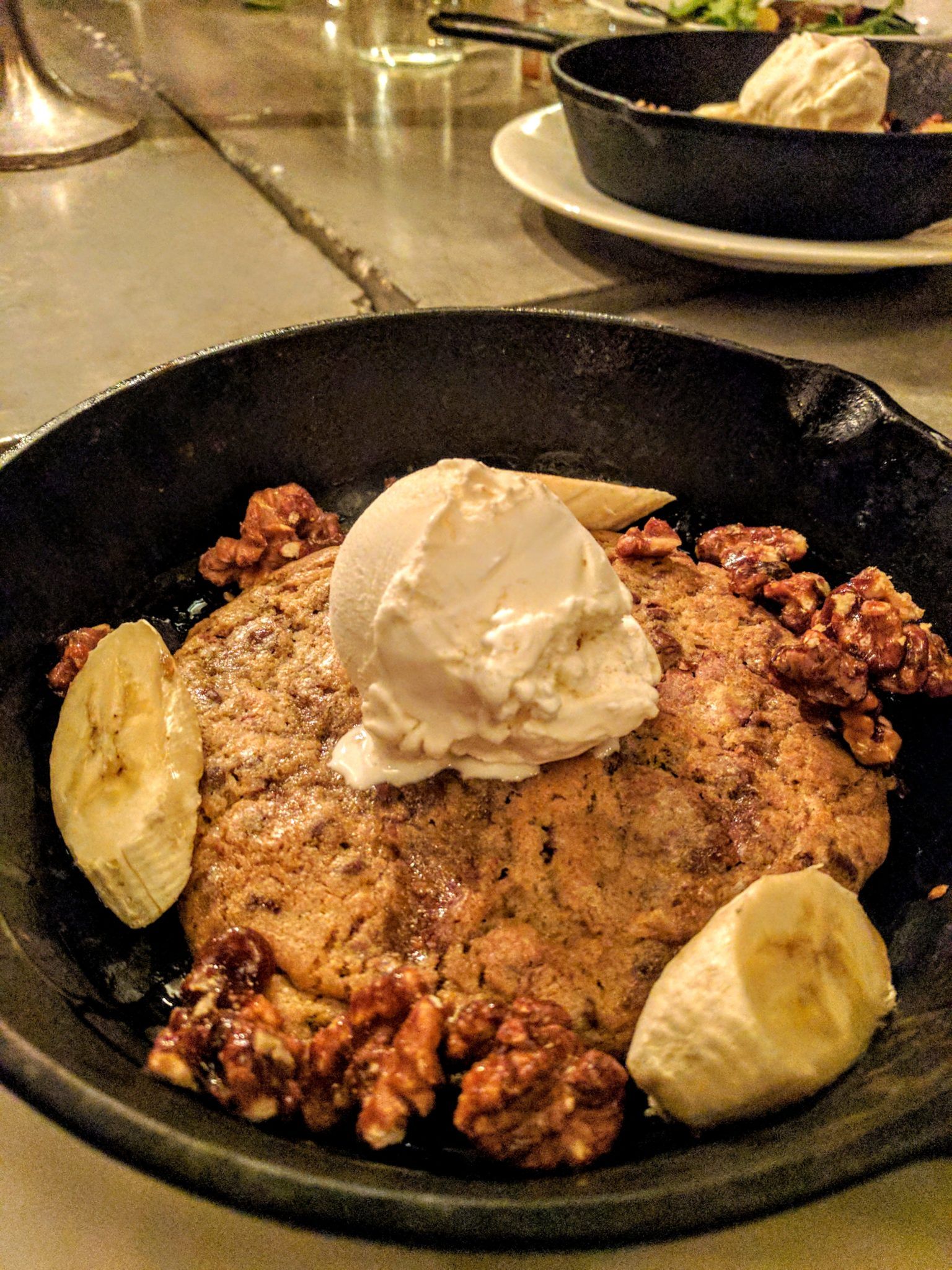 BKLYNER: Can you provide more information on the supplier farms? Was the chicken free-range and where do you source your cheeses?
Weston: I would say the farm we use most consistently is for our cheese, which comes from Cato Farms in Connecticut and can be sampled on our Cheese Plate. Our menu is seasonal, which means it changes at least four times a year so we change our farms a lot to match what is in season. Our chickens are of course free-range. There was no going back after watching Food Inc.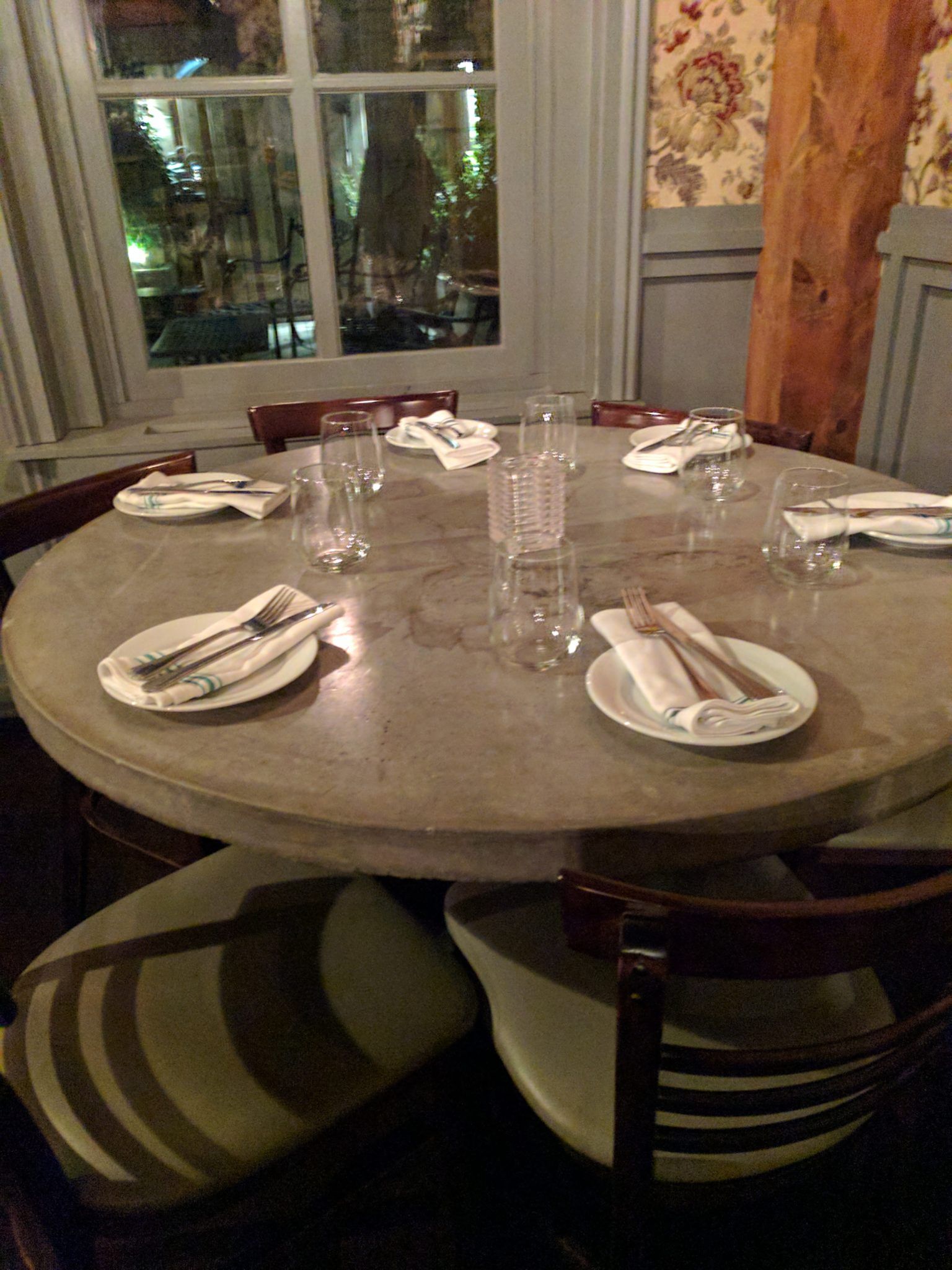 BKLYNER: How is the Brooklyn Heights location different from the Gramercy location?
Weston: The Brooklyn Heights location is a much bigger version of our Gramercy location, in terms of physical space, kitchen and what we can offer, like large parties and events.
While the physical space is different, we want the customer experience to be the same, so while the wine and cocktail lists are more extensive in Brooklyn, we have employees come to Brooklyn to learn new drinks and food specials.
I would say our biggest distinction, and comment we get from customers that are used to our Gramercy location, is the space. For years guests would ask to have private events in the Gramercy location but we just didn't have the room. Now we can accommodate large parties any day of the week.