Four SUNY Downstate School-Based Health Centers Will Remain Open For Another Year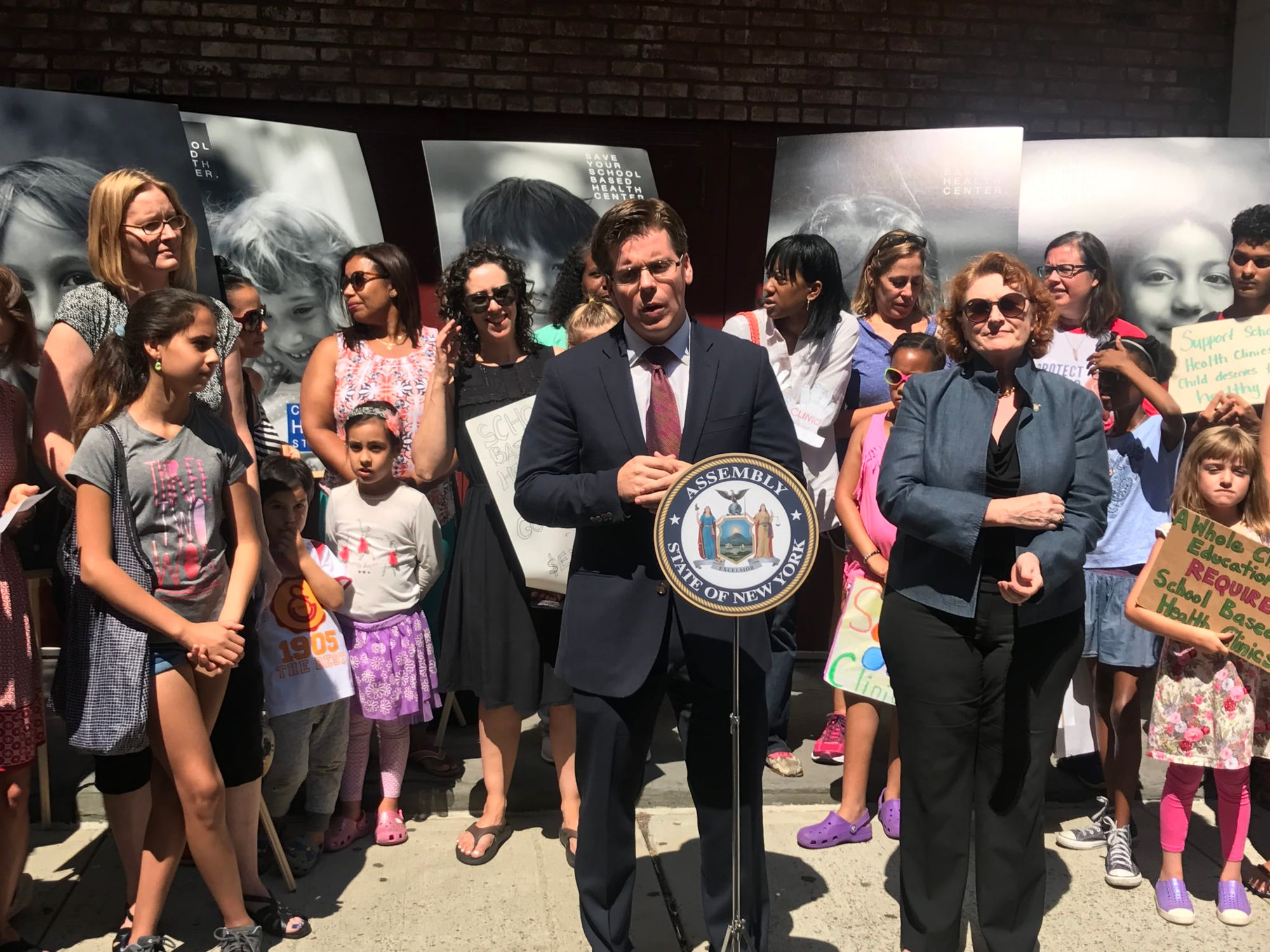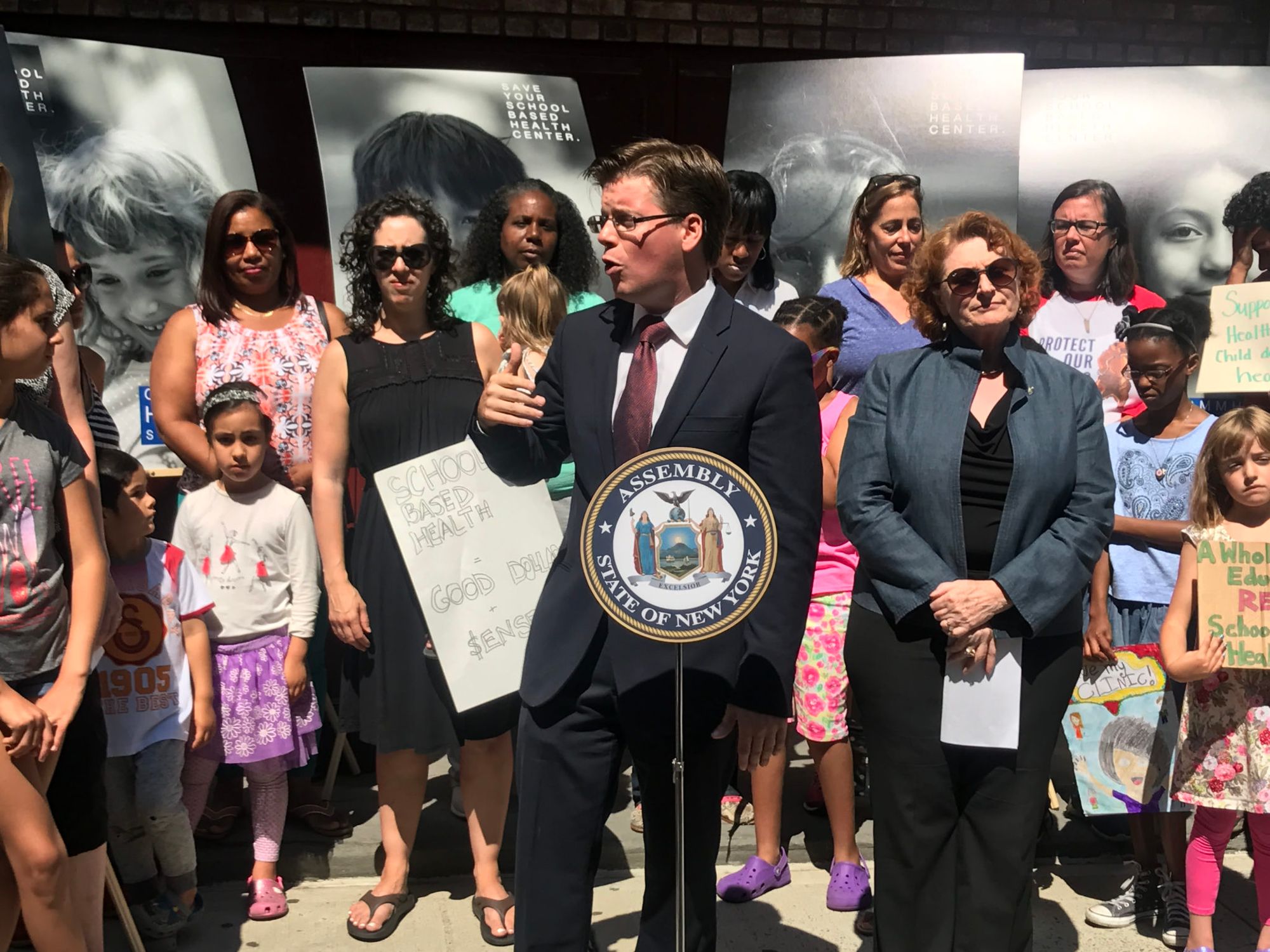 Assembly Members Robert Carroll and Jo Anne Simon led a rally this morning to show support for the four school-based health centers (SBHCs) that were slated to shut down.
SUNY Downstate Medical Center announced last month that state budget cuts were forcing the closure of four of the SBHCs it operates. The schools affected include: William Alexander Middle School, M.S. 51 in Park Slope; Brooklyn New School and Brooklyn School for Collaborative Studies in Carroll Gardens; The Pacific School, P.S. 38 in Boerum Hill; Boerum Hill School for International Studies, Digital Arts and Cinema Technology High School, and Success Academy, in Cobble Hill.
Today, SUNY Downstate announced that it will continue to operate the four SBHCs in the upcoming school year despite the budget cuts.
"The State University of New York (SUNY) Downstate Medical Center will maintain all five [including one at P.S. 13 in East New York that was not facing closure] of its School Based Health Centers in Brooklyn in the coming academic year," the announcement says.
"SUNY Downstate has informed the principals at the schools served by Downstate's School Based Health Centers that Downstate will not be making any changes to its school based programs as it begins the academic year," the announcement continues.
SUNY Downstate's President, Dr. Wayne J. Riley, has directed staff members to "work with program funders and supporters to explore ways to make the centers financially viable."
School-based health centers operate like doctor's offices within schools, providing free health services to NYC public school students, according to the Brooklyn Eagle. NYC has 145 SBHCs serving over 345 schools across the city, with many located in neighborhoods with limited access to health services.
There are currently 35 school-based health clinics serving 82 schools in Brooklyn,  a representative of the NYC Department of Health and Mental Hygiene tells BKLYNER. Three of these clinics are funded by the NYC Health Department (Boys & Girls High School in Bed-Stuy, Franklin K. Lane High School in Woodhaven, and George Wingate High School in Prospect-Lefferts Gardens) while the other 32 are funded by the New York State Health Department.
"School Based Health Centers are a critical resource for our communities," Assembly Member Carroll said in a statement. "I am relieved that SUNY Downstate has decided to keep these four health centers open for another year despite a cut in state funding. It is now our job as elected officials and advocates to make sure that these vital community resources receive their proper share of state funding."
The four SUNY Downstate SBHCs that faced closure serve a student body of approximately 4,134 and receive thousands of medical visits annually, according to a release from Carroll's office.
Department of Education (DOE) research found that the health centers help students manage their illnesses at school, reducing absenteeism and trips to a doctor's office or an emergency room, Brooklyn Eagle reports.
Elected officials launched a Change.org petition last month urging Governor Cuomo and the New York State Department of Health to keep the health centers open.