Former CB6 District Manager Found Not Guilty On Forgery Charges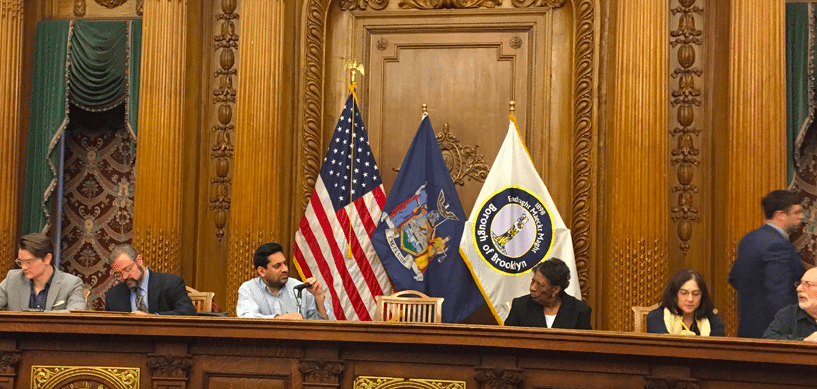 COBBLE HILL – A former long-time Brooklyn Community Board 6 (CB6) District Manager has been found not guilty for allegedly giving himself more than $38,000 in raises over a three year period using the electronic signatures of two CB6 chairs.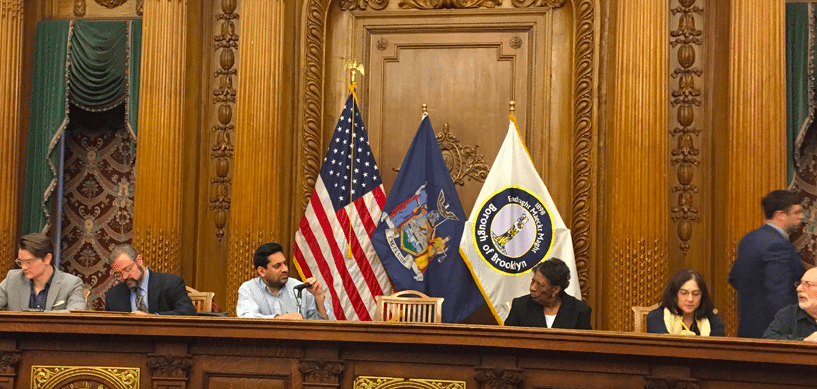 Craig Hammerman was indicted in May 2018 on 17 counts including forgery. According to the Brooklyn Borough President's Office, which processes salary increases for paid Community Board staffers, Hammerman accrued an additional $38,345 in salary through fraud. When Hammerman resigned from CB6 in October 2017, his salary was $121,931.
"This defendant allegedly sought to enrich himself with taxpayer money to which he was not entitled. This was a betrayal of the public trust that cannot be tolerated," District Attorney Eric Gonzalez said in a release at the time of Hammerman's arrest in May 2018.
Hammerman served as the District Manager for Community Board 6—which represents Carroll Gardens, Cobble Hill, Columbia Waterfront, Gowanus, Park Slope, and Red Hook—since 1990.
According to District Attorney Eric Gonzalez's office, Hammerman allegedly used the electronic signature of former CB6 Chairman Sayar Lonial on three occasions and an electronic signature for Lonial's predecessor, Gary Reilly, once, in order to grant himself salary increases from 2015 to 2017.
Hammerman faced seven years on charges of forgery (four counts), criminal possession of a forged instrument (four counts), offering a false written instrument for filing (four counts), falsifying business records (four counts), and one count of grand larceny (total property exceeding $3,000). After approximately four hours of deliberating on Friday, the jury found Hammerman not guilty on all 17 counts.
While testifying before Supreme Court Judge Donald Leo last Wednesday, June 5, Lonial said that he would not have approved a merit raise for Hammerman, according to the Brooklyn Daily Eagle. Prosecuting attorney, Senior Assistant District Attorney Adam Libove, noted during his closing statements on Thursday, June 13, that Lonial complained about Hammerman's performance later in his tenure as chair, saying that he was frequently not in the office and failed to send correspondence to city agencies regarding the community board's stance on issues.
The role of a community board is purely advisory. While the District Manager and Assistant District Manager are paid for their positions, community board members, including the board chair, are unpaid volunteers.
On June 7, Reilly testified that he did not approve a 2015 request from Hammerman for a raise, and added that he did not even know that he had the authority to do so, Brooklyn Paper reported.
Along with the pay raises, Hammerman also increased his pension nearly $10,000 a year, Libove said Thursday. The former District Manager's retirement package spiked from $60,499 to $70,134, according to Brooklyn Paper, which Hammerman would receive beginning at age 62 until death.
During her closing statements on Thursday, Joyce David, Hammerman's attorney, depicted her client as a dedicated public servant who was not financially motivated. "Money wasn't the thing for him, he was about public service," she said.
She added that Lonial and Reilly did not restrict Hammerman's use of their electronic signatures and questioned Lonial's credibility as a witness. She said that Lonial was "being evasive" during his testimony, frequently answering, "I don't know" or "I don't remember."
David added that Lonial and Hammerman had a rocky working relationship and that  some pro-development members of the community board may have wanted to oust Hammerman who she said is against development.
In 2017, Hammerman took an extended medical leave from his post from May through September. He was arrested twice in April of that year for allegedly stalking an ex-girlfriend but those charges against him were dropped in September 2017. During his leave of absence, CB6's Finance, Personnel and Law Committee conducted a performance review on him and discovered the raises. Hammerman was confronted by members of the board when he returned to work on September 27, 2017 and he announced his resignation a few days later on October 6.
According to Libove, both Lonial and Reilly did not sign, know about, nor authorize any of the raises Hammerman requested. "When a public servant violates the trust placed in him and starts serving himself, he must be held accountable," the Assistant DA said.
David said that in Hammerman's mind, he did nothing wrong, and he was surprised when learned that he did not handle his pay raises properly, and therefore did not intend to commit fraud.
"I'm relieved. I think justice prevailed," said David following the trial. "I'm thrilled for my client. It's the right verdict."
"I'm really looking forward to enjoying this Father's Day with my family," Hammerman said.