Food Stuffs: Buddhist Delight And Beef Casserole – Lian Won Café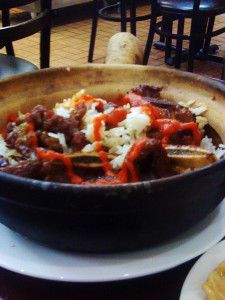 Food Stuffs is a bi-weekly column examining the gastronomic landscape of Bensonhurst and the surrounding neighborhoods. Each entry will cover anything and everything even remotely related to food because here in Bensonhurst, food is always news.
As you walk along 86th Street in Bensonhurst you will start to see a different style of Chinese Restaurant than those that had populated this neighborhood in the past. In old Bensonhurst or Gravesend, you would have your ubiquitous Happy Wok or Big Chef next to the pizza place or the bakery serving up ample plates of General Tso's chicken, pork dumplings and spare ribs. You could count on these neighborhood fixtures for lo mein, fried rice and a lunch special packed in styrofoam with an egg roll and wonton soup that would keep you stuffed well into dinner.
But the new Bensonhurst has Chinese restaurants that you would see in the Chinatowns of Lower Manhattan or Flushing or not too far away in Sunset Park. At the Lian Won Café, with the specials and sign menu in Chinese (I think Mandarin), it's a different experience from the start. Instead of being met with takeout menus and bullet proof glass, you are served hot jasmine tea and greeted by waiters that speak little or no English. And I mean none, the words water and rice were missing from our server's vocabulary. But that's all part of the fun.
The menu, fitting for any Chinatown, is full of diverse items like chili pig intestines and various casseroles served in a steaming hot stone dish. My partner decided on the sizzling beef casserole over rice and I opted for the Buddha's Delight over rice.The Buddha's Delight was solid, with wok fried broccoli, black mushroom, shitake mushroom and and tofu skin served over bed of white rice. The broccoli was a bit undercooked, but the mushrooms were perfect and meaty and the tofu skin added a nice chewiness to the entire dish. For $4.50 it is a great deal that will fill you up and make you thank the Buddha for his generosity.
My dining partner was excited about the various meats, ducks, pork, chicken and beef. His casserole decision was a bit complicated, because the waiter needed us to draw circles around the menu numbers to make sure it was correct. The casserole came out in the stone pot and was sizzling, he shared that the meat was full of his kind of flavor. He enjoyed the meat and rice so much, that he ordered another dish beef over rice, which was essentially the same dish just not in the hot stone pot.  Fortunately, he was able to take most of that second dish home because it was too much for our lunch meal.
At the end of the meal, lunch for two came to $14.50 and we tipped well in hopes of bridging the communication gap. The meal could have easily been under $10 and certainly filled us up with quality food and a new experience. Of course, I brought my chopsticks home to re-use and my non-environmentally friendly lunch partner packed his leftovers in styrofoam and took a plastic bag. He enjoyed the leftovers though, and I am still enjoying the chopsticks.
I would certainly return to the Lian Won Café and sample some of their other vegetable dishes. And my partner seconded that thought and said he would also consider bringing his own takeout container for leftovers. So be brave and be daring and try all the fun Chinese restaurants under the tracks on 86th Street. We will be reviewing more soon!
Lian Won Café, 2012 86th Street (718) 333-1666.
Is there a restaurant or specific dish you think we should check out? Let us know!