Flatbush Community Gathers to Protest Eviction of Octogenarian Tenant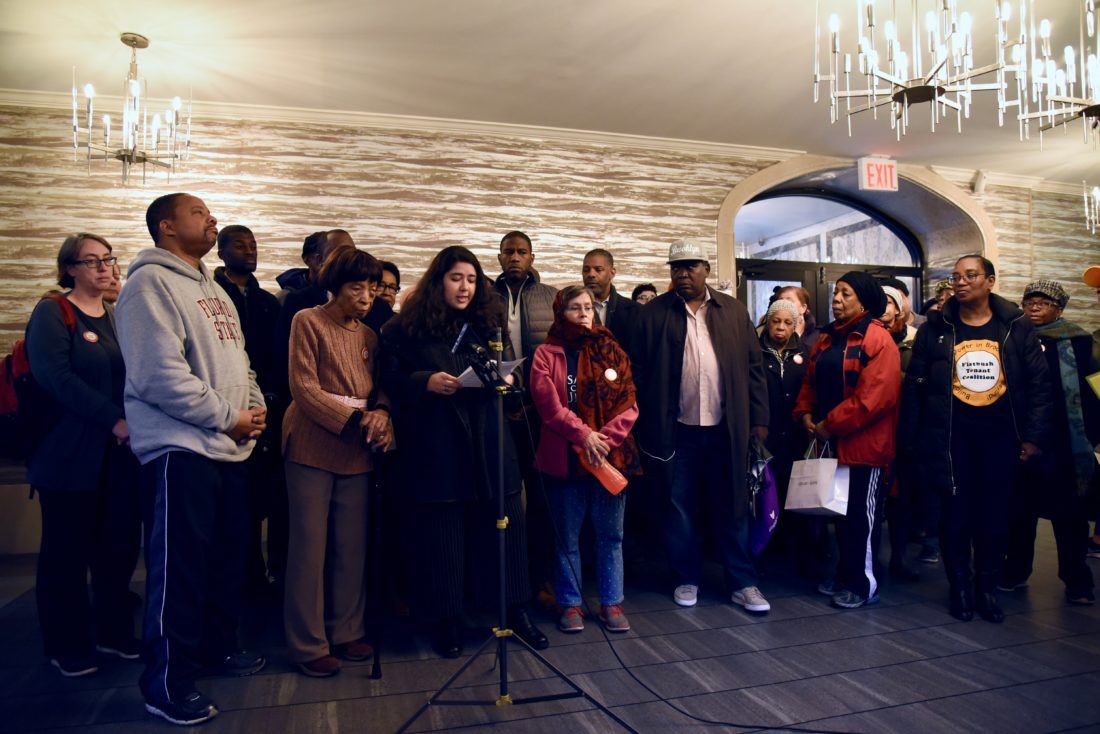 FLATBUSH – When Ms. Joy P. Noel came back to New York after seeking medical treatment abroad this fall, the 85-year-old grandmother found herself homeless. She'd been evicted from her apartment at the Ditmas Arms, her home for more than 20 years, and her belongings had been packed up and put in storage—all without her knowledge.
This morning, Monday, November 13, members of the Flatbush Tenant Coalition gathered with local political leaders, community organizers and tenants to demand Ms. Noel's reinstatement to her apartment and to call for an end to the predatory tactics used by landlords to wrongfully evict tenants. More than 50 people gathered in the lobby of Ms. Noel's building for the press conference.
According to the Flatbush Tenant Coalition, Ms. Noel was evicted through a holdover case, a process used to evict a tenant for reasons other than non-payment of rent. However, the legal notices sent to Ms. Noel, who lives in the 11226 zip code, were addressed incorrectly—her name was misspelled as "Nole" and the zip code as 11215—so she never received them.
Unaware of the legal proceedings against her, Ms. Noel didn't appear in housing court and promptly lost her case.
The Carnegie Management company, which manages the building at 585 East 21st Street, was previously involved in an illegal eviction case in Williamsburg. Tenants in Ms. Noel's building said that the company has harassed them with buyout offers and even shut off gas to the building since February.
"They're not only trying to make money," said Ms. Noel, "they're jeopardizing the lives of tenants."
New York State Senator Jesse Hamilton spoke to those gathered, calling Ms Noel's eviction "unconscionable" and decrying the practice of landlords targeting buildings with senior residents and using legal means and weak rent laws to evict them, often through campaigns of harassment and intimidation.
"Carnegie Management, we're watching you, we're coming after you," he said, "You will no longer come after our seniors—shame on your Carnegie Management!"
City Coucilmember Jumaane Williams, who has long fought for tenant's rights, called the eviction of Ms. Noel an "egregious, malicious" act by "disgusting landlords" that was "all about greed."
Williams said the situation was a failure of Governor Cuomo's tenure and weak rent laws that allow rent hikes through Major Capital Improvements—which are often unnecessary.
The Councilmember, who is the chair of the Council's Committee on Housing and Buildings, cited a recent case in which landlords paid more than $100,000 in fines for tenant harassment, and told those gathered that he would encourage State Attorney General Schneiderman to look into Carnegie Management for tenant harassment as well.
"It's criminal and they deserve to be in jail," said Williams.
Neither State Senator Hamilton nor Councilmember Williams represents the district in which Ms. Noel resides, but felt strongly enough about the case to speak today.
Halfway through the press conference, Jacob Friedman, the Management Operations Director for the property, showed up. The crowd quickly gathered around him as he explained that Ms. Noel had been evicted for failure to pay rent, citing a balance of $75,000.
Councilmember Williams quickly informed the man that a holdover case, like the one used to evict Ms. Noel, is explicitly not about money, but is an eviction for other reasons. Friedman demurred, stating that he was not a lawyer nor involved in the eviction process.
Friedman did confirm that the gas in the building had been shut off, but refused to go into detail as to why. Cries of "shame" from those gathered drowned out some of what the man was trying to say.
City Councilmember Mathieu Eugene, who represents District 40 and Ms. Noel, showed up late to the press conference and left without speaking, after about 5 minutes. State Senator Parker, who represents the district as well, was not present.
Josue Pierre, District leader from the 42nd Assembly District, brought a message of solidarity with Ms. Noel. "You can tell a lot about a society by the way we treat our seniors," said Pierre. "Let this not be a precedent, let this not be allowed."
Whie they pursue a lawsuit on Ms. Noel's behalf, the Flatbush Tenant Coalition has set up a fundraising page to help raise the money needed to recover her belongings from storage before they're auctioned off on November 20.
Despite the event's focus on her plight, Ms. Noel spoke to a broader need for justice, calling on "everyone who came and everyone you know" to fight for tenants rights:
"We are here today not for Joy P. Noel," she said, "but for justice in our community."