Five Great Places to Eat Near Manhattan Beach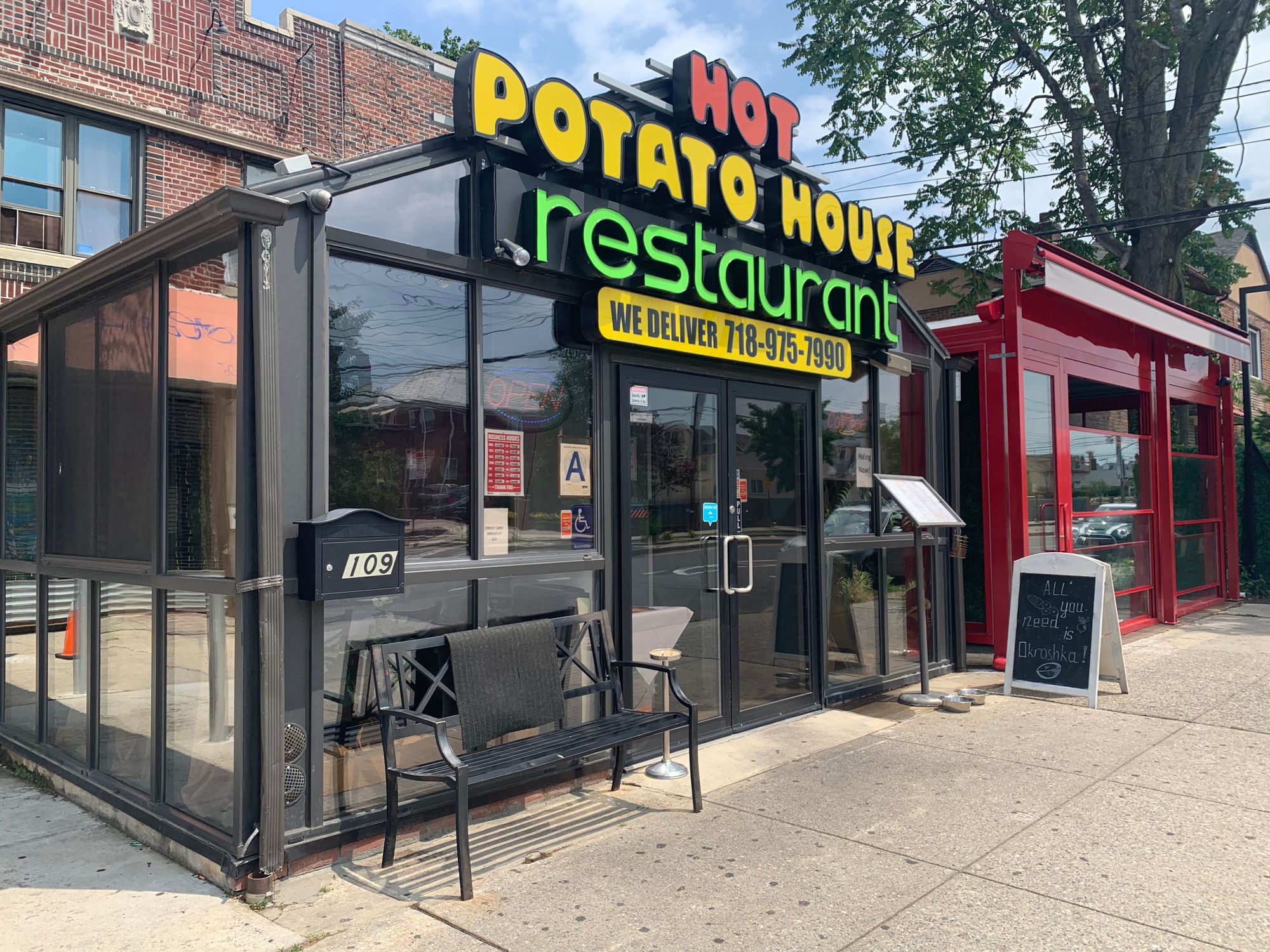 MANHATTAN BEACH – Of all of Brooklyn's beaches, Manhattan Beach might be the most underrated. Just a short walk from Coney Island, it's an oasis from the crowds of tourists, children, and hot dogs—and one of the only beaches where you can grill your own food. But, other than those grills, options for food are pretty slim.
The reasons we love Manhattan Beach—its isolation, its local feel—are what limit the spot for dining options. But, that doesn't mean there's not anything to get your hands on. We rounded up the best places to eat near Manhattan Beach (in no particular order), so you can sit back, relax, and pretend you're not just minutes away from one of America's most crowded boardwalks.
Hot Potato House
109 Oriental Boulevard, between West End Avenue and Amherst Street
This spot is probably the closest to Manhattan Beach where you can still have a full sit-down meal. We love the airy windows and the super-long menu—even your pickiest friends can find something here. We recommend the Odessa-style herring, the Chef's Personal Favorite (at $40 you get to try a "Wedding Pirog" that's truly something to see), and virtually any of their signature potato dishes. Eat here to feel like a true local, amongst those who know the area the best. Hot Potato House is best experienced after you've spent your time in the sun and are ready for some relaxation.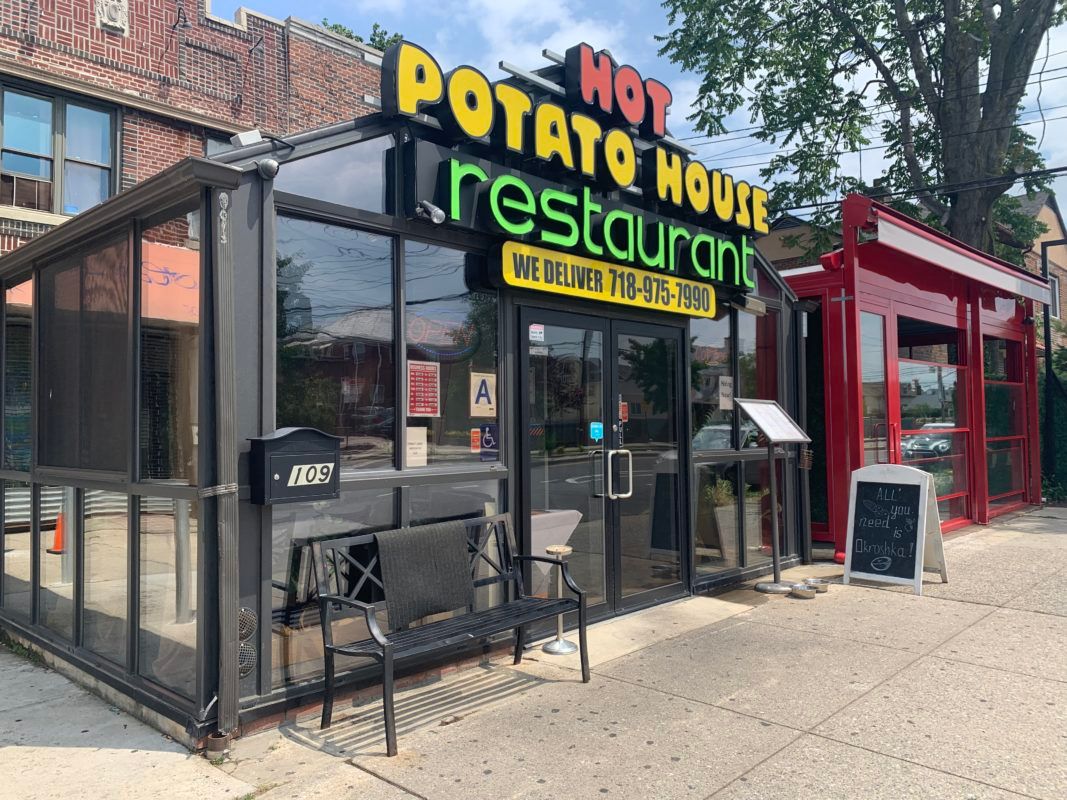 Chillax Manhattan Beach Cafe
184 Oxford Street, between Oriental and Shore Boulevards
For something a bit more casual, but still within walking distance, we choose Chillax Cafe. Open for both breakfast and lunch, it's the perfect spot to grab a bite, either to eat in the air conditioning or to bring down to the beach. You can't go wrong with an order of the super-crispy fries, or the many burger options they have. They also have a full coffee menu, in case that afternoon sun starts to put you to sleep. If it's your sweet tooth calling you, Chillax offers a number of desserts, including cheesecake and chocolate mousse.
Cafe Kashkar
1141 Brighton Beach Avenue, between Brighton 14th and Brighton 15th Streets
This spot is right on the way to Manhattan Beach from the B and Q trains. It's one of the few Brooklyn spots serving up Uyghur cuisine, which comes from the Xinjiang Region, not something you hear every day. They offer halal dishes, best described as a mix between middle eastern and chinese cuisine. You can't go wrong with a meat stuffed pancake, lamb skewers, and the manty dumplings. The interior is crowded with keepsakes and tchotchkes on the walls, and they even have a small patio out front if the beach didn't give you enough fresh air. We recommend this for those looking to try something they've likely never had.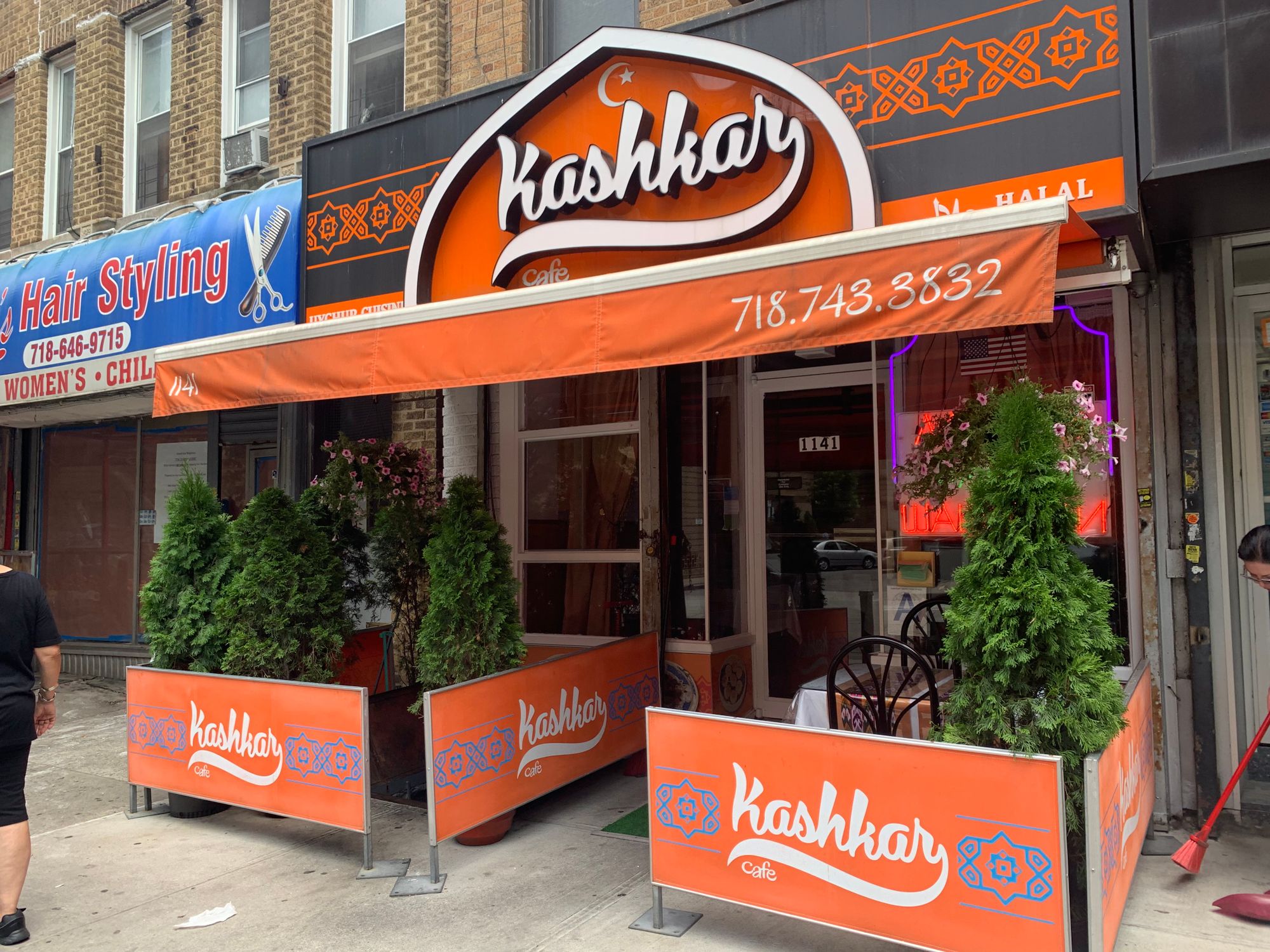 Nasheman Grill and Restaurant
3149 Coney Island Avenue, between Brighton 10th Street and Brighton Beach Avenue
Also on the way to the beach (or the way back, depending on when you get hungry), this spot is where you can eat a lot of food for little money. They serve up Pakistani, Bangladeshi, and Indian cuisine with an ever-rotating list of dishes. Be sure to try the samosas, the chicken curry, or any of the desserts they keep in the display for all to see. It's definitely a casual spot, but you'll find them open until 10:00pm, long after you'll be worn out from all that sun and surf. This is another place that could work for takeout and a beach picnic, just make sure you get a side of naan to soak up all that extra sauce.
Enzo's Pizzeria
1623 Oriental Boulevard, between Norfolk and Oxford Streets
There's not much to say about Enzo's. Really all you need to know is that they serve pizza, and they serve it only about a block from Manhattan Beach. They serve all styles (grandma slices, classics), plus calzones, heroes, and salads—just in case you're friends with someone who doesn't eat pizza (but, if you are, we kindly suggest reconsidering these friendships). It's primarily a takeaway spot, but they do have some tables inside and out front, if you're lucky.