Cafe Kashkar: Go With Lagman – The Bite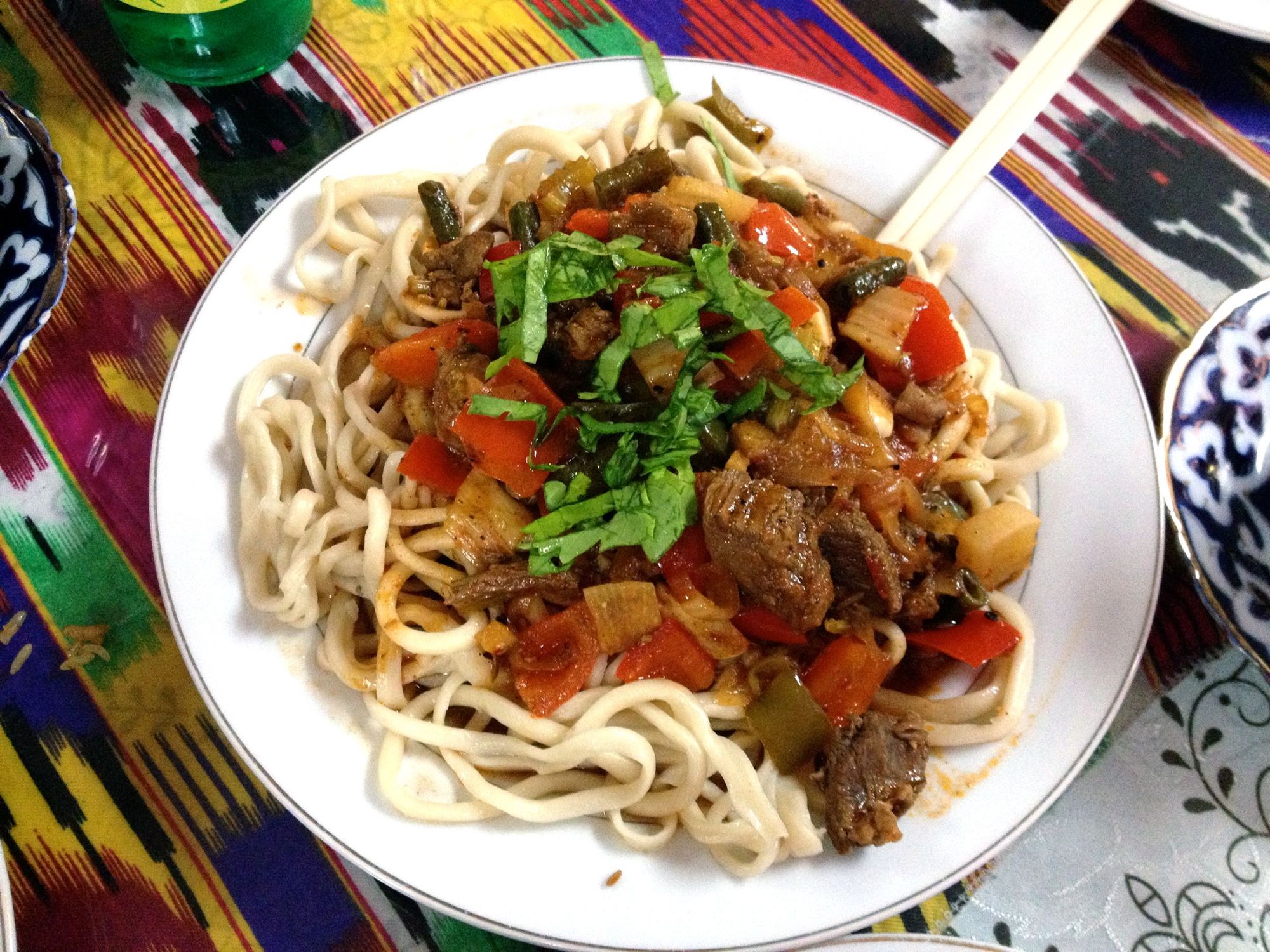 THE BITE: Based on the menu alone, it's hard to know whether you're diving into a Uyghur dish or an Uzbeki one at Cafe Kashkar – or really what you're getting into at all. But you won't go wrong picking and choosing among the inexpensive dishes and sharing with a table of adventurous eaters.
This is one of the few restaurants in New York City serving food from the Uyghur region, and, as the one thing the menu does note, it's named after the city of Kashgar, an oasis city in far western China. A predominantly Muslim region, the food focuses on lamb, noodles, and doughy breads.
There were reminders of Tibetan momos in the manty ($6), large doughy steamed dumplings filled with lamb and onions, though without the saucy excitement (or spice, or much seasoning at all) of momos. The flavor was more reminiscent of Yemen dishes we've enjoyed, where the meat is the main attraction, so if you like lamb, and you like dumplings, you'll be pretty happy.
Because this is a basically a festival of lamb, we ordered up a heaping plate of lamb pilaf ($6), which was a straightforward meat and rice dish that won't blow your mind, but would be plenty comforting on a chilly fall day after a stroll down the boardwalk. Much of our dinner had that appeal, the kinds of dishes you can imagine filling up on when, at last, the humidity has dropped.
You can see Marco Polo's inspiration for pasta when a plate of geiro lagman ($6, pictured at top) is set on the table. The hand-pulled wheat noodles are topped with red bell peppers, lamb, and sauce and served up with chopsticks. The irregular noodles have a pleasant chew to them, the lamb was some of the best of the night. It was the definite favorite at our table — we'd come back for that, and would also love to try the soup version.
Another bite we could have had more of was the chicken (not lamb for once!) kebab ($3.50), which was juicy and nicely seasoned — though it also came with a thin sauce for dipping, which didn't feel necessary, but introduced us to some more of the unique spices we'd come there to explore.
The naryn ($6) was the most unusual of the dishes we ordered, the most unlike anything any of us had had before. Cold, scrappy pieces of dough and crumbled lamb with slices of chilled sausage, it was mostly the texture and temperature (and yes, the grayish color of it all) that came as a surprise, but it grew on some of us.
There's no alcohol, but if you're already exploring the food menu with abandon, grab a drink as well. The tarragon soda, a green the color of radiator fluid that seemed to sit on display like a dare, was gulped down by the youngest in our crowd, who experimented, happily, by mixing it with a bottle of mineral water — which was described by one diner who had grown up drinking it as "an acquired taste," and perhaps unkindly but not entirely off-base, "sulfurous." The adults agreed the tarragon soda tasted oddly familiar, a little like salt-water taffy. Skip the tea, though — steeping in a pot through the whole meal, it never seemed to get strong enough.
Sampling a number of dishes, you get an impression of the style, something like a a cool-weather comfort food. Still, a number of fellow diners on a recent weeknight visit had come straight from the beach, and the space is so colorful and comfortable, you could easily linger a while after a day spent soaking in too much sun and sand. And once you're filled with all that lamb, it may be hard to get up and go, anyway.
1141 Brighton Beach Avenue, between Brighton 14th and Brighton 15th Streets,
(718) 743-3832.
The Bite is Sheepshead Bites' weekly column where we explore the foodstuffs of Sheepshead Bay. Each week we check out a different offering from one of the many restaurants, delis, food carts, bakeries, butchers, fish mongers, or grocers in our neighborhood. If it's edible, we'll take a bite.