Emergency Meeting with Uzbek-American Leaders Follows Deadly Attack In Manhattan
Yesterday afternoon Eric Adams, Brooklyn Borough President, met with prominent Uzbek-Americans of NYC to address yesterday's attack in Lower Manhattan. The attack, which left eight people dead, was allegedly carried out by Sayfullo Saipov, a 29-year-old man from Uzbekistan.
There are between 20 and 50 thousand Uzbeks currently residing in the City, according to Stefan Ringel, Communications Director for Adams. There is a large Uzbek Community in Southern Brooklyn, and the Borough President has been working with them to prevent radicalization.
Members of the Turkestanian American Association of Uzbek-Americans, Uzbek TV and Vatandosh Uzbek-American Federation came to Brooklyn Borough Hall. There they met with Adams and representatives from the mayor's office to discuss their concerns.
Abdullah Kwaja, president of the Turkestanian Association, said that every time a terrorist attack is committed by a Muslim, people immediately blame Islam. He said, "Terror attacks have nothing to do with Islam. Islam doesn't teach you to kill innocent people. Islam says that if you kill an innocent person you go straight to hell."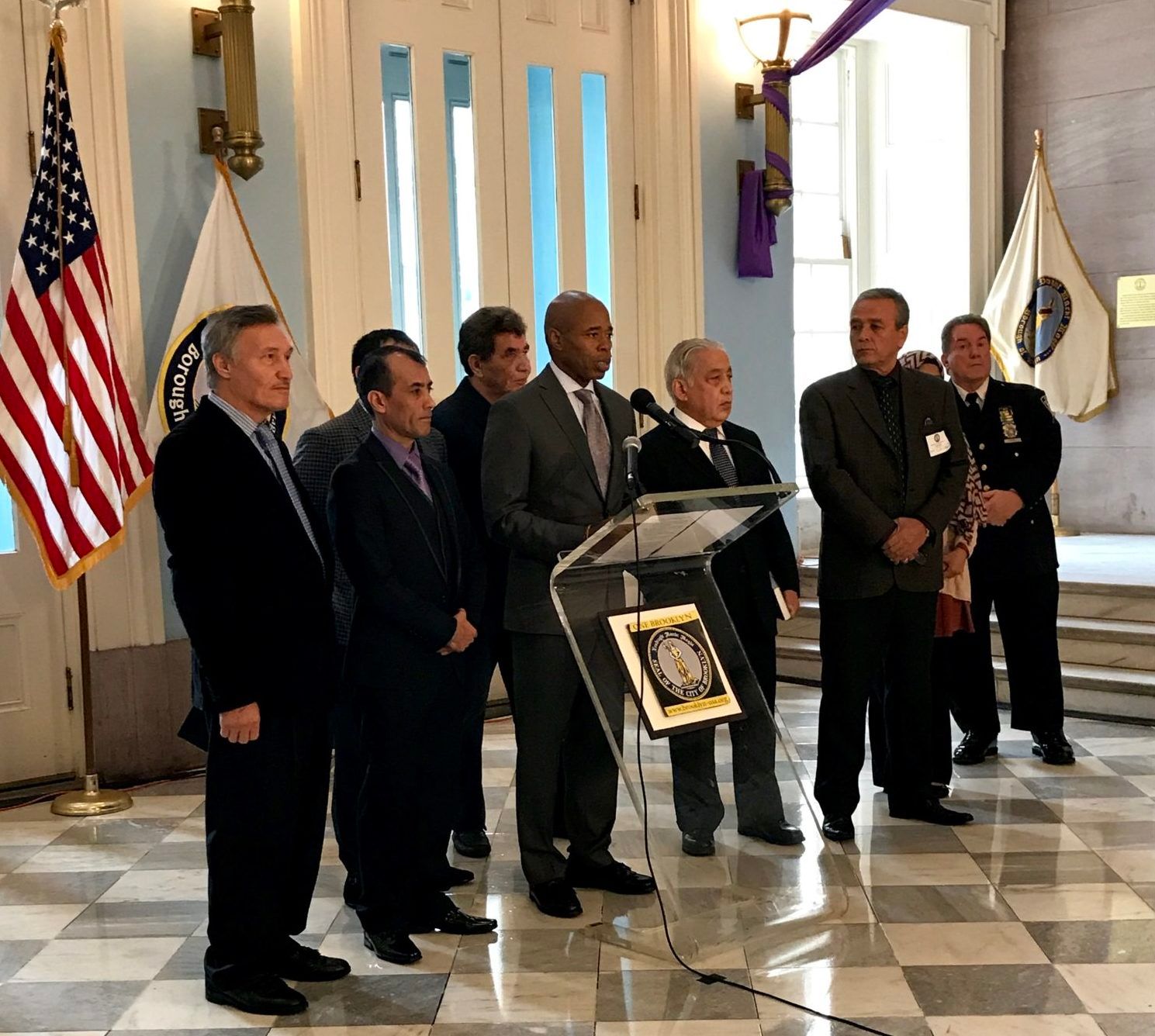 Adams cautioned that we should not connect this attack with the Uzbek community as a whole. He said he wants Uzbeks to feel welcome in Brooklyn and he is planning to allocate funds to create a community center for them. He envisions the center as a place where Uzbeks can "celebrate their culture and understand how to transition into the American lifestyle." He said, "We cannot leave people on the fringes."
Adams and the Uzbek community leaders also discussed several other initiatives. They are planning to include bilingual signage in local establishments, such as restaurants and wedding halls. The signs will have messages of inclusivity and information on resources and support. Additionally, they would like to work more closely with the American Turkish Eyup Sultan Cultural Center, a mosque that many Uzbeks attend.
Ringel said that today's meeting was not the first; there has been an ongoing conversation with the community since three Uzbek men residing in Brooklyn were accused of attempting to collaborate with the Islamic State in 2015. He said there is a now a lot of motivation to redouble efforts. "Today we saw some really good, creative solutions incubated that we want to follow through on."
Anvar Nazirov, an Uzbek immigrant who has lived in U.S. since 1999, said he thought the community center is a promising idea. He said, "We have to make people love this country by teaching our kids that this country gave us everything." He said he has never heard anyone discussing a terrorist plot in a mosque, and he imagines that they must make their plans while at home in their kitchens.
"I cannot imagine what was on his mind," he said referring to the man implicated in Tuesday's lethal attack. "Now the Uzbek nation represents terrorists. That's very sad," he said.