Embrace The Summer With Randazzo's Clams On The Half Shell – The Bite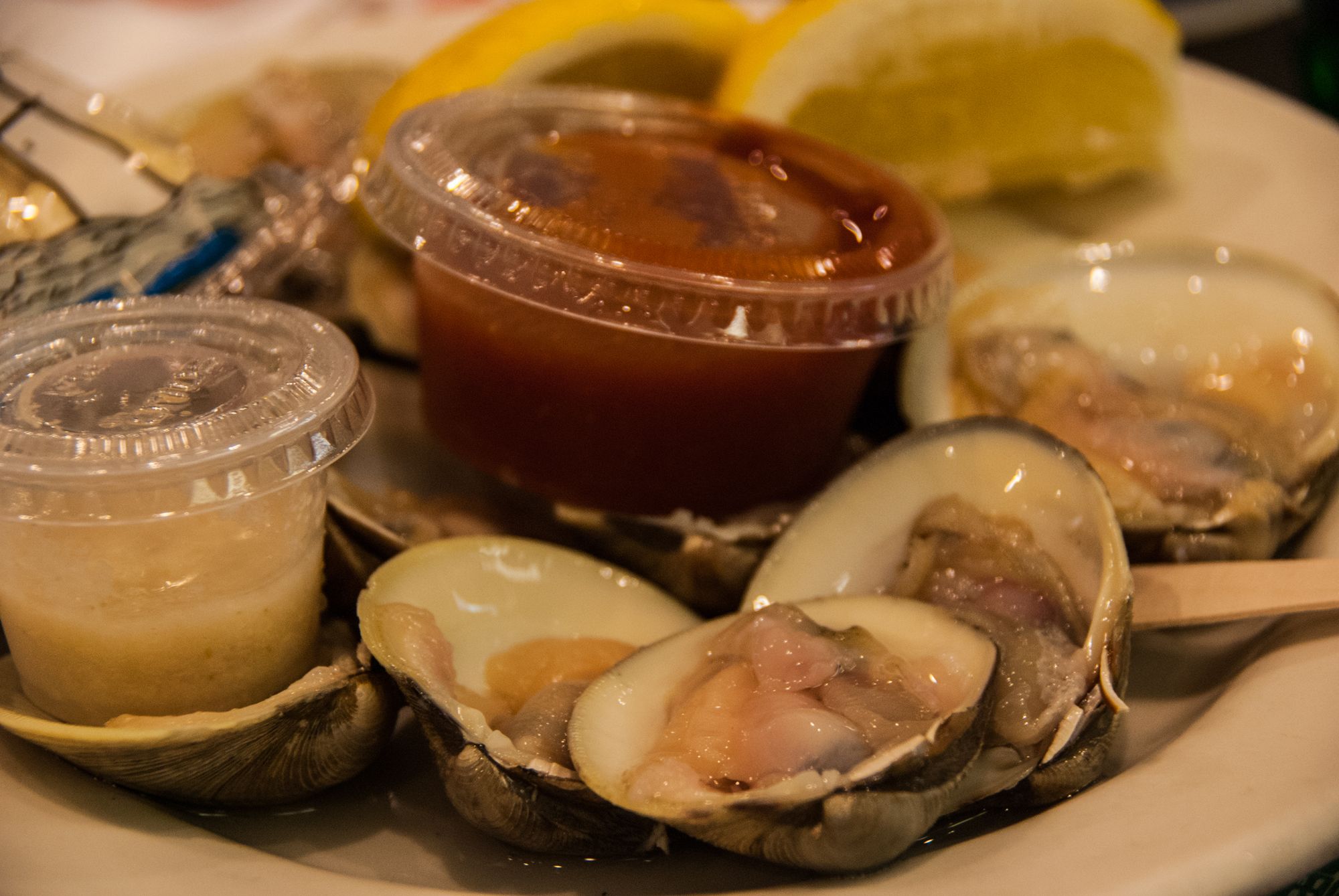 THE BITE: I confess. Despite being born and raised in Sheepshead Bay, it wasn't until I was 16 or so that I ate at Randazzo's Clam Bar, one of the neighborhood's most legendary culinary staples. And it wasn't until that summer day, when a high school friend's parents took us out, that I tried a raw clam on the half shell. My Sheepshead Bay cred is all a farce. I am nothing.
But, I pray you will forgive me, as I have spent a good many days over the past years making up for lost time. Many a gruff waitress of this ungilded joint have given me a "Whaddya want?", thumped down some crispy calamari and sloshed Budweiser into a tiny plastic cup.
It is now part of my spring-summer tradition that I plop my rear down on a barely cushioned stool at the counter at the first sign of warm weather and order up a dozen or so raw cherry stone clams, and listen to the fishermen come in, barking long-winded tales that always kick off with an "'Ey! What's good?"
The counter at Randazzo's Clam Bar on a summer afternoon is one of the few temples of old-school Brooklyn camaraderie where talk is not mired in the "It used to be better" bleh-ness, but of enthusiastic back-patting geniality. It's refreshing.
So are the clams, which is what we're here to talk about.
Randazzo's is well-known for its famous marinara sauce, splashed over perfectly cooked, tender fried calamari (or a number of other dishes… but come on, calama!). Sure, I ordered that ($13.95) – with the hot sauce, which isn't hot at all, but sweet, tangy and possessed with aromatic oregano.
It was, as always, great.
But that's winter food as much as it is summer. And warm weather is here, so my tastes turn towards the ocean and its unmolested bounty: the clams. The raw clams. Straight from the sea, kept on ice, killed by a shuck moments before it goes down my gullet.
The clams come daily from Blue Point, Long Island. Their insides are pink and chewy, a meaty flesh which drives my preference over more celebrated oysters (a loogie in a shell, is how I usually describe those). At Randazzo's they come half a dozen or a dozen, in two sizes – cherry stone or littleneck. Both are of the same species – quahog – and are defined by their size.
Littleneck ($8.50 half dozen / $15.00 dozen) is the tiniest. Cherry stones ($9.50 half dozen / $16.00 dozen) are larger. They're served on a platter of ice, glistening in their own salty liquor, and accompanied by a small baggy of oyster crackers, lemon and cocktail sauce.
Toss the crackers out or put them in your pocket for later. Don't screw this up – a drop of lemon juice is all you need, maybe, and a smidgen of cocktail sauce only if your nose needs clearing.
Most importantly, don't spill out that precious liquor, the drops of ocean water filtered through the creature's system that remain in the shell after shucking. Slurp it up and chew your clam – the most pristine ocean flavor will overcome your tongue, the salt balancing the clam's fleshy sweetness.
That flavor is my summer's ambrosia; Randazzo's atmosphere my summer's pantheon. After many gray winter month have crushed my spirits, it's this meal that rejuvenates for summer and reminds me of my love for Sheepshead Bay.
Randazzo's Clam Bar, 2017 Emmons Avenue, (718) 615-0010. Open 11:00am until midnight.
The Bite is Sheepshead Bites' column exploring the foodstuffs of the Sheepshead Bay area. Each week we check out a different offering from one of the many restaurants, delis, food carts, bakeries, butchers, fish mongers, or grocers in our neighborhood. If it's edible, we'll take a bite.