Election Costs Swell Due To Special Elections, Primaries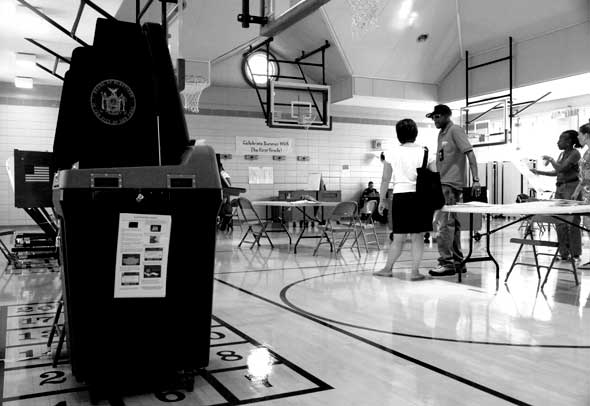 Taxpayers are forking over more money this year than any other year in recent memory, thanks to an increase in the number of special elections and primaries in New York State.
The bill? $80 million – a $23 million bump over previous years, according to the Independent Budget Office.
Here's the explanation offered by the organization:
We typically have three citywide elections in a year when the terms for state and federal officeholders are up for vote. But this year a federal judge ruled that New York State's scheduling of its Congressional primaries in September, in conjunction with the state primaries for Assembly and Senate, would not leave enough time to get absentee ballots to military personnel overseas before the general election in November.
Albany officials could have shifted state legislative primaries to June 26 as well, but chose not to. With New York's legislative session scheduled to run until June 21, the State Senate balked at the idea of holding an election just five days later that would leave them little time to get home and campaign. So counties across the state pony up more money to cover the cost of an additional day for voters to go to the polls. For the city this meant adding $23 million to the Board of Election's budget. The funds cover expenditures such as printing ballots, transporting voting machines to the city's more than 1,300 polling sites, and paying about 30,000 poll workers.
For April's poorly attended Republican primary, the bill came out to much less than the city had anticipated: just $13.3 million. But, the IBO notes, that comes out to about $522 per vote.
Locally, the race to replace former State Senator Carl Kruger, which pitted Democrat Lew Fidler versus Republican David Storobin, the election day costs were about $750,000. No one has yet figured out the cost of the hand recount triggered by the nearly 50-50 split in the vote, or the two months of proceedings that led up it. The New York Post puts that figure at more than $1 million.
Oh, and the kicker? The cost of that special election is not included in the $80 million price tag. Neither is the overtime pay for police officers station at voting sites, which the IBO estimated at approximately $500,000 for each citywide election (and less for local specials).
It's enough to make a fiscal conservative wonder if democracy is worth the price.