Dot & Line: An Elevated Mom & Pop Coffee Shop Minus the Pretense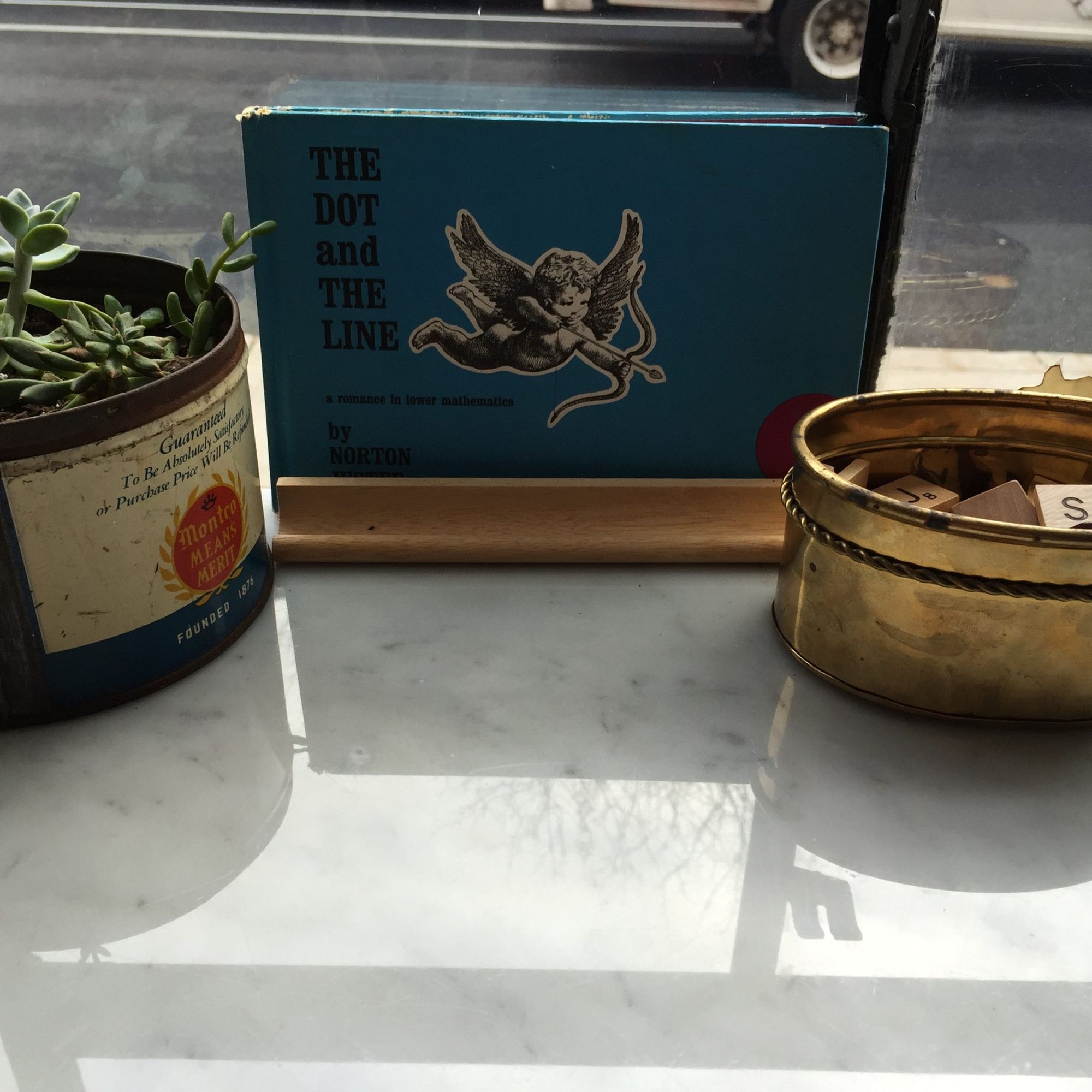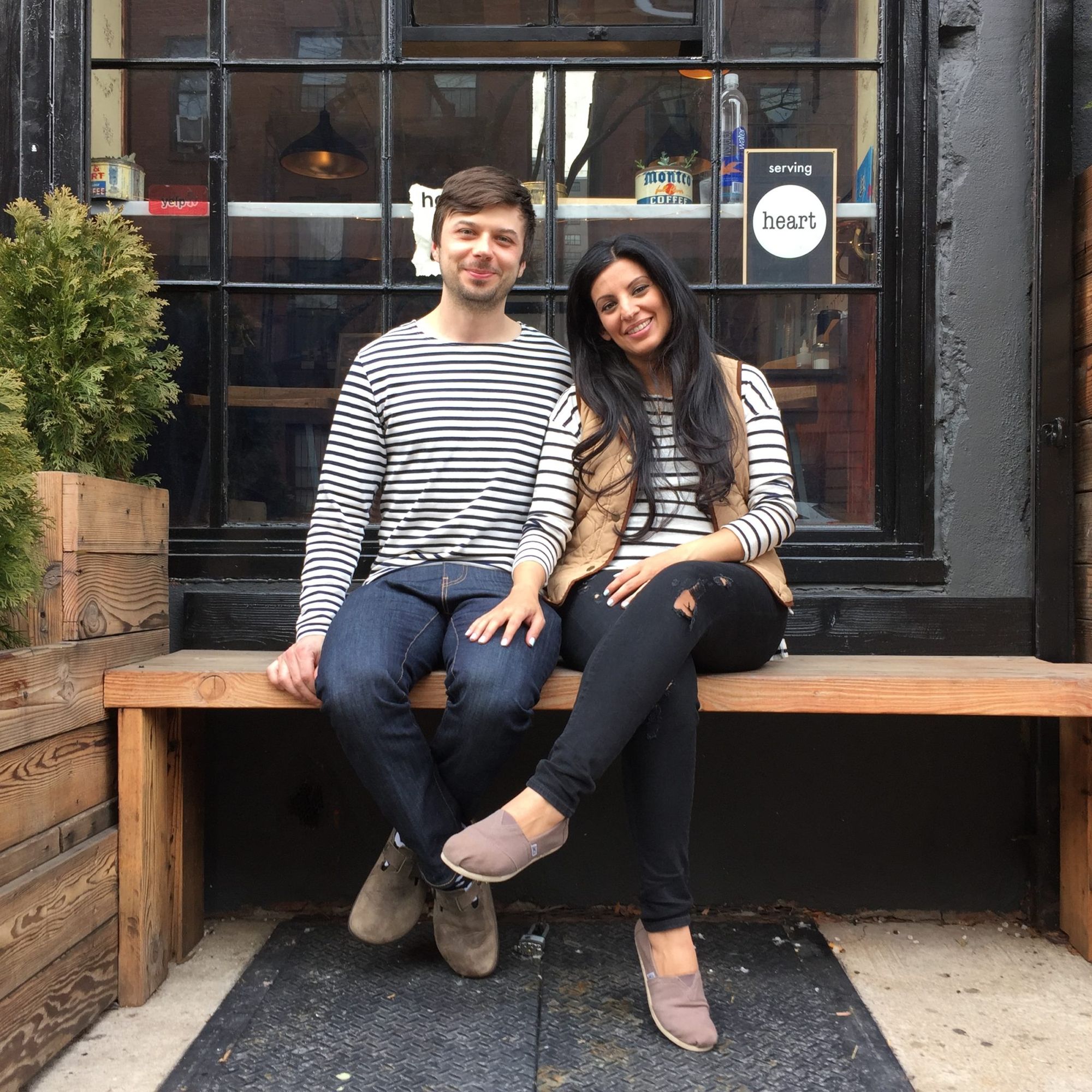 Are you tired of being served a splash of 'tude with your morning latte? Then pay a visit to Dot & Line, a new coffee shop at 253 Bergen Street (between 3rd Avenue and Nevins Street) in Boerum Hill where coffee is served without pretense or attitude.
Owned by the husband and wife team Bart Rozyk and Amber Eltaieb, Dot & Line opened at the end of 2016. Rozyk and Eltaieb, both native Brooklynites, wanted to "bring back mom-and-pop shops…in an elevated capacity to the neighborhood and introduce people to specialty coffee in a non-pretentious, comfortable, neighborhood kind of way," says Eltaieb seated at the shop window on an unseasonably warm February afternoon.
She continues, "Why is it so difficult to feel comfortable in this coffee world? We love it so much. Why are people so mean? And pretentious? What is with the attitude?" For her own coffee shop she says that she and Rozyk are, "…so grateful for people who come to our business. Why would you treat anybody like they shouldn't be welcome? That to us was a huge motivating factor, like how do we make this different in a way that feels comfortable, that feels Brooklyn, but also represents our passions and caters to the neighborhood?"
Rozyk was born in Poland and moved to the States as a young child with his family, settling first in Greenpoint and later in Brighton Beach. He studied art at FIT and has worked in art, design, and event consulting as well as in the food and restaurant industry. Eltaieb was born and raised in Cobble Hill to Yemeni immigrant parents. When she was 16 her parents moved her and her four siblings to Yemen to protect them from the then mean streets of Brooklyn. After finishing high school in Yemen, Eltaieb went to university in Dubai where she studied political science, public administration, and journalism. She returned to Brooklyn in 2008 to work as a social worker, a family, couples and integral therapist, as well as a cultural competency and sensitivity training consultant.
The couple met through mutual friends in 2013 and instantly connected. Eltaieb explains, "There were a few reasons why we hit it off. I think the Brooklyn connection was really big for us because being [30-years-old] in Brooklyn and meeting a lot of people who are not from Brooklyn is a very sobering experience…. You ask people where they're from and rarely is it from Brooklyn." She adds, "I grew up in Cobble Hill [and Rozyk's] mom used to work in Cobble Hill, and [as a child] he played in Cobble Hill Park [at] the same time that I was there…we definitely were there at the same time."
Along with this childhood missed connection, the pair found that they shared several similar interests—including a love of coffee. Eltaieb says when they were still dating, "We were kind of coffee snobs, we loved coffee…. Coffee was a big part of our dating life. We'd go to Blue Bottle and Intelligentsia…we'd go and try different blends…. It was a great thing that we explored together."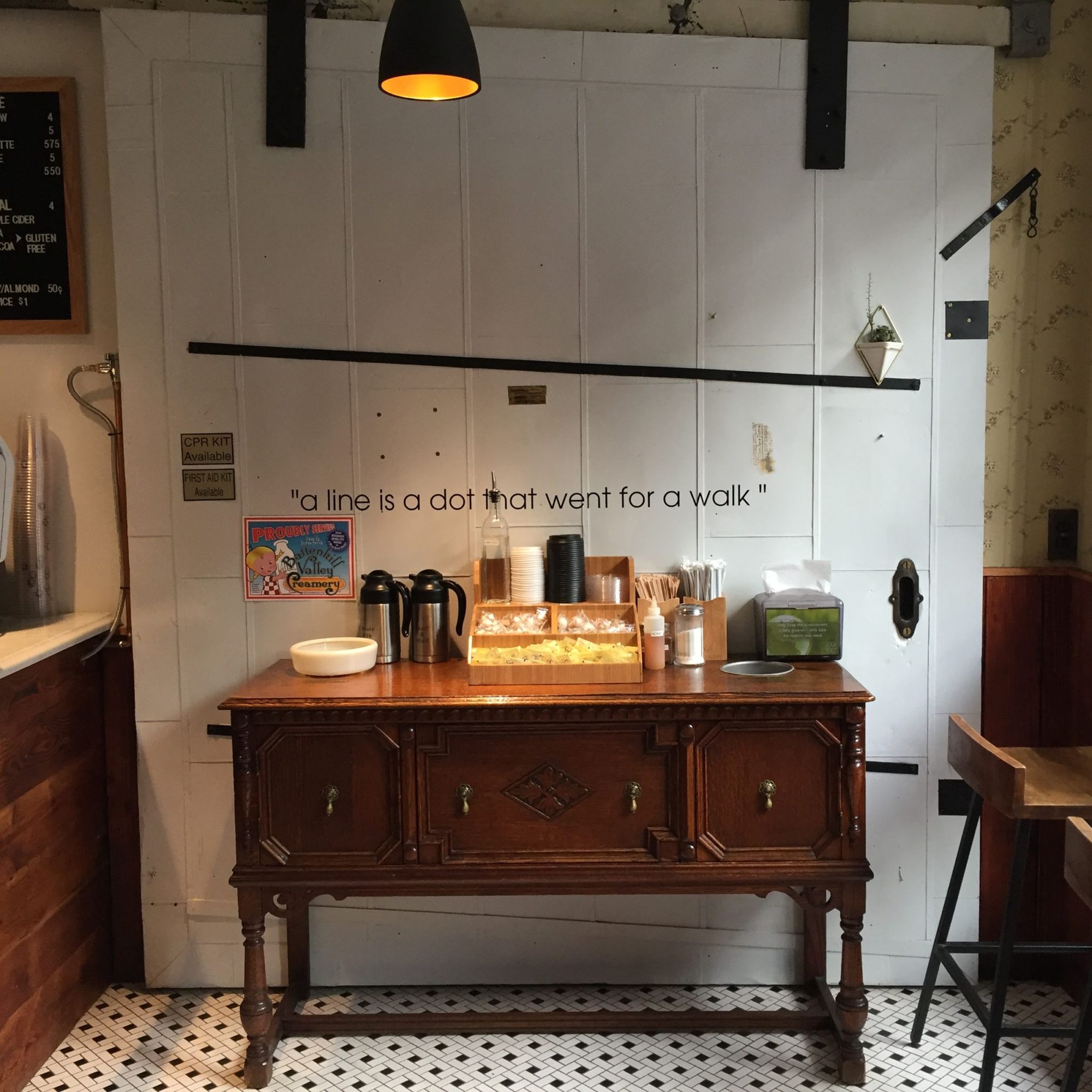 After marrying in 2014, the pair moved to Boerum Hill where they discovered, "There's really is no coffee place in the area…there are a couple…but they aren't really in our neighborhood…"
Eltaieb recalls, "Bart had suggested a few years ago, 'What if we open a coffee shop?'" Her initial response to this idea was, "I don't know. Maybe…. Is he serious?" The couple mulled it over until a small space formerly housing an upholstery store became available at 253 Bergen, right around the corner from their home. Eltaieb says, "We noticed in November/December 2015 that the space was available. We started to talk and map it out and we incorporated in March."
The couple decided to name the shop Dot & Line after a book that Eltaieb gave to Rozyk when the two were dating. "It's a cute love story…based on a dot that falls for a line that tries to win the dot over…," Eltaieb explains. The book is available to purchase at the shop along with other gift items like note cards, key rings, mugs, coffee pots, and Scrabble coasters and magnets.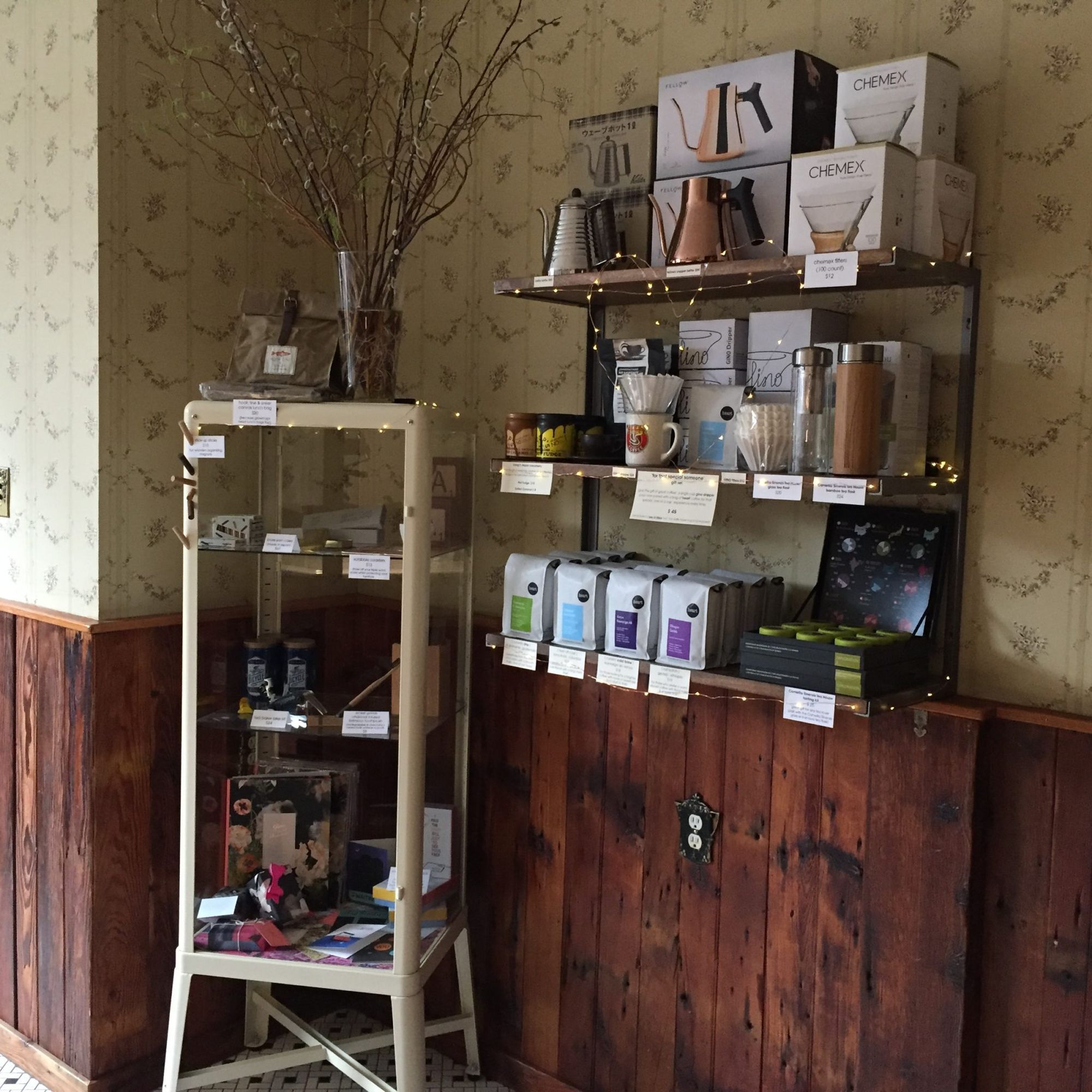 Eltaieb says that she and Rozyk "feel a huge sense of responsibility for what we contribute here." She says of Boerum Hill's diversity, "it's really varied across the spectrum and we try to make our shop accessible in as many ways as we can. We try to make it approachable. We try to make it as friendly as possible. There's no pretense whatsoever. We're so against pretense. We're very grateful for anybody who comes in and wants to visit us."
Don't worry if you are not a coffee aficionado, Eltaieb and Rozyk are more than happy to talk to customers about the Heart Roasters beans they serve and carry, educating them and helping them to make the right purchase. "We want people to feel at ease with what they're buying…. We really want them to make informed decisions about what they're buying…. We're very conscious about that because we're conscious consumers too. We want to know exactly what we're buying, where it's coming from, and why [we're] going to want to buy this product."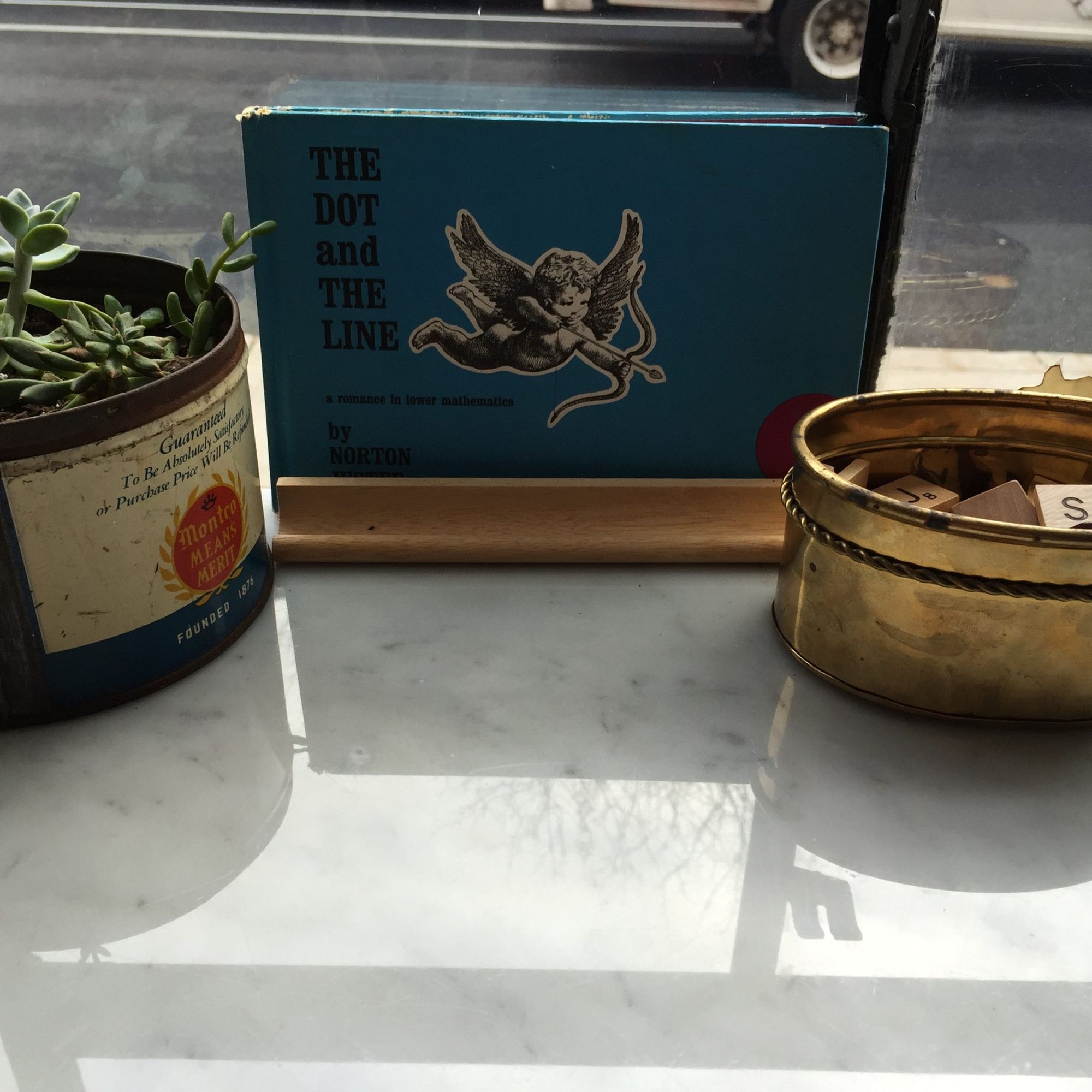 The couple favor Portland's Heart Roasters for the quality of its beans as well as the company's philosophy. "It's sustainable. You can trace back the beans to the farmers. They're known for their relationships with their farmers.… And we love what they're about. They're very much small-town, big-philosophy and they do it so well. It just really fits with what we're trying to do…we want[ed] to go with a roaster who we feel really good about and feel like we can stand behind everything that they do and what they're putting out…. The sourcing is really important too because it's sustainable, it's ethical, that's all a really important factor."
Eltaieb says, "We're huge fans of [giving] samples because as a nervous shopper myself, I hate committing to something I'm not fully familiar with…. We have a seasonal rotating single origin bean, that's part of [Heart Roasters'] sustainability factor. We only source what Heart has available, and that's based on what's available for the season. If we're using one bean for 2 months and [then Heart runs] out, we switch it up. We try to keep it at the same flavor profile…and we let [customers] know it's going to be different…and this is what's different about it." She adds, "If you think about it, if you go to an ice cream store, you can try 40 different flavors, but at a coffee shop, you're never really offered a sample…"
Dot & Line sources quality, organic ingredients despite higher costs. As Eltaieb explains, "we don't carry ingredients we wouldn't feel comfortable consuming ourselves." Along with coffee drinks, the shop offers a popular take on hot cocoa that is gluten free and vegan, as well as a babycinno—steamed milk served with a bit of organic vanilla sugar and topped with cinnamon. The pair are also creating some cardamom-infused beverages and in the spring will introduce cold brewed organic herbal tea infusions that will include flavors like strawberry bergamot.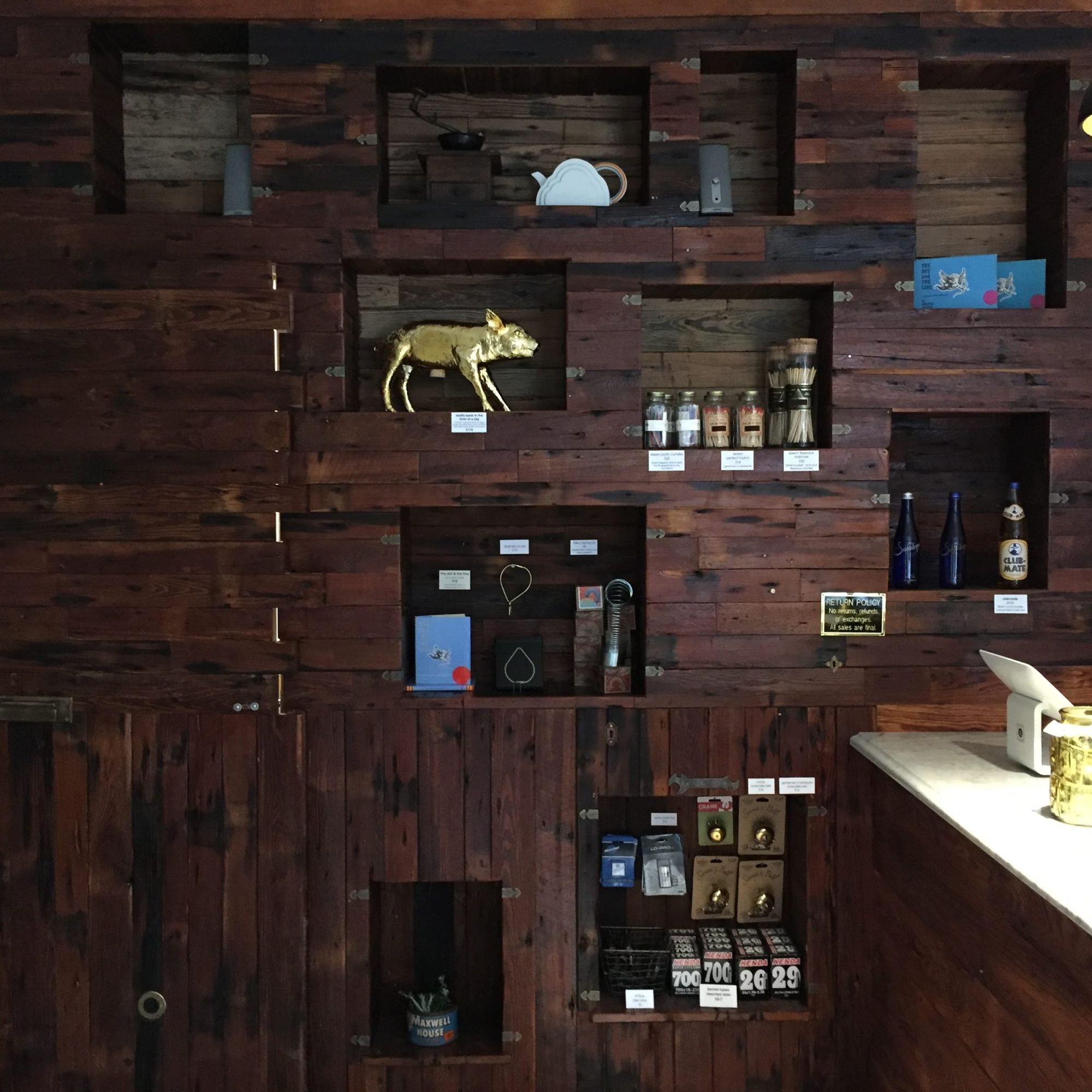 The homey and sunny spot was built by Rozyk and his father using reclaimed materials sourced from around the neighborhood. "All the wood that you see in the bar and walls…all came from neighboring buildings on this block and around the corner that were doing demolition at the same time we were building the shop," Eltaieb says, allowing them to literally bring the "fabric of the community into the shop." An original 1940s fire door from a nearby factory was also carted in to "infuse some of that old-fashioned Brooklyn into the shop." Eltaieb says, "We wanted to bring in pieces from the neighborhood that made it what it is because you can try to manufacture authenticity but you can't buy it. We really want people to feel how authentic we [are] with wanting to make this a neighborhood place. We were like 'if we go with our gut and how we feel about it, it will translate.' We really believe that if we put our heart and soul into this place, it will translate to people. They'll feel it like we do."
For Dot & Line, Eltaieb and Rozyk want to avoid the pretension they've encountered at other cafes. As Eltaieb says, "There doesn't need to be a barrier in this thing that really connects people. It's a people industry really, coffee…we're in the people business."