Dining Review: Toné Café Georgian Bread In Brighton Beach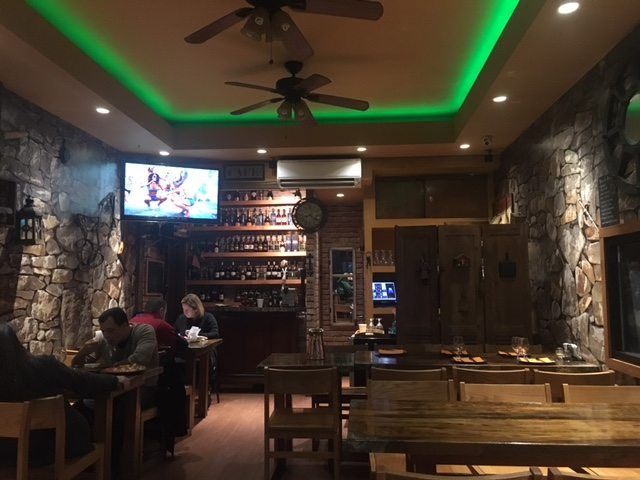 Why can't everything be buttery bread stuffed with creamy cheese? At Toné Café Georgian Bread in Brighton Beach, that dream comes close to reality.
Toné is located at 265 Neptune Ave, between Brighton 6th St and Brighton 5th St.
It is a small restaurant with a storefront bakery attached, furnished with wooden tables and chairs, and stone-printed wallpaper, making it feel like a cabin in the rolling mountains of Georgia. Towards the back is a wall of wine bottles, a staple of the drinks menu at Toné.
The music was a fun mix of rap and pop remixes, and spatial trance music. The two televisions play a slideshow of cool people doing cool things like posing next to cars on the beach. That gave a good reason for everyone to talk with their dinner dates instead of watching some sports game (like game one of the World Series).
Toné's wine list is extensive and relatively inexpensive for the quality. It is known that Georgians take wine seriously, and Toné is a genuine Georgian restaurant, so it goes without saying that the wine is a major part of the experience.
My date went with a glass of the Khvanchkara, a dark ruby-colored red wine with a semi-sweet taste and a hint of raspberries. It was on the stronger side; one glass lasted the whole meal.
For an appetizer, we had the imeruli, which is oven baked soft bread filled with thick creamy mixed cheese. It comes in a buttery circle, cut into quarters. We only ate half of it and took the rest home because we didn't want to fill up before the entrees.
That was a very difficult decision.
For my main course, I had the kababi, a sausage of ground beef and pork, season with mixed herbs and spices, topped with red onions, on a piece of flatbread. It comes with a cup of light tomato sauce, and together it is an incredibly tasty, but not too filling, meal.
My date had the fish mtsvadi, which is a fish fillet that is slowly cooked over charcoal. You get a choice of salmon or sturgeon, and my date chose the salmon. It came out to the table as two thick slabs of oven golden goodness over a bed of spinach and sliced lemon. You can ask to have it topped with pomegranate seeds, which adds a tiny burst of sweetness to each bite.
We also shared a side of fried potatoes, which were perfect. They were oily chunks of lightly fried potatoes that went splendidly with the kebabi and the tomato sauce. That tomato sauce is special — seriously.
Dining Rundown: Toné Café Georgian Bread
Hours: Monday-Thursday 7:30am-9pm, Friday-Saturday 7:30am-9pm
Breakfast: Yes.
Kid friendly? No dinner kids menu, but cheese-filled bread trancends age.
Delivery: Yes, $10 minimum
Phone: (718) 332-8082