Dining Review: Three Square Meals And A Corpse Reviver At Krupa Grocery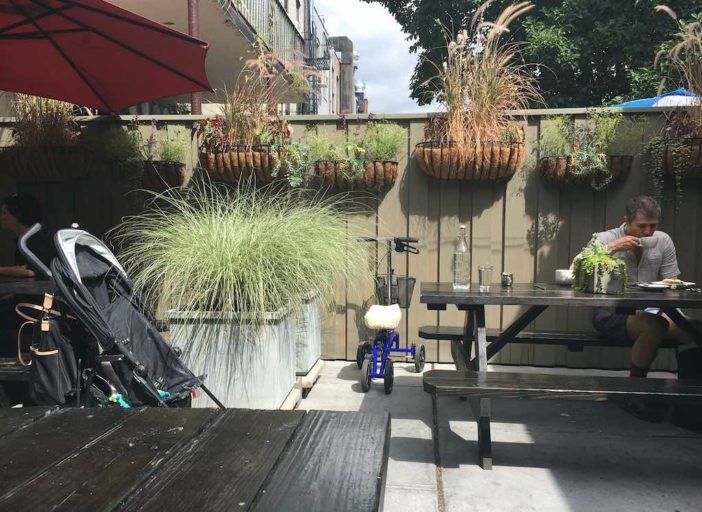 Krupa Grocery may have opened just over two years ago, but long-time Windsor Terrace residents will recognize the name of the restaurant from some time ago.
The former grocery (231 Prospect Park West between 16th Street and Prospect Avenue) was owned by Patel and Pushpa Raj who remain the building's owners and live right upstairs.
"They had the grocery for over 30 years. Keeping the name was an homage to them," said co-owner Tom Sperduto. When Krupa first opened, co-owner Bob Lenartz told us drummer Gene Krupa was one of his favorite musicians. The coincidence didn't hurt at all.
Love for musicians and an homage to the previous owners speak to the warmth which almost seems painted on the walls of this neighborhood restaurant.
The menu at Krupa ranges from "breakfast all day dishes", to the sandwiches and mussels on the lunch menu, as well as full dinner plates.
Krupa was the lunch stop of choice for Monday afternoon, a day with a manageable temperature hinting that a legitimate fall day may actually be in the meteorological cards. Make sure you find a comfortable day to have a meal outside in their garden. They start serving coffee and pastries at 7am.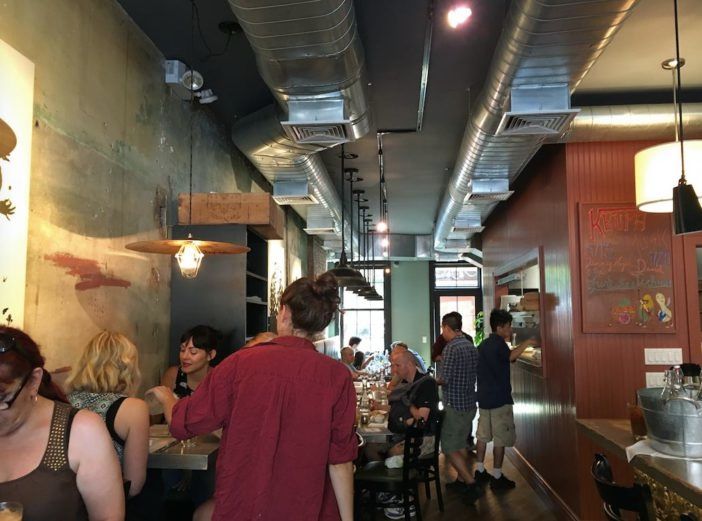 The afternoon was particularly quiet and peaceful, however when we peeked into the place during Sunday brunch, the joint was jumping. There wasn't a wait, so don't let the busy vibe deter you.
In addition to their menu, the beer/cider/wine list is on tap — and you have many choices.
And the cocktails are curious. Far be it from me to booze it up on a Monday afternoon (authors note: I may sometime have to edit that statement), but the Corpse Reviver #2 ($12) was tempting. It's a shaken drink made up of Broker's Gin, Lillet, Combier, and Lemon Juice — which certainly fits into the "hair of the dog" category.
Lenartz certainly knows his way around his drinks; he owns Slope Cellars (436 7th Avenue between 14th and 15th Streets) and Windsor Wines Merchants (across the street from Krupa at 216 Prospect Park West) along with his wife Patty and brother John.
The panko-crusted Shrimp Burger ($14) is crispy, crunchy, and without a hint of greasiness. The black tiger shrimp is topped with seaweed salad, Korean pickles, and "Krupa kewpie mayo." Add fried fingerlings to any of the sandwiches for $4.
Sperduto accentuated how kid-friendly they try to make the place. And if you see the higher tables in front, not to worry. They have "high" high chairs for the kids.
So what's the best time to go to Krupa? Basically, it depends on the time of the day that you're hungry.
The Dining Rundown: Krupa Grocery
Where: 231 Prospect Park West (between 16th Street and Prospect Avenue)
Hours: Coffees and pastries at 7am everyday. Breakfast: 9am-5pm, M,W,Th,F. Lunch: 11:30am-5pm, M,W,Th,F. Brunch: Saturdays and Sundays, 10am-4pm. Dinner: Sun-Wed, 5pm-10pm. Thurs-Sat, 5pm-11pm. Kitchen closed for lunch on Tuesdays.
Phone: 718-709-7098
Reservations: Reserve online. Email hello@krupagrocery.com for more infomation.
Kid Friendly? High chairs, space outside. It's a kid-friendly place.