Dining Review: The Great Outdoors Is Alive, Well, And Tasty At HENRI's Backyard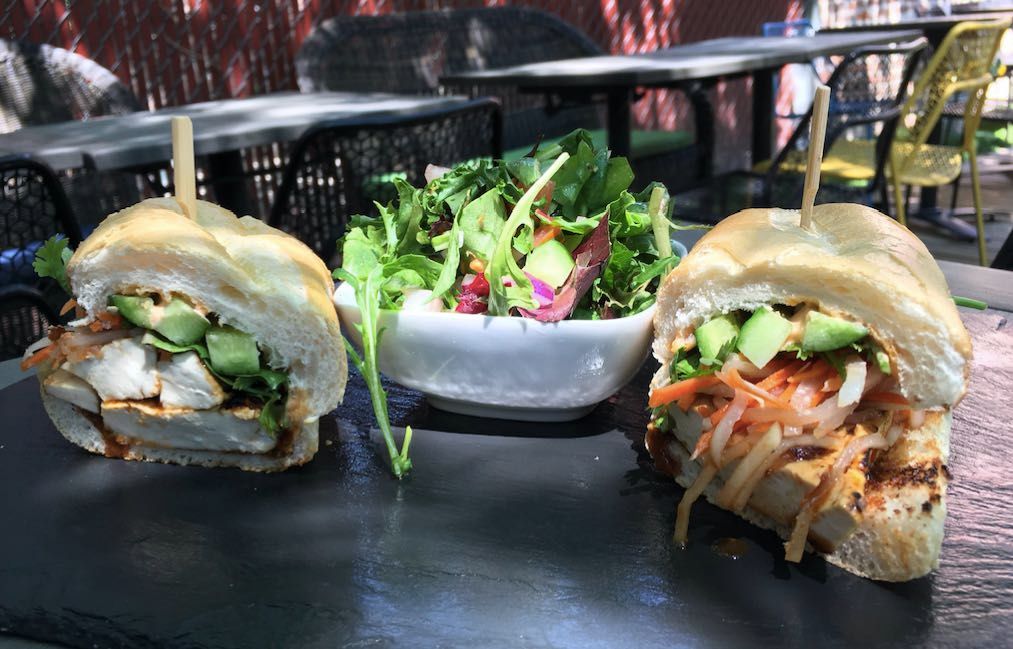 A bright, sun-splashed afternoon calls for a bright, sun-splashed meal. So today's destination choice was easy: the brand spankin' new HENRI's Backyard (256 4th Avenue between President and Carroll Streets).
Owner Binh Douglas had a soft opening last weekend and today marks the official opening of this "bar-forward" restaurant which features one of the newest backyard spaces in Gowanus. And in that backyard lives 18 "locally sourced" beers on tap as well as what Douglas describes as  a "Vietnamese/German fusion menu."
As I took a seat, Public Enemy's "Don't Believe The Hype" was playing through the sound system. And while Chuck D was certainly not writing about a relaxed all fresco afternoon, one ought to very much believe the hype about HENRI's Backyard.
I'm not usually a day drinker, dear reader. But since beer is one of the featured elements of the new place, I felt it necessary to serve our community by sampling one of the on-tap selections. The Traveler Grapefruit Shandy ($7) is light and refreshing. It barely beat out the Grapefruit Rebel IPA ($6) as my selection.
Keep in mind that HENRI's has a full liquor license and also has a full bar and wine selection.
Sometimes the word "fusion" gets bandied about a bit too much. The menu here is well-curated — an amalgam of shared plates (including Blue Point Oysters, Mushroom Croquettes, and a Corn on the Cob with Garlic Mayo, Aged Cheese, and Chili Lime Sea Salt), salads (including a vegan quinoa bowl), as well as sandwiches and plates (including banh mi, an "un-kosher" hot dog, and Vietnamese baby back ribs).
Desserts include the perversely tempting ice cream sundae, homemade cupcake plate, and fresh fruit kabobs.
The Vietnamese Banh Mi ($14) will be one of the standards here. Choices include German Sausage, Chicken, or BBQ Tofu.
I opted for the BBQ Tofu, and the savory flavor of the sauce complemented the dish's daikon carrot slaw. The French bread was both soft and crunchy, and the sandwich is rounded out by pickles, mayo, cucumbers, and cilantro.
Akin to the Breakfast Bao at Douglas' HENRI on Fifth, the sandwich is just spicy enough to tease those of you who enjoy hotter dishes, but won't overwhelm those who play carefully with heat.
The service is particular friendly, full of down-to-earth folks who know their menu.
Douglas worked hard on the renovations (literally — he was the one doing them). He was deep into it when we stopped by for an early look back in May.
And for those who were fans of the previous Pickle Shack which closed back in February, HENRI's Backyard has the vegan and vegetarian items offered on the menu by the vegetarian gastropub.
This is shaping up to be the summer of fantastic al fresco openings in Gowanus. In addition to HENRI's Backyard, Josephina (284 3rd Avenue between President and Carroll Streets in the backyard of The Pines) and Pig Beach (480 Union Street between Nevins and Bond Streets) make a very impressive trilogy.
Here's the other bonus about HENRI's: it's so nice to write about new things happening on 4th Avenue without having to discuss the real estate mishegoss every time I type "4th." Add the excellent Hey Hey Canteen (400 4th Avenue at 6th Street) to the conversation, and 4th Avenue is home to new, robust food options to really champion.
Douglas tells us he'll be working on enclosing the outdoor space during the winter months so it can be enjoyed all year. The owner wanted to bring "the best backyard in Brooklyn" to Gowanus. He's certainly started out right.
See you soon. I still have 17 tap beers to sample.
The Dining Rundown: HENRI's Backyard
Where: 256 4th Avenue (between President and Carroll Streets)
Hours: Mondays-Thursdays, 11am-11pm; Fridays and Saturdays, 11am-2am; Sundays, 11am-10pm.
Phone: 929-337-8443
Kid Friendly? For sure. High chairs are available. That said, visit with the kids during the afternoon before it turns into more of an adult evening.