Lunch Beat: Scrumptious Generational Synchronicity At Baba's Pierogies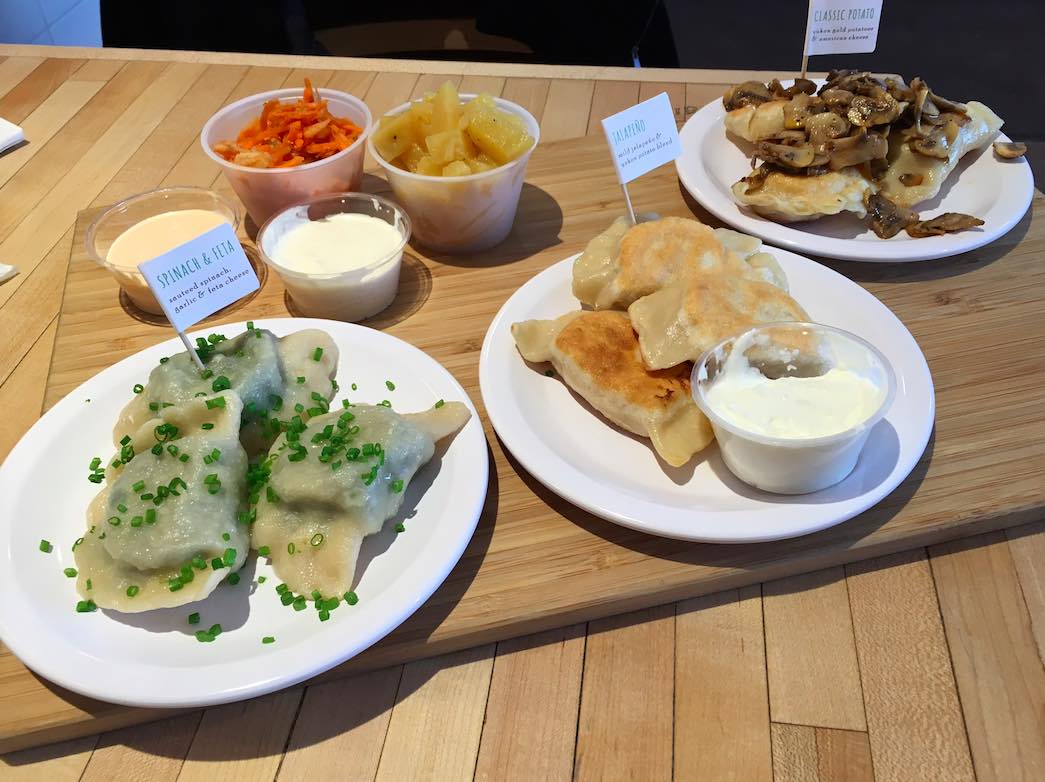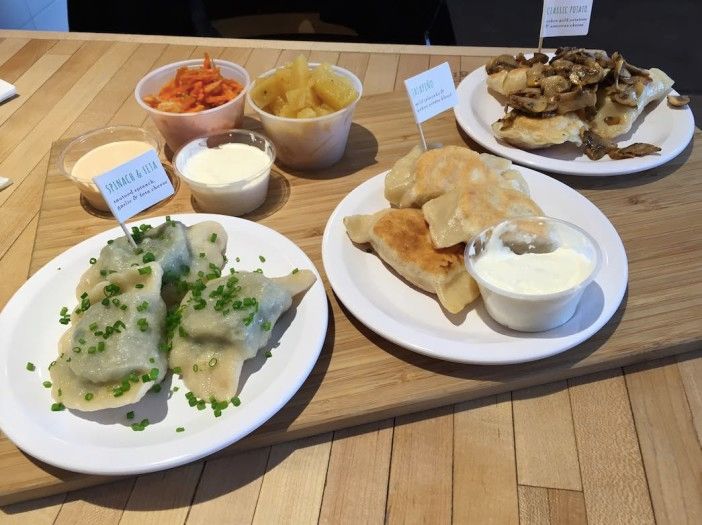 Let's talk about New York food taxonomy. Specifically, we need to spend a moment classifying the most discussed and debated foods in the city.
Pizza? Yup.
Bagels? Absolutely.
Pierogies? ___________
They complete the trilogy. Or at least they should.
Pierogies are the perfect New York City food — comforting, compact, and culturally re-interpreted.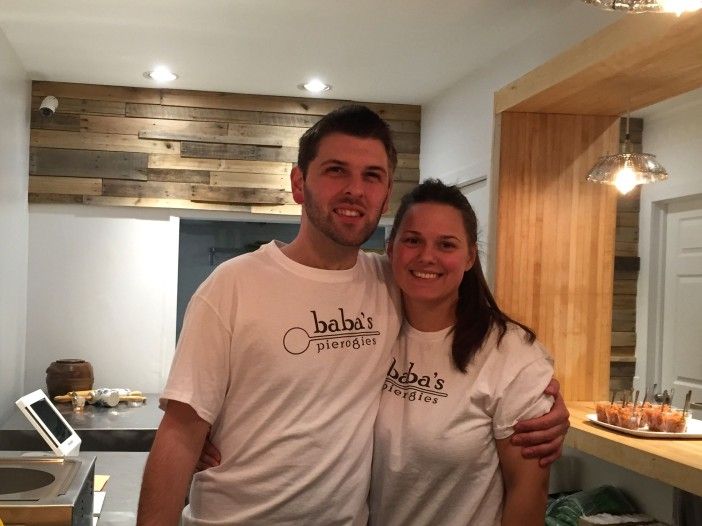 Baba's Pierogies (295 3rd Avenue near Carroll Street) was opened last April by co-owners Helena Fabiankovic and Robert Gardner, and has garnered a well-merited enthusiastic response by our neighborhood.
Fabiankovic is a first-generation American who grew up in Sunset Park. Her Slovakian family immigrated to the US in the 1960s. The pierogi dough and potato recipes are based on Fabiankovic's grandmother — or "Baba."
When Baba's was first opening, Fabiankovic said, "my sister and I joked about it as kids about how we were going to sell pierogies out of a hot dog cart."
When Fabiankovic met Gardner, who had worked in the restaurant industry and coincidentally grew up just a few blocks from where she did (and not far from where they currently live), they talked about the idea of their own place, until one day they dove in.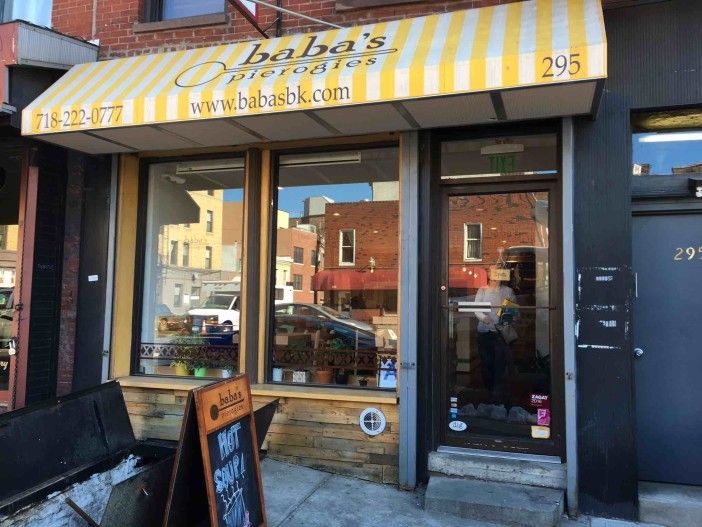 One of the great strengths of Baba's is the cultural reinterpretation of their pierogies. While New York is well-known for the Polish pierogies of Greenpoint, or those Ukrainian dumplings of the Lower East Side, Baba's synchronizes the traditions of Fabiankovic's family with contemporary elements.
Well, all that experimentation and development in their Sunset Park kitchen has worked out exquisitely. Come along now, hungry neighbor, so we may reap the benefits.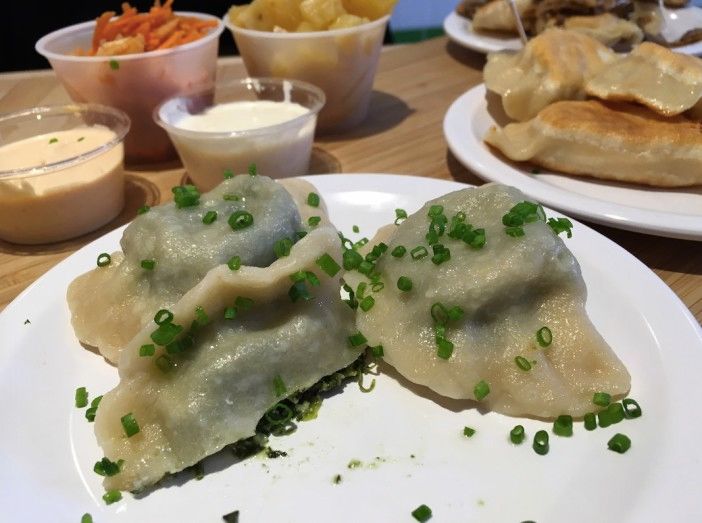 Let's start out with the pierogies themselves (although Baba's menu has a lot more to offer). There are eight options, spanning from the more traditional Potato, Sauerkraut, or Potato & Cheese to more contemporary options such as Mac & Cheese and Bacon Cheddar. Prices vary a bit; an order of 5 will run you $8-$9.50. The order of 9 runs between $10.50-$12.
You can choose either boiled or fried (either way, you win). Extra toppings include sauteed mushrooms, carmelized onions, sauerkraut, and smoked bacon bits (the real bacon bits). You also have a variety of extra dips to choose from, and the horseradish is divine. In addition, the housemade apple sauce ($2) is a must try.
And if you feel like pierogies for dessert, well, you've come to the right place. The blueberry (5 for $8.50) is decadently served with baba's sweet butter, housemade whipped cream, and cinnamon. The crunch chocolate (5 for $8.50) have a chocolate hazelnut filling with housemade whipped cream.
Woah.
The slaw salads also feature Fabiankovic's family. "The carrot salad is inspired by my Aunt," she tells us. It's a mixture of carrots, apples, cinnamon, and walnuts ($4.50). The Golden Beet Salad is fresh, with a light vinaigrette ($4.50).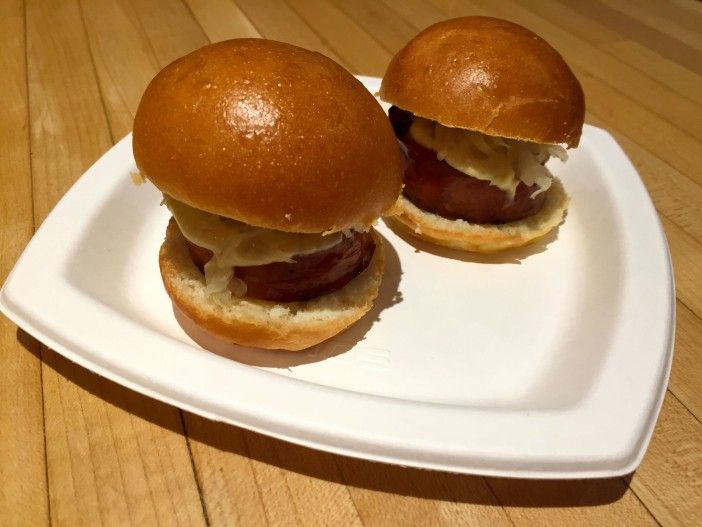 As we mentioned, it's not just about pierogies, though. They also have sandwiches and smaller bites. The kielbasa sliders, featuring sausage from Muncan in Queens, bryndza cheese, sauerkraut, and mustard on soft Baked in Brooklyn rolls, are just as addictive as the pierogies.
If you haven't wandered the Third Avenue/Gowanus area in awhile, it's very much worth your time to come and take a look. The area is filled with independent eateries, a new yoga place for the kids, an intense workout for the adults, and the Gowanus Souvenir Shop with gallery space.
These new spaces join Canal Bar just up the street, as well as Royal Palms, Ample Hills, and other places soon to be open. And you can still enjoy the pleasurably odd nooks and crannies of this neighborhood.
So if any of your friends from Greenpoint, the East Village, or Lower East Side want to engage in a "where's the best pierogi debate," it's best you introduce them to Baba's.
It's a debate you'll win.
Park Slope Lunch Beat Rundown: Baba's Pierogies
Where: 295 3rd Avenue (near Carroll Street).
Phone: 718-222–0777
Hours: Tuesday-Sundays, 11:30am-10:00pm. Closed Mondays.
Who To Bring: It's a small place, so a large group isn't going to work here. An intimate small group (or take yourself out) will work great.