Dining Review: Life's A Smoky Pig Beach, Ain't It?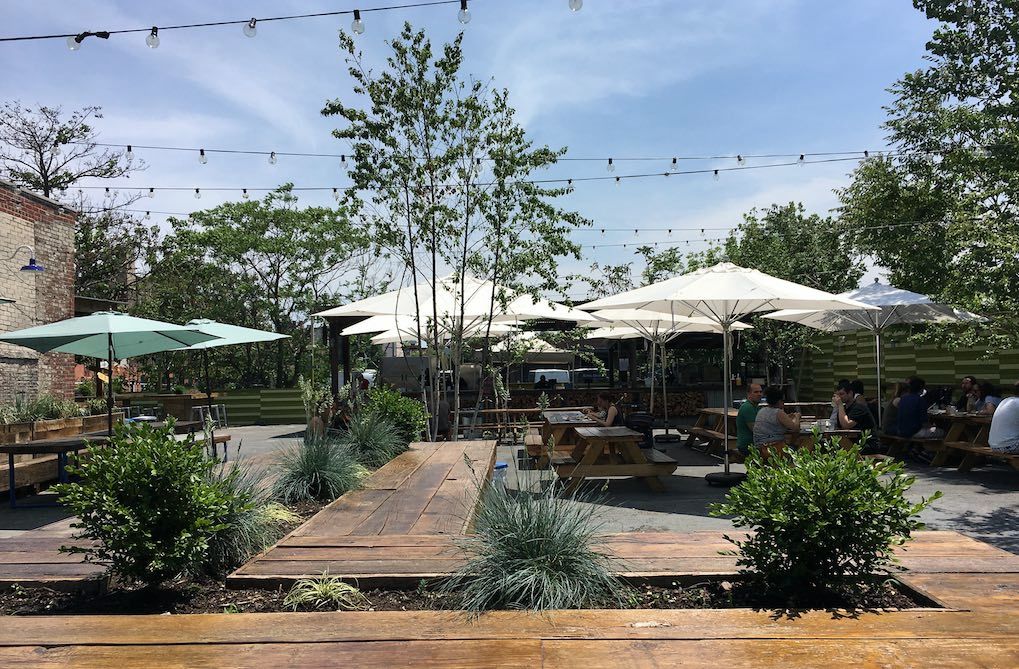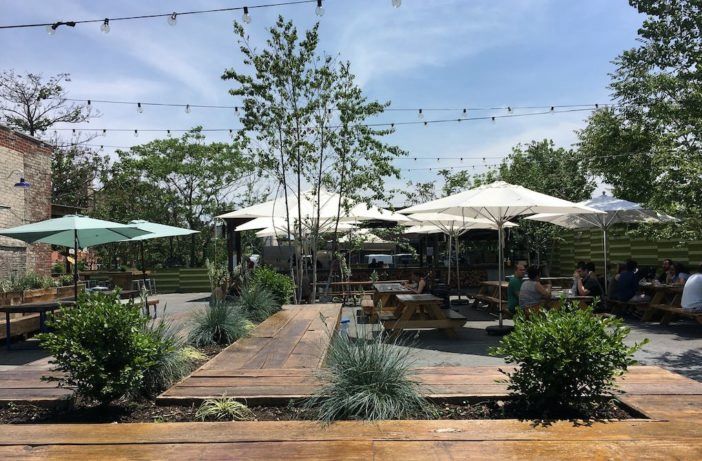 The "Gowanus Riviera" is full of curiosities, so a BBQ joint shouldn't come as much of a surprise. The banks of the Superfund site are becoming more and more of a culinary Superhero.
Those desiring a new al fresco neighborhood spot should surely head down to Pig Beach (480 Union Street between Nevins and Bond Streets), a new smoky and saucy affair which opened up late last week, just in time for Memorial Day weekend.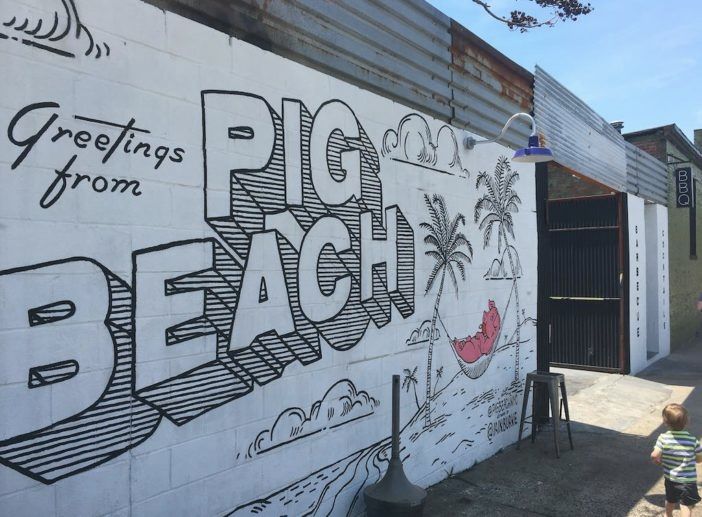 You may have eaten here last year when it was a pop-up at Swan Dive (same space). An employee tells us that Pig Beach essentially outbid Swan Dive for the space, and it's now all theirs.
So who created this beach, you ask? It's an impressive trilogy consisting of Matt Abdoo of Del Posto, Shane McBride, executive chef of Balthazar, and Ed McFarland of Ed's Lobster. And why would you trust these three to bring home the bacon? (Keep in mind, we get one an article.) The team won 1st place in poultry at the Memphis in May BBQ Cooking World Championship. They've won other accolades that you can check out as well.
Pig Beach is hosting a "Guest Pitmaster Takeover Series" which will feature guest chefs from Decatur, Alabama, Nashville, and St. Louis throughout the summer.
And darn if the term "pitmaster" doesn't fit this place like a well-worn pair of cowboy boots and spurs dripping with sauce.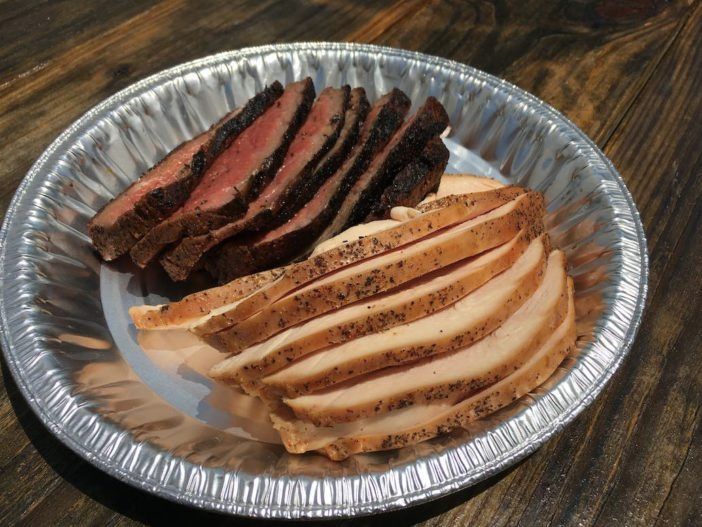 Ok, let's get down to it and talk meat, shall we? We dug into our meat dishes — deeply, mind you. For all the pomp of the owners, guest chefs, and BBQ bling, the place is a down-home affair when you order your plate near the pit area.
After you finish and move away from the sizzle and smoke, you'll have a seat at one of the picnic benches with your grub. For us, that grub was Tri Tip charred with garlic and rosemary ($15 for a half-pound) and Smoking Turkey with black pepper & herbs ($15 for a half-pound). Both options sported tender meat, and a flavor that complimented without overwhelming.
Onto the sauces. You must pay attention to them, ok? The great thing about the meat is that it serves as a fleshy tabula rasa for the chosen sauces. Rob's Righteous Red was our favorite — replete with a smoked BBQ aroma. The World Championship Mustard earns its name, especially on the Karl Shmer Hot Dog ($6) that was munched. The Alabama White is on the lighter side.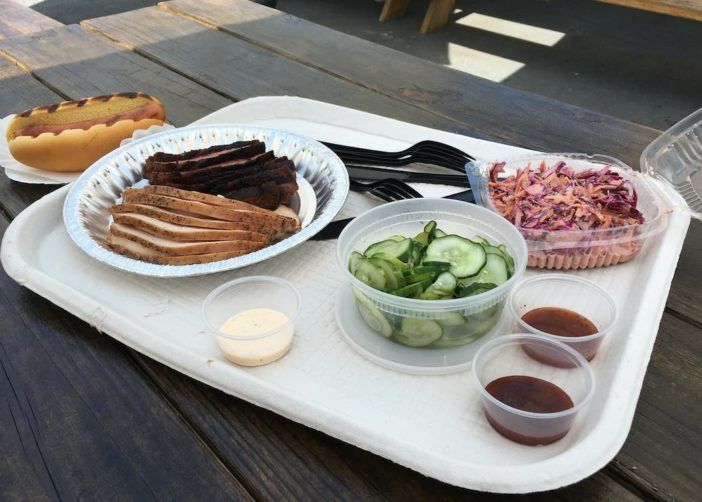 And then there were sides. Because they are sacrosanct in the down-home BBQ world — especially to the non-meat eaters who want to drink and enjoy some tasty treats.
The housemade pickles ($5) were tangy and juicy. The purple coleslaw ($5) is dressed with smoked jalapeño and cilantro.
Now here's the real trick:
You need to dip at Pig Beach. Dip a lot. Throw your pickles on your meat. Toss the turkey in the slaw. Dabble those sauces everywhere. Mix it up folks, because you want to enjoy this food as a pastiche. (One complaint – cutting the meat up with plastic silverware can be "challenging," to say the least).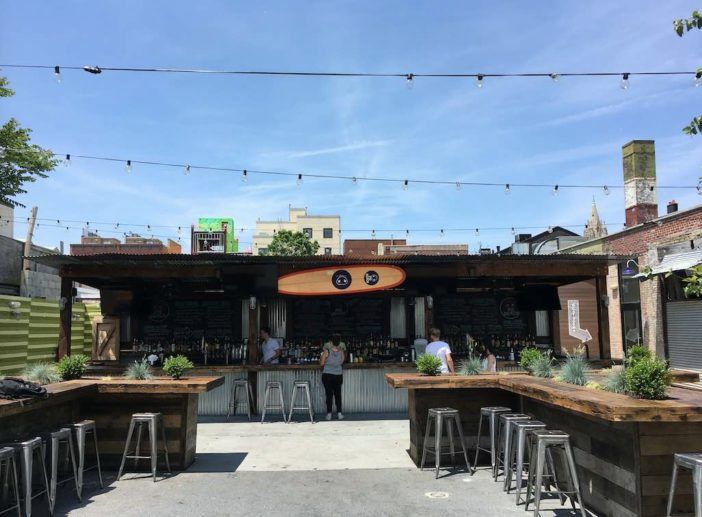 What would an al fresco BBQ affair be without the drinks? Turn in the opposite direction after ordering your meal, and head over to the bar chock full of draft and canned beer, wine on tap, and cocktails. The ¿Pork-Ay-No? ($10, their pun, not mine) is a jalapeño-infused blanco tequila, Tio Pepe fino, lime, and cucumber — and they have plenty of other concoctions.
A cold, crispy Bell's Two Hearted Ale ($7) did it for us.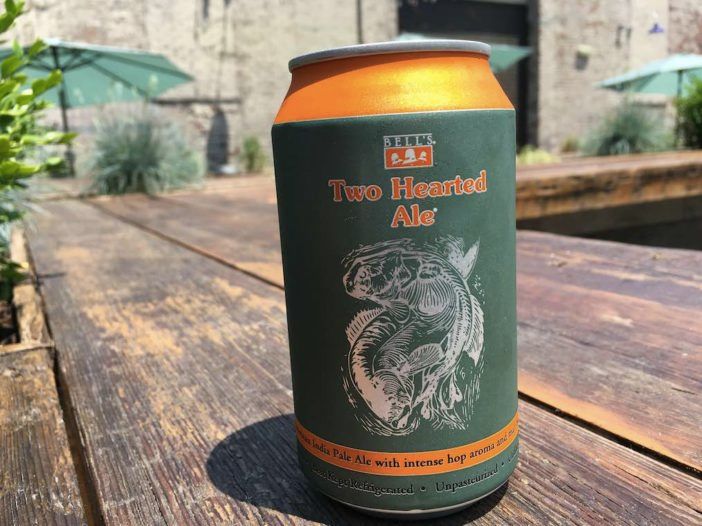 Describing the atmosphere is a bit tricky, because I have a feeling it'll vary significantly depending on the time of day you visit.
At 1pm on Sunday, there were parents with kids, and the place had room to spare with a quiet atmosphere. (Parents: keep in mind that high chairs are currently unavailable). You'll surely experience a more crowded space later on in the day/evening. Your experience at Pig Beach will have a lot to do with the size of the crowd. I wouldn't to want to slice through my meat while standing up and juggling a cocktail.
I suppose negative reviews of restaurants are de rigueur for those who dine out a lot. That said, Gothamist's review of last year's Pig Beach had me raising my brow. (The article is one of the first things that comes up when googling "Pig Beach," so it's worth mentioning.) Now it was indeed written last year (filed June 9, 2015), and I wasn't there to try it out myself. The review is titled "This Is The Worst New BBQ Place In NYC" — and the best I can tell you is that I simply don't know how that's possible. Connoisseurs are indeed picky, but, woah, there must have been a perfect storm of bad luck that night.
The food and drinks here are comfy, there's a "country-club-if-country-clubs-were-actually-cool" feel, and a touch of industrial ruin porn stirs the whole thing together.
The Union Bridge traffic vibrates on the other side of the wall. Inside, Pig Beach is smoking it up.
---
The Dining Rundown: Pig Beach
Where: 480 Union Street (between Nevins and Bond Streets)
Hours: Tuesdays-Thursdays, 3pm-12am; Fridays, 3pm-1am; Saturdays, 12pm-1am; Sundays, 12pm-11pm. Closed Mondays
Phone: 718-737-7181
Kid Friendly? Get there at the right time, and you can have a picnic bench for the family. As of this weekend, high chairs are not available. You'll be fine if your toddler will hang on your lap and munch a hot dog. This place has the potential to get boozy, so mind the time you choose to go.