Dining Review: Josephina Serves Delectable Tacos In Lush Gowanus Backyard
Yes, of course you should come for the tacos.
But summer is here, and there's nothing like a fully gratifying outdoor experience — where the spatial aesthetics are as pleasurable as the food and drink in front of you. Such is the experience at Josephina, a taco "pop-up" which opened on Sunday, May 22 in the backyard garden of The Pines in Gowanus (284 3rd Avenue between President and Carroll Streets).
The narrow alley on the side of The Pines beckons you to come in. The walk towards the garden feels like you're heading down a secret passage. It's a secret you want to be part of.
The term "pop-up" needs some clarification in this case. Josephina isn't a taco stand that The Pines has invited into their backyard. It's run by The Pines, has a separate menu from their restaurant, and is well-integrated into their outdoor garden in the back. At the risk of getting too philosophical, nothing lasts forever — but Josephina doesn't feel temporary at all.
Once you've come on back, you'll be surrounded by lush greenery with an array of seats and benches covered by umbrellas and trees. I suppose you can spot the urban structures surrounding the place, but on a cloudless, mid-afternoon Saturday, we really weren't thinking about traffic, the nearby canal, or much of anything else besides beer and tacos.
The feature of the menu is the handmade corn tacos. They're fresh and nimble; options include carne asada, cochinita pibil (roasted pork), chorizo con papas (potatoes), lamb barbacoa (Oaxacan style), and vegetarian (cauliflower).
Chef Jordan Collins presses up the warm, handmade tortillas, and the meats and veggies are as fresh as the queso fresco they're topped with.  And let this be said — because you probably don't hear this often — the quality of these tacos at $5 a pop makes them one of the best deals in town. There's something satisfying about paying a fair price for something this delicious.
Perhaps the only item missing on the taco menu is a chicken taco for those who opt out of red meat and/or pork. My money's on Chef Collins to do it right.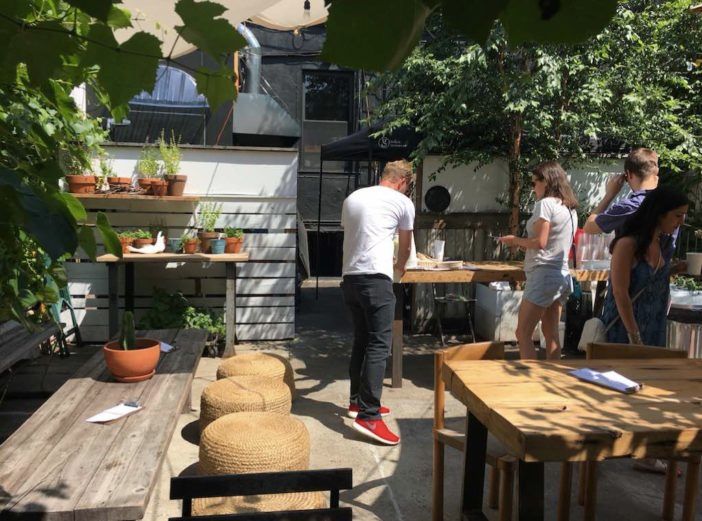 After ordering your food at an area up front, you'll find the customer service breezy and affable. General Manager Sylvie Haines tells us their focus on maintaining the greenery (there's nothing like a Gowanus cactus) is part of their morning ritual, and the place looks exquisite.
One branch dropped closely to our table, and while I love plants, that sucker looked like it was trying to reach for one of my tacos. Get your own, my chlorophyll-rich friend.
Mixed drinks include "La Soldadera," a combo of mezcal, guava, serrano, and lime ($9). A refreshing rosé ($10) is also available, as well as a Modelo Especial beer ($3).
The virgin options are notable: The Limonada Rosada ($4) is tart and refreshing. Horchata is also available.
For those looking for a nightcap with sweets, dessert options include assorted paletas, coconut kale, green grape cilantro, passion fruit chili, as well as chocolate hazelnut coffee. Heck, you don't need to wait for post-dinner to enjoy these.
It's looking more and more like Gowanus is the place to visit this summer for al fresco dining. We were recently impressed with nearby Pig Beach (480 Union Street, between Nevins and Bond Streets), however Josephina is a quieter, more intimate experience than the BBQ place if that's what you're searching for.
We left Josephina satisfied, comforted, and with many mental notes to return soon. While we don't recommend you hug a cactus, you should come ready to fully embrace this Gowanus Mexican hideaway spot.
Just leave a few open seats for us. And don't eat our tacos. Please.
The Dining Rundown: Josephina
Where: 284 3rd Avenue (between President and Carroll Streets), the backyard of The Pines
Hours: Fridays, 5pm-10pm; Saturdays and Sundays, 3pm-10pm. The backyard space features The Pines' menu on Tuesdays-Thursdays. See The Pines' website for their hours.
Phone: 718-596-6560
Kid Friendly? Yes, for an afternoon stop by, and they have high chairs.