Dining Review: Insa Offers Elegant Korean Barbecue With A Generous Helping Of Karaoke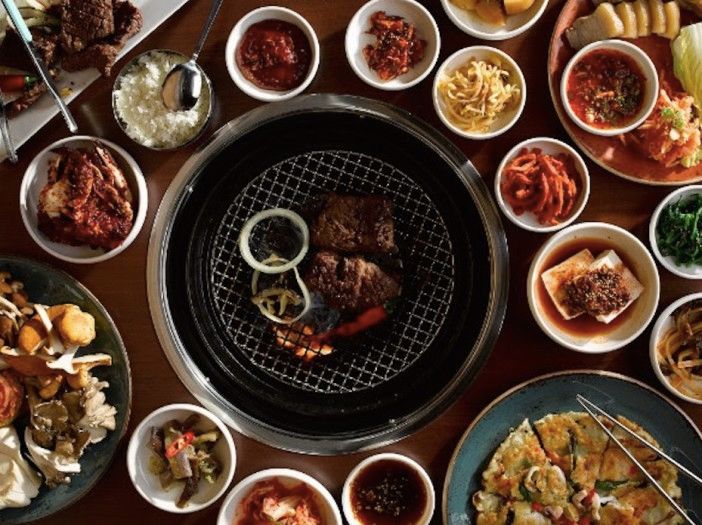 It's a rare group of Brooklynites who can say they're able to invite a hundred of people over for a sophisticated Korean barbecue. And perhaps even more rare — delighting in that meal, and then retiring to a room to belt out Journey's Don't Stop Believin' surrounded by walls that appear as if you've ingested some psychedelic mushrooms.
Welcome to the newly opened Insa (328 Douglass Street between 3rd and 4th Avenues), where you are able to get both of these experiences — and add a swanky bar to the equation, too. This roomy spot wears its name well. The English translation is "Korean Fun Time Place for Greetings!"
Chef Sohui Kim,  along with her husband and designer Ben Schneider, started serving Korean favorites, pouring drinks — and flipping on those microphone switches back in December.
Those already familiar with The Good Fork in Red Hook (391 Van Brunt Street, between Coffey and Van Dyke Streets) have already enjoyed Chef Kim's dishes. That venue opened in 2006, featuring an eclectic menu that includes "Steak & Eggs" Korean Style, a solid burger, homemade dumplings, and roasted free-range chicken.
And now for something completely different. While Good Fork is intimate, Insa is 4,600 square feet — including a 100-seat restaurant, a full bar, and five karaoke rooms.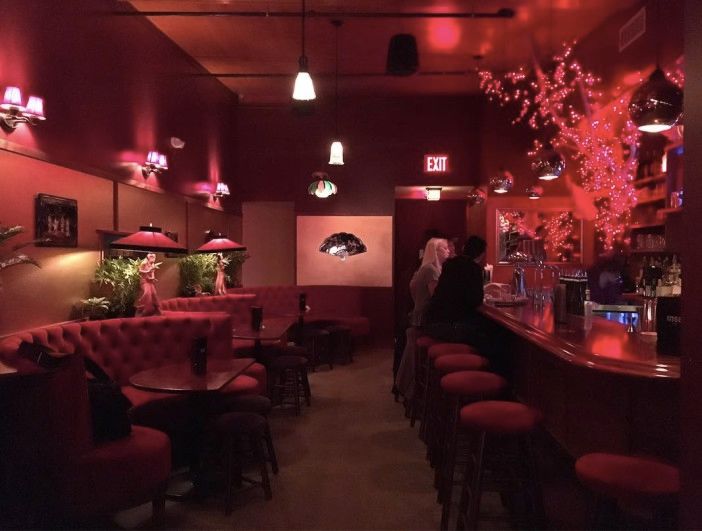 When arriving at Insa, make sure you give yourself enough time to enjoy the bar. It's red, plush, and sports a full bar that features "Korean-Tiki cocktails" (all are named for Korean folk tales, and feature Korean spices, teas, and milks). And if you get there for happy hour (Mondays-Thursdays, 5-7pm) you can enjoy $1 soju shots.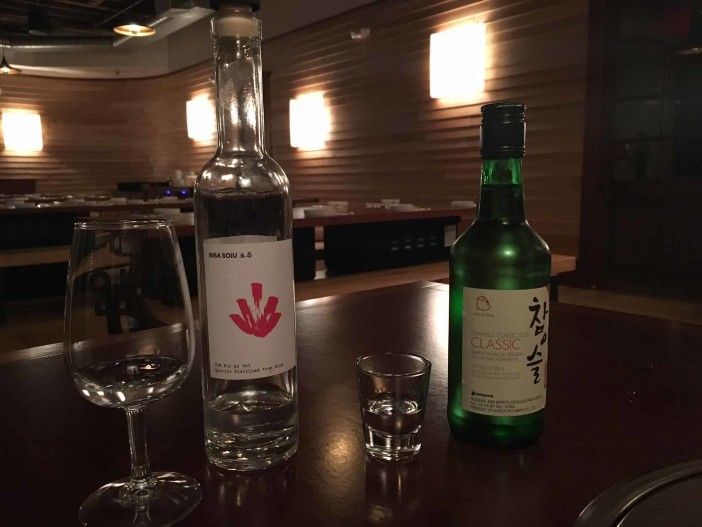 And about that soju…
The Insa soju boasts local roots and has a different taste than others you may have sampled. Made at the Van Brunt Stillhouse in Red Hook, it's a lighter, drier, and cleaner taste that rests on the back of your palate. And while the very first taste may throw you off, give it some time to grow on you. It's crisp and refreshing.
The traditional Korean design elements of the main dining area makes for a striking space — simplistic, clean lines, and curved wood corners. It's a tabula rasa of sorts for your extremely textured meal.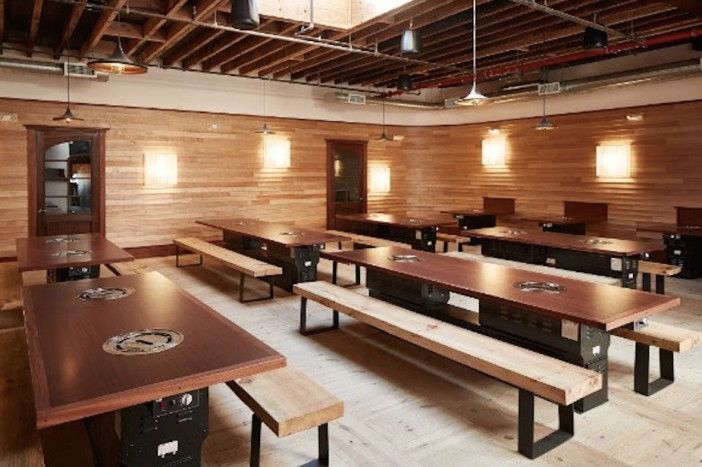 Dinner begins with an assortment of banchan — traditional Korean side dishes. The staff deals them out on the table in a circle, including a delicious bowl of egg custard. You'll each have your own favorites — both the squid and sardines with peanuts are exquisite.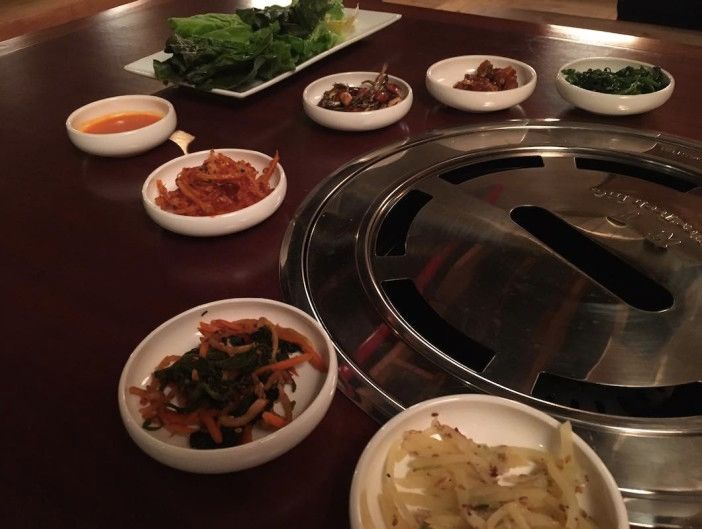 And of course, there are the barbecue selections. You can choose from six options, including short ribs, brisket, pork belly, the squid and octopus combo (next time for sure), shrimp, or go veggy with a mushroom platter.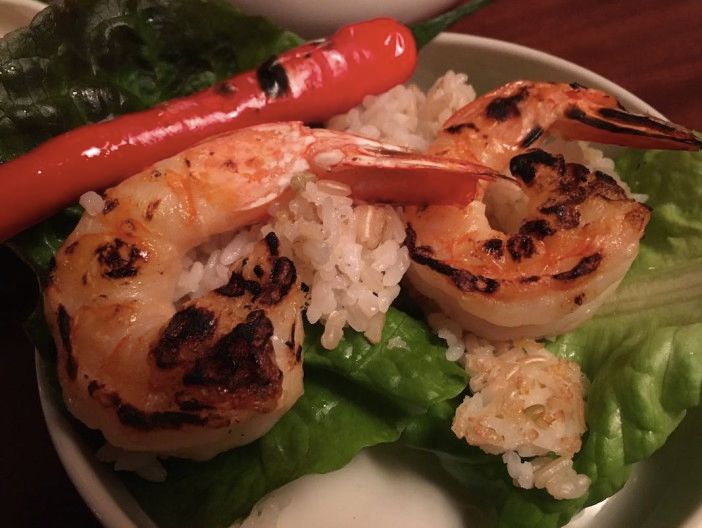 You can even take some responsibility for the taste of your own dish as you BBQ away while feasting on the banchan that come with it. The Shrimp BBQ ($26) was extremely satisfying — put them on some lettuce leaf and rice, enjoy their spicy, tangy sauce — and luxuriate.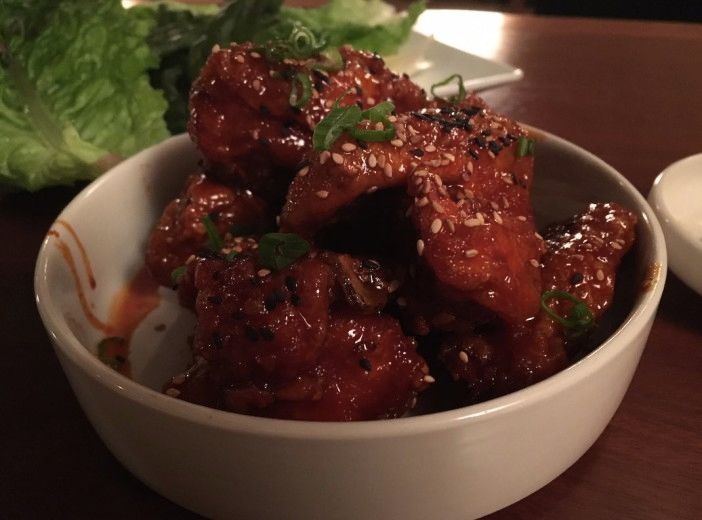 The Insa Fried Chicken ($18 for 1/2, which is pictured above, $32 for a whole) is sweet, crunchy — and somewhat of a messy affair. We'll guarantee you take home the one or two pieces left over (you'll probably sneak a bite in between songs later on during karaoke).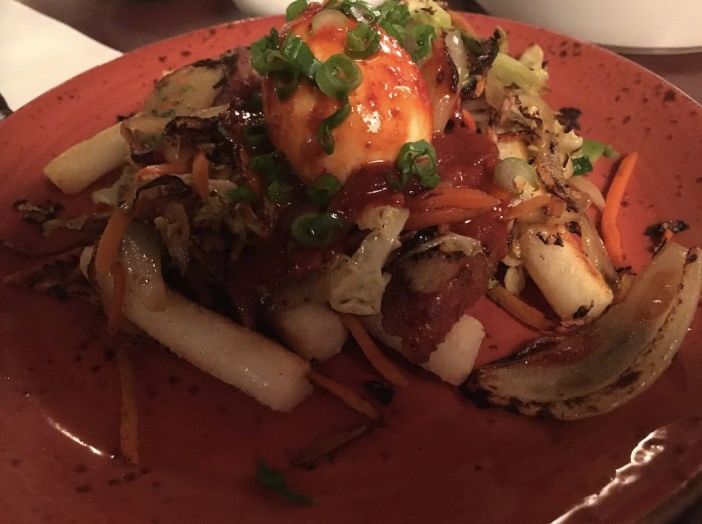 And while BBQ is a necessity here, you must try the Tteokbokki ($16). The dish takes spicy, rod-shaped rice cakes and mixes them among flavorful fish cakes. It's all topped off with a soft-boiled egg — and the sauce stitches the dish together with aplomb.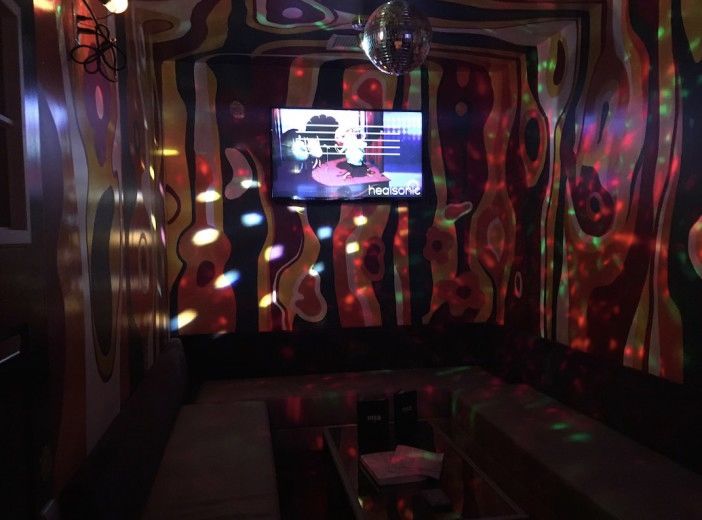 And of course, karaoke is the next item on the menu. Schneider's design whimsy serves as quite a counterpoint to the dining area. The karaoke rooms have their own themes, including psychedelic, jungle, deep sea, and space. And feel free to bring your friends — lots of them. Their largest room holds up to 22 people and the smaller rooms hold up to 8.
Chef Kim tells us that the goal of Insa has very much to do with "conviviality. We want this to be communal, jovial…it's about celebrating with people that you love and who you want to hang out with."
And when it comes to community, she also means family-friendly. "We have high chairs and booster seats," says Kim. "I have two little ones myself. Families can come in and dine early before it gets a little crazy. That's what we like to do with our kids."
Insa is an ideal restaurant to visit with a large group (make those reservations) and share multiple items on the menu. But before you come, get your music selections ready. Because after meal, you'll surely belt out some songs. And you'll probably sound pretty darn good to everyone in the room. After all, the satisfaction of a stunning culinary experience makes the ear rather forgiving.
The Dining Rundown: Insa
Where: 328 Douglass Street (near 4th Avenue)
Hours: Dinner, 5:30pm-12am, 7 days a week; Bar & Karaoke, 5pm-2am, 7 days a week; Happy Hour, 5pm-7pm, Mondays-Thursdays
Phone: 718-855-2620
Reservations: Insa accepts reservations for parties of 6 or more in the main dining room.
Reservations can be made daily from noon until 5pm by telephone at 718-855-2620.
Karaoke: Prices vary. Small rooms with up to 10 people is $60 per hour. Large rooms with up to 22 people is $160 per hour.
Kid Friendly? The restaurant has a lot of space, and plenty of high chairs to go around.
There is a no tipping policy. A 20% administration fee is added to your bill.