Dining Review: Get Gnarly At Park Slope's Newest Burger Joint
As I walked through the TARDIS door, I knew that the tiny, well-adorned space was something different. I quickly learned it was very good.
I was seated by the window of Gnarly Eats (447 7th Avenue, between 15th Street and 16th Street) when I encountered the fried buttermilk sandwich of my dreams. I brought a friend, who didn't need much convincing after she saw the menu. It has been around six weeks since the new restaurant opened, according to registered nurse turned restauranteur David Cheung. While Cheung got started in the food business selling rolled ice cream at markets like Smorgasburg, the restaurant is his first brick and mortar shop and the idea for a burger place has an especially local root.
"I heard Flipsters closed and became a Starbucks, which was a great loss," said Cheung, who added that (almost) everything is small batch and made in-house every day. Cheung, who runs the restaurant with his wife, felt like an opportunity presented itself to fill a neighborhood need.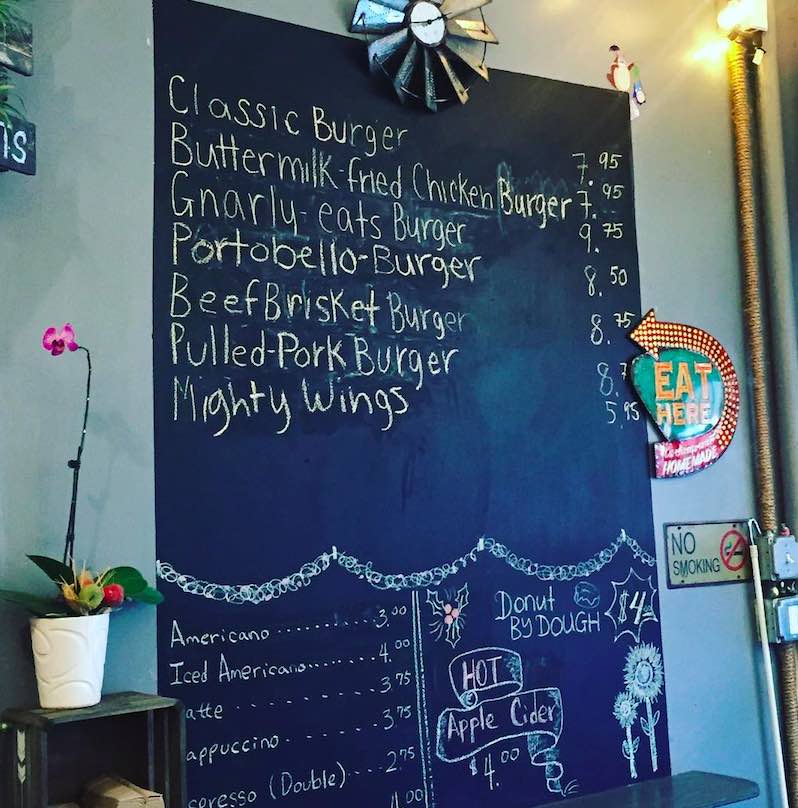 Part of what makes Gnarly Eats different is how the food is prepared. Cheung told BKLYNER that he staffs the kitchen with youths, in an effort to give them the real world direction and experience that he didn't have at that age.
"We employ high schoolers and college teenagers who have part-time jobs, and we teach them the trade of cooking," said Cheung, who added that he often tells his employees that "I'm not going to give up on you unless you give up on yourself."
One thing you should give up on is calorie counts because Gnarly Eats' kitchen is serving up some outstanding grub.
The buttermilk fried chicken burger ($7.95) is the most popular item on the menu, and I was happy to indulge in it.
This is a hefty sandwich, which will require a sure grip to contain two pieces of piping-hot thigh meat, served fresh out of the fryer inside a potato bun and topped with slaw, spicy mayo, and homemade pickled cabbage. The crunchy, rich, creamy, explosively juicy results are absolutely outstanding. The chicken is thoroughly spiced, and the pickled cabbage adds just the right amount of zing. While the spicy mayo wasn't as spicy as I'd like, Gnarly Eats quite literally has an entire wall of hot sauce to tune yours to your liking.
The Gnarly Eats burger ($9.75) comes replete with nearly every topping imaginable, including a runny egg, caramelized onions, a generous helping of bacon, and American cheese.
The burger is yet another picturesque monument to better comfort food. The hamburger itself is excellent, a custom house-blend of beef, which has just the right amount of fat and is extremely satisfying. I was more bullish than my dining partner, who found the composite parts to be great but felt like the burger was sometimes overwhelming.
Because of the many toppings, every bite is likely to produce a different flavor, and the best ones are when the runny yolk mixes with the house sauce along with the meaty juices to produce the sort of flavor you hope fast food can achieve.
The mighty wings ($5.95) are absolutely excellent and worth trying. The deep fried wings are coated in a soy sauce glaze and topped with scallions. These handheld bites stand out for their crunchiness, while the tender meat inside remains juicy. The glaze is salty and provides depth, yet the scallions interject with a necessary rejoinder of firm freshness.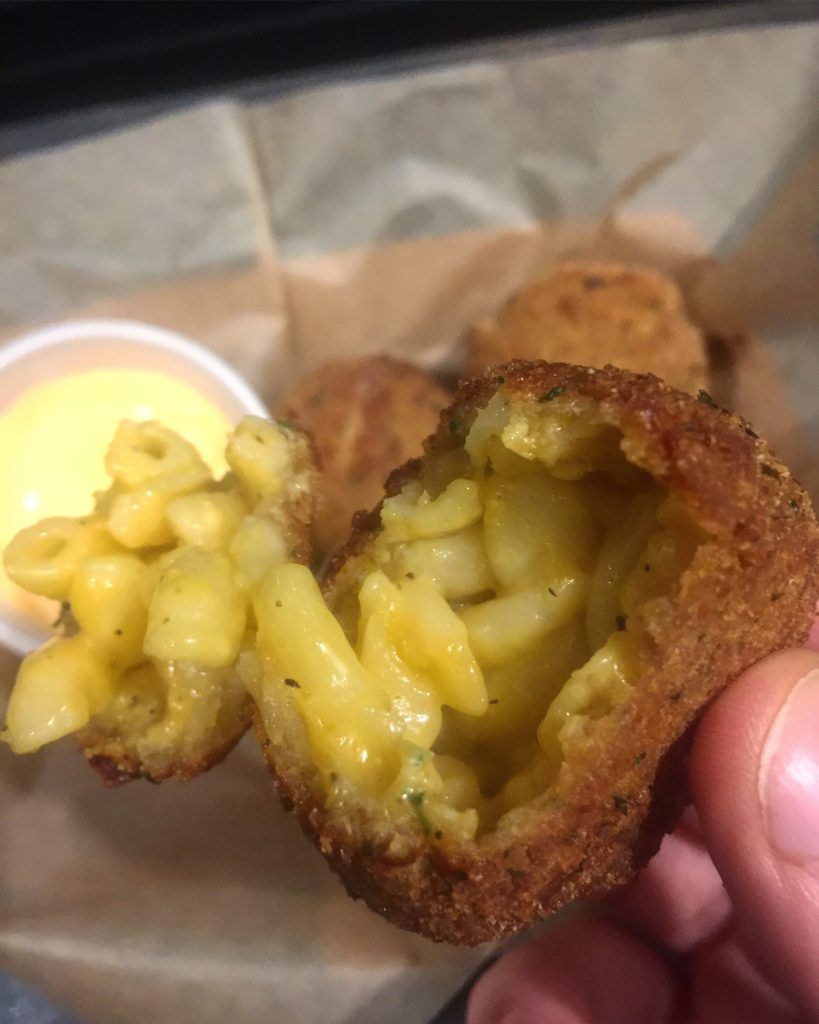 Finally, we come to the mac and cheese jalapeno poppers ($4.50), which are small, deep fried balls of macaroni and cheese. While these are certainly very tasty, they were a bit too heavy for me given the rest of the meal and could perhaps have made due with a little more heat. My dining partner disagreed heartily and praised the thick, velvety interior as well the chewiness of the snack.
Gnarly Eats is a welcome addition to the neighborhood, offering burgers and comfort food at very reasonable prices, and I encourage you to walk through the Tardis door to try for yourself. I intend to be back, especially for the rolled ice cream which is sure to appear on the menu soon and definitely in the warmer months.
The Restaurant Rundown: Gnarly Eats
Address: 447 7th Avenue, between 15th and 16th Streets
Phone: 718-360-1661
Try: The buttermilk fried chicken sandwich borders on the ethereal.
Avoid: Nothing.
Kids: What dreams are made of.