Dining Review: A Heapin', Drippin', Lip-Smackin' Fixin' Of Soul At Butterfunk Kitchen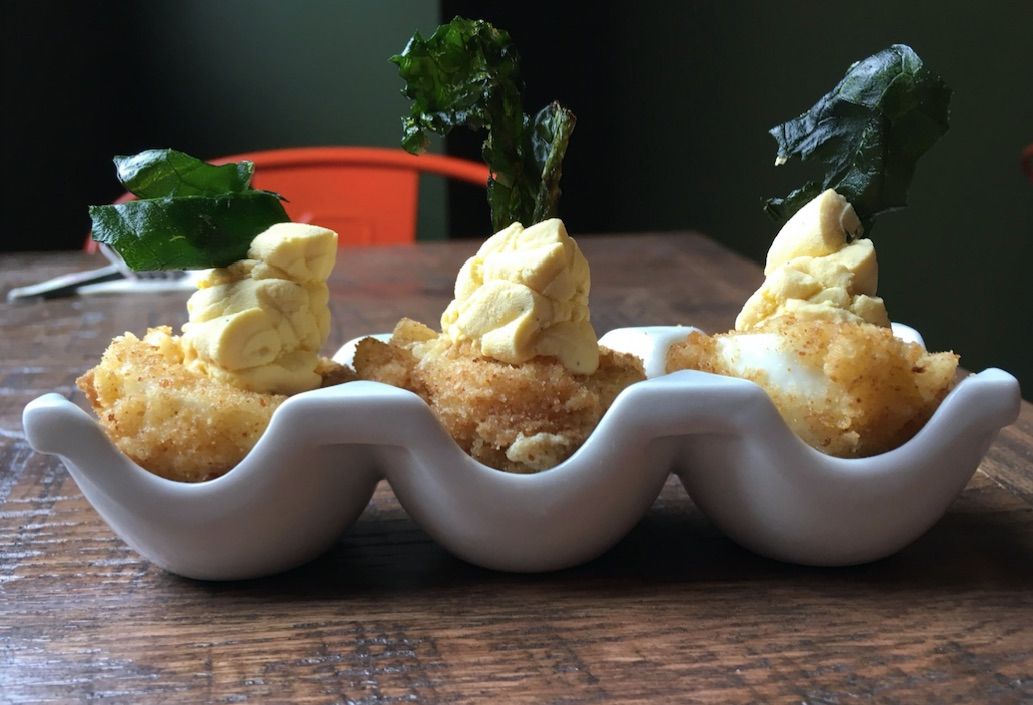 Brooklyn is home to more Southerners than you think. And it's also home to folks who lived down South for dollops of their lives (yours truly is a former Atlantan and New Orleanian, dawlin').
Southerners love their home-cookin', of course. Whether it's Momma's cornbread, Papa's ribs, or your second-cousin-once-removed Blanche's collard greens, the standards run high.
Enter the newly-opened Butterfunk Kitchen (1295 Prospect Avenue, near Greenwood Avenue), a self-described "Soul Food Restaurant & Juke Joint" which rests its bones smack-dab in the middle of Windsor Terrace.
Butterfunk Kitchen is the second restaurant venture for husband and wife team Chris Scott and Eugenie Woo, who also own Brooklyn Commune (601 Greenwood Avenue) next door.
Scott, who is Butterfunk's chef, grew up in Philadelphia, not far from Amish country. He describes his menu as "soul food meets Pennsylvania Dutch," noting that his mother's family relocated to Pennsylvania from Virginia, bringing a southern cooking tradition with them, especially an interest in seafood.
The inspiration behind Butterfunk Kitchen comes from family recipes handed down over several generations, Scott told us. "These creations are my family's soul food. Each of these dishes evokes a food memory for me." Indeed, photos of Scott's extended family adorn the walls of Butterfunk Kitchen.
Butterfunk's menu includes variations on Pennsylvania Dutch mainstays like Scrapple and Shoo Fly Pie, and soul food dishes "served with a twist," like Crispy Fried Catfish with Jalapeño Jelly, as well as "classic mainstays" like Sweet Lemonade Fried Chicken; Buttermilk Biscuits; and Black Eyed Peas with Smoked Ham Hock.
"Soul food" is a hotly debated term in certain circles. And while there'd be some who'd say this new joint is no Willie Mae's Scotch House of New Orleans or Mary Mac's Tea Room of Atlanta, Butterfunk Kitchen is a welcome addition.
The type of food served at Butterfunk is made for a convivial environment. While the place isn't the biggest of spaces — they seat up to 30 — the layout is well done. We showed up early with a party of eight, consisting of four adults, two toddlers, and two infants.
Perhaps it was because we showed up on the early side, but we had plenty of room — and the staff didn't blink. So yes, families are welcome. (We'll get back to the kids in a bit, because the menu has kid-friendly victuals.)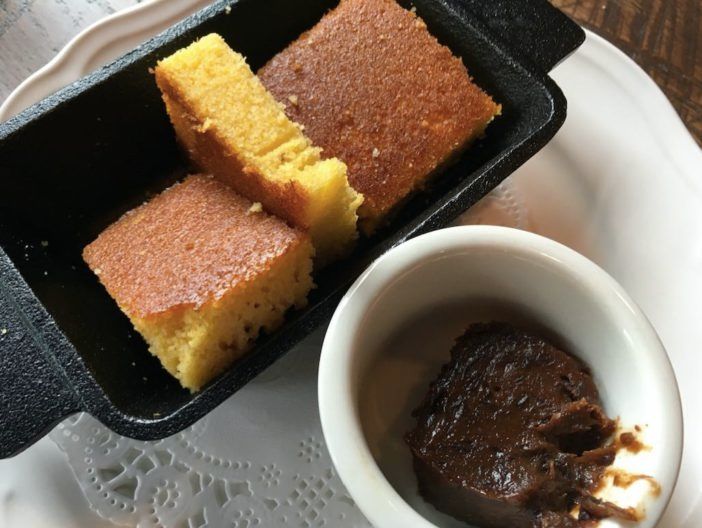 The 'Funk serves some good cornbread ($4) — a vital staple to any joint of this ilk. And the prune butter was nice and sweet, while the cornbread was not overly sweet at all (an admittedly huge preference). So we started out just fine.
We were excited by the special on the menu that night — a plate of crawfish hushpuppies with fried zucchini sticks ($10). This was the one glitch of the night, as the hushpuppies were not fully cooked at first.
That said, they replaced them right quick and the hushpuppies were crunchy. I didn't pay the glitch any mind – the zucchini was fried without being overly oily — and this lack of too much greasiness is something you'll learn about the entire menu. My colleague at Fort Greene Focus may disagree about all things greasy, but we enjoy our debates.
The crispy deviled eggs (see aesthetically-pleasing photo at beginning of article) with egg yolk mousse and cracklin' greens ($8) won the night as far as starters. Can eggs be luscious? Why yes, yes, they can. They are gently fried, and I plan on heading over when the place starts serving alcohol to sit at the bar and enjoy an order of these delights along with a cold beer on a hot summer night.
The Mac and Cheese ($7) was a pleasure for the kids, and the big kids enjoyed the crispy, browned top that you can open up with a tap of a utensil and spoon out the gooey goodness inside. Oh my fellow diners, it's a messy affair, but well worth it.
The Fried Catfish ($17) is light, with the tartar sauce and jalapeño jam tying it together beautifully — akin to how the rug really tied the room together in The Big Lebowski. The fish is crispy, mixing well with the gentle jam and soft sauce.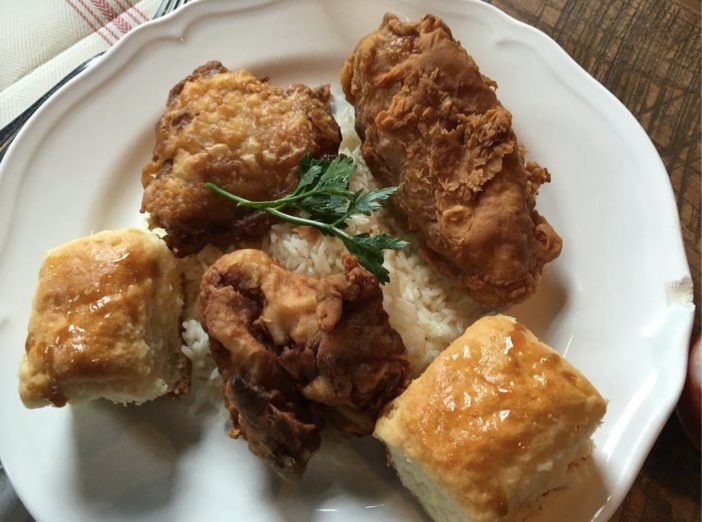 The Sweet Lemonade Fried Chicken ($16) owns up to its name. The dish is heavy on the lemon — and while the lemon taste was a bit too much for my palette — others at the table were more enthusiastic about it. That said, the lack of being over-oily is a huge plus.
And then there was one (left to describe): the Whiskey and Coke Meatloaf ($18) served with white bread, gravy, and rice. It's hefty and decadent. As curious as the name of the dish sounds, the whiskey and coke weren't very present in the taste. Our dining guest who ordered it was hoping for something crispier, but was overall complementary of the dish.
One of the strengths of the 'Funk is that the dishes are not overly salty — something that is prevalent in this type of comfort food.
And if you haven't gathered by now, eating at the 'Funk is not for the faint of heart should you be counting calories (those who ran the Brooklyn Half last weekend have a great excuse to come).
This is rich food. And the main dishes are large. We split some of the dishes along with the sides, which was a good move. This is a sampling type of place, so bring friends whom you're comfortable enough with so you can poke at their dish.
The menu is well curated, the restaurant is a place where you can return, mix-and-match some tastes, and have a new experience.
We're glad they're here, and in their honor, we'll leave off with this:
The Dining Rundown: Butterfunk Kitchen
Where: 1295 Prospect Avenue (near Greenwood Avenue)
Hours: Sundays, Tuesdays, and Thursdays, 5:30pm-10:00pm; Fridays-Saturdays, 5:30pm-11:00pm. Closed Mondays.
Phone: 917-909-0421
Special Notes: Cash only. The restaurant will soon be serving alcohol, but not as of the publishing of this article.
Kid Friendly? The restaurant isn't particularly large, but it has a great layout. We were a party of 8, including 2 toddlers and 2 infants. We fit in just fine.
(Additional reporting by Sarah Crean.)