Cuppa Cuppa: Smiles At Café Grumpy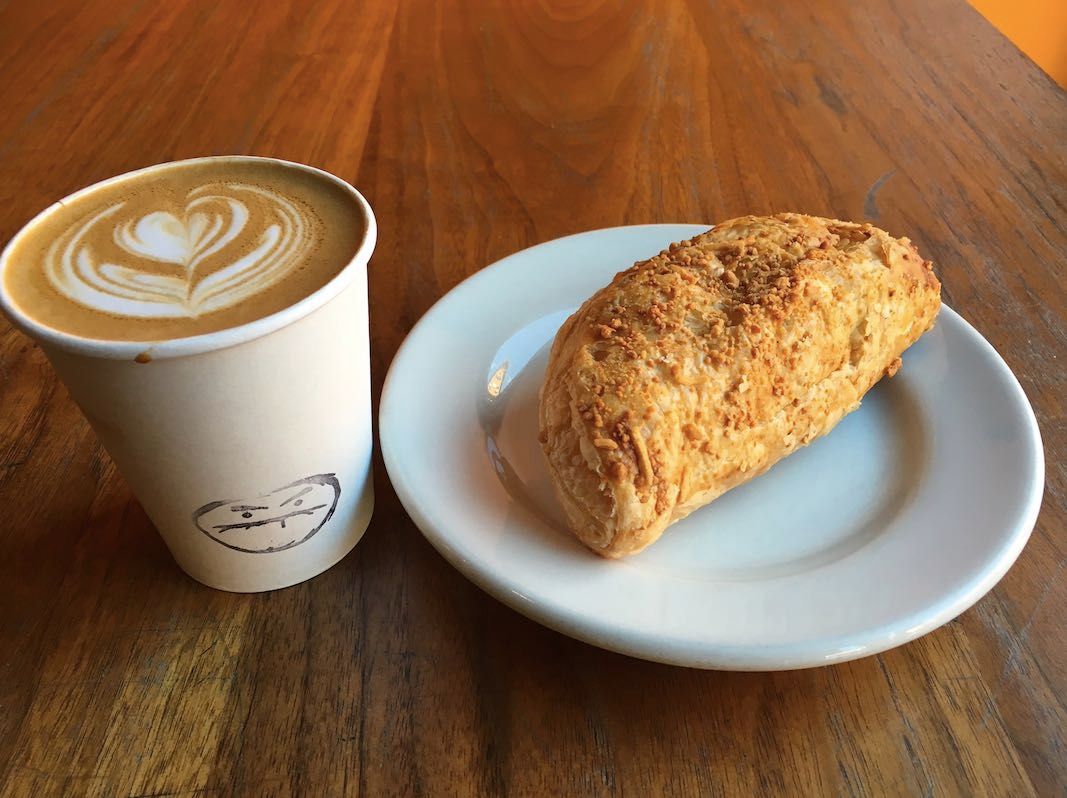 There are few things more satisfying than having a morning cuppa cuppa. Of course, that cuppa cuppa can be coffee, tea, or whatever beverage you prefer to get your day started. In this series, a cuppa cuppa doesn't only refer to the beverage. It's the conversation, the place you're at, and the atmosphere. Cuppa cuppas are never rushed. We're not limited to cafes. So follow us as we enjoy the neighborhood, our neighbors, background chatter, and a cuppa cuppa.
There are grumpy faces all over the city. But boy, am I ever glad we have one of those grumps in our 'hood.
With six locations (plus their roastery) throughout Brooklyn and Manhattan, our own Café Grumpy (383 7th Avenue, between 11th and 12th Streets) has been around since 2009. Today's visit reminds us of what a neighborhood staple means, and why we keep returning.
Without much surprise, Grub Street voted them one of the 58 Extraordinary Coffee Shops Around America in 2013. It's a clean, petit, understated cafe that serves as a great "stop-by" in the morning, or a place to catch up with your thoughts.
Notice how nothing has been said out firing up your laptop? That's because Grumpy doesn't have WiFi. It's more for quiet conversation or reading a hard copy of a newspaper. That's how they like it. And it works just fine that way. If you must have WiFi with Grumpy's coffee, you can head over to their Greenpoint location — the only one where you can you plug in.
But let's make it clear — they're not grumpy about it. Rosa — the barista who we spoke with this morning — told us that the name of the cafe is to describe how one may feel before coming in for their coffee.
And what's all this about smiling anyway? Well, we've come here for a cuppa cuppa, haven't we?
Owners Caroline Bell and Chris Timbrell have been at this awhile. And Timbrell hails from Australia, so this place specializes in a flat white ($4). It's soft and warm, especially with the winter weather finally arriving.
The Spinach, feta, and tomato turnover ($4.50) is lightly flaky and savory. It complemented the flat white nicely, and is simply a pleasant morning breakfast.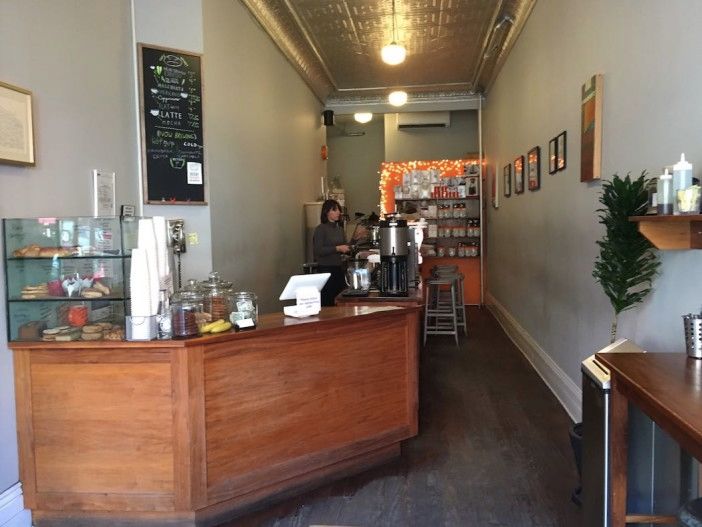 There's a small community table up front for you to rest your bones. And towards the back, there's an espresso bar seating area.
And it didn't hurt that Yo La Tengo's "The Point of It" was playing (the 9th track off of their excellent album Fade from 2013).
One customer was quietly speaking with the barista. As he put on his coat to leave, he said — unprompted, "Café Grumpy is the champagne of coffees."
Did he know I was there to write about them?
Well, he's right.
The Rundown: Café Grumpy
Where: 383 7th Avenue, between 11th and 12th Streets
Phone: 718-499-4404
Hours: Weekdays, 7:00am-7:30pm; Weekends, 7:30am-7:30pm
Kid Friendly? Keep your strollers at home, as the place is small and quiet.
Remote Workers: The grumpsters proudly tout that they do not have WiFi and ask that you use your laptops elsewhere.
Bites Available: Coffees, pastries, espresso drinks, and some great savory things.