Cuppa Cuppa: (Happiness Is A Warm) Tuscan Gun
There are few things more satisfying than having a morning cuppa cuppa. Of course, that cuppa cuppa can be coffee, tea, or whatever beverage you prefer to get your day started. In this series, a cuppa cuppa doesn't only refer to the beverage. It's the conversation, the place you're at, and the atmosphere. Cuppa cuppas are never rushed. We're not limited to cafes. So follow us as we enjoy the neighborhood, our neighbors, background chatter, and a cuppa cuppa.
There's a gem of a cafe/restaurant just a few blocks down from either Prospect Park Southwest or Prospect Park West — depends on which direction you're coming from. We actually missed this one until we happened by it one recent afternoon.
We're glad to have found The Tuscan Gun (199 Windsor Place near 10th Avenue) — a quietly elegant cafe/Italian eatery that has been open since May 2015.
On a mid-week afternoon, we came in to this welcoming, casual cafe that we'll need to go back again to experience in a variety of ways. It's open for breakfast, lunch, and coffee all day — and you can even have yourself a peaceful late afternoon drink. No loud bar included.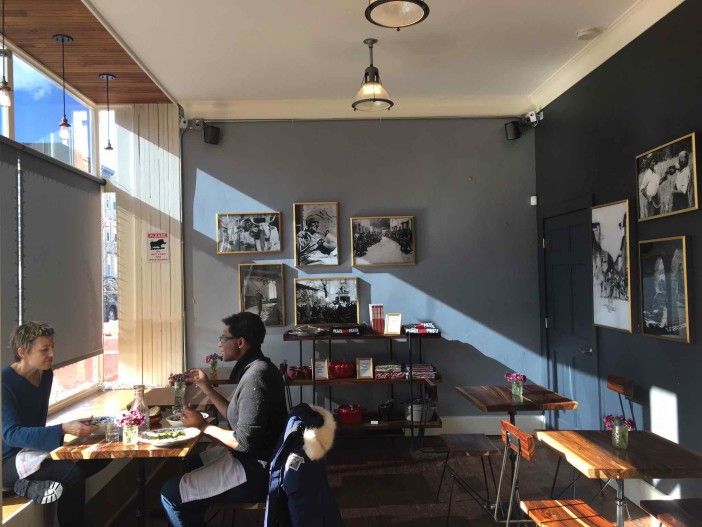 Tuscan Gun does not have WiFi, so bring yourself some company, or a dog-eared book. There are outlets to plug in if you must, but it's not the reason you come here.
The coffee menu has many of your favorites — with some alternatives that we're going back to try. The Caffe Corretto ($4.50) is a shot of espresso with a kick of grappa. In addition, the Hot Chocolate ($4.50) consists of Belgian Chocolate Grenache, whole milk, whipped cream, and cocoa powder — a well-deserved treat after an hour of shoveling.
We kept it light this time around, enjoying a great macchioto (single $2.25; double $2.75) with an Orange Blueberry Cornmeal Cake ($2.75). The cornmeal was just sweet enough.
The paninis ($7) have both meat and veggie choices (the panini and beer combo is $10). In addition, pasta dishes are available — you can check out the full menu here.
And the prices are more than fair.
The place had a friendly, relaxed atmosphere — exemplified by both Fred Fielder and Michael Reina, who were running the show when we came in.
Music selections more than did the trick. Beck's "The New Pollution" was playing when we came in, which later transitioned into to some pretty fantastic Jimmy Smith and Wes Montgomery. Take that for a nice mix.
We're looking forward to trying more of the menu. We'll see you here soon, yes?
The Rundown: The Tuscan Gun
Where: 199 Windsor Place, near 10th Avenue
Phone: 347-987-3166
Hours: Weekdays, 6:30am-6:00pm; Weekends, 7:30am-6:00pm
Kid Friendly? Strollers will be tricky when it's crowded. You can stop by without a problem with your younger ones, but they should be old enough sit in a regular chair.
Remote Workers: WiFi is not available. There are outlets if you want to plug in for a bit.
Bites Available: Coffees, pastries, paninis, pastas, soups, salads — and they boast a full liquor license.
You can also read about these previously featured Cuppa Cuppas: