Congressional Redistricting – A Primary Election Guide To Changes And Candidates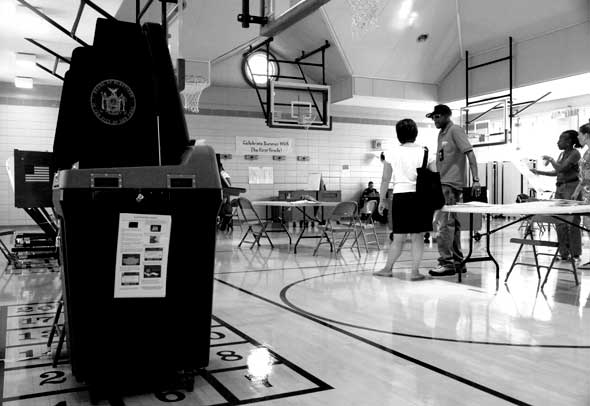 On Tuesday, June 26, voters will hit the polls to vote in federal legislative primaries, choosing Democratic or Republican candidates for Senate (Republican only) and Congress. This year's elections, however, are complicated by redistricting. Previously, most of Sheepshead Bites' coverage area was part of the 9th Congressional District, currently represented by Bob Turner and, before him, Anthony Weiner. That district has now been eliminated and the area divided between three new district with incumbents many in the area may be unfamiliar with.
We've put together this pre-primary primer to help you understand the geographic and demographic changes within the district, as well as background information on incumbents, their primary challengers (if any), and challengers in November's general elections.
Here's a quick rundown on how to use this guide before Tuesday's primary:
Visit the New York City Board of Elections poll finder and enter your address. This will tell you what congressional district you're in, where your poll site is, and provide sample ballots for the general election so you know who is running.
Return back to this page.
Use the following links to find the district profile we've put together, with bios and background on each of the candidates. Note that we've split up the district profiles between Sheepshead Bites and Bensonhurst Bean, and the links below will direct you to the appropriate site.
CONGRESSIONAL DISTRICT 8
Geographic changes
The new 8th District of New York is comprised of most of the former District 10 and a large part of the now eliminated District 9. This includes the neighborhoods of Bedford-Stuyvesant, East New York, the Flatlands, a large part of East Flatbush, and a small section of Midwood. However, the new 8th District now includes less of East Flatbush and Bedford-Stuyvesant, more of East New York, and no parts of Midwood. The district has also expanded in the southern direction, and now contains Coney Island, Brighton Beach, Manhattan Beach, and parts of Sheepshead Bay and Marine Park.
Ethnic and racial changes
District 8's geographic changes have noticeably impacted the racial and ethnic composition of the district. The former District 10 was 58.7 percent black, 18.3 percent white, 17.2 percent Hispanic, 3.9 percent Asian, while the remaining 1.9 percent included individuals of other groups. The new 8th District is now 52.9 percent black, 22.4 percent white, 18 percent Hispanic, 4.8 percent Asian, and the other 1.9 percent still includes people of other groups. The two most obvious and significant demographic changes in this district are the decrease in the percentage of blacks and the increase of the percentage of whites. The increase in the percentage of white individuals in the district is likely due to the inclusion of Southern Brooklyn neighborhoods. The decrease in the percentage of blacks is most probably a result of the district's loss of sections in East Flatbush, a predominantly black neighborhood. Although additional sections of East New York, which is also a neighborhood densely populated with black residents, were placed into this district, the white population in Sheepshead Bay, Manhattan Beach and Marine Park, in addition to the loss of parts of East Flatbush, have outweighed this gain. Therefore, the percent of blacks in this district has decreased by 5.8 percent, and the percent of whites increased by 4.1 percent. This demographic change will most likely have a perceptible impact on the upcoming elections.
Incumbent
Edolphus "Ed" Towns will not be running in the election, for he will be retiring after 30 years of serving the Brooklyn community as Congressional Representative of the former 10th District of New York. House.gov states that over his lengthy career, Towns has gathered millions of dollars for numerous projects in his district. He successfully brought in $20 million for local projects in 2010 alone. Towns served as Chairman of the Committee on Oversight and Government Reform in the 111th Congress and examined of waste, fraud and abuse in government with great scrutiny. In the current 112th Congress, he is part of the Energy and Commerce Committee, and the Committee on Oversight and Government Reform.
House.gov says that Towns is known as "the champion of children and youth," for he believes that investment in the youth ensures a bright and successful future. He has also worked to advance the public healthcare and education systems, improve consumer protections, present openings for minority business development, and reduce chronic illnesses.
Towns is currently 77 years old, and will be ending his career as Congressman after serving 15 terms.
Primary competitors

Two Democratic candidates, Hakeem Jeffries and Charles Barron, are seeking to obtain Towns' position, and represent the current 8th District of New York in Congress. They will compete against each other in the primaries next week.
Hakeem Jeffries, a native of central Brooklyn, has been a member of the New York State Assembly since January 2007. His campaign website says that he has worked to shield residents of New York from breaches of their rights by the police, assist former prisoners in rehabilitation, and reform the New York government in Albany. He exposed himself as a supporter of Israel, saying that Iran is a threat to all, and that the United States must support Israel if Israel feels there is a need to attack Iran.
Jeffries is a graduate if New York University Law School. After earning his law degree, he served as a legal clerk for Honorable Harold Baer Jr. of the United States District Court for the Southern District of New York. Before he became a member of the New York Assembly, Jeffries worked at Paul, Weiss, Rifkind, Wharton and Garrison LLP, a world renowned law firm, and then served as counsel in the litigation department of CBS.
Charles Barron has represented New York's 42nd District on the New York City Council since 2001. According to his campaign website, while on the council, Barron has helped build more affordable housing than any other New York Council member. He is also the former chair of the Higher Education Committee. As chair, Barron triggered the re-establishment of over $10 million for students at the City University of New York colleges. In 2010, he was stripped of his chairmanship and booted from the committee due to his divisiveness, making him the only Democratic member of the Council without a chairmanship. He is also a former Black Panther activist, and joined Harlem's chapter of the party in 1969. [Clarified]
Several politicians, including Mayor Ed Koch and Assemblyman Steven Cymbrowitz, have accused Barron of being an anti-Semite, and an enemy of the state of Israel. Tablet Magazine stated that while on the council, Barron has "defended Hamas, and identified former Libyan dictator Muammar Qaddafi and current Zimbabwean dictator Robert Mugabe as his political heroes." In 2002, Barron had organized a City Hall reception for Mugabe, and attempted the same for Venezuela's Hugo Chavez.
General election challengers

Alan Bellone is a Republican and Conservative businessman running for Congress for the first time. Bellone's campaign website states that he worked in technology in the 1980s. He was first employed by Wang Laboratories, where he oversaw the work of the sales representatives. He was then a technology consultant for companies including NYNEX, and Grumman and Barclay's Bank. In the 90s, Bellone began his venture into the corporate world when he began to work for Natwest Bank. In 2003, he partnered with a friend in a silk screen printing and embroidery business.  When the business struggled, Bellone's partner decided to move to another state, leaving Bellone to become the sole  owner of the company, which he transformed and expanded from a home business, to a storefront, and soon to the Brooklyn Navy Yard. [Full disclosure: Sheepshead Bites has been a client of Bellone's in the past.]
Although Bellone has no political experience, in November 2010, Bellone ran to represent New York's 41st District in the New York State Assembly. He was defeated by the incumbent, Democrat Helene Weinstein.
Colin Beavan, a passionate environmentalist and author, joins the race as a member of the Green Party. This is his first venture into the political arena. Beavan is the author of NoImpactMan.com, an award-winning blog which discusses how individuals can help improve the environmental crisis. He also published the book No Impact Man, in which he discusses his family's year-long experiment, in which they did not use electricity or paper products. That means no toilet paper, washing machines or ovens for an entire year. Beaven has since been running the No Impact Project, an effort to mobilize citizens and persuade them to live in an eco-friendly manner.
CONGRESSIONAL DISTRICT 9
Geographic changes
The current 9th District of New York includes most of the former District 11, which was comprised of Park Slope, Crown Heights, the western section of Boro Park, the north-western part of Midwood, as well as the eastern sector of East Flatbush. However, the 9th District now encompasses slightly less of east Midwood, more of southern Midwood, less of Borough Park, and some more of East New York. Also in District 9 is the neighborhood of Sheepshead Bay, which was part of the old 9th District as well.
Ethnic and racial changes
District 9's geographic changes introduce new demographic changes, which can impact the impending elections. The former District 11 was 53.5 percent black, 25.6 percent white, 13.2 percent Hispanic, 5.9 percent Asian, while the remaining 1.8 percent included individuals of other groups. The new 9th District is now 51.2 percent black, 29.7 percent white, 11.3 percent Hispanic, 6.2 percent Asian, and the other 1.6 percent includes people of other groups. The increase in the percentage of white individuals in the district is likely due to the inclusion of Sheepshead Bay and more parts of Midwood into the district. Although additional sections of East Flatbush, a predominantly black and minority neighborhood, were placed into this district, the white population in Sheepshead Bay and Midwood have outweighed this addition. Therefore, the percent of blacks in this district has decreased by 2.3 percent, and the percent of Hispanics decreased by 1.9 percent.
Incumbent
The incumbent congressman running to represent District 9 is Yvette Clarke, a Democrat, who has represented the former District 11 since 2006. According to her campaign website, Clarke is the daughter of Jamaican immigrants, and was born and raised in Brooklyn. Before becoming a Congresswoman, Clarke represented the 40th District of Brooklyn on the New York City Council. While on the council, Clarke was known for her advocacy for the rights of women and minorities. As co-chair of the New York Council's Women's Caucus, Clarke obtained $9.5 million to fund organizations which promoted domestic violence prevention, breast cancer awareness,  and helped provide housing and AIDS counseling for women.
Since her election, Clarke has been recognized as a sponsor of laws pertaining to affordable housing, reducing the cost of college, immigration reform, increasing the opportunities for small businesses, and strengthening the American workforce. Clarke is part of the Education and Labor, Small Business, and Homeland Security committees.
According to the Village Voice, Clarke still has not paid off her student loans, despite the fact that she was making $90,000 a year while on the council.
Primary challenger
On June 26, Clarke will compete against Democrat Sylvia G. Kinard in the New York Congressional primaries.
Kinard joins the race with much community involvement and political experience under her belt. She has served as Vice President for Community School Board 13, and was the Director of Women's Ministries at a local church. Kinard has served as a senior legislative attorney for the New York City Council, and Deputy Counsel for the New York State Division of Housing and Community Renewal. She was also a member of the New York Women for Obama Committee in 2008.
If elected, Kinard hopes to improve public education, transportation, and help promote local business growth in the district.
Locally, she feels that these issues are of top priority. As a member of Congress, Kinard hopes to be a vocal advocate for the development of alternative energy. She will support policies that reverse the trend of out-sourcing and encourage companies to relocate their manufacturing plants back to the United States. She will also encourage plans to make American businesses competitive internationally and work to level the global playing field.
"We cannot allow the American economy to lag behind other economies," Kinard told Sheepshead Bites in a survey sent out to congressional candidates*.
Kinard feels that her desire to work together on the issues that unite the 9th District and create a "better Brooklyn for all," in addition to the skills she possesses to help people from different backgrounds work together to achieve common goals, makes her the best candidate to solve the issues the district faces.
General election challengers
The victor of the primaries will be challenged by Vivia Morgan of the Green Party, and Daniel Cavanagh of the Republican Party.
According to ourcampaigns.com, Morgan works in the entertainment industry. She first worked as an assistant manager of culture at Tone Records. She then obtained the position of assistant director of special events at the Brooklyn Chamber of Commerce. Morgan also worked as an aid in Mayor Michael Bloomberg's Office of Film, and then became host of "The Vivia Morgan Show," which discussed Caribbean art and music, and their influence on American culture. Morgan is a member of Local Union 79 and an active board member of the organization Fight Back, which puts unemployed construction workers to work.
Cavanagh, carrying the Republican and Conservative lines, has served as a special assistant to New York State Senator Marty Golden since 2002. He has been involved in the local community from the age of 13, with the Gerritsen Beach Teen Organization. Cavanagh is the father of GerritsenBeach.net blogger Daniel Cavanagh, Jr.
If elected, Cavanagh hopes to help the district come together to fight crime, and improve job opportunities. With respect to national and international issues, Cavanagh feels it is important to ensure that Social Security, Medicare, Medicaid exist in the future. He also wishes to help balance the American budget, and fight terrorism.
"We must balance the budget first, and then bring America back to the top to become a world leader again," Cavanagh said in his survey response.
*Sheepshead Bites sent out a brief four-question survey to all congressional candidates mentioned in the article above. Sylvia Kinard and Daniel Cavanagh were the only candidates to respond. Information about other candidates was cobbled together from various online sources linked within the post. If a candidate's information seems lacking, it is because there is little public information available, and they did not return the survey.
Acknowledgements: Sheepshead Bites and Bensonhurst Bean would like to express our enormous gratitude to the following news outlets and online resources,  which formed the basis of our research:
New York Times' interactive redistricting map, which helped us visualize the new lines (and from which we took the above screenshots), as well as understand many of the demographic changes.
Politicker's Data Crunch on Redistricting, put together by former Sheepshead Bites freelancer Colin Campbell, which translated the old numbers to the new, and gave some historical perspective on voting patterns.
Special mentions to OpenSecrets.org and FollowTheMoney.org, both of which provide a mountain of information about elections and candidates across the country, including financial backers and core issues.
Clarified (6/23/2012 @ 11:23 a.m.): We have added clarification to the section regarding Charles Barron, noting that he was stripped of all committee chairmanships in the City Council.