Congressional Redistricting – A Primary Election Guide To Changes And Candidates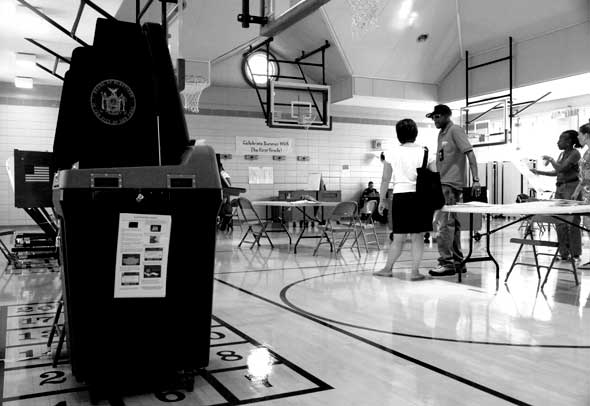 On Tuesday, June 26, voters will hit the polls to vote in federal legislative primaries, choosing Democratic or Republican candidates for Senate (Republican only) and Congress. This year's elections, however, are complicated by redistricting, which changed the borders of the existing district and left many residents with incumbents they may be unfamiliar with.
We've put together this pre-primary primer to help you understand the geographic and demographic changes within the district, as well as background information on incumbents, their primary challengers (if any), and challengers in November's general elections.
Here's a quick rundown on how to use this guide before Tuesday's primary:
Visit the New York City Board of Elections poll finder and enter your address. This will tell you what congressional district you're in, where your poll site is, and provide sample ballots for the general election so you know who is running.
Return back to this page.
Use the following links to find the district profile we've put together, with bios and background on each of the candidates. Note that we've split up the district profiles between Sheepshead Bites and Bensonhurst Bean, and the links below will direct you to the appropriate site.
CONGRESSIONAL DISTRICT 10
Geographic changes
The new District 10 is geographically similar to the former 8th District. Prior to the district changes in New York, District 8 was made up of several neighborhoods in Brooklyn and Manhattan. Among those were the Brooklyn neighborhoods of Coney Island and Seagate, along with some sections of Gravesend, Borough Park, Bay Ridge, and Midwood. The areas of Manhattan previously part of District 8 were the Upper West Side, SoHo, Chelsea, Greewich Village, and Downtown Manhattan. Now District 8 consists of less of Lower Manhattan, and more of Bay Ridge, Borough Park, Midwood, and Upper Manhattan, including the southern edge of Harlem. Furthermore, Coney Island is not part of this district any longer.
Ethnic and racial changes
District 10 has experienced only minor demographic changes as a result of its changes in location. The former District 8 was 4.8 percent black, 66.5 percent white, 11.8 percent Hispanic, 15.9 percent Asian, and the remaining 1.9 percent was comprised of people of other groups. The 10th District is currently 4 percent black, 65.3 percent white, 12.2 percent Hispanic, 17.4 percent Asian, and the leftover 1.1 percent is made up of people of other groups. As illustrated, the percentages regarding the racial and ethnic composition of the district have only undergone small changes. The .8 percent increase in the number of blacks in District 8 is most likely a result of the inclusion of a small portion of southern Harlem in the district. These changes will probably not have a drastic effect on the outcome of the congressional elections.
Incumbent
Jerrold Nadler has been representing New York's old 8th District in Congress since 1992, when he was elected in a special election after the death of Congressman Ted Weiss. Nadler is currently concluding his 10th full term as representative. Nadler first became involved in politics in 1976, when he was elected to the New York State Assembly. He served on the Assembly for 16 years. Nadler is known for his support of civil liberties, women's rights, LGBT rights, safe and efficient transportation, and the improvement of health care access as well as the Social Security system.
After the September 11 World Trade Center attacks, Nadler facilitated the gathering of $20 billion in federal funds to rebuild Lower Manhattan. He also helped victims of the attacks win free health care and treatment. Nadler is a resident of Manhattan, and a graduate of Columbia University and Fordham Law School.
Primary challengers

Since Nadler is the only Democratic candidate running to represent this district, District 10 will not hold a congressional primary.
General election challenger

Republican Michael Chan, the sole challenger to incumbent Nadler, was a Professor of Economics at several colleges, most recently at New York University, according to the website of the Committee of Friends of Michael Chan. Chan has been praised by his students and colleagues at NYU for his teaching skills, dedication to his students, and devotion to his job. In the past, he also worked as a poll coordinator of the New York City Board of Elections, and a bank regulator for the New York State Department of Banking.
Chan ran to represent New York's 75th District in the New York State Assembly in November 2010, but was defeated by incumbent Democrat Richard Gottfried.
CONGRESSIONAL DISTRICT 11
Geographic changes
The new District 11 is nearly identical to the former 13th District with respect to geography. The old 13th District was made up of the communities of the southwest part of New York, including Totenville, Prince's Bay, Woodrow, Rossville, New Dorp Beach, Staten Island, Emerson Hill, most of Bay Ridge, and some parts of Gravesend. Currently, District 11 is comprised of all of those neighborhoods, as well as a small part of the western section of Sheepshead Bay, and more of southern and eastern Gravesend.
Ethnic and racial changes
District 11 has only undergone minor geographic changes. Consequently, the district has experienced trivial changes regarding its racial and ethnic composition. The former District 13 was 7.1 percent black, 62.3 percent white, 16.1 percent Hispanic, 13.6 percent Asian, and the remaining .9 percent consisted of people of other groups. Similarly, the new District 11 is currently 7.2 percent black, 64.2 percent white, 15.7 percent Hispanic, 11.9 percent Asian, and the leftover 1 percent is made up of others – not a significant difference whatsoever. However, many of the Brooklyn residents added to the new district are registered Democrats, slightly narrowing the margin for the Republican incumbent.
Incumbent
Michael Grimm, a Republican, is currently seeking re-election after representing New York's old 13th District for one term. Grimm's campaign website states that his record in Congress indicates that he is committed to limiting the role of the government in the lives of individuals, cutting government spending, and rolling back the healthcare reforms. Grimm currently serves on the House Financial Services Committee, the House Republican Israel Caucus, and is the chairman of the Republican Policy Committee's Task Force on Foreign Policy.
Grimm served in the United States Marine at the age of 19 in the Persian Gulf War. He also worked as an FBI Officer and Special Agent. As a Special Agent, Grimm worked to fight corruption on Wall Street as a member of the Financial Fraud Squad. While serving on the Fraud squad, Grimm received an award for his work ethic and dedication to serving justice. Grimm holds a BBA in Accounting from Baruch College, and a JD from New York Law School.
Grimm is currently being investigated by the FBI after allegations surfaced that his campaign benefited from illegal fundraising techniques, including straw donors and extortion. He was previously accused of abusing his power as an FBI agent, specifically regarding an incident in a Queens nightclub in which he made violent threats, displayed a gun, and used FBI and NYPD personnel to hash out a personal affair.
Primary challengers
District 11 will not hold a primary on June 26, for only one Democrat (Mark Murphy) is seeking to represent this district and there are no Republican challengers to Grimm.
General election challengers
Mark Murphy, a Democrat, has worked as a businessman in media and real estate. According to his campaign website, Murphy hopes to help middle class families economically by helping businesses grow and creating additional jobs. Murphy feels that his experience in the field of business makes him the best candidate to achieve these goals. Murphy is also an advocate for the improvement of education and women's rights.
His father is former Democratic Congressman John Murphy, who served from 1963 to 1981, when he went to prison for his role in the Abscam scandal.
In public service, Murphy most recently served as borough representative for Public Advocate Bill de Blasio in Staten Island, Brooklyn and Queens. He is a graduate of the Catholic University of America, and lives in West Brighton, New York.
Hank Bardel is running to represent Congress on the Green Party ticket, with a progressive agenda of helping the poor and middle class obtain control of society, as stated on his website. If elected to Congress, Bardel hopes to achieve peace, reform the healthcare system, create more jobs, and improve education and the environment. Bardel ran for to represent New York's 51st District on the City Council in 1997. From 1962 to 1996, he worked for the New York City Department of Parks and Recreation. While working there, he became involved in unions, and grew to believe that all working people should join unions to help make them as influential as possible.
Bardel is a resident of Staten Island, and possesses an associate's degree in Applied Science and Business Administration from Staten Island Community College.
CONGRESSIONAL DISTRICT 7
Geographic changes
The current 7th District of New York encompasses most of the old 12th District, which was comprised of sections of Ridgewood and Woodside in Queens, parts of Manhattan's Lower East Side, as well as the Brooklyn neighborhoods of Sunset Park, Greenwood, a sliver of Borough Park, and northward to Bushwick, Greenpoint, Brooklyn Heights and Williamsburg. However, the 7th District now contains slightly less of Ridgewood and Woodside, and some more of Red Hook and Brooklyn Heights.
Ethnic and racial changes
Despite District 7's geographic changes, in terms of racial and ethnic composition, it is similar to the former District 12. The inclusion of additional sections of Brooklyn and less of Queens in the district has had an extremely small effect on the district's racial and ethnic composition. The old 12th District was comprised of 8.4 percent blacks, 26.8 percent whites, 44.6 percent Hispanics, 18.6 percent Asians, while the remaining 1.6 percent included individuals of other groups. The new 7th District is now 8.6 percent black, 27.8 percent white, 43.1 percent Hispanic, 18.8 percent Asian, and the other 1.7 percent includes people of other groups. The small 1.5 percent decrease in the amount of Hispanics in the neighborhood may be a result of the district's loss of areas in Queens, and it's gain of additional parts of Brooklyn. However, as illustrated, the district was and currently is predominantly Hispanic and white. Consequently, these minor demographic changes are not expected to have a significant impact on the elections.
Incumbent
Nydia Velazquez, who represents the old 12th District, is now serving her 10th term as Congresswoman. When elected in 1992, she made history as the first Puerto Rican woman elected to the House of Representatives. Velazquez possesses a master's degree in scholarship from New York University. In 1981, she was a professor of Puerto Rican studies at Hunter College. She became involved in politics in 1983, when she was appointed special assistant to Edolphus Towns. She then discovered her true passion – politics. As a member of Congress, she has been a minority rights activist, an advocate of rights for workers and the poor, and a fighter of crime. She has worked to promote affordable housing, as well as healthcare and an excellent education for all residents of her district.
Velazquez was labeled "the most inactive New Yorker in Congress" by the Daily News last year, due to the fact that from August 2010 through August 2011, she failed to sponsor even one bill, amendment, or resolution.
Primary challengers
All candidates running to represent District 7 in the upcoming elections are members of the Democratic Party. Therefore, all will compete on June 26, in the New York Congressional Primaries.
Eric Martin Dilan is currently a New York City Council member who represents the 37th District of New York City. According to the New York City Council website, Dilan was elected in 2001, replacing his father, and is now serving his third term on the Council. Since then, he has worked hard to enhance the infrastructure of his district by allocating funds for the renovation of parks and gyms, as well as the creation of computer labs and libraries.
As chairperson of the Housing & Buildings Committee, Dilan has made an effort to formulate housing laws and policies that please building owners, tenants and the poor. However, he was not always successful in pleasing them all. The Village Voice said that this past March, many homeless gathered outside Dilan's office after he refused to discuss Intro 48, a bill that would force the city to survey empty buildings so they may be used for the homeless, in his committee.
Dilan is of Puerto Rican and African American descent. He holds an associate's degree in Business Administration.
George Martinez has a long history of community involvement and political activism. As a student leader at CUNY, he fought against former Mayor Rudolph Giuliani's plans to implement workfare and restrict access to public higher education. After college he became an adjunct professor at Hunter College and ran many political literacy and organizing campaigns in the local community. Martinez then ran for City Council and served as District Leader for the 51st Assembly District. There, he led the movement for reform in the county organization and continues to advocate for grassroots political empowerment in the neighborhood. He is currently an activist for minority rights, an occupier of Wall Street, and an adjunct professor at PACE University.
If elected, Martinez hopes to stop cuts to public services such as schools, hospitals, and programs like Medicare. He also hopes to decrease unemployment rates and provide assistance to small businesses. Finally, he wishes to improve the community's relations with the New York Police Department, and reduce the amount of stop-and-frisks in the area. Nationally, Martinez aspires to end America's dependence on other countries for oil through investment in renewable energy infrastructure. He is also a critic of corporate influence in American politics.
Dan O'Connor joins the race with no political background or community involvement. This is his first run for public office, and he intends to serve as a citizen-legislator, as opposed to a career politician. Locally, O'Connor believes that small businesses are being pressured from all sides, and he feels it will take a change in course at all levels of government to stop the job losses and harm to our economy.
"I will fight to stop government from doing the bidding of the rich and powerful, and instead adopt sensible laws and regulations that create jobs rather than stifle them," O'Connor wrote in a candidate survey sent by Bensonhurst Bean*.
On the local level, O'Connor also hopes to improve education. He feels that current policies make it difficult to ensure a good quality education for the next generation, and all too often, politicians and bureaucrats are making decisions that parents and teachers should be making. For this reason, O'Connor supports tax credits for private education and other policies that will foster school choice. He also hopes to bring end to the "stop and frisks," which he feels are inherently biased and a blatant violation of the most basic protections from government intrusion.
On the national and international level, O'Connor wishes to end the war in Afghanistan and bring home our troops. He hopes to improve the economy by pushing Congress to rein in the power of the banks and stop the Federal Reserve's "reckless policies." Most importantly, O'Connor would like to put a stop to the bailouts and favoritism towards big corporations and the power that those corporations' lobbyists have in our government.
*Bensonhurst Bean sent out a brief four-question survey to all congressional candidates mentioned in the article above. George Martinez and Dan O'Connor were the only candidates to respond. Information about other candidates was cobbled together from various online sources linked within the post. If a candidate's information seems lacking, it is because there is little public information available, and they did not return the survey.
Acknowledgements: Sheepshead Bites and Bensonhurst Bean would like to express our enormous gratitude to the following news outlets and online resources,  which formed the basis of our research:
New York Times' interactive redistricting map, which helped us visualize the new lines (and from which we took the above screenshots), as well as understand many of the demographic changes.
Politicker's Data Crunch on Redistricting, put together by former Sheepshead Bites freelancer Colin Campbell, which translated the old numbers to the new, and gave some historical perspective on voting patterns.
Special mentions to OpenSecrets.org and FollowTheMoney.org, both of which provide a mountain of information about elections and candidates across the country, including financial backers and core issues.