Community To Felder: Let's Talk About Healthcare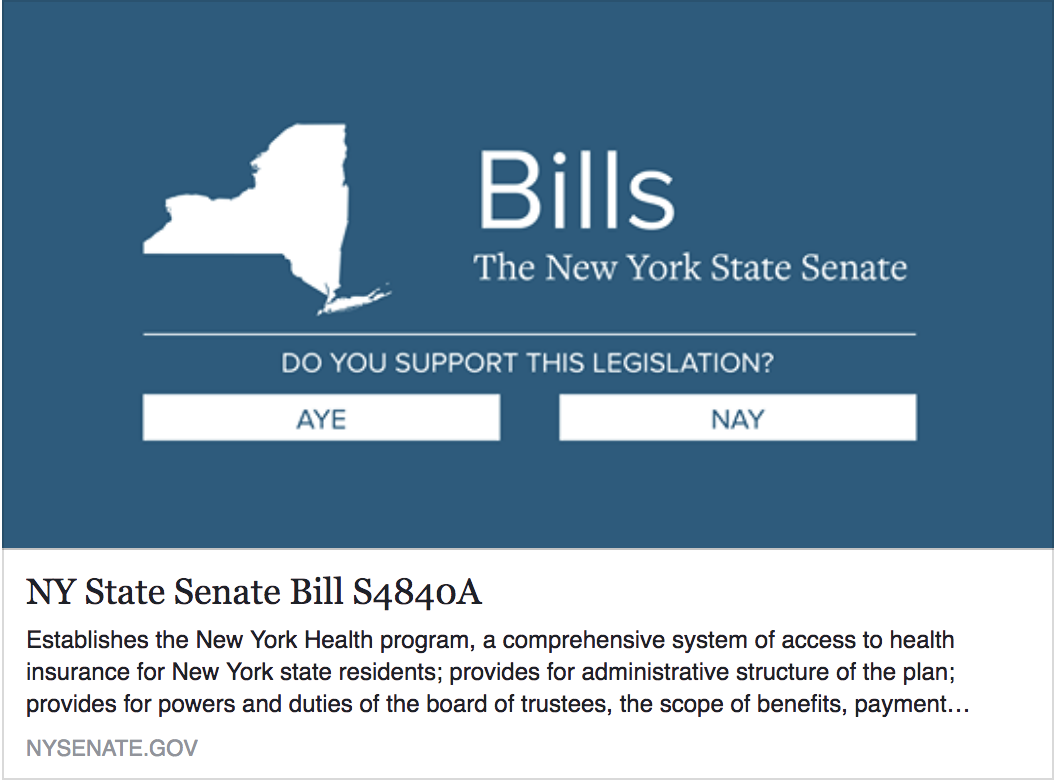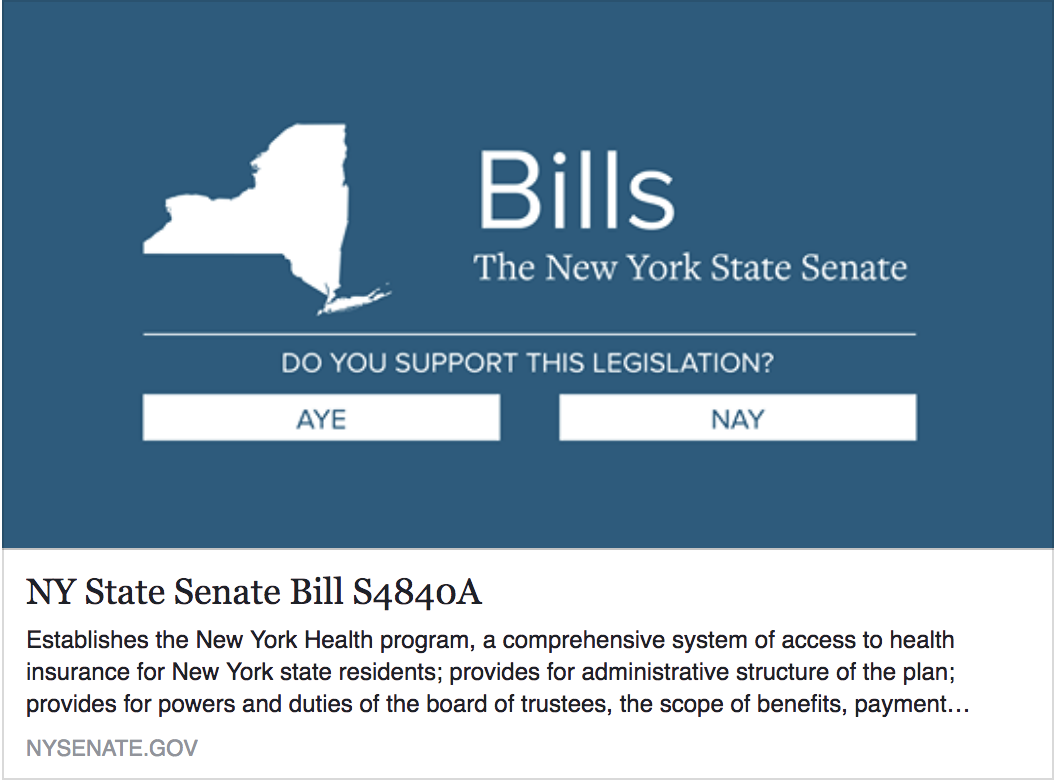 BORO PARK/MIDWOOD – On Thursday, 26 community organizations led by New York Senate District 17 for Progress (NYSD 17 for Progress) shared a letter they sent to Senator Felder (see below), who represents District 17, asking him to take a position on an issue that could bring single-payer health care to his constituents – the New York Health Act (S4840).
While the bill has the support of 31 Democrats in the New York State Senate, and has passed the New York State Assembly every year for the last three, it is yet to make its way out of the Senate Health Committee. Two Brooklyn Senators are on this committee – Republican Marty Golden, from Bay Ridge, whose constituents have been petitioning him for support and staging rallies outside his office since last May, and Democrat Simcha Felder.
Felder, who was elected in 2012, however, caucuses with Republicans. NYSD 17 for Progress have been working to get his attention to vote the party line with Democrats since organizing in late 2016. He run unchallenged as a Democrat, a Republican and a Conservative in 2016, and is currently again, unopposed for re-election in 2018.
Felder has been a member of the State Senate Health Committee, the committee that would consider whether this bill should have a hearing, since the 2013 session. The community groups are concerned that Senator Felder has yet to take a public position on the bill, and are questioning whether he is advocating for a hearing at all.
Last year, Felder said he needed more information on the issue. In an email to a constituent, he wrote:
"As you may know, the New York Health Act (Senate Bill 4840) is currently under review in the Senate Health Committee. This legislation would completely change how health care operates in New York State. No other state in the entire country has ever successfully implemented a proposal like this and I believe that legislation of this magnitude needs to be properly vetted by the Senate Health Committee. I would like to hear publicly from experts and stakeholders on how a program like this would be implemented and the potential impacts it will have on the health care options of New York State residents."
NYSD 17 for Progress informed Mr. Felder that it will host a public, educational town hall about the NYHA on March 4 in Senate District 17, and they hope he will attend.
"Mr. Felder is a powerful member of the State Senate who sits on the Health Committee. Publicly discussing the NYHA should be at the top of his agenda," said David Goldberg of the NYSD 17 for Progress.
We reached out to Felder's office, and will update if we hear back from them.
---
The full text of the letter:
State Sen. Simcha Felder           February 15, 2018
1412 Avenue J, #2E
Brooklyn, NY 11230
Dear Senator Felder,
In the last year, a number of constituents from your district, as well as various media outlets, have tried to engage you in a public discussion about ways to expand quality, affordable health care coverage to all New York residents, with a particular emphasis on the New York Health Act (S4840).
To date, your response has been that you have no position on this proposed legislation, that you typically do not take a position on a bill while it's in committee, and that the ramifications of the bill are very complex and you would like to have more information on this legislation and hear publicly from experts and stakeholders on how a program like this would be implemented.
But at a time of national insecurity concerning the fate of the Affordable Care Act, Medicare, and Medicaid, and only a temporary solution in place for the Children's Health Insurance Program (CHIP), we believe it is critical for New York's elected officials to clearly share their thinking about the NYHA, one that has the support of 31 State Senators and has passed the Assembly during each of the past three years.
We, your constituents, believe that as our representative in the New York State Senate, it is part of your job to understand and evaluate legislation that is before this body – particularly when it is before a committee on which you sit (the Health Committee) – so that you can, in fact, take positions that best serve the public interests of your constituents. As such, we again respectfully request your response to the following questions:
Please explain your current position on the NYHA – specifically, how you have investigated the legislation and the public health problems it seeks to address, and what questions you need answered before deciding whether or not to support it.
As a member of the Health Committee, have you advocated for this bill to be given a hearing this year, and if so, what response have you received?
Would you be willing to attend a public meeting with healthcare experts and community members to discuss this legislation?
Our understanding of the NYHA
We are eager to discuss the NYHA because we believe it will:
Provide quality care for every New Yorker, regardless of age, income, wealth, employment status, citizenship, or immigration status.
Eliminate financial obstacles to healthcare: no out-of-pocket costs, premiums, co-pays, deductibles, coinsurance, or out-of-network charges.
Cover all medically necessary care, including dental, vision, mental health, and reproductive care at the same level for everyone.
Let patients choose their own doctors and other health care providers. In District 17 this is particularly meaningful given our cultural and religious diversity.
Be paid for by graduated income taxes, reducing healthcare costs for more than 98% of New Yorkers.
Allow health care providers to devote more time to patients instead of negotiating with insurance companies and filling out forms.
Save our businesses the mounting expense of administering private health insurance options, making health care costs a transparent and predictable calculation that will encourage entrepreneurship.
Save an estimated $45 billion through decreased administration costs of health insurance and elimination of insurance company profits.
These assertions are drawn in the main from a 2015 analysis of the legislation conducted by Dr. Gerald Friedman, the Chair of the Economics Department at UMass Amherst.
Your previous comments on the NYHA
Last year, a member of NYSD 17 was able to schedule a meeting with one of of your staffers about the NYHA, which we appreciated. However, we remain unclear about your specific thinking on the bill.
The following summarizes what you've said recently about this legislation:
Other constituents who contacted your office concerning the NYHA were unable to receive additional information, as documented here.
We look forward to hearing from you!
Although we acknowledge the complexity of this legislation, we believe it would be particularly beneficial to residents in a district that is one of the poorest in the state, and one in which Medicaid enrollment has increased under the Affordable Care Act. By engaging you, our elected official, about this proposed legislation, we hope to benefit from your analysis and experience, and together work toward a deeper public understanding and strengthening of this potentially historic bill.
We hope to hear back from you within the week on this critical matter.
Signed (Organizations):
NYSD 17 for Progress
Jews for Racial and Economic Justice
Torah Trumps Hate
Campaign for New York Health
RUSA LGBT
LTH Indivisible (Sunset Park)
HEAL NY: Healthcare Equity Action League of New York
Occupy Kensington
Ditmas Civic
Hitoreri: An Orthodox Movement for Social Change
New Kings Democrats
South Brooklyn DSA
Nurses Mobilize
True Blue NY
Fight Back Bay Ridge
The Brooklyn ReSisters
Empire State Indivisible
Hate Has No Home Here (a subgroup of Ditmas Civic)
Lady Parts Justice League
National Women's Liberation, New York chapter
NYC DSA Socialist Feminists
Downtown Women for Change
Rockland United
Roosevelt Island Indivisible Health Care Group
South Brooklyn Progressive Resistance
Take Back 20