CB6 Grills City Planning On Gowanus Rezoning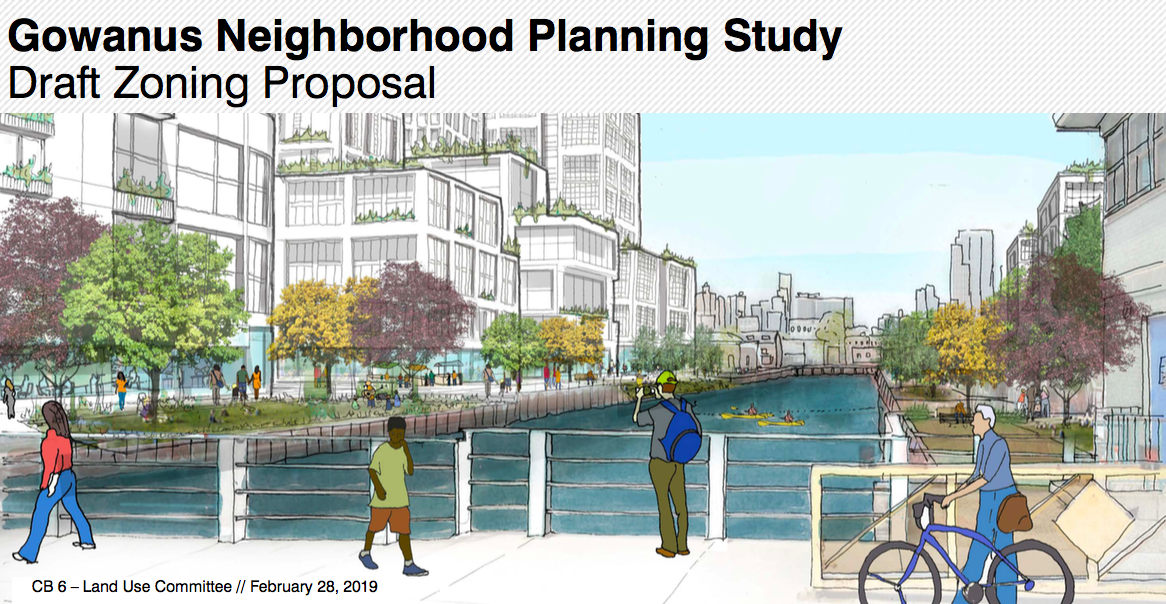 GOWANUS – Representatives from NYC Department of City Planning (DCP) and Housing Preservation & Development (HPD) met with the Brooklyn Community Board 6 Landmarks & Land Use Committee Thursday evening to address questions about the proposed Gowanus rezoning.
Earlier this week, CB6 sent DCP an initial list of more than 50 questions about the city's Gowanus Draft Zoning Proposal. The list was broken into numerous categories: Affordability, the Arts, Density, Displacement, Environment, General, Historic Preservation, Housing, Infrastructure, Manufacturing, Mixed Use, Parks, Senior Citizens, Transit/Transportation, and the Waterfront. Given the two hours allotted for last night's Q&A session, DCP and HPD were only able to cover the first six categories. The two agencies will return to the next committee meeting on April 18 to tackle the remainder.
Here are some highlights or watch the video of Thursday's meeting above.
Affordability
Jonathan Keller, Project Manager for DCP, confirmed that the MIH (Mandatory Inclusionary Housing) for new developments will be Option 1 in which twenty-five percent of affordable units are reserved for applicants earning on average 60 percent of the Area Median Income (AMI).
"At this very same venue last month, Council Member Lander publicly said he wants Option 1," Keller said. "How this usually happens is City Planning will enter into public review the MIH options and the City Planning Commission and the City Council ultimately determine it. Your Council Member saying he wants option number one is a pretty good preview into what MIH would be applicable here."
Based on the Draft Zoning Proposal, 1,000 affordable housing units will be developed on two city-owned sites—Public Place (Smith and 5th Streets beside the Gowanus Canal) and a vacant site on 4th Avenue at 12th Street, according to Keller.
"The city's intention is for Public Place to be 100% affordable," said Michael Sandler, Director of Neighborhood Planning for HPD. "We are currently working with the development team in meeting that commitment along with planning for aspects of the plan that were not originally envisioned ten years ago. Ten years ago the proposal included market rate apartments and also included fewer publicly accessible amenities…so we're working with the team to figure out how to provide 100% affordable housing and also provide for those amenities."
"With a project this large—there will be multiple buildings—we have an opportunity to meet a very wide range of needs," Sandler continued. "This project could achieve very deep affordability, it could include moderate income units, it could potentially include home ownership units for moderate income families, senior housing, supportive housing. It's such a large project it could meet a wide range of demands."
When a community member asked if studies have been conducted to examine the impact that past rezonings have had on rent prices, Sandler responded, "It's hard to predict the impact that a rezoning will have on rents of the surrounding community. I think there's a perception in the public that the creation of new housing in an area will raise the rent of housing in the surrounding community. There is little to no evidence that that is the case in the research. Housing prices are based on demand. Residential demand in Brooklyn, especially this neighborhood, is at an all-time high. This is due to population growth of our city."
Density
A point of contention in the rezoning for many in the community involves density and building heights, with some areas designated for buildings as tall as 22 stories and Public Place expecting a 30-story tower.
"The density we're proposing is because it's appropriate given the mixed use and affordability goals," Keller said in response to a question submitted by CB6 asking why density allowances are so high. "We also based this on context and responses we got on the land use framework which we shared in June of 2018."
"At some point in this process I'm going to have to vote on this," said Community Board member Daniel Kummer. "To what degree is the density driven and required in order to achieve other goals that have been identified through that process and the city's process? …And where do we start moving into an area where we're approving a level of density that really is essentially a city-granted windfall to people who speculated on property? In order to feel comfortable voting for this, I need to know where that line is."
"The proposal and the densities in it are related to achieving the goals that have been outlined in numerous planning processes that have started with the 70s frankly, when folks in the community said, 'What are we planning for with Gowanus?' and it's been going on for decades," Keller replied. "Achieving those goals is the purpose and the point."
Environment
At the open house DCP hosted in February, several locals asked why the Draft Zoning Proposal did not include a designated "eco-district." According to Keller, the entire rezoning area will become "greener."
"We are proposing an overall neighborhood plan in the Draft Zoning Proposal to help support a more sustainable and resilient Gowanus," Keller said. "And just part of the highlights of that are: facilitate remediation of upland properties that would not be remediated otherwise; open space capability; new building efficiency; density. Density is very green, it gets people…living near jobs and not having to drive."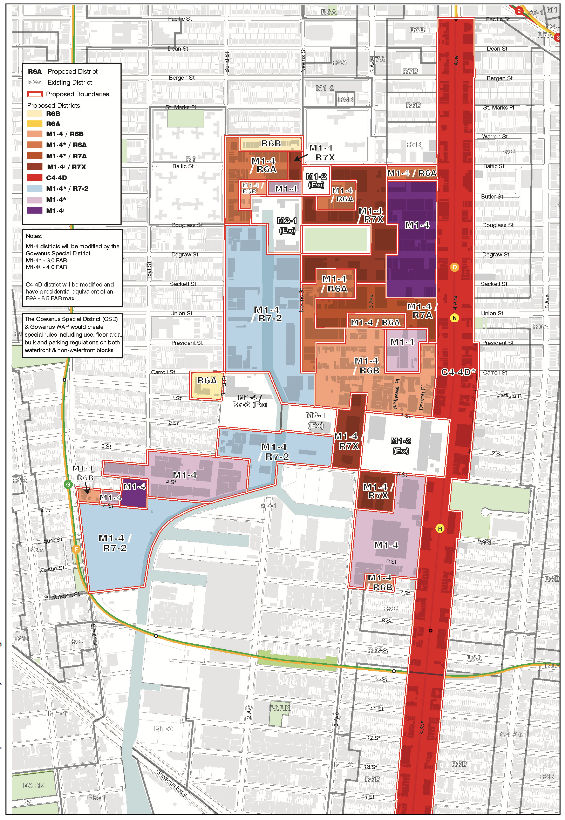 General
Since the release of the Draft Zoning Proposal in January 2019, many locals have argued that the document does not reflect what they said they wanted during the many community input meetings they attended. The sentiment was voiced again Thursday night with some questioning the reason behind the rezoning.
Former CB6 Chair Sayar Lonial asked, "Why is City Planning and the City of New York proposing a rezoning for Gowanus? …What are the goals of why you're putting forth this plan—with all the community build up—what are those goals? Because those are the goals that we need to weigh and determine."
"I really hesitate to try to venture into that at this second," Keller answered to some exasperated sighs from the audience. "Frankly we put together a 118-page framework where we outlined this. There's a lot of interest from a vast swath of this community for different things that have tradeoffs, and we navigated that through the engagement process and produced a document that has a lot of goals and strategies…if I start listing them off I'm going to miss something and somebody is going to say, 'A-ha! You see they didn't talk about that resiliency aspect…' so I'm really careful and sensitive but it's important."
"If you haven't read the framework…I'm happy to walk you through it," Keller continued. "There's a 40-page land use framework that is exactly how we got to the Draft Zoning Proposal—that talks about goals and strategies and why we're doing and proposing things in different places."
Reiterating Kummer and Lonial's inquiries, meeting moderator Mark Shames asked Keller, "Are you clear about what your goals and strategies are in that framework?"
"Absolutely, we're so clear on the goals that I know that I don't want to misstep on them because they're so important to everybody," Keller said. "Please understand that."
"We are experiencing a crisis of affordability in the city," said CB6 District Manager Michael Racioppo following Thursday's meeting. "We will advocate for a plan that addresses this crisis while still seeing to it that the new Gowanus neighborhood is at its best a live-work-play community that also promotes traditional mass transit and alternative transit." To submit questions regarding the Gowanus Draft Zoning Proposal, email info@brooklyncb6.org.
DCP and HPD will return to the next CB6 Landmarks & Land Use Committee meeting (April 18) to answer additional questions from CB6 and the public regarding the Gowanus Draft Zoning Proposal. DCP will host a Scoping Meeting on Thursday, April 25 at M.S. 51. Click here to see the Gowanus Neighborhood Rezoning Draft Scope of Work.