Candlelight Vigil Held To Save Gowanus Station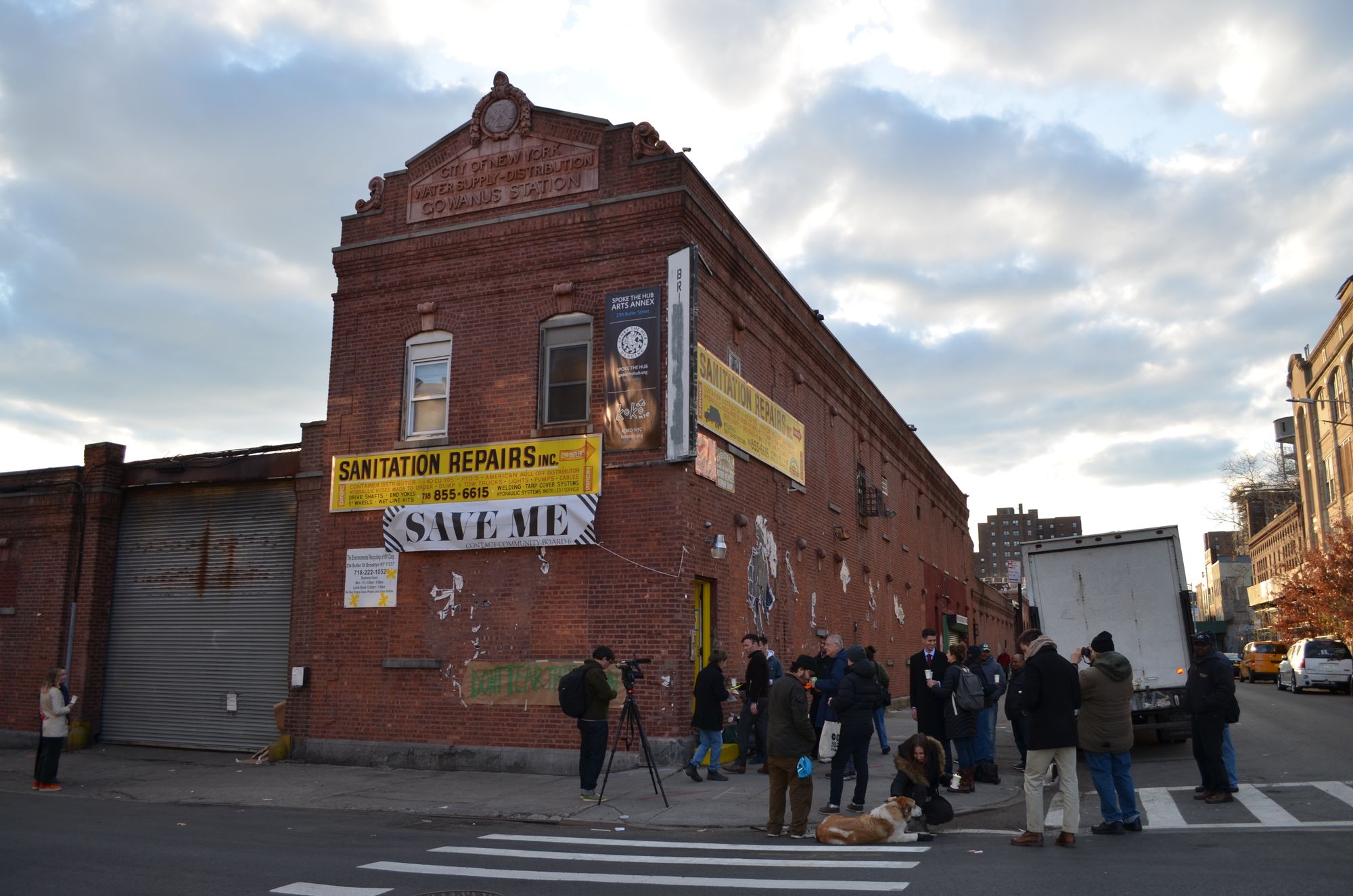 GOWANUS – Dozens of Gowanus neighbors held a candlelight vigil on the corner of Butler and Nevins Streets Tuesday evening to show their opposition to the city's proposed demolition of the historic Gowanus Station building.
Located at 234 Butler Street, the brick Beaux-Arts Gowanus Station building was erected in 1913 by the City's Department of Water Supply, Gas & Electricity to serve as a pumping station for the Gowanus Canal.
The structure has been at the center of the EPA's plans to clean up the Gowanus Canal Superfund site. One cleanup proposal includes placing an eight million gallon Combined Sewage Overflow (CSO) tank and head house (contains screens and machines to remove floatables/grit from wastewater as well as filtration for odor control) at 234 Butler Street (the Gowanus Station site) as well as on neighboring sites located at 242 Nevins Street and 270 Nevins Street. These three properties are not owned by the city and would need to be purchased from their private owners or seized via eminent domain.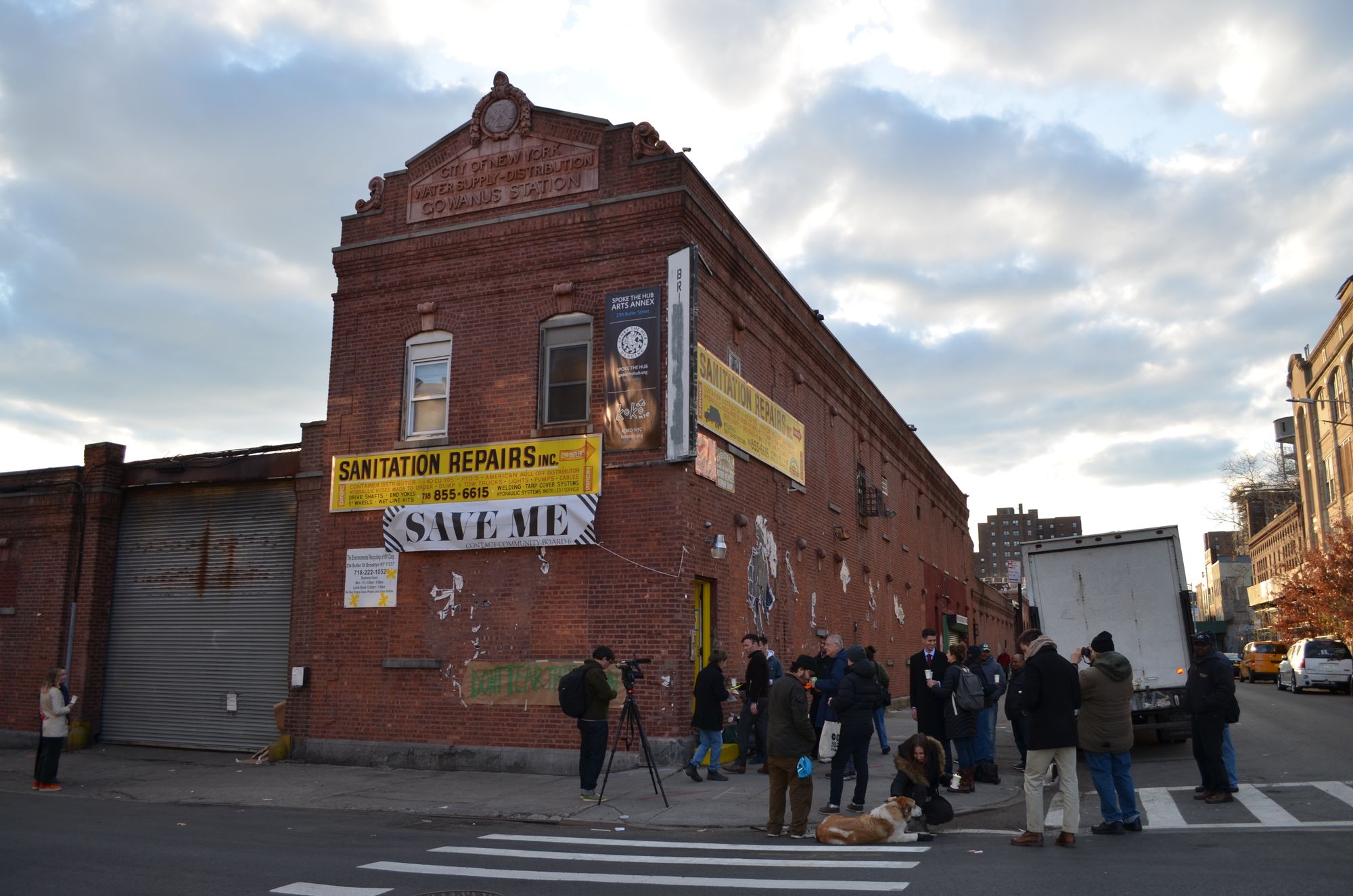 "We're out here tonight because we're looking to send a clear message to DEP [Department of Environmental Protection] and to the EPA, and that message is 'Save Gowanus Station,'" said Brad Vogel, one of the organizers of the vigil. "When you look at this building, yes, it's a beautiful architectural example of the Beaux-Arts style from 1913-1914, but more importantly it's part of the identity of Gowanus…. Gowanus is very likely to face rezoning very soon and as the area gets developed, it's important that some sense of the identity of this place is retained. When you have a building like this, that actually states the name 'Gowanus' up in the pediment, it's something that we should retain. It's something that we should work to keep."
"We need to stand up and we need to fight," added Linda Mariano, who also helped organize yesterday's event and is a member of Frogg (Friends and Residents of Greater Gowanus). "I believe it's our responsibility for our community. When you have a dream to keep a building as wonderful as this, you have to be respectful of that responsibility and keep up the work [and retain] whatever we have that is good here."
An effort to save the 100-year-old Gowanus Station building from demolition by having it designated a historic landmark failed when the Landmarks Preservation Commission decided that it lacked "architectural significance and integrity" due to too many alterations to the structure over the years.
"One of the key points we want to make tonight is that some people will tell you that there's no choice, that you have to demolish this building because otherwise we'll lose the park [Thomas Greene Park, 225 Nevins Street], the pools, or we'll lose the CSO tank," Vogel noted, "but let's just be very clear about it, we're fine with the park, we're fine with the CSO tank. We want those things too. All we're asking is for DEP and the EPA to reconfigure the CSO tank, and the head house that goes on top of it, so that it doesn't crush this building."
He then questioned the size of DEP's proposed project, which he said would span three blocks from Butler down to Sackett Street. "If you look down this street, not only to Douglass but go all the way to the next street sign you see down there, it's Sackett, that's how huge this site is for this tank and the head house," Vogel said. "When you have a site that big, can't we save just a little sliver of that pie and keep this building in place? I think it's possible and that's why we're out here today."
Other concerned neighbors also questioned the size of the project site. Based on the large size, Frogg member Marlene Donnelly suggested that DEP may be planning to build a sewage treatment facility at the location.
A man in the crowd noted that a three-block-long tank was already built under Butler Street in the 1890s and that it "has the capacity to take over our sewage." He added, "We're ripping down a historical building that does not need to be ripped down for only one reason—to stall the cleanup process…. We have a vacant lot over there owned by ConEd [he motioned toward the open space across from the Gowanus Station building on the northeast corner of Butler & Nevins], we have a hollow street owned by us, and a park that has to be dug up anyway, so why is this the logical site?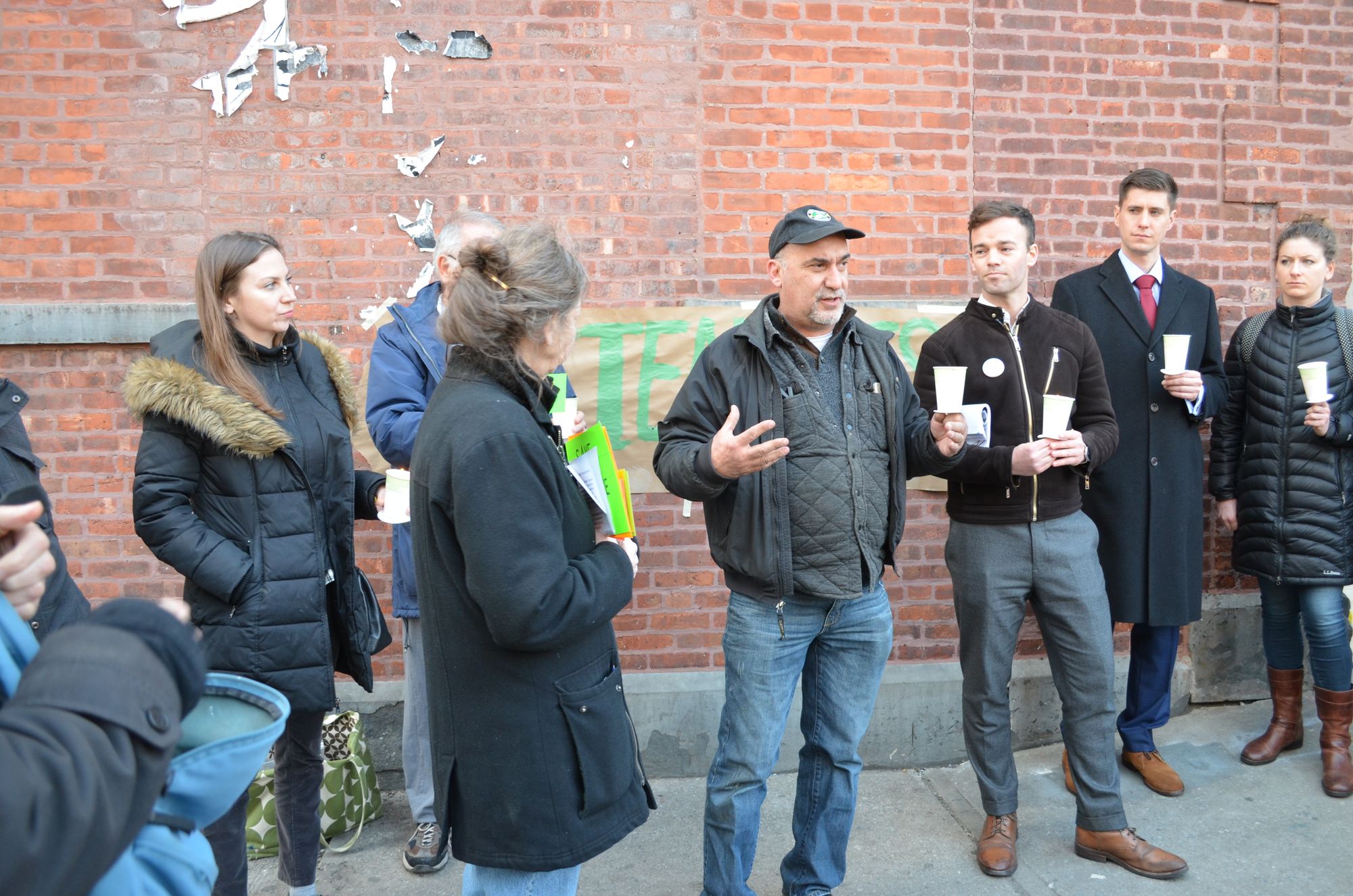 234 Butler Street is owned by Salvatore Tagliavia who runs his business, Sanitation Repairs, Inc., from the building which has been in his family for 45 years. He said that he and the other building owners have tried negotiating with the city. "We've offered them part of our land so they wouldn't have to knock anything down," he explained to BKLYNER. "We were willing to donate half our property as long as they would give us our building rights. We were all on the same page, willing to donate our property for park land—put your tank there [at the park], put your head house there, you'll have the rest of the park space [on the donated property]—and they didn't want it because there was a street in between the two parks and they were very opposed to that."
"What's happening tomorrow [April 11] is the City Council is voting on this bill and they're taking it away from me without [allowing me] to say anything," Tagliavia said. "What's going to be affected is the livelihood of all my employees, all the other businesses that are run out of here, the not-for-profit Spoke the Hub. Everybody here is going to be affected."
"This is just the city being a bully and wanting to take over this property," he continued. "They don't need to take over this property…. They just don't want to dig a hole and close the street for a couple of years to save the building. They'd just rather do everything here. They're going to displace everybody."
Tagliavia says approximately 200 people will lose their jobs or be forced to relocate if the city takes over the properties. "We don't believe it's fair and we would love to save this building. It's the only building in the neighborhood that has the name 'Gowanus' on it and it should be saved," he insists.
The business owner says that the city never negotiated with him "as far as a friendly acquisition" and adds that the city's lawyers have informed his attorneys that they're proceeding with the eminent domain process.
The City Council will vote on the DEP's proposal on Wednesday and "within 60 days, they can take over the title of the property. On June 30
they could have ownership of the property," Tagliavia says.
"The city's plan is to take over ownership, get me out of the property and knock the building down," he insists, "because they're concerned that they've invested so much money into designing the tanks already with this building not being here. If they have to go back to the drawing board, that would delay everything by several years, and they don't want to do that. Their feet are on the fire right now and they need to knock the building down as quickly as possible."
Tagliavia says his only defense in protecting his property is to file a motion objecting to the way that the city is handling the situation, but he adds, "We've looked into that but it's a very expensive process." Having already spent hundreds of thousands of dollars in legal fees fighting to keep his property, he says, "We've spent so much already that for us to fight them in court now, and not be guaranteed some sort of outcome, we'll just take our chances with the eminent domain and go to court afterwards and fight them for value."
"I'm losing hope because when City Council votes on this tomorrow, basically within 60 days they're going to tell me, 'Bye. You're out of here,'" Tagliavia says.
"The key is the EPA ultimately has the say as to whether or not they accept DEP's plan for this site," Vogel noted. "So even if the City Council passes this tomorrow, we still will try to fall back on the mercy of the EPA."