100 Affordable Units Up For Grabs at Former Rheingold Site in Bushwick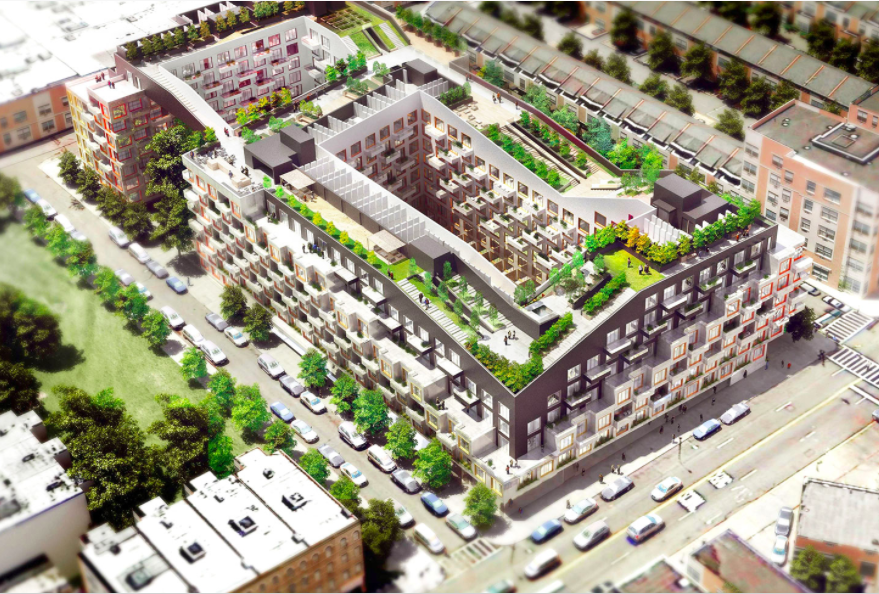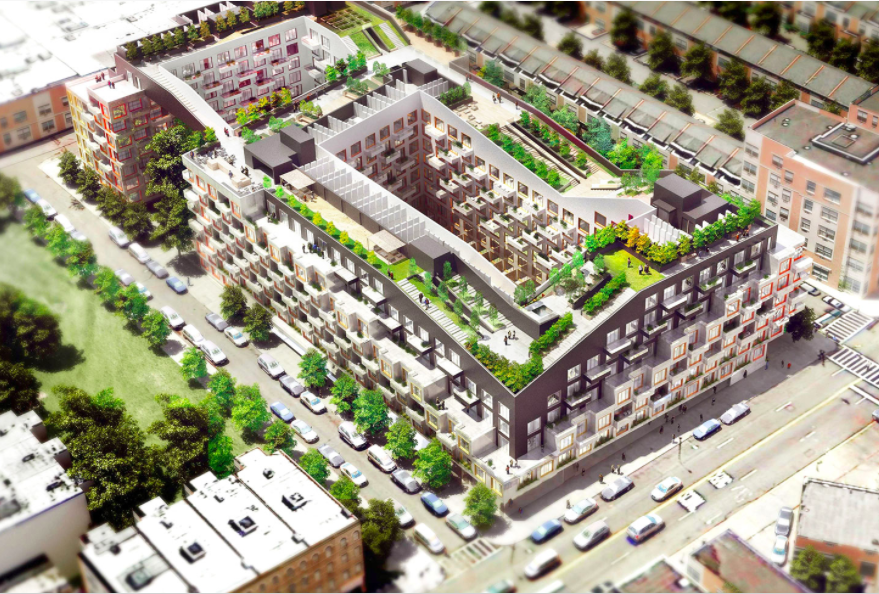 BUSHWICK – It's hard to forget the community tension and negotiations leading up to the rezoning and development of the former Rheingold Site. Original promises about affordable unit numbers were walked back as the property changed hands, leaving many residents angry.
Now, the enormous development rising at 10 Montieth Street in Bushwick is hitting the affordable housing lottery, with 100 units available at 60% of the Area Median Income. The units are a mix of studio, one- and two-bedroom apartments, located near Bushwick and Flushing Avenues.
The building itself, designed by ODA Architects, has a sloping, terraced design and a slew of amenities—well beyond your average luxury development in Brooklyn. The advertisement for the site lists normal amenities, like bike storage, laundry room, mail room, and an elevator, but it gets wild after that.
10 Montieth will also feature a gym, a climbing wall, a squash court, a sauna, a game room, a children's play center, a screening room, art studios, sun decks, outdoor grill stations and yoga studios. Naturally, these will come at a to-be-determined set of extra fees, but still!
In terms of rent, the income limits and monthly rents follow the newly-updated AMI calculations, and can be seen below:
60% AMI Units
Type
Units
Cost
Household Size
Income
Studio
32
$913
1
$33,189 – $43,860

1 Bedroom

54

$980

1
$35,555 – $43,860
2
$35,555 – $50,100

2 Bedroom

14

$1,183

2
$42,549 – $50,100
3
$42,549 – $56,340
4
$42,549 – $62,580
The development is just about equidistant from the Flushing and Myrtle Ave JMZ stops, as well as the Morgan Ave L train station. The B57 can be caught just a block away on Flushing, while the Broadway B15, B46 and B47, along with the Graham Avenue B43 are all within easy walking distance.
Local residents in Bushwick's Community Board 4 will be given preference in selection for 50% of the units. The deadline to apply online through the NYC Housing Connect is June 18th.