Build It Back Continues To Gather Steam, Hits Speed Bump At Sheepshead Bay Courts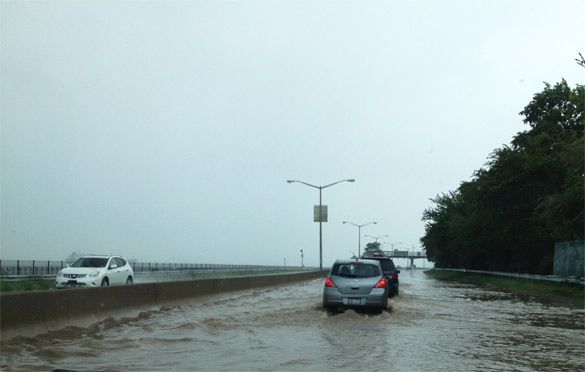 After a sluggish start, the city appears to making headway on its Build it Back post-Sandy recovery program, but in the Sheepshead Bay Courts, rebuilding is posing a bit of a challenge.
As of February, 389 houses have been completed – up from zero a year ago – and 2,482 checks have been mailed, amounting to $45 million in reimbursements.
In November, Mayor Bill de Blasio's office set a goal of 1,500 reimbursement checks and 1,000 construction starts by December 31, quotas the city have surpassed, according to the latest figures.
More than 8,045 homeowners have been contacted by Build it Back as of last month, 2,054 designs have begun, and 1,044 homes have started construction.
When he took office, de Blasio vowed, with the appointment of Amy Peterson as director of recovery, to cut through the red tape preventing Sandy recovery funds from reaching their intended recipients. The administration has since taken steps to expand eligibility and streamline the application process, which has helped get the program moving again.
But while the citywide numbers seem back on track, in the Sandy-ravaged neighborhoods of Sheepshead Bay, Gerritsen Beach, Brighton Beach, and Manhattan Beach, the figures are still lagging – with only 25 houses complete and 88 under construction.
One challenge the city has encountered has been deciding how to handle the Plumb Beach courts, which is comprised of bungalows densely packed together on tiny, pedestrian-only streets, requiring a community-wide solution. As WNYC has observed, due to the neighborhood's interdependency, building a long-term, sustainable solution requires agreement and cooperation among all of the residents.
"This spring, we will be bringing on significant new design and construction capacity, and focusing our resources on block-wide and neighborhood-wide reconstruction efforts – so that we can move entire communities forward at once.  As part of this, we are engaging the Sheepshead Courts community," Amy Peterson, director of the Mayor's Office of Housing Recovery, told Sheepshead Bites.
Peterson did not elaborate on the community-wide approach the city intends to pursue.
Do you live in the Sheepshead Bay Courts? How has Build it Back been working for you? Share your experiences in the comments.