Slope Brunch Beat: Miti Miti Offers Singular Global Cuisine, Served With A Side Of Community Conscience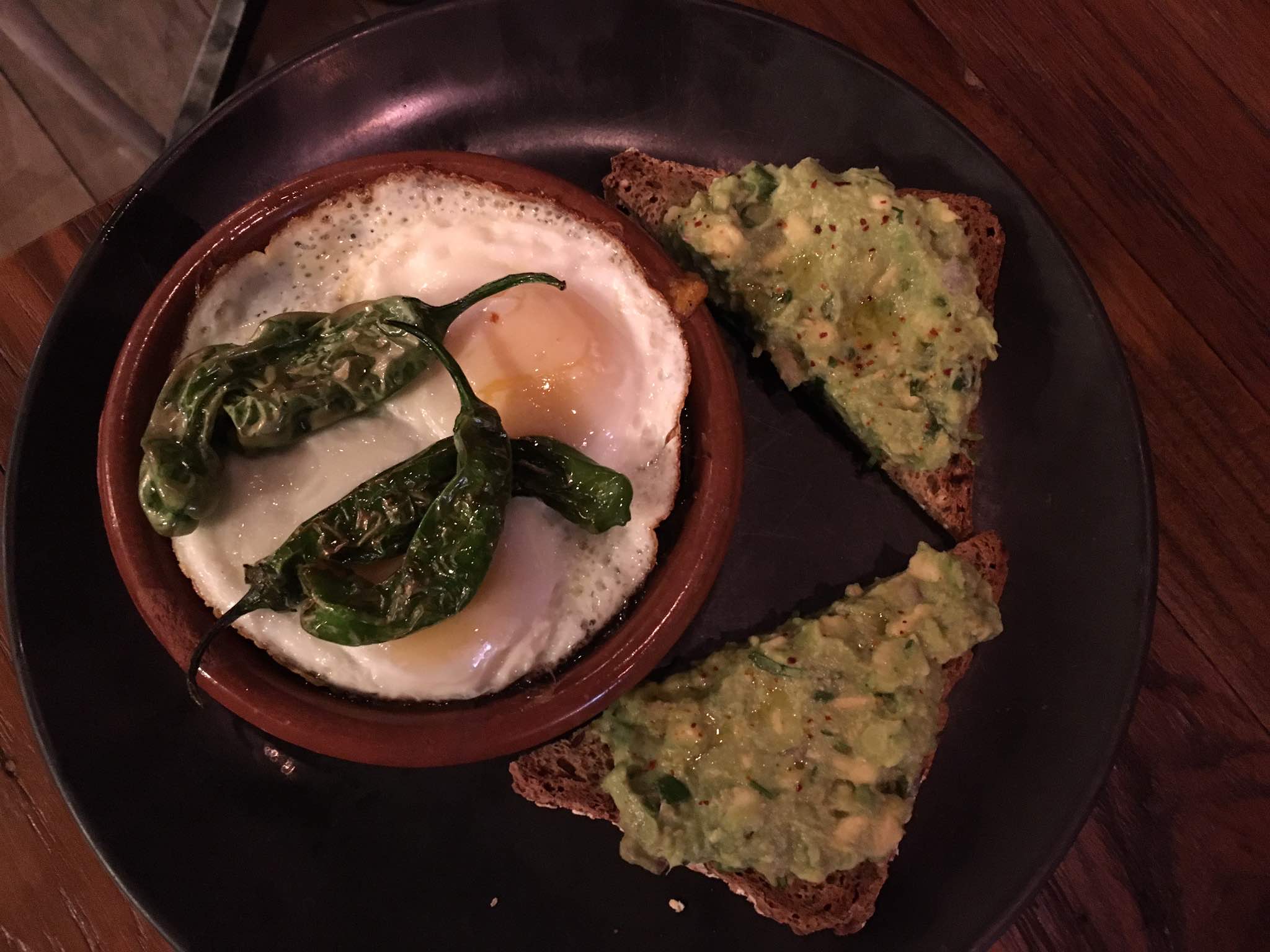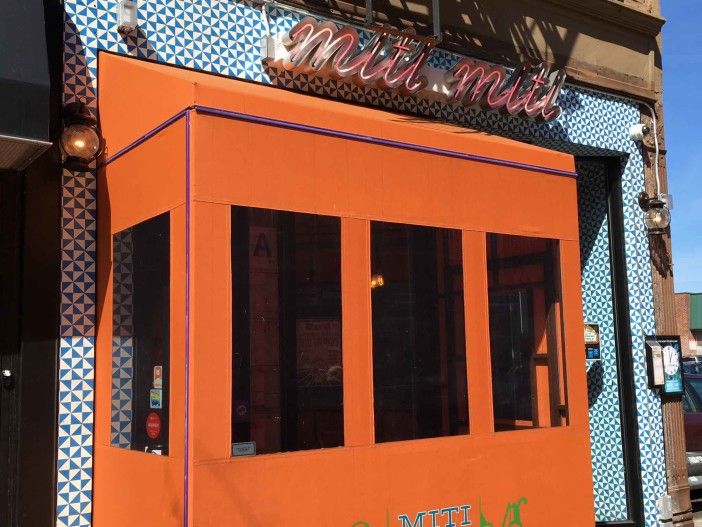 With so many places in the neighborhood to grab a mimosa and a plate of eggs on the weekend, how can you decide which is the best spot to take your visiting in-laws or where you'll want to sit quietly for a couple hours with the hair of the dog? The Park Slope Brunch Beat aims to guide you through the choices — we'll break down the basics, share some special tips, and provide a quick scorecard to help you pick the best place for what you need next Saturday and Sunday.
Boy have we been late in experiencing and writing about the culinary delights at Miti Miti (138 5th Avenue). This welcomed addition to our community celebrated its one-year anniversary back in January. So we had some catching up to do.
And we're very glad that we did.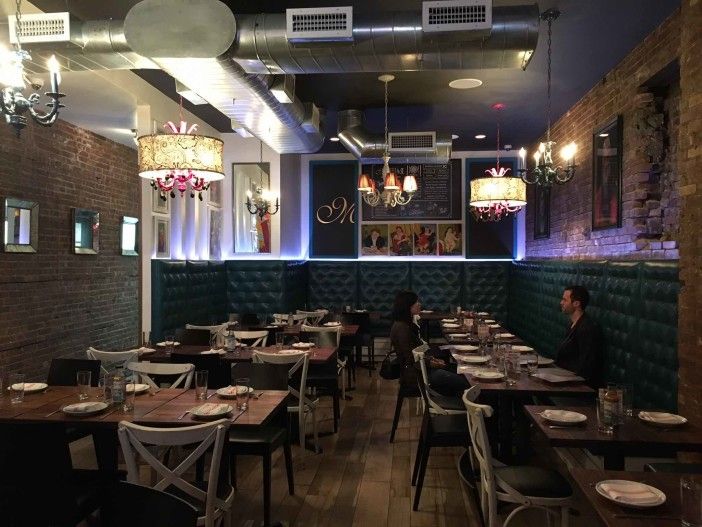 Describing the menu at Miti Miti is a bit tricky because it really is an inclusive affair, referred to by the owners as "Mediterranean cuisine with inspirations from several European cultures in addition to foods found around the world. Hints of Greece, Italy and Spain are intermingled with Latin American and Middle Eastern influences."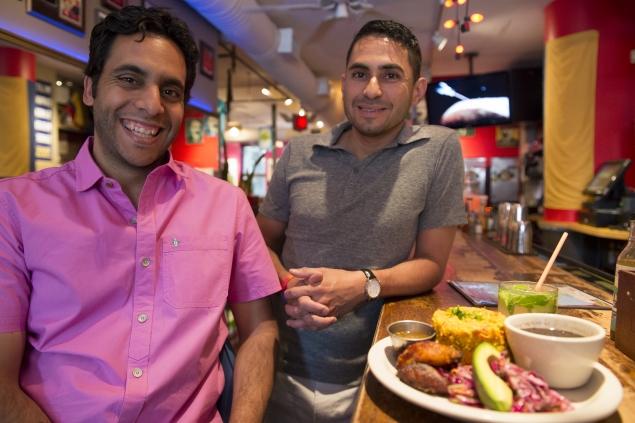 Co-owners George Constantinou and Farid Ali also own Bogota Latin Bistro (141 5th Avenue) — kitty-corner to Miti Miti — one of Park Slope's most praised restaurants for over a decade.
While we came in for brunch over the weekend, the menu boasts a striking diversity of tastes, which is also evident in their regular lunch and dinner menus.
But let's not forget the name of the restaurant. It comes from «Mitad y Mitad» which in Spanish means "sharing." And with all the options on the table, the experience here lends itself to sampling a lot of dishes — and enjoying the conviviality of your partners-in-brunch.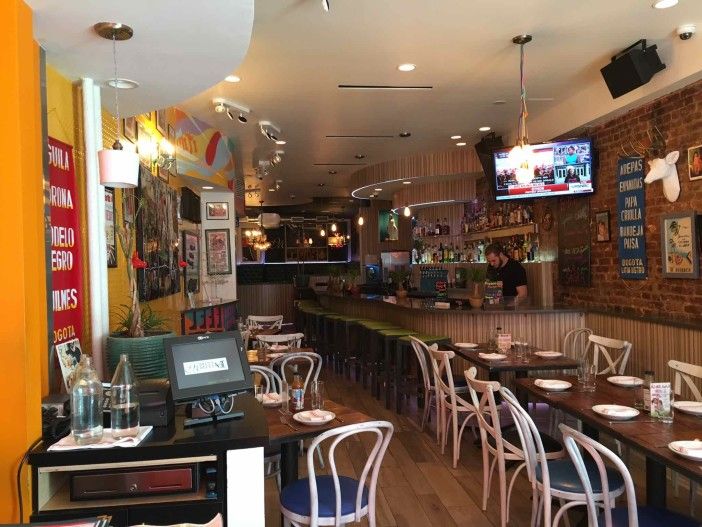 The assortment includes four egg dishes (although we didn't get to it, the Arepa Benedict looks tempting), sandwiches (the Tofu Kati Roll will be a vegan pleaser), griddle selections (craving some Nutella French Toast?), and tacos (Fish, Crispy Chicken, Garlic Shrimp, or Egg).
If you purchase an entrée, you can opt in to the The Boozy Brunch for an additional $15. You'll treat yourself to unlimited drinks for 1.5 hours, and choices include a mimosa, Bloody Mary, sangria, or beer.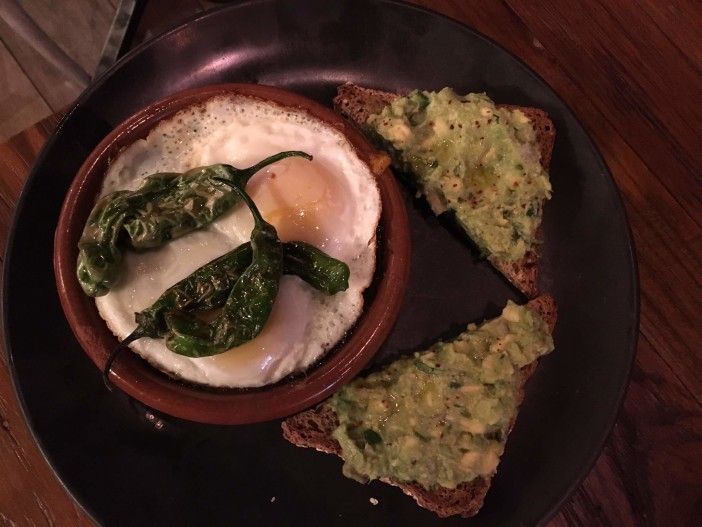 The Baked Eggs ($13.95) comes with black beans, sweet potatos, shishito peppers (alas, we didn't get a spicy one), and spicy avocado toast. It's an intriguing taste — you get the super savory from the avocado and spices, which counterpoints the sweetness of the black beans/sweet potato combination. Recommendation: Don't eat the toast all at once! Mix those bites up with the main egg dish and you'll enjoy it even more.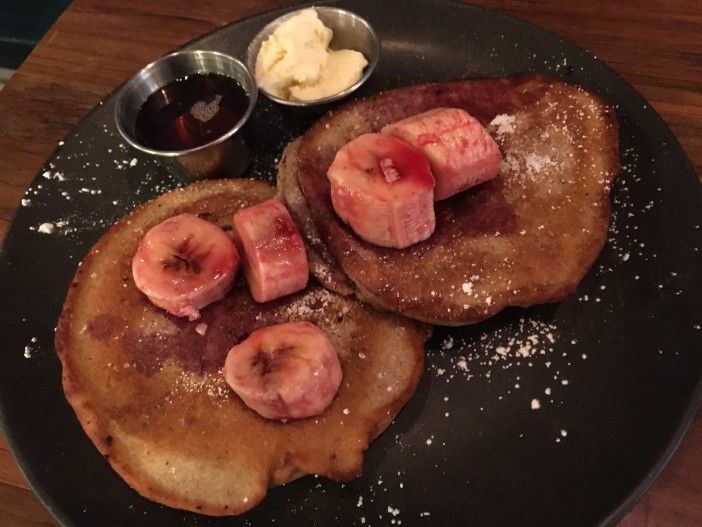 Just in time for the Spring blooms comes the Hibiscus Pancakes ($11.95). The dish has a hibiscus glaze, and the toasted sunflower seeds in the pancakes give them a soft, nutty flavor. The glazed bananas on top is a crowd pleasure (and in this case, also a kid pleaser).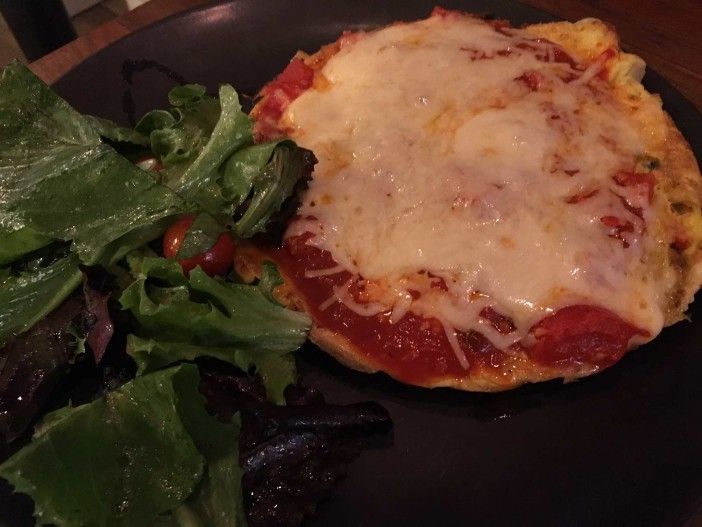 The Seasonal Vegetable Frittata ($12.95) has a nice tomato chutney that adds depth and sharpness on top. The dish comes with jack cheese, potatoes, and a generous green salad on the side.
And while the food at Miti Miti is simply excellent, something has to be said concerning the special co-owners. George Constantinou and Farid Ali are well-known for their community involvement — way before Miti Miti opened. The couple is known for their steadfast dedication to gay rights activism. Last year, Ali and Constantinou had the esteemed dual honor of Grand Marshal at the Brooklyn Pride Parade which occurs along 5th Avenue.
And that's not it. They've been involved in supporting CHiPS Soup Kitchen And Women's Shelter by joining other restaurants throughout the neighborhood.
And parents should especially take note of this: On Mondays-Thursdays, kids eat free from 4pm-7pm. (Check here for details about it.)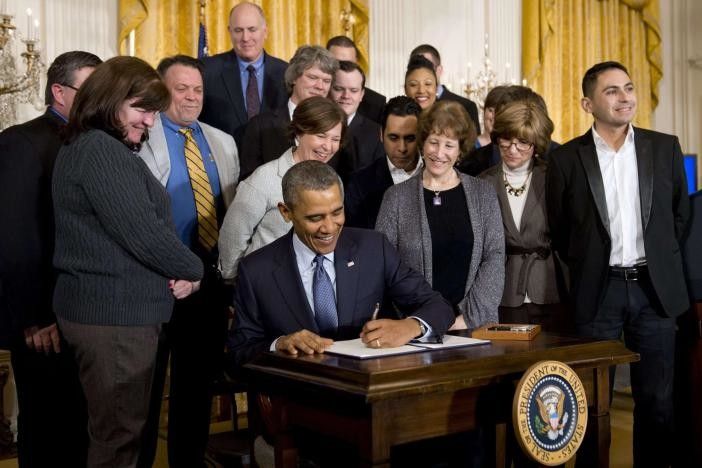 "We are a company that puts people over products," Farid said, when the co-owners were presented with an award by the Business Outreach Center in 2012.
The food at Miti Miti is very much on par with the high standards set by Constantinou and Ali in their business and community practices.
So eat here soon if you haven't already. The food is first rate, and it's simply a business to feel good about.
Slope Brunch Beat Rundown: Miti Miti
Where: 138 5th Avenue (near Douglass Street)
Phone: 718-230-3760
Hours: Sundays-Thursdays, 11am-11pm; Fridays and Saturdays, 11am-1pm
Brunch Hours: Saturday and Sundays, 11am-4pm. (Last seating for Boozy Brunch at 3:30pm).
Reservations: Not necessary, but you can reserve on their website. Recommended for larger parties.
Kid Friendly? Yes. High chairs are available, and the wait staff is patient with the kids.
Gluten Free options? Yes. This is a particularly gluten-free friendly place.