Brunch Beat: A Gathering Of Adventuresome Comforts At Bricolage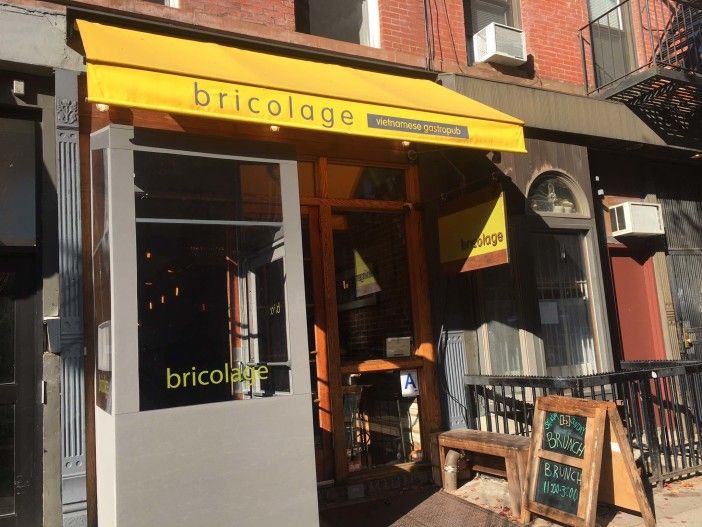 With so many places in the neighborhood to grab a mimosa and a plate of eggs on the weekend, how can you decide which is the best spot to take your visiting in-laws or where you'll want to sit quietly for a couple hours with the hair of the dog? The Park Slope Brunch Beat aims to guide you through the choices — we'll break down the basics, share some special tips, and provide a quick scorecard to help you pick the best place for what you need next Saturday and Sunday.
Perhaps you've passed by Park Slope's Vietnamese gastropub Bricolage (162 5th Avenue between Degraw and Douglass Streets) without stopping. It looks like a narrow restaurant from the outside, and you may have been typing a text message.
Ok, time to stop in your tracks and head inside for one of the more memorable brunches you'll have.
Bricolage opened last February, with husband-and-wife chef team Ed and Lien Lin coming from long histories in the restaurant business, previously having worked at The Slanted Door in San Francisco. The other two partners are Miro Gal and Jed Freedlander.
When we spoke with the four partners before their opening, Miro Gal explained the choice of the restaurant's name. "A friend of mine came to visit and she saw the space, saw what we did with different materials, different approaches, different cultures, different periods, different people and ethnicities and countries, and in one second she said, 'Why don't you call it Bricolage?' And I was like 'Yes!!'"
The name makes a lot of sense since the menu is an amalgam of tastes. They range from Pho and Summer Rolls — Vietnamese classics — to contemporary breakfast dishes with traditional Vietnamese flavors.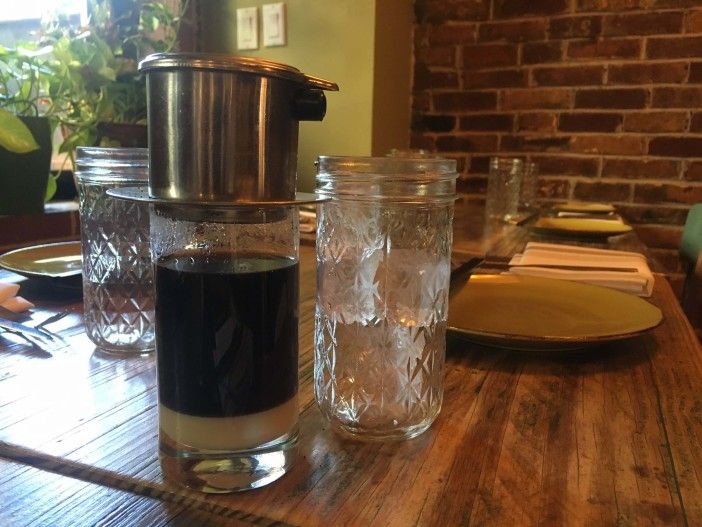 Let's start out with the Vietnamese Coffee ($3), which works well either hot or iced. It has just the right amount of condensed milk, so it's not overly creamy.
Speaking of drinks, the tiki cocktails for brunch are also recommended. We went with the Fancy Bitters n' Tonic ($5), which is perfectly tart, and freshened by the lime and cucumber (and non-alcoholic).
Now we were looking forward to trying the tiki drinks, but New York's Byzantine laws don't allow alcohol to be served before Noon. But we have heard the Bloody Mary ($11) is a recommended selection.
We started with Beet Salad ($12), a mix of watercress, red onion, candied walnuts, grapefruit, and sesame soy vinaigrette. The dish is both sweet, tangy, and light — a great one to share before your main brunch course.
Because you best save room for what you're about to be served.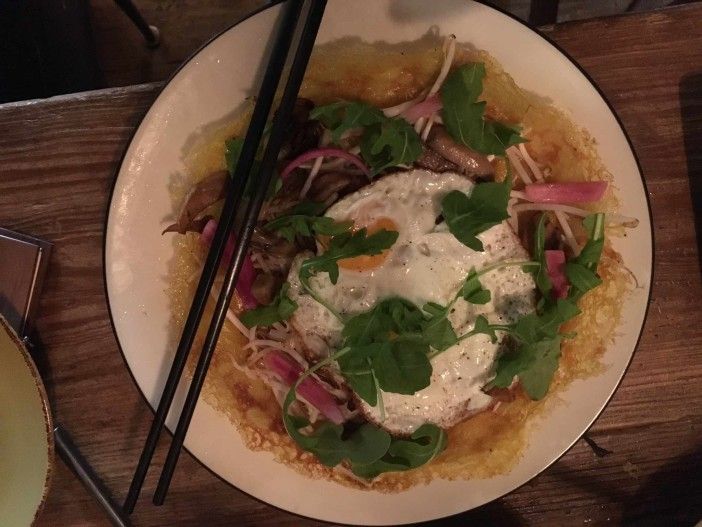 And on to the victuals, shall we?
The Breakfast Vegetarian "banh xeo" Crepe ($14) has king oyster, maitake mushrooms, bean sprouts, and fried eggs draped over a crispy crepe. The softness of the oyster and mushrooms complement the crepe's consistency extremely well.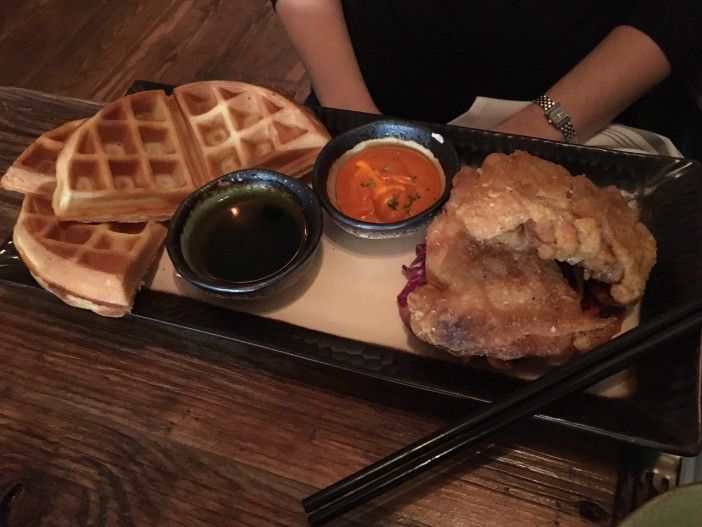 The Fried Chicken & Waffles ($14) is flavored with five-spice, red cabbage, fennel slaw, and maple syrup. The sriracha butter ties it all together. The chicken has a crispy outside which hugs the tender meat. The waffles are fluffy. We're not here to tell you how to consume your meal, but…make sure you take a bite of the waffles and chicken together!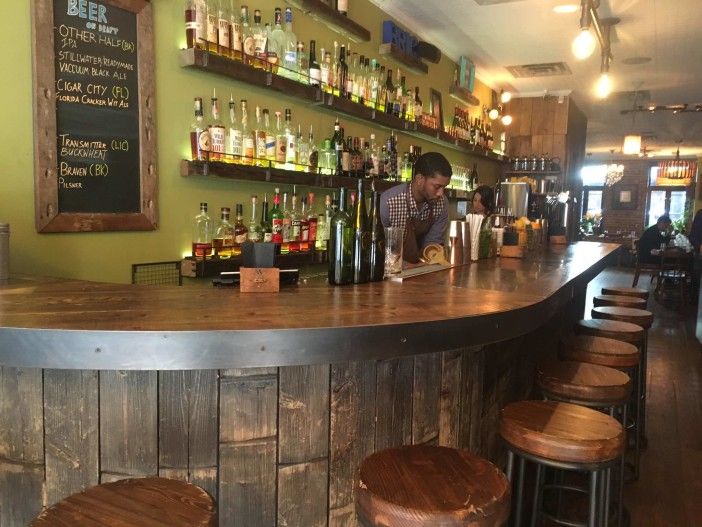 The decor mixes relaxed, comfortable wooden tones and exposed brick with a dose of whimsy. And while we didn't come to Bricolage for the lavatory, you can't help but enjoy the odd black and white televisions in there — should you need to visit.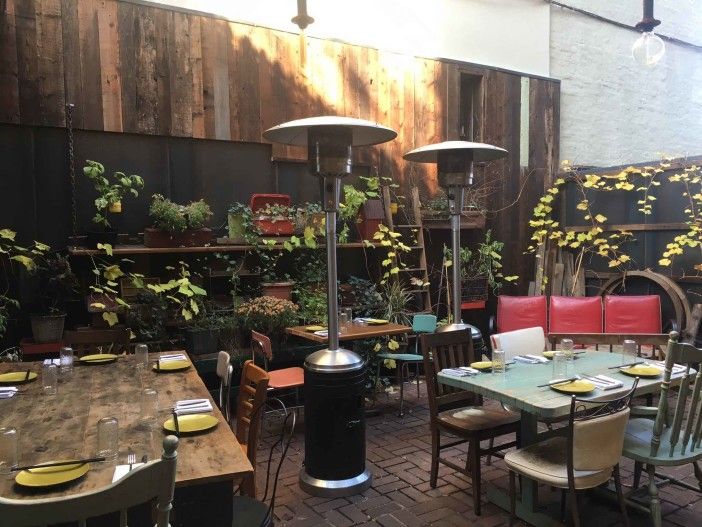 The outdoors is spacious, comfortable, boasting heated lamps for the cold weather. The Lins told us that they have warm blankets on hand for the especially chilly patrons. The atmosphere suits the cozy and innovative food very well.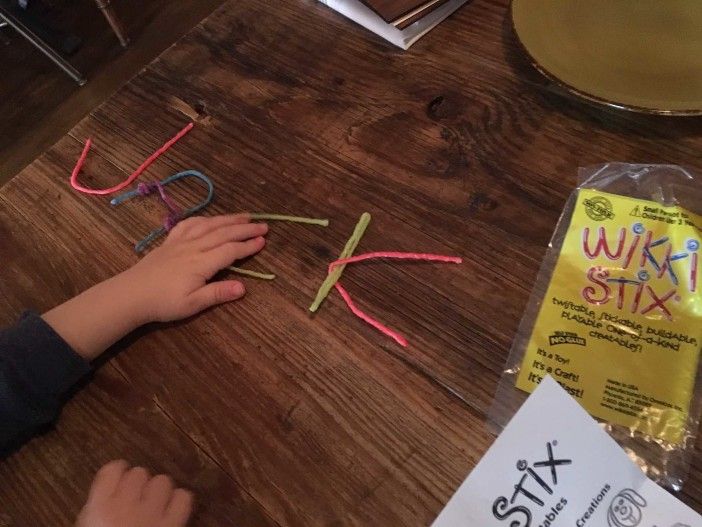 Since brunch is often a family affair, feel free to bring along the kids. While we never can guarantee behavior of the youngins', we witnessed a little guy enjoying his Wikki Stix. They're fun and serve as a great alternative to the sometimes messy (and too tasty) crayons. It's a small touch, but speaks to the service, atmosphere, and welcoming nature of the restaurant.
The chef team Ed and Lien Lin are often hard at work in their exposed kitchen, but also serve as fantastic ambassadors for the restaurant. Their friendliness and gustatory talents are appreciated. It's a couple we hope to visit with often.
While you're in the midst of your holiday bustle, take a morning/early-afternoon to get over to Bricolage. It's a warm respite from the crazy month of December, and the brunch is simply top notch.
Bet you'll stop at the door and venture inside next time. And again.
And again.
Park Slope Brunch Beat Rundown: Bricolage
Where: 162 5th Avenue between Degraw and Douglass Streets
Phone: 718-230-1835
Brunch Hours: Saturdays and Sundays, 11:00am-3:00pm
Reservations: Parties of 4 or less can make a reservation here. For parties of more than 4, call 718-230-1835 or email at reservations@bricolage.nyc.
Who To Bring: This space is great for couples, but there is room for larger parties. The outdoors is airy, and comfortable with heat lamps. They even give you warm blankets if you're chilly.
Kid Friendly? Yes. High chairs are available, and the wait staff cares about the kids. Plus, the super cool Wikki Stix will keep then busy — and there won't be any crayon munching if your youngin' tends towards that.
Best Time To Visit: You have the best chance to get a seat if you come in at 11:00am. By 11:45am, the place was filling up quickly.
Best Bites: The Beet Salad ($12) is a wonderful light appetizer for two people to share. Delicious mains include the Breakfast Vegetarian "banh xeo" Crepe ($14) and Fried Chicken & Waffles ($14). Go with a Bloody Mary ($11), but don't make the same mistake we made — alcohol is served beginning at 12:00pm! The Fancy Bitters n' Tonic ($5) is a fresh and tangy non-alcoholic choice. And the Vietnamese Coffee ($3) is a gimme — which you can enjoy hot or iced.