Brooklyn's First Lady Of Beer: Lineup Brewing's Katarina Martinez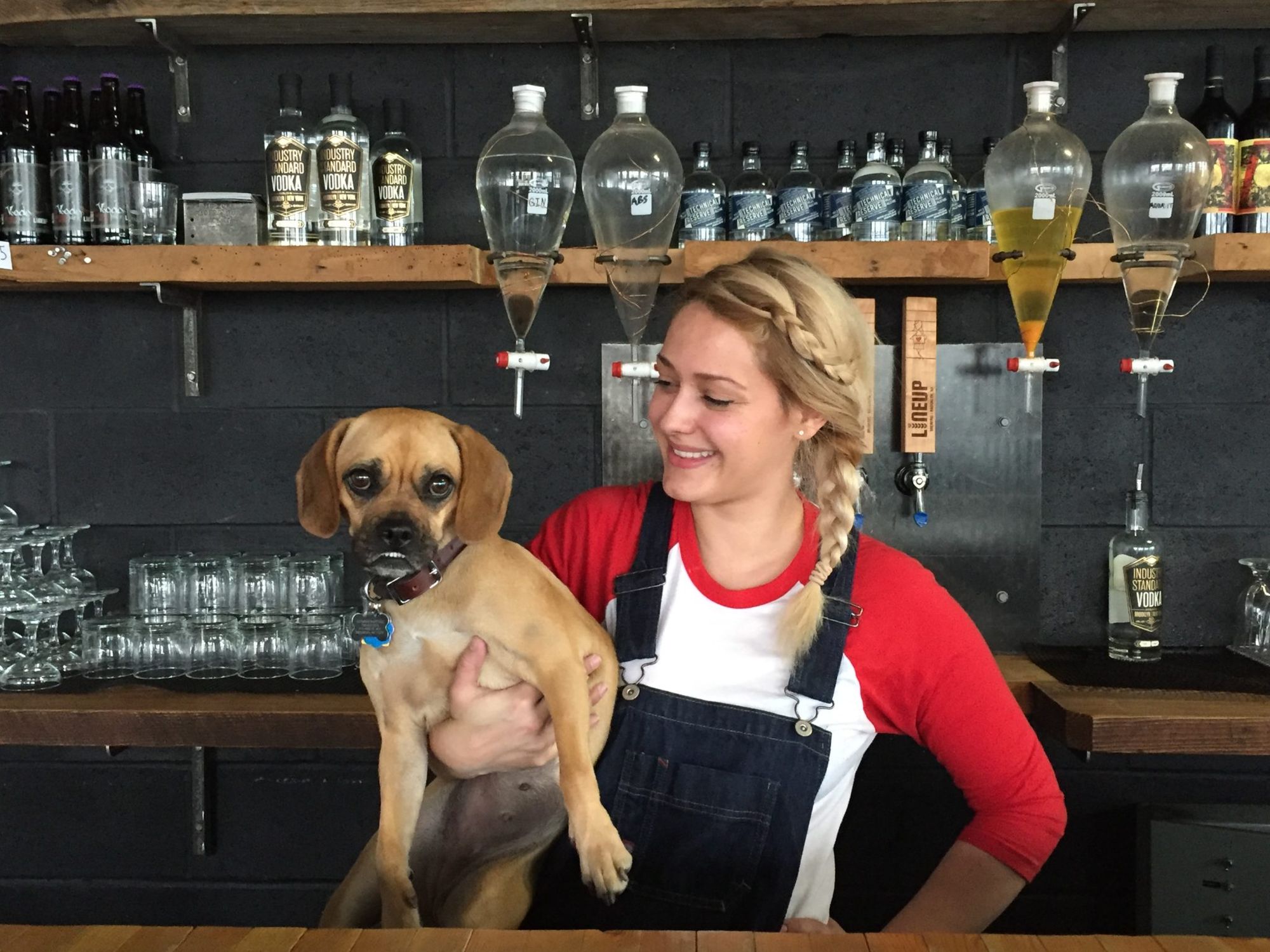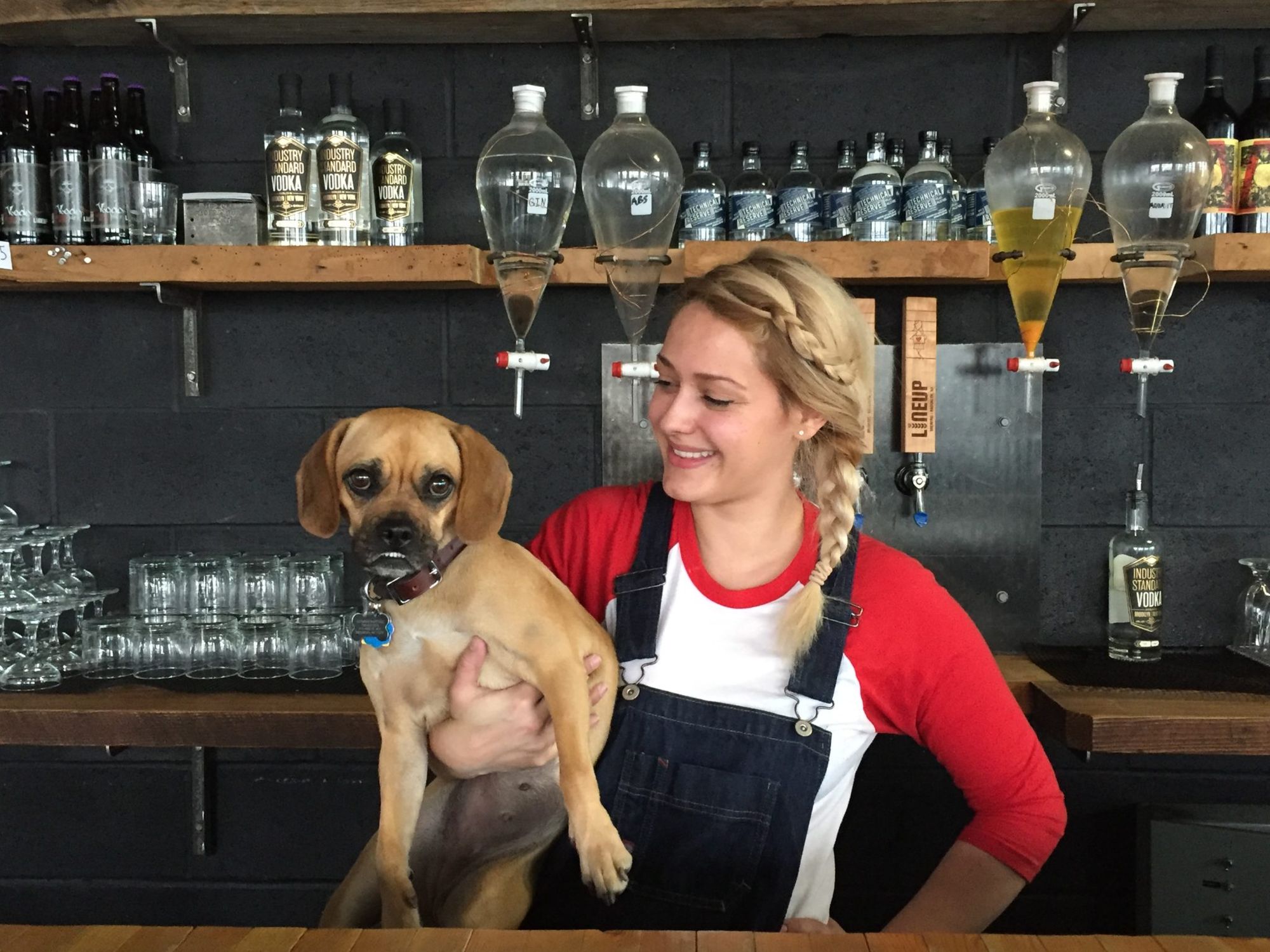 Katarina Martinez has no problem keeping up with the boys.
After years working in engineering at various tech start-ups, she's embarked on another career in a male-dominated industry—beer brewing.
"I'm the only sole female owner of a brewery and head brewer in Brooklyn," she says.
Martinez founded Lineup Brewing in 2015 and opened a taproom in Sunset Park to serve her small-batch craft beers earlier this month. She describes what she does carefully because it's been misreported that she is the only female beer brewer in Brooklyn—which she readily admits is not the case.
What differentiates her from other women brewers in the city is she is the only one who solely owns and operates her own professional brewery.
"It's been said multiple times and I've received backlash from [other brewers] about it, but I'm not backing down," she explains. "I literally am the only woman owner and brewer here right now," she says proudly.
"It's one of those things I want to be careful with because I had an article say I was the city's only female brewer, and the fact is, I am the only female professional brewer here," she clarifies. Martinez received her state and federal liquor licenses earlier this year.
Regarding the lack of women in the beer industry, she says, "Do I think that's okay? Absolutely not…. There isn't a lot of hiring of female brewers and there aren't a lot of women who think they can do it." Martinez says she has taught other women how to brew and is happy to help more learn.
"I don't want to alienate anybody and I, of course, support all women brewers and want [there to be] more of them," she insists but adds that she found it disheartening when she got flak for the press misrepresenting her.
Originally from Colorado, Martinez was entrepreneurial from the start. Growing up she had lemonade stands and sold sock-bunny washcloths/ice packs that she made herself.
"I built out my mom's PC when I was a kid," she recalls. "Then as soon as tech got involved, I started growing bean plants and selling them on eBay. I was 11-years-old. People were buying them for like 10 bucks."
Always ambitious and innovative, Martinez says, "I think that's why I'm attracted to start-ups and why I was so attracted to starting my own business."
Martinez was a junior studying advertising at Colorado University Boulder when she was hired by a tech start-up called OneRiot.
A search algorithm that targeted advertising through a user's social media feeds, Martinez started as an intern at the company and was quickly hired to work full-time on business development.
The company was acquired shortly after Martinez graduated and turned 21. She contemplated going back to school to get her master's degree, but ended up finding a job at another start-up—and then another, segueing into product engineering.
She wound up working for a fourth tech start-up, Aviary, that brought her to New York. The company was soon acquired by Adobe where Martinez worked until just a few weeks ago when she officially left to focus on her beer business.
She says she found something odd and unsatisfying about working in product engineering, "I was managing so much money and I couldn't actually, physically see it. That was problematic for me."
She explains that was part of the reason she got into craft beer, because, as she claims, it attracts "very nerdy people and very systematic people that process information" in a methodical way necessary for brewing beer. "This is the tangible thing that I enjoy doing," Martinez says. It allows her to put her "nerdy side" to work.
"The best part about beer is you can see it [progress] along the way, everything you contribute, and then there's a resulting product. It's very interesting to have something tangible when you've been working in digital," she says.
Hailing from Colorado, a craft beer hub, Martinez became interested in brewing while still in college. She worked on a class marketing project with a company called Upslope Brewing and befriended the brewers there. "They were so cool that I kept going back and hanging out with them…volunteering, hanging out at the brewers, in the taproom. It was a really cool community."
Brewing craft beer became her hobby, starting in Colorado and continuing when she moved to New York. "When I got here I didn't have a lot except my hobbies and that was craft beer," she says.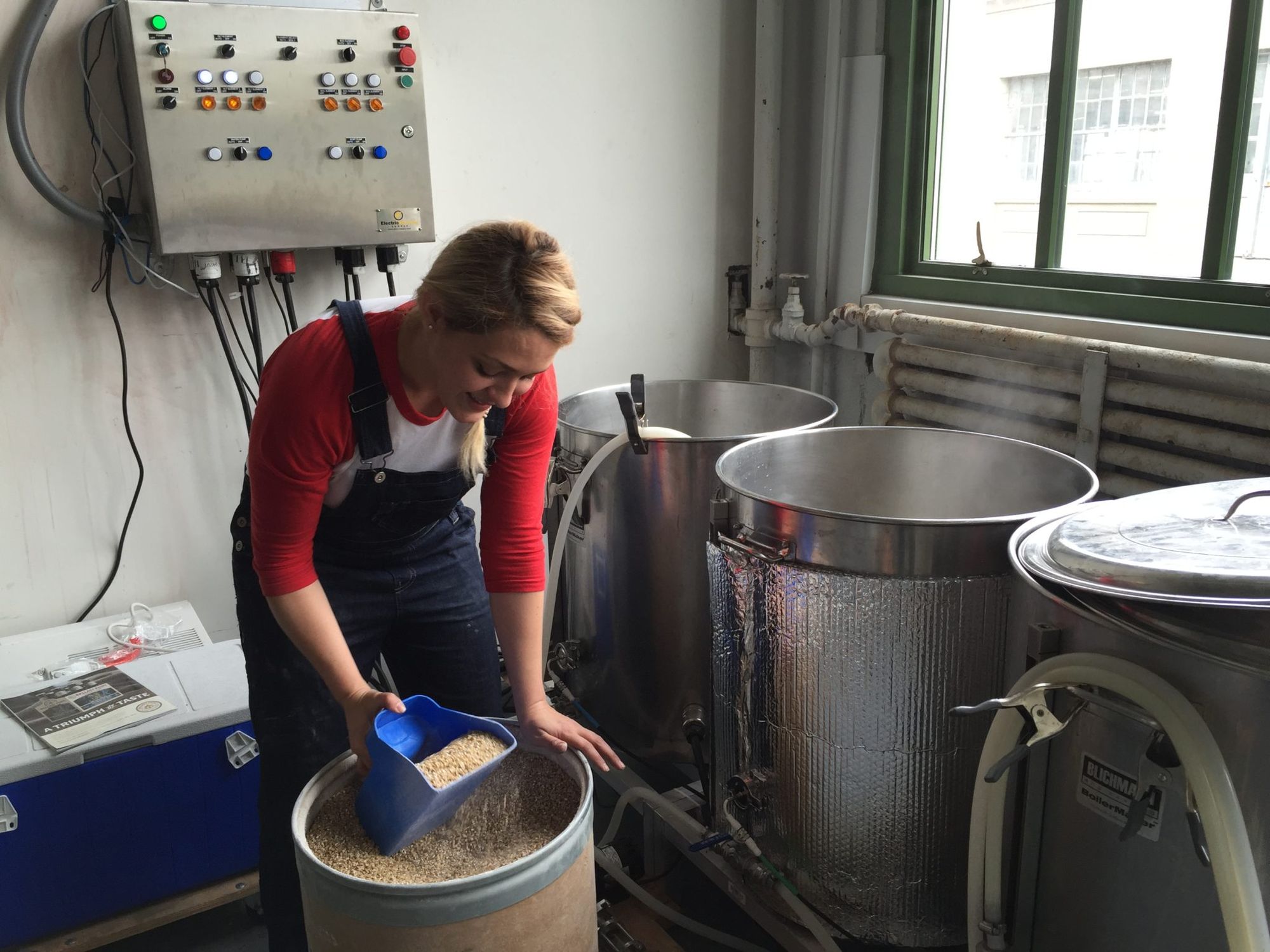 "When I moved to Brooklyn I moved very close to Bitter and Esters [a homebrew shop in Prospect Heights] and I went over there and they were super nice and helped me get a recipe together," she recalls.
She became one of the original members of their beer club, Brewminaries, and served as an officer, growing the club from 25 members to 125 home brewers. Then last year it struck her: "I could do this professionally. I should do this professionally. I have all this business start-up experience. Why don't I make a business out of it?"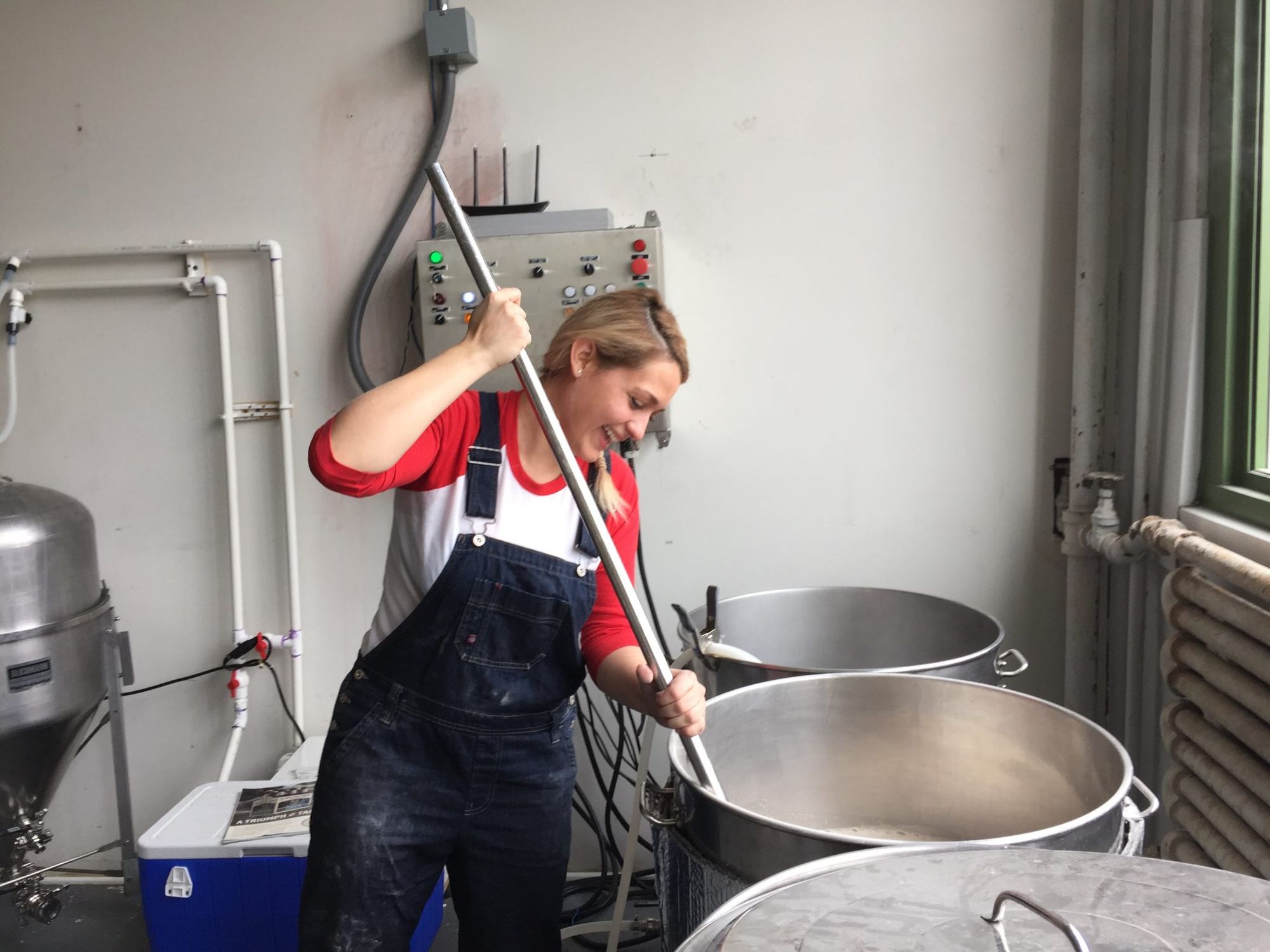 Sharing a small brewing system with Merlin Ward of Wartega Brewing, whom she met through Brewminaries, the two work in a space at Arcane Distillery in Industry City. Martinez also launched a taproom to serve Lineup beer there.
She starts a batch of IPA using the new brewing system, consisting of three 40-gallon tanks connected wirelessly to a laptop that gauges temperatures and other data. She also has six vessels where batches of beer sit and ferment for several days, limiting her output and forcing her to adhere to a schedule.
While this system is "a good place to start," Martinez says that her next system will be "significantly larger." She says, "I've brewed with almost every brewery here and you're making so much more beer [with a bigger system] in the same amount of time it takes me to do this." For now, she says, "I like that it's small batch. It makes it more special."
Lineup is currently available in 25 different bars around the city as well as at the taproom. One of Martinez's most popular beers is a German pilsner named after another empowered lady, Bieryonce.
Another one of her top sellers, Under Pressure, is made with an experimental English hop. When it came time to name it, she and her friends wondered, "What's experimental and English?" They thought of two iconic Brits, David Bowie and Freddie Mercury, and decided to name the beer after their song, "Under Pressure."
"It's about people and the personalities of people, inter-laced with some funny stories," Martinez says of naming her products.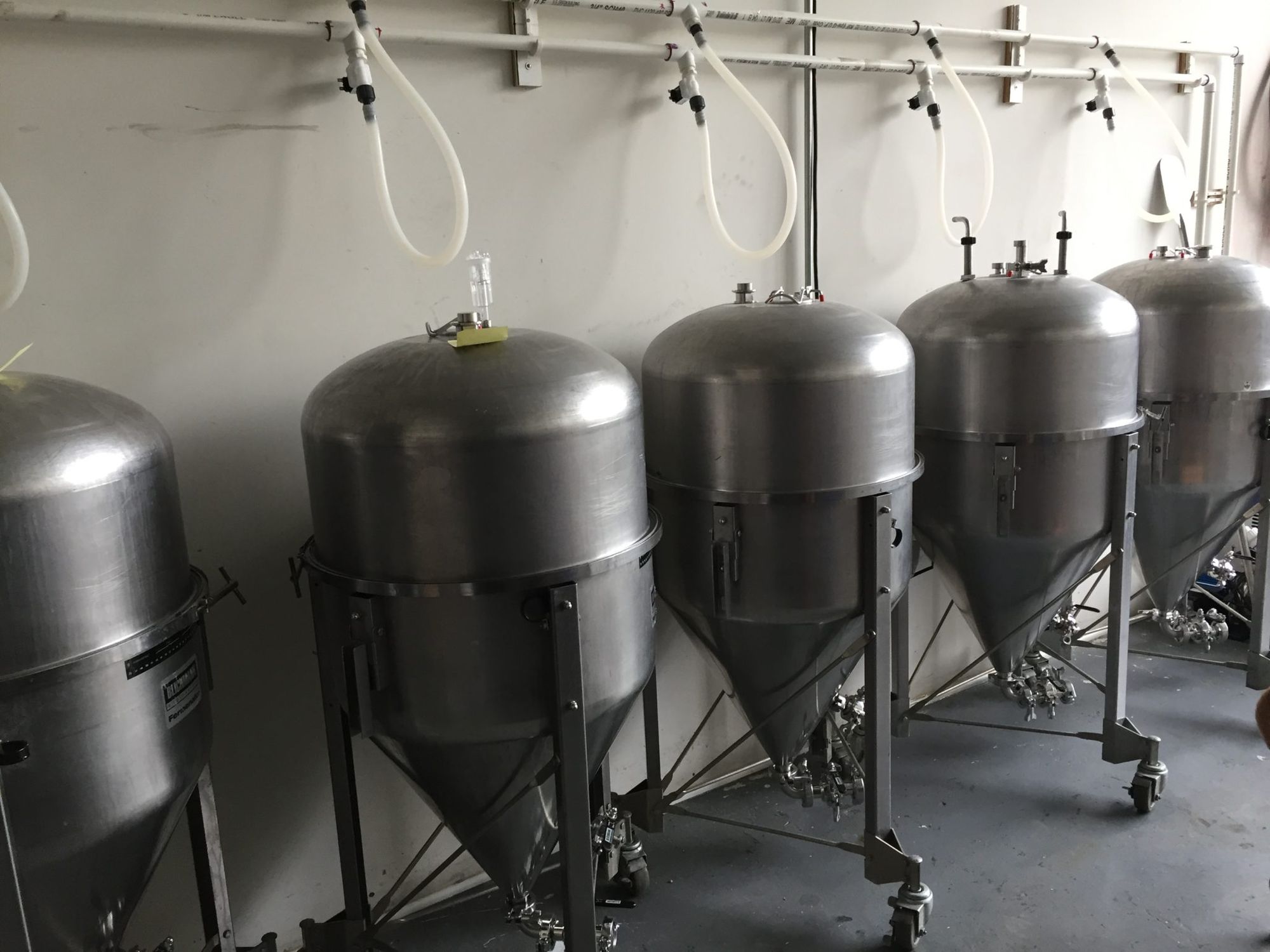 Seeing Martinez at work, it's clear she knows what she's doing and loves it.
She says she's found it hard to get respect in the beer business. "A lot of men don't take me seriously. A lot of women don't…. A lot of people think I'm faking."
Having worked in tech and beer, two testosterone-heavy industries, Martinez says she's all too familiar with sexism. "Absolutely, it happens all the time," she says. "It's usually sexual harassment [but] I don't think people see it that way."
"There's the sexism of people believing I don't know what I'm doing," but mostly she says she gets "hit on a lot." Fortunately, she seems pretty apt at calling guys out for their stupidity.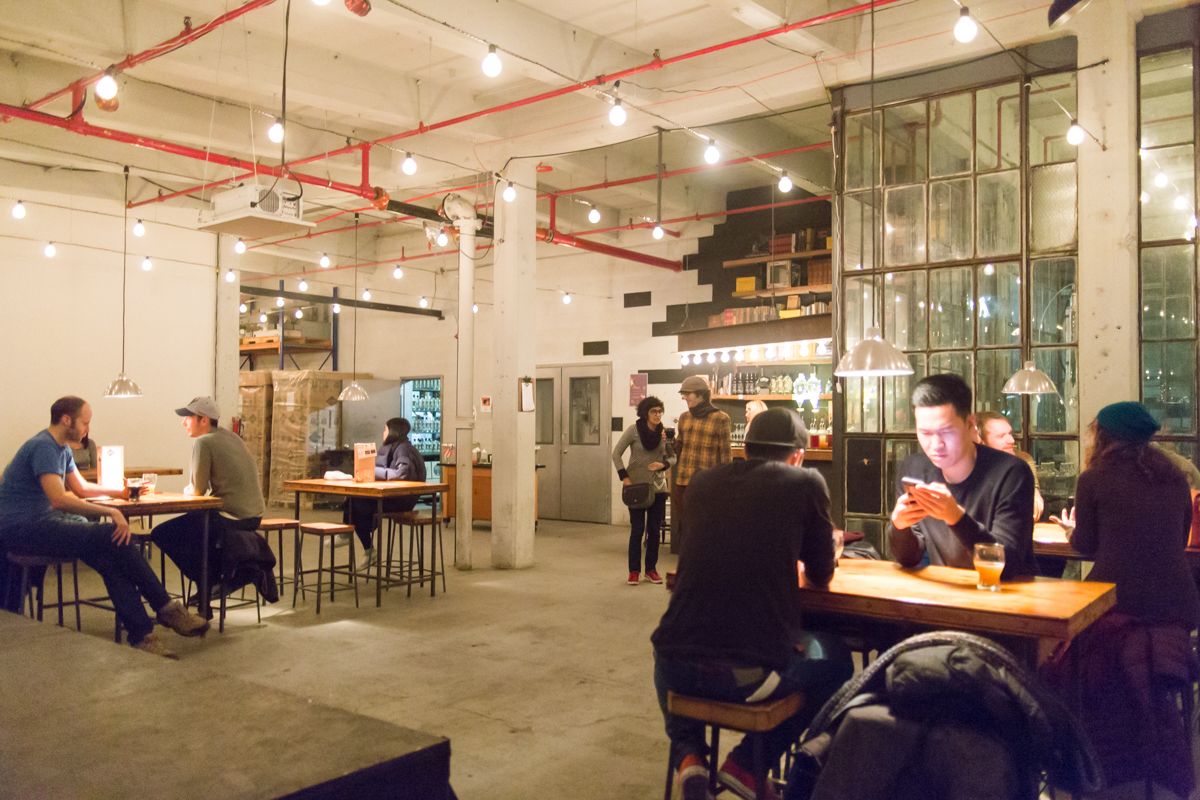 While it must be awesome to be a pioneering woman who owns and runs her own brewery, Martinez by no means wants to keep it that way. "I want there to be more women involved," she says, "but I will toot my own horn because this is hard."
"I think men get a lot of appreciation for what they're doing and I think it's important that women give themselves some praise for what they're doing as well because it should be no different."
Martinez isn't letting sexism hold her back. Her goal is to grow Lineup quickly.
"I think I did hit the ground running, which is good, but I just need to keep up that momentum."