Brooklyn Flea & Smorgasburg Return to Williamsburg for Winter Season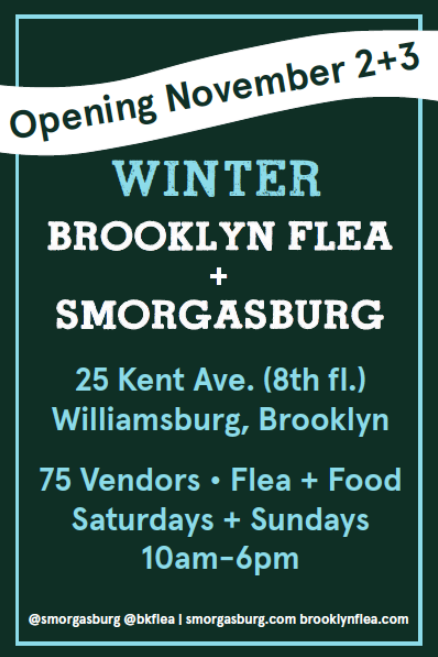 WILLIAMSBURG – Brooklyn Flea and Smorgasburg will return to Williamsburg for the winter season starting Saturday, November 2.
The popular markets will set up shop in a 25,000-square-foot venue on the top floor of 25 Kent Avenue, a new eight-story office building that has hosted a variety of events since opening earlier this year, including Dodo's Best Dog Day Halloween pop-up.
Brooklyn Flea will feature approximately 60 local vendors and artisans selling their wares such as vintage clothing, jewelry, art, antiques, furniture, and crafts. Confirmed vendors include: Omnia (vintage clothing); Portmanteau (furniture); Superfussy (apparel); Thea Grant Design (jewelry) and Dan's Parents' House (toys and collectibles).
This is the last weekend to shop Brooklyn Flea's outdoor markets in Williamsburg on Saturday, Oct. 26 and DUMBO on Sunday, Oct 27. Brooklyn Flea takes place outdoors in Williamsburg and DUMBO starting the first weekend of April through the end of October. Brooklyn Flea was founded in 2008 by Jonathan Butler and Eric Demby, hosting markets that showcase hundreds of local artisans and makers every weekend.

Smorgasburg's winter market at 25 Kent will feature 15 local specialty food vendors. Confirmed vendors include: Blue Chicken; Mao's Bao; Leitao; Vayalo! Cocina; and Petisco Brazuca.
Smorgasburg's outdoor market at Prospect Park already closed for the winter on Oct. 20 and its outdoor Williamsburg market at East River State Park will close out the season this Saturday, Oct. 26. Launched by Butler and Demby in 2011 to complement Brooklyn Flea, Smorgasburg is the largest weekly outdoor food market in the country, according to the event's website. Offering fare from 100 local vendors, the market is a foodie favorite.
Winter Brooklyn Flea and Smorgasburg
Saturdays & Sundays, 10am to 6pm
25 Kent Avenue (between N 12 & N 13 Street), Williamsburg
November 2, 2019 through March 2020