BQE And Atlantic Avenue Are Among The City's Worst Roadways For Potholes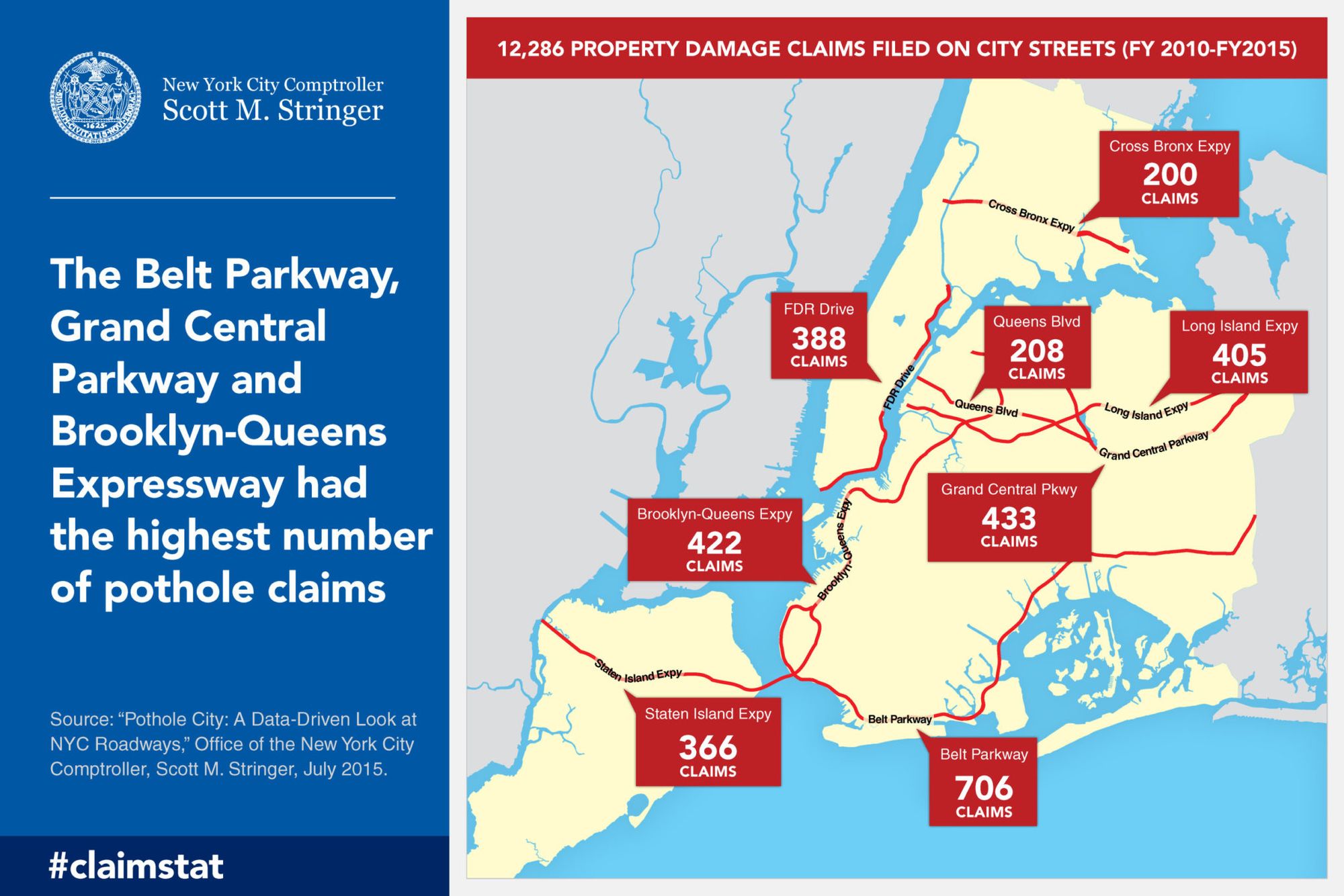 The Belt Parkway and the Brooklyn-Queens Expressway (BQE) came in first and third, respectively, as the greatest source of pothole-related claims against the city during a six-year period that ended last month, according to a new Claimstat report released by Comptroller Scott Stringer.
An analysis by Stringer's office released Thursday found that 12,286 so-called "pothole" claims were filed against the city between fiscal years 2010 and 2015 for property damage sustained from defective roadways.
The Belt Parkway had 706 claims, the Grand Central Parkway in Queens came in second with 433 claims, and the BQE came in third with 422.
Atlantic Avenue also ranked, coming in third for Brooklyn with 164 pothole claims filed.
"Potholes are serious trouble," Stringer said in a press release. "They deflate tires, break axles, and twist ankles, often at a significant financial cost to the City."
The comptroller's report found 2,644 pothole claims came from Brooklyn during the six-year period, the second highest any borough. Queens had the most at 3,590. Staten Island, meanwhile, had the highest claims per capita.
So far, the city settled 1,549 of those claims, which cost taxpayers $1.5 million, the analysis found. An additional $136.3 million was paid to pedestrians injured, mostly by trips and falls, from defective roadways.
Stringer called the effort to fill the city's potholes "an uphill battle."
He said the Department of Transportation covered more than 74,000 potholes in the first four months of fiscal year 2015. However, it took an average of 6.7 days for the department to close a pothole after it was reported, nearly triple the amount of time it took during the same period the previous year.
The comptroller provided several recommendations for improving road quality, including a complete reconstruction of certain streets, which would initially cost more than repaving but could save taxpayers over the long haul. Stringer also recommended using more durable materials for resurfacing and greater oversight of utilities to make sure road repairs are done properly.
"While City streets might never be completely rid of potholes, we are working with DOT to make streets safer for New Yorkers whether they're on two wheels, four wheels, or on foot," Stringer said.