Starbucks is Closing Early Today: Here Are 37 Black-Owned Coffeeshop Alternatives
UPDATE (5/29/18): Today, Starbucks will be closing all their branches early nationwide to conduct a racial bias training for all its employees. The training comes in response to the incident in Philadelphia in early April.
Starbucks will close at 2:30 pm today, so if you're out and about and need a coffee fix, why not check out one of the local black-owned coffeeshops in Brooklyn our list, now with a map, can be found below!
And if you're looking to keep supporting local businesses, be sure to check out Black-Owned Brooklyn, too!
________________________________________________________________________
There are many reasons to chose local over chain stores, and for those wishing to avoid Starbucks in light of recent events, here are some good, black-owned (to the best of our knowledge as of the date of publication) coffee shops ready to serve you.
Then again – there don't seem to be any Starbucks in Bed-Stuy, or Flatbush, or East Flatbush, or Canarsie, or East New York, or Crown Heights except for the one at Franklin @Eastern Parkway and the other at 394 Myrtle. Here is a map of the businesses listed below, thanks to Grace:
Add the ones we missed in comments or email editor@bklyner.com and we'll update – the list is alphabetical.
Bittersweet and Sit & Wonder– Bittersweet -180 Dekalb Ave, between Carlton and Washington Park, Fort Greene. Sit & Wonder – 688 Washington Ave, between St Marks and Prospect Place, Prospect Heights. Same owners.
BKLYN Blend – 194 Tompkins Ave, Bed-Stuy off Dekalb Ave.
3 Black Cats Cafe and Cakery – 3 Belmont Avenue, betw. Rockaway and Thatford, Brownsville.
Bread Love – 210 Patchen Avenue @ Macon St, Bed-Stuy.
Breukelen Coffee House – 764A Franklin Ave. btw Lincoln & St Johns, Crown Heights
Brown Butter – 413 Tompkins Ave, Bed-Stuy, between Hancock and Jefferson
Brooklyn Kettle – 420 Putnam Ave, between Marcy and Tompkins, Bed-Stuy.
Bushwick Grind – 63 Whipple street off Broadway, Buschwick/Broadway Triangle.
Butch & Coco – 153 Howard Ave., between Dacatur and McDonough, Bed-Stuy.
Crocus Cafe – 328 Tompkins Ave, between Gates and Monroe, Bed-Stuy.
The Civil Service Cafe – 279 Nostrand Ave., between Lafayette and Clifton, Bed-Stuy.
Cafe Con Libros – 724 Prospect Place, between Park and Prospect, Crown Heights.
Cafe Erzulie – 894 Broadway, between Lewis and Stockton, Bed-Stuy/Bushwick.
Cafe on Ralph– 86 Ralph Avenue.
Corner Grind -1183 Bedford Avenue, between Madison and Putnam, Bed-Stuy.
Doctor's Cave Cafe –  856 Marcy Ave., between Jefferson and Putnam, Bed-Stuy.
The Estaminet Cafe and Creperie- 107 7th Avenue, Park Slope.
Hearts Coffee Bushwick– 1207 Broadway, Bushwick
Kafe L'ouvertoure– 392 Halsey St of Marcus Garvey, Bed-Stuy.
Le Paris Dakar – 518 Nostrand Ave. between Macon and Halsey, Bed-Stuy.
MacDonough Cafe – 83 Saratoga Ave., corner of MacDonough & Saratoga in Bed-Stuy.
Milk & Pull Cafe – has a number of locations – 181 Irving Avenue (Bushwick) and 307 Malcolm X Blvd (Bed-Stuy), Brooklyn and 778 Seneca Avenue, Ridgewood.
The Mixtape Shop – 1129 Bedford, Bed-Stuy.
Qathra Cafe -1112 Cortelyou Rd between Westminster and Stratford, Ditmas Park.
PLG Coffee House and Tavern – 499 Rogers Ave at Midwood, Prospect Lefferts Gardens.
Roger That Cafe – 854A Rogers Ave. at Erasmus, Flatbush (May have closed, unclear).
Saul Madi Cafe Creperie – 1327 Flatbush Avenue at Foster – so new, no social yet, but open.
Seven Twenty Four – 724 Myrtle Ave, at Walworth, Bed-Stuy.
Sincerely, Tommy – 343 Tompkins Ave, between Monroe and Madison, Bed-Stuy.
Sir D's Lounge – 837 Union, between 6th and 7th Avenues, Park Slope.
Sol Sips – 203 Wilson Ave, Bushwick.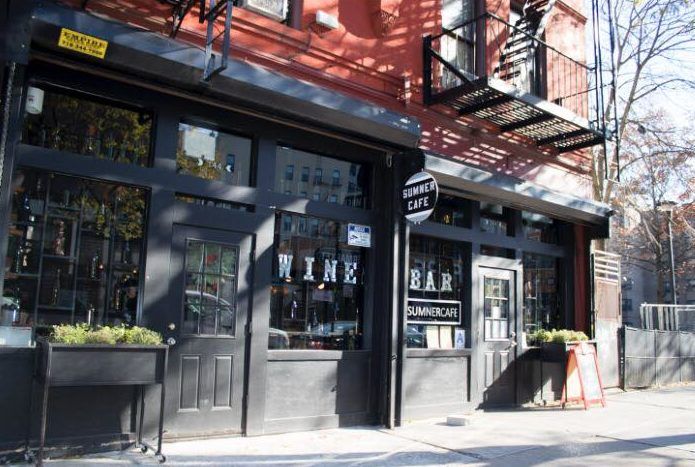 Sumner Cafe – 144 Decatur St (Entrance is on Marcus Garvey), Bed-Stuy.
Take a Break & I'll Bake Cafe and Creperie – 489 Court Street, between Nelson and Huntington. Carroll Gardens.
Trade Union – Espresso Bar and Diner – 346 Malcolm X Blvd. between Chauncey and Bainbridge, Bed-Stuy.
Tugboat – 546 Flatbush Avenue, off Lincoln. PLG.
Urban Vintage –  294 Grand Avenue, Clinton Hill.
Word Up Cafe – 652 Pennsylvania Ave, between New Lots and Hegeman. East NY.
There are so many more – please add the ones we missed in the comments and we'll update.  While working on this list we also came across this wonderful blog called Black-Owned Brooklyn which was started back in February and introduces you to a different black-owned business each day and it's gorgeous and well done and you should totally read it this being the biggest black city in America and all.