The Best Of Mongolian Hot Pot At Sunset Park's Little Lamb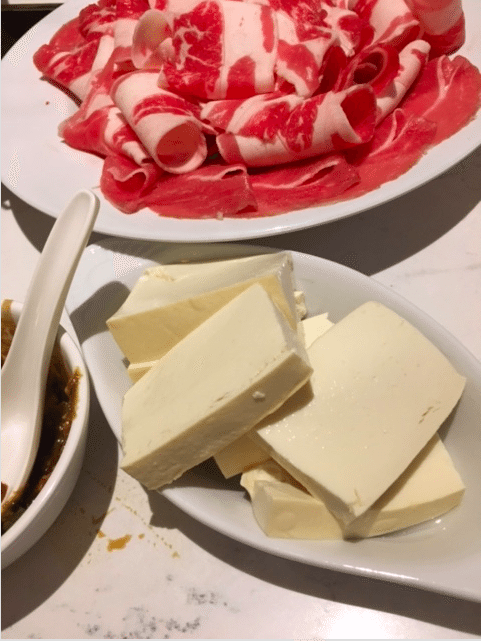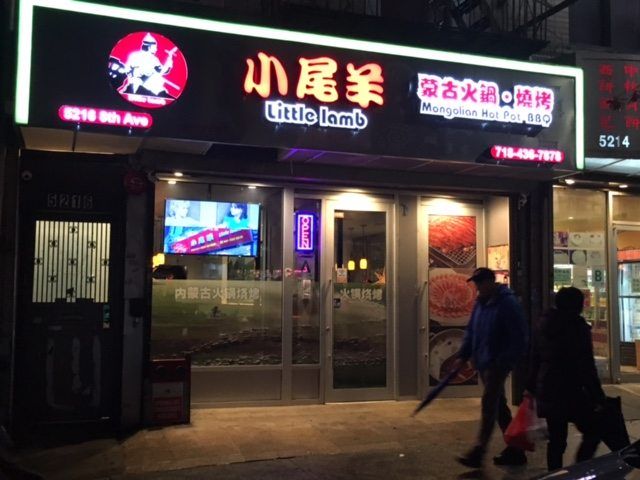 The Mongolian hot pot restaurant Little Lamb first caught my attention in the April 2014 'Table for Two' column of the New Yorker. It was part of an Inner Mongolian chain of restaurants with about 600 locations around the world, but, at that time, the one in Flushing was the first and only official Little Lamb in New York.
Its uniqueness and the favorable review convinced me and a sizeable group of friends to make the trek to Queens to see it first-hand that year.
Flushing is far to begin with, even by car. And on a stormy night, with my wife guiding me by GPS past the Jackie Robinson Parkway, through unfamiliar highways and streets, it took us an hour to arrive. Skyview Center mall, a Chinese shopping center which would not be out of place in Hong Kong or Shanghai, added to the feeling that we had embarked on a journey. The meal only continued that sensation.
Then, about a year ago, one of my friends from that evening spotted a Little Lamb restaurant sign in Sunset Park's Chinatown on 8th Avenue between 52nd & 53rd Streets — not yet open. To my chagrin, Little Lamb would not be born for many more months (an experience familiar to those neighbors witnessing the painfully slow non-opening of Victorian Flatbush Counter on Cortelyou Road).
On a recent evening, we went to Sunset Park to check out the new outpost. The restaurant, though much smaller than its Queens counterpart, had an identical, enormous photograph of a flock of sheep hanging on its wall. More importantly, as one might expect from a chain, even one as exotic as Little Lamb, it shared the original's food quality, affordability, and dining experience.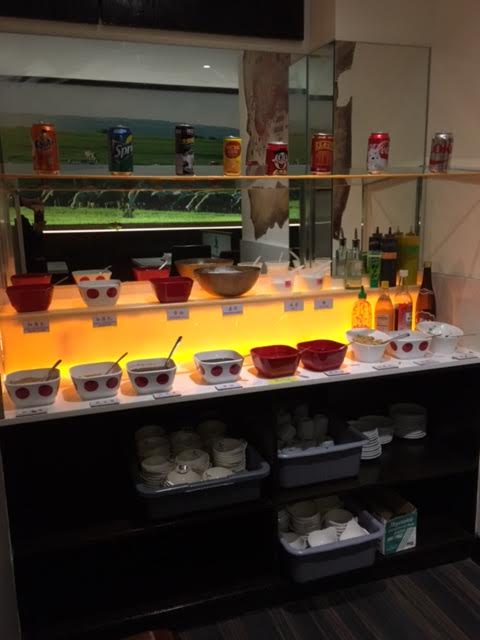 An essential part of that experience is venturing to the condiment bar where you concoct, for good or bad, your own mixing sauce. With countless ingredients, your creativity can lead to success or disaster. Your choices include sesame, peanut, satay, soy, three types of chili (including sriracha), oyster, fish, and hoisin.
In the liquid category, you have Chang cooking wine, Chinkiang vinegar, a mysterious watery substance in a bottle labeled with Chinese letters, and sesame oil. For solids, you've got ground up peanuts, sliced scallions, chopped cilantro, wasabi, and crushed garlic.
Fermenters will be delighted to find both white and red fermented bean curd. For good measure, you also have salt and sugar, and all five of the basic tastes that human beings are capable of sensing: sweet, sour, salty, bitter, and savory or umami (the flavor of protein that has begun to break down a little through enzyme activity or long cooking, e.g. soy sauce).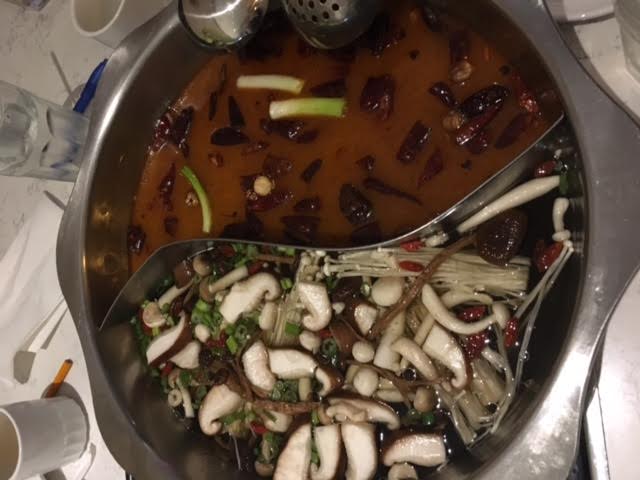 Designing your own personalized dipping sauce makes Mongolian hot pot fun but it also ensures that everyone's tasting experience will be unique. While your sauce may be light and thin with a vinegary, spicy tang your neighbor's may be more mellow, thicker, and nuttier.
Hot pot's multitudinous combinations, of the base broth and the many ingredients you can add to it, also make for infinite variety. At Little Lamb you can choose from four basic broths: Mongolian Herbal, "Mala" Spicy (with three levels of spiciness), Mushroom, and Seafood.
At the center of each table are two heating grids for pots which contain separate dual compartments, making it possible for a large group utilizing both burners to have four different flavored broths bubbling at once.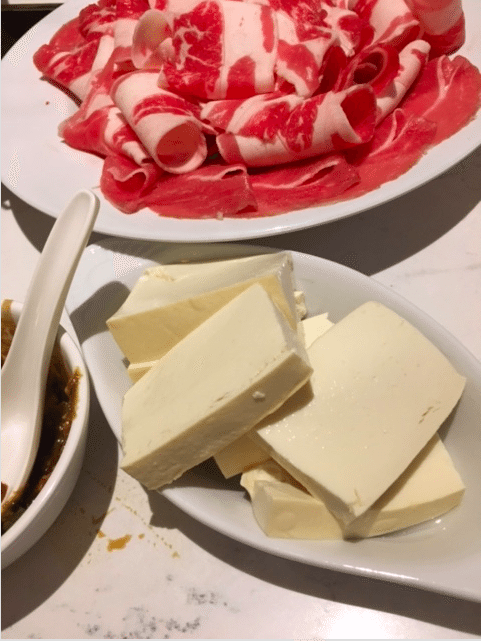 From the a la carte menu we ordered fatty beef and a lamb and beef platter, mini cuttlefish, shrimp fish dumplings, mini sausages, two raw eggs (which you crack in yourself), handmade noodles, shitake and enoki mushrooms, Chinese cabbage, spinach, baby bok choy, radish slices, potato, pumpkin and yam, fresh tofu and fried tofu sheets.
Somehow we even had room for two enjoyable sides — crispy taro pancakes (which my kids liked because it reminded them of quesadillas), and spicy black fungus, a chewy, earthy dish which people proclaimed delicious as they discreetly slid and planted the plate directly in front of me where it was to remain.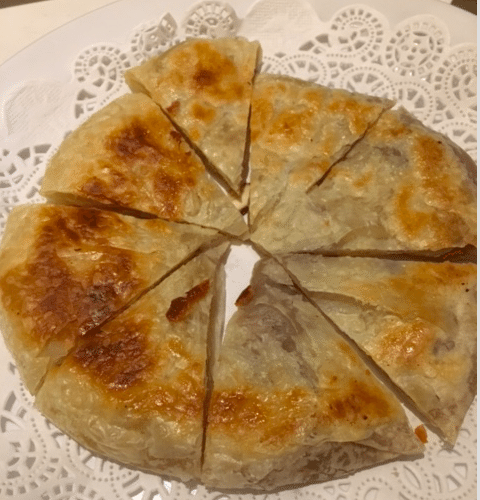 But with only nine side dishes on the menu, in contrast to dozens of hot pot ingredients, these were plainly the side show; hot pot is the main act.
Hot pot is no simple affair for the uninitiated. I've already mentioned the difficulty of choosing from the elaborate selection of ingredients at the sauce table, a challenge which surpasses choosing fixings to top off your frozen yogurt with.
But later on, once your various meats, seafood, balls, mushrooms, vegetables, tofu and other hot pot dishes arrive (fresh pork intestine, anyone?), you've now got to figure out how long to cook them for.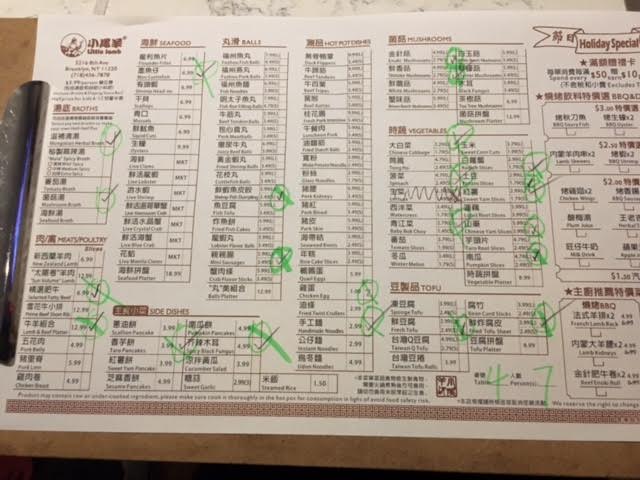 Thinly sliced meats only require a second or two to go from bloody red to gray. Similarly, a delicate leafy vegetable such as spinach cooks quickly. But the root vegetables such as yam, potato, or pumpkin require more boil time.
Fortunately, an attendant will assist you in not over or under cooking your selections.
Part of the fun of the meal is flinging these ingredients into the soup –- try not to splash your table mates — and then using the special utensils to fish them out again later.
The final joy of this meal was receiving the check and finding out how reasonable it all was. Like going out for dim sum with a large crowd, you can order an awful lot, sample dozens of things, without any sticker shock.
Our entire meal came to less than $20 per person, including tip and tax. This did not include drinks (though we enjoyed several pots of complimentary hot tea as well as tap water), nor dessert (unless you count the orange slices at the end).
I recommend lingering in Sunset Park's Chinatown to find these items. Stroll to the corner store where you can take home a box of six freshly steamed pork bao for only $4.25 (cash only). Then wander to one of the many bubble tea emporiums or Chinese bakeries. The adventure has just begun.