Beer And Banh Mi In The Great Outdoors: HENRI's Backyard Opens Friday In Former Pickle Shack Spot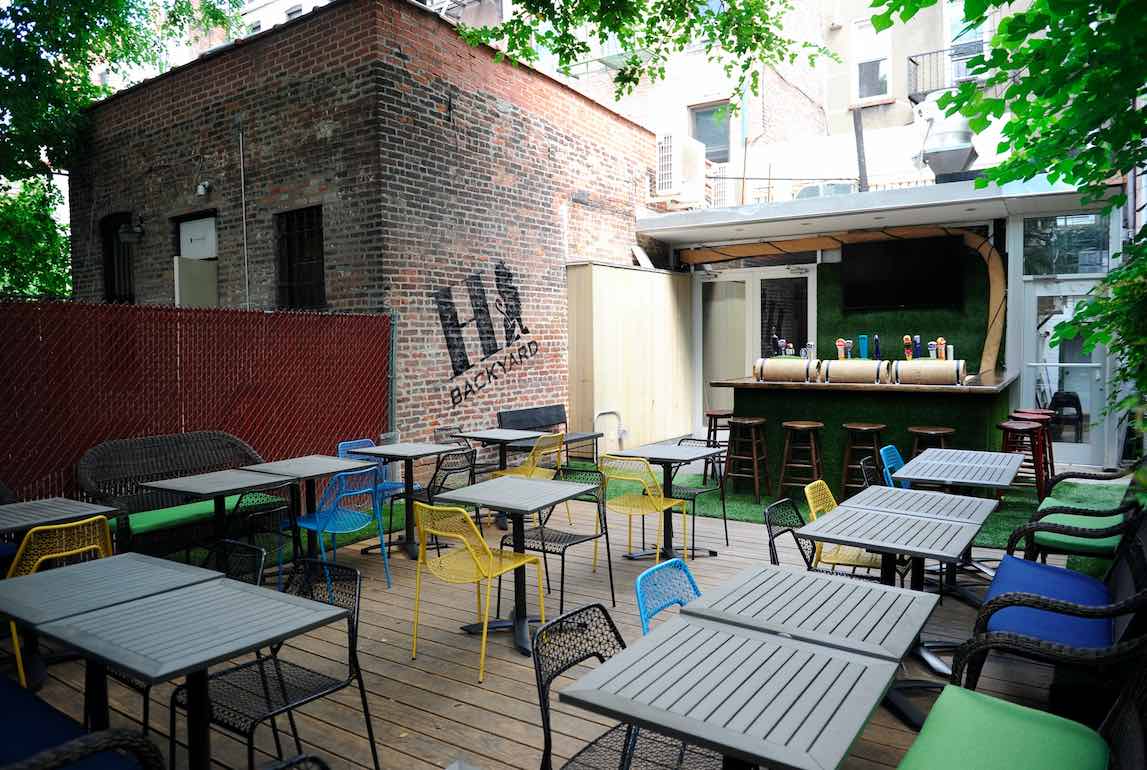 The taps are ready. 18 of them, to be exact. And the beer shall flow.
Owner Binh Douglas is gearing up to open HENRI's Backyard (256 4th Avenue between President and Carroll Streets) on Friday, July 15, and wants you to have a seat in his new restaurant and bar which features an outdoor space. Douglas' goal is to "bring the best backyard in Brooklyn" to Gowanus.
Douglas refers to the new casual dining spot as "bar-forward." It takes the place of the former Pickle Shack, which closed back at the end of February, and leaving some briney broken hearts.
But not all will be lost after the shack's closing. "A lot of times, when you take over a place, people are in love with it, or they didn't like it at all,"  Douglas told us back in May. "People loved Pickle Shack, and I do want to pay tribute to what it was."
With that in mind, there will be vegan and vegetarian items offered on the menu akin to the vegetarian gastropub focus of the closed business.
The "HENRI" in the new backyard may sound familiar, as Douglas also owns HENRI on Fifth (279 5th Avenue at 1st Street), the Park Slope sister restaurant which opened about 18 months ago. We had a chance to enjoy brunch there just a few weeks back.
In addition to 18 "locally sourced" beers on tap, the digs has a full liquor license. However, Douglas spent a lot of time curating what he describes as a "Vietnamese/German fusion menu."
Offerings will include shared plates and "casual entrees," such as wild mushroom croquettes, fruits of the sea (oysters & clams), Vietnamese baby back ribs, red quinoa bowls, and banh mi.
The backyard has a significant interior as well, but Douglas intends to use the outdoor space throughout the year. "After the warm weather, we're going to work on enclosing it. And we're excited that we have a live music permit," he says.
The great outdoors will also be wired. Personal charging outlets are built in to the outdoor seating.
Douglas often returns to the word fusion when discussing his approach to the new place. "I'm half Vietnamese, a quarter Native American, and a quarter black, and my wife, Lauren, who also lead the interior design of HENRI's Backyard, has a French background," he says. "Henri is the name of our two-year-old son, and the menu is an amalgam of his heritage."
The Dining Rundown: HENRI's Backyard (opens Friday, July 15)
Where: 256 4th Avenue (between President and Carroll Streets)
Hours: Mondays-Thursdays, 11am-11pm; Fridays and Saturdays, 11am-2am; Sundays, 11am-10pm.
Phone: 929-337-8443