BAM Fêtes Exiting Executive Producer, Joseph V. Melillo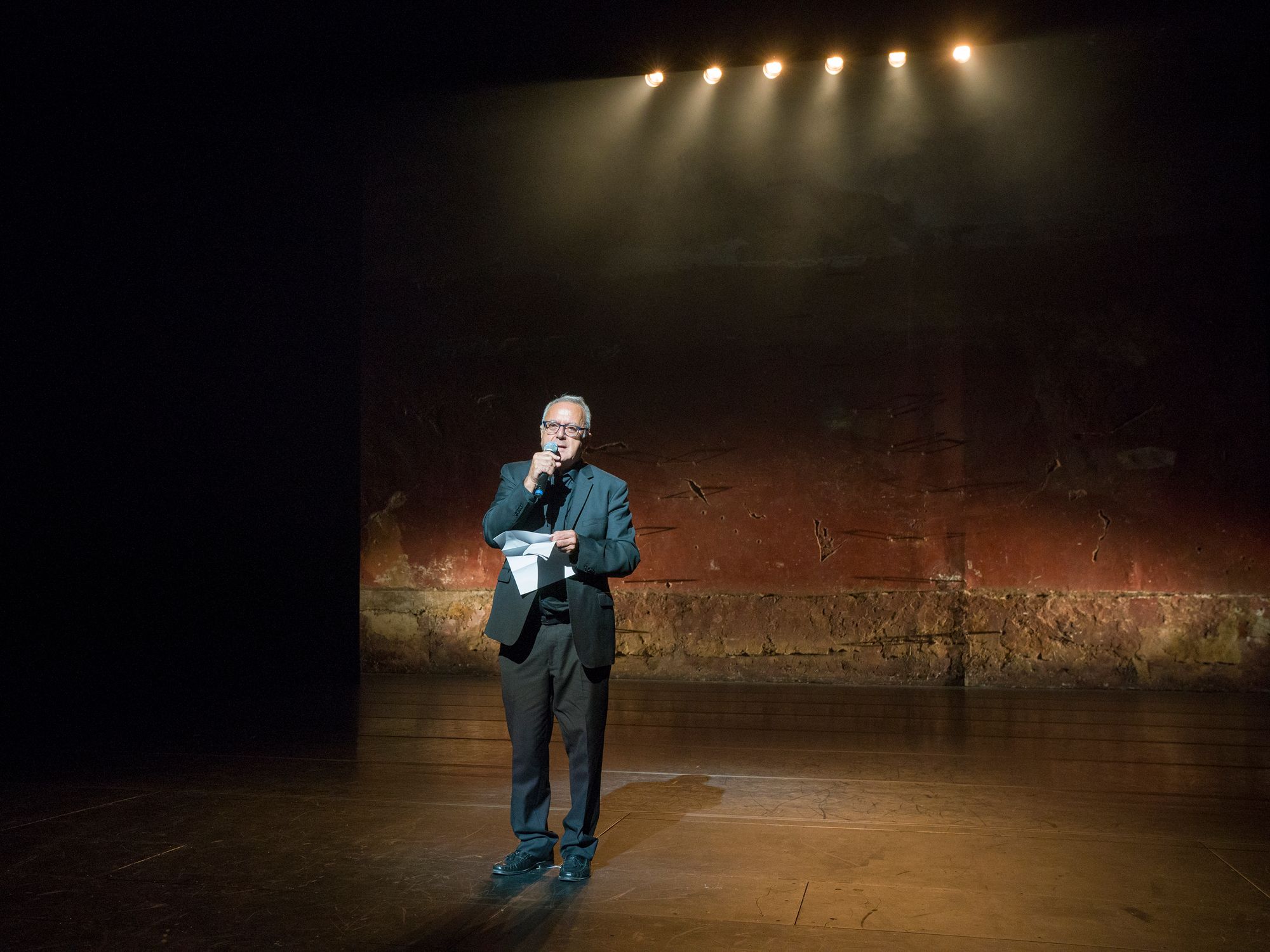 FORT GREENE – How do you say goodbye to a beloved artistic leader? By putting on a spectacular show and dancing the night away!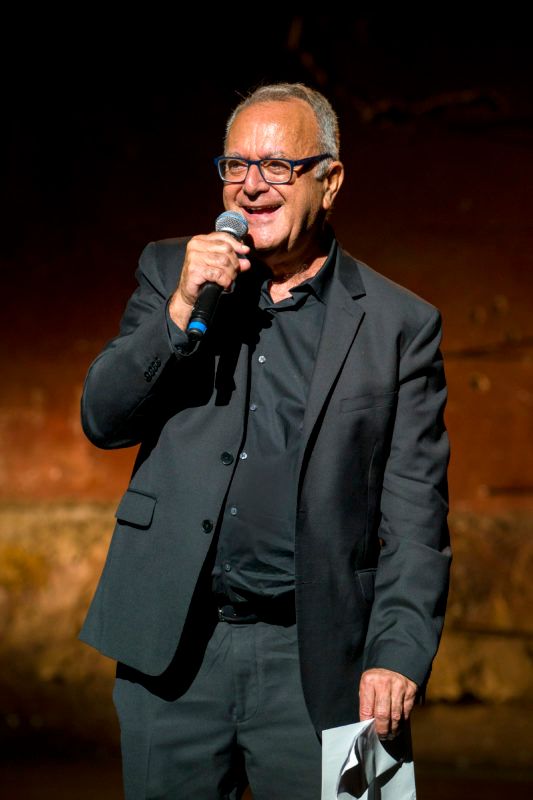 The Brooklyn Academy of Music (BAM) hosted a special event at the BAM Harvey Theater Thursday evening to honor the institution's longtime Executive Producer, Joseph V. Melillo, who will be stepping down from his post at the end of the year.
"No one has disclosed what is going to happen in the Harvey Theatre," Melillo told BKLYNER over the phone the day before the event. "I have no idea about the performance. This is a big secret here and they're having a blast keeping this from me," he added with a laugh.
Melillo announced last May that he is stepping down as BAM's Executive Producer at the end of 2018 after 35 years at the cultural institution.
Originally from New Haven, Connecticut, Melillo earned a Bachelor of Arts in English and theater at Sacred Heart University in Fairfield, Connecticut and his Masters of Fine Arts in speech and drama at Catholic University of America in Washington, DC.
BAM's former President and Executive Producer, Harvey Lichtenstein, recruited Melillo in 1983 to be the Founding Director of BAM's Next Wave Festival. Melillo went on to serve as BAM's Producing Director before taking over the Executive Producer role in 1999 following Lichtenstein's departure. Melillo oversaw BAM's theater, dance, music, visual and multi-disciplinary arts programming, establishing BAM as a leading cultural institution—not only in New York, but across the world. With his unwavering commitment to innovation across artistic disciplines, he promoted more than 7,000 artists from more than 45 countries.
"He picked up the mantle from the great Harvey Lichtenstein in 1999 and never looked back," Karen Brooks Hopkins, BAM's former President, and Alan Fishman, BAM's former Chairman, wrote in the program for Thursday's show. "Joe tirelessly travelled the globe seeking out the most adventurous new creators as well as the most significant works by those who were already loyal BAM artists."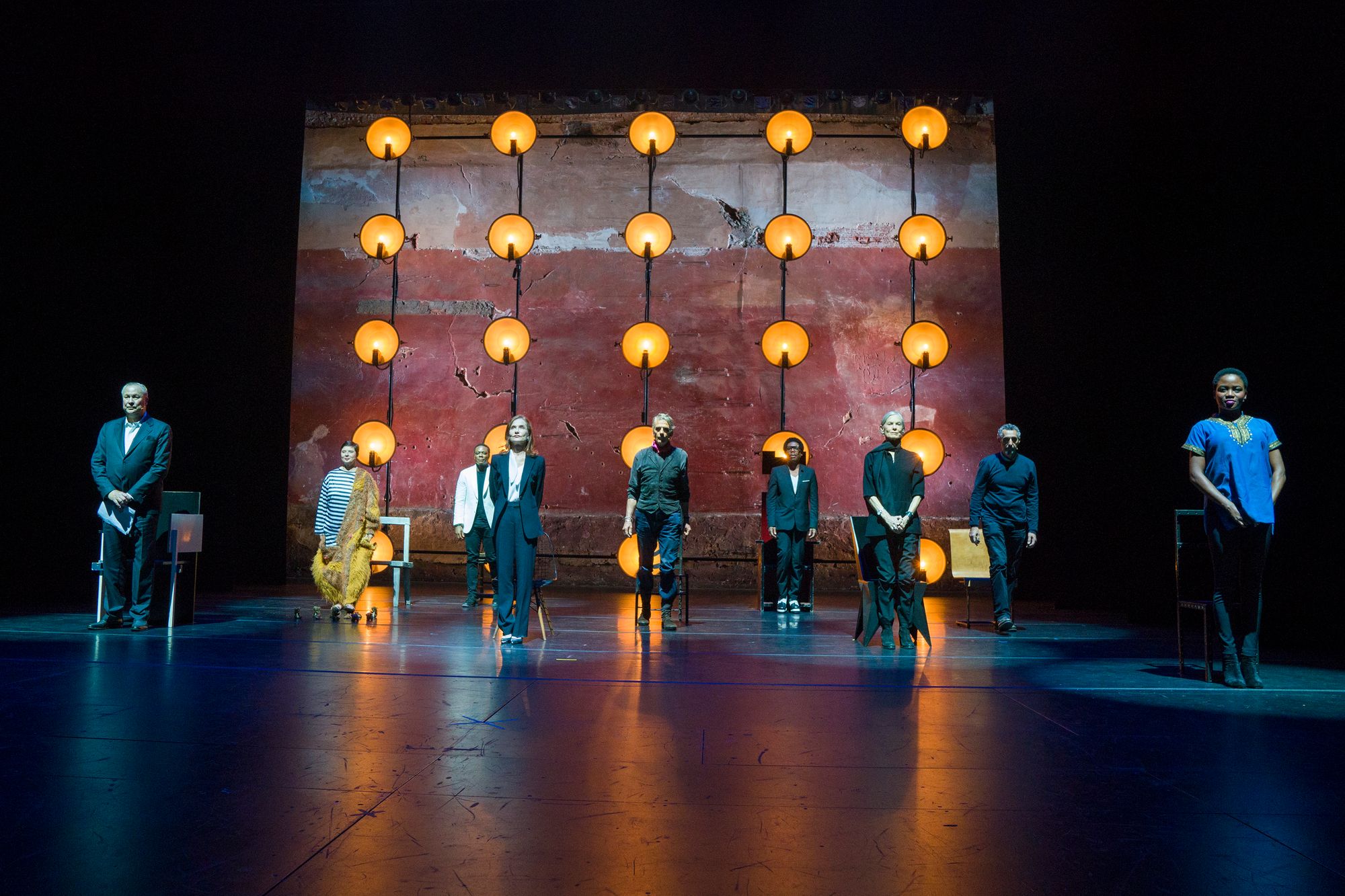 Melillo recalls with fondness his many accomplishments during his tenure at BAM, listing just a few highlights of all the productions he's brought to the BAM stage: Robert Wilson and Philip Glass's Einstein on the Beach (1984); Peter Sellars and John Adams's Nixon In China (1987); choreographer Anna Teresa De Keersmaeker and composer Steve Reich's Rain (2003); artist William Kentridge's The Magic Flute (2007); producer Ivo Van Hove's Opening Night (2008); and Thomas Ostermeier's Richard III (2017).
"I'm very, very proud and very privileged to have had this opportunity in my professional life," he humbly added.
Another memorable moment for Melillo was the opening of the Richard B. Fisher building in 2012, which he says was a "game-changer for BAM in terms of being responsive to Brooklyn artists—young and emerging artists of all different artistic genres."
A few years into his term as Executive Producer, Melillo remembers telling Fishman, "The borough of Brooklyn is changing and we cannot be responsive to young and emerging artists because they cannot do their work in a 2,000-seat opera house nor in the 850-seat Harvey Theater."
"So in 2012 we opened the Richard B. Fisher Building which contains the Fishman space which is a 250-seat, completely flexible theater with a rehearsal studio. It's amazing what it did for us," he explained.
When asked if there is anything he wishes he could have brought to BAM but didn't have the opportunity, he said a "festival dedicated to contemporary circus." Not Cirque du Soleil, he notes, but "circus arts in a contemporary, non-traditional way." As an example, he recommends seeing Humans next month during his final Next Wave Festival. "There's no scenery. It's only about acrobatic work within a contemporary context. It's quite exceptional," he explains. "Lyricism…it's not dance but they're using the human body in time and space across our largest stage."
While Melillo will vacate his office at 30 Lafayette in December to make room for entering Artistic Director, David Binder, he will continue to work remotely to wrap up his works-in-progress, presenting his final BAM productions by June 2019. Never one to rest on his laurels, Melillo has accepted a fellowship position at New York University's Center for Ballet and the Arts where he will help develop strategic goals for the center and conduct seminars for artists on how to "work with other ethnicities and communities within the global context and within our own country," he says.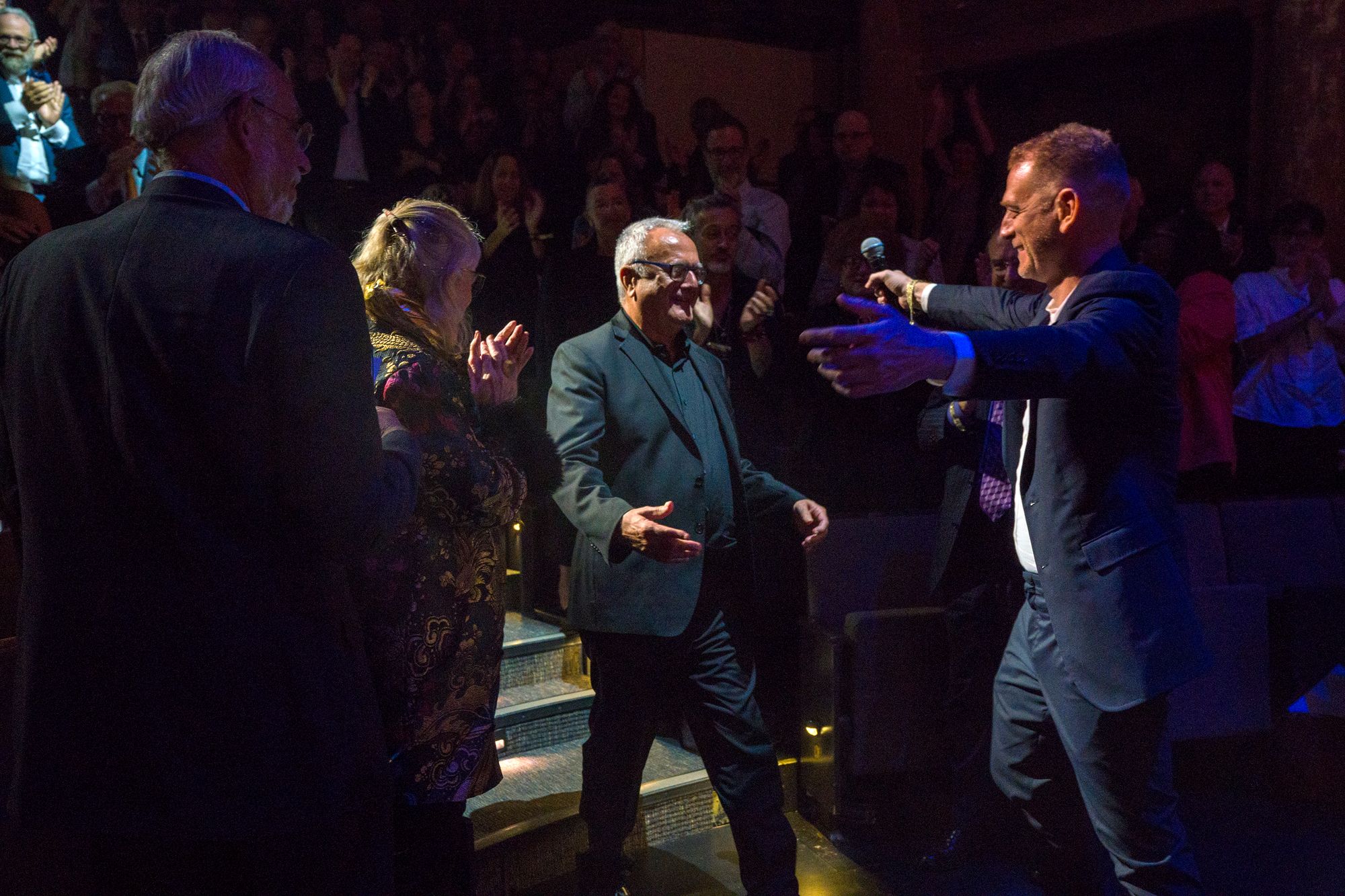 "Follow the artist," were Lichtenstein's "final words before he walked out the front door," Melillo recalls, advice that he now passes on to Binder. "At BAM, we service artists," he explains. "We have architecture. The architecture is beautiful, but it's meaningless unless you have artists working and performing in front of an audience."
Several of the artists whose careers Melillo fostered over the years paid tribute to him on Thursday night. Robert Wilson created For Joe A Man Who, a collection of vignettes performed by Lucinda Childs, Isabelle Huppert, Jeremy Irons, Chukwudi Iwuji, Nonhlanhla Kheswa, Isabella Rossellini, Carl Hancock Rux, John Turturro, and Wilson himself.
Mitchell Rose directed And So Say All of Us, an exuberant, non-stop short film featuring spliced footage of dozens of dancers who have worked with Melillo (including Bill T. Jones, Meredith Monk, Mark Morris, and many more), each performer picking up the choreography where the preceding one left off.
The Brooklyn Youth Chorus, violinist Daniel Bernard Roumain, and Laurie Anderson also performed, but perhaps the most touching moment came at the end, when a long procession of current and former BAM staffers crossed the stage, recreating Pina Bausch's The Nelken-line.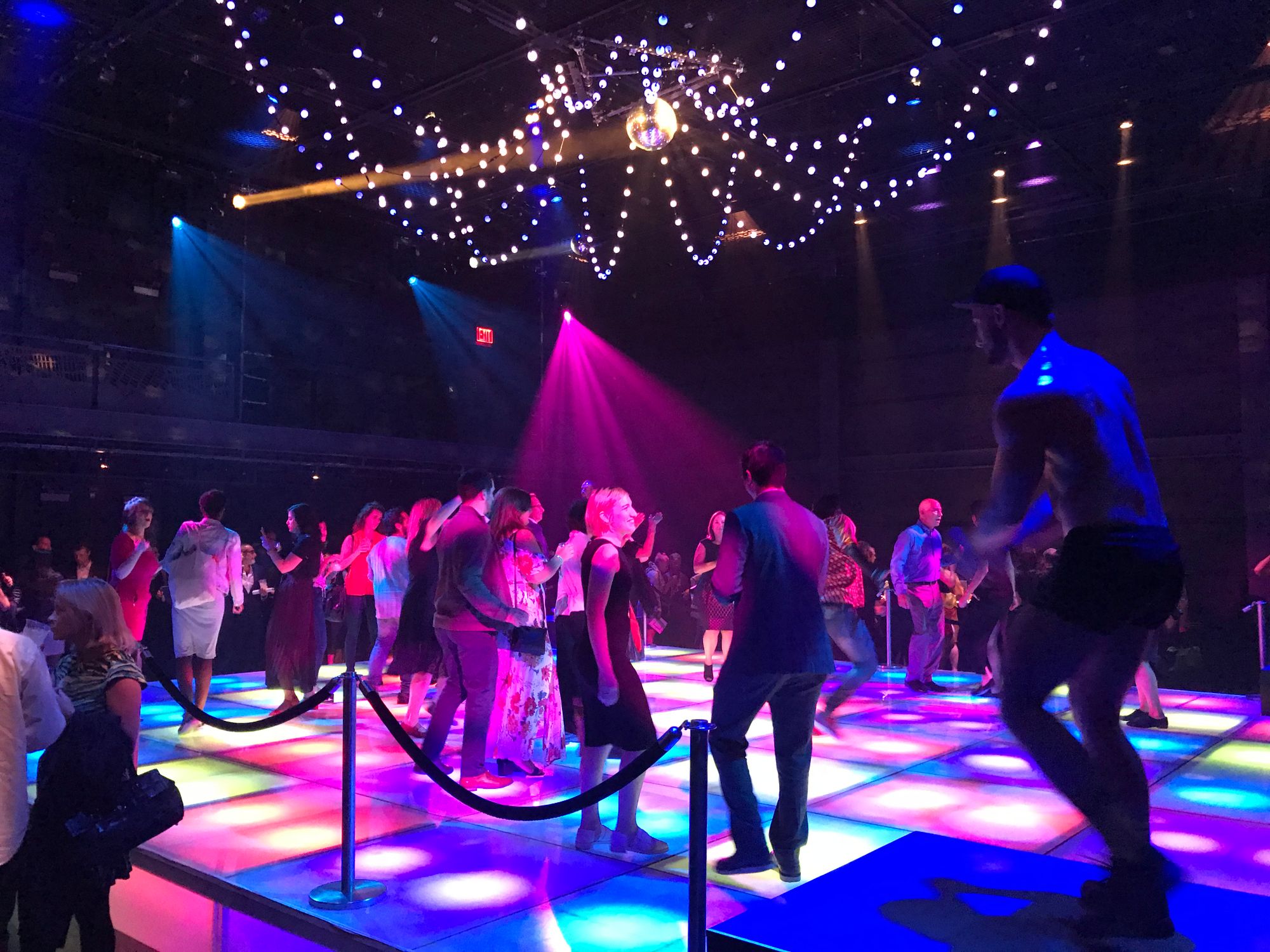 The love continued to flow at a fun-filled dance party held on three floors of BAM's Fisher Building, with one well-wisher after another dancing their way across the light-up dance floor to pay respect to the man of the hour.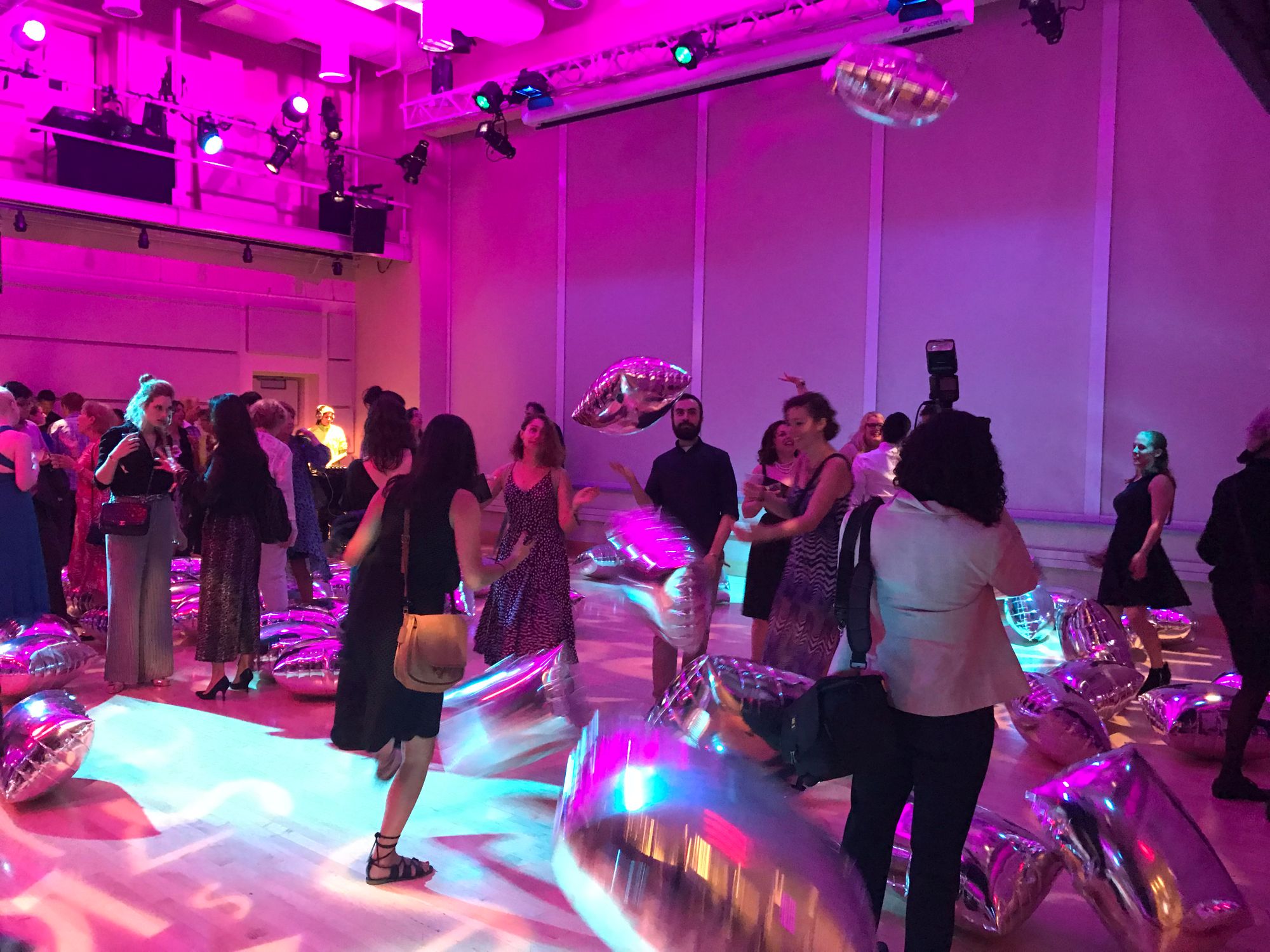 "What do I think 35 years at BAM has been about? I think it's about making an artistic and cultural contribution to the legacy of BAM. I want to continue to make a contribution," said Melillo.
And after 35 years, among the things Melillo will miss include, "Taking the R train to Atlantic/Barclays Terminal and walking through the stage door every day that I work here at BAM. Simple."
With "vibrant" performing arts and "critical" cinema programming, as well as educational and community engagement programs, BAM lures audiences to Fort Greene and has played a pivotal role in attracting other cultural institutions, such as the Mark Morris Dance Group and Theatre for a New Audience, to the area now known as the Brooklyn Cultural District.
"There's no place in this country like BAM," Melillo says, "and it has all to do with really our location. We are destination Brooklyn."