Atlantic Avenue Merchants Deck Out Windows for Annual Holiday Competition
It's beginning to look a lot like Christmas! For over 30 years, the Atlantic Avenue Local Development Corporation has presented a variety of events and promotions during the holiday season, including the Annual Atlantic Avenue Merchant Holiday Window Judging Competition.
This year's window judging took place on the rainy evening of Tuesday, December 6 after being postponed due to heavy rains on November 30. According to AALDC's Communications & Public Relations Assistant, Rebeca Checo, judges were advised to consider the creativity of the window displays and how effectively they relate to the holiday theme.
Over 30 stores along Atlantic Avenue from Hicks Street to 4th Avenue competed for one of three prizes —a $500 check for the first place winner, $250 and $100 for second and third place winners, respectively. Storefronts were festively decorated with Christmas trees, wreaths, ornaments, strings of lights, faux snow, giant snowflakes, twinkling stars, and animals—live and taxidermied.
Four prominent members of local nonprofit organizations served as judges for the competition—Mariela Estrella, Director of Brooklyn Tourism & Business Relationships at the Brooklyn Chamber of Commerce; Mickey Heller, Co-Chair of Board of Directors at Brooklyn Pride Inc.; Kimberly Maier, Executive Director of The Old Stone House; and Andrea Parker, Executive Director of the Gowanus Canal Conservancy.
Prior to the event, Kimberly Maier said she was excited to be asked to participate as a judge this year. She said she would look for, "a sense of fun, holiday spirit, and creativity in supporting the store brand." She added, "For me, an added bonus would be whether there's some reflection on neighborhood history and/or storytelling, since that's part of what makes living in Brooklyn so special."
Several stores seemed to favor subdued white decorations, while Betty's Bakery (448 Atlantic Avenue) displayed charming gingerbread people and candy cane-shaped cookies alongside elaborate, wintery-themed cakes; Sahadi's (187 Atlantic Avenue) packed its storefront with oversized ornaments and a merry, motorized Santa Claus and several Disney characters; and the Brooklyn Cat Café (149 Atlantic Avenue) presented a hearth backdrop complete with tiny stockings, dreidels, and bags of gelt for the adorable kitties (and white rat) frolicking or napping in the window.
After viewing all the windows, the judges, Checo, and AALDC's Vice President, Sue Wolfe, gathered at Brado Thin Crust Pizza at 155 Atlantic Avenue to warm up and select the winners over dinner. Keeping with the holiday spirit despite the soggy weather, the group seemed cheerful and said they had fun checking out the creative competition yet admitted it would be tough making a final decision.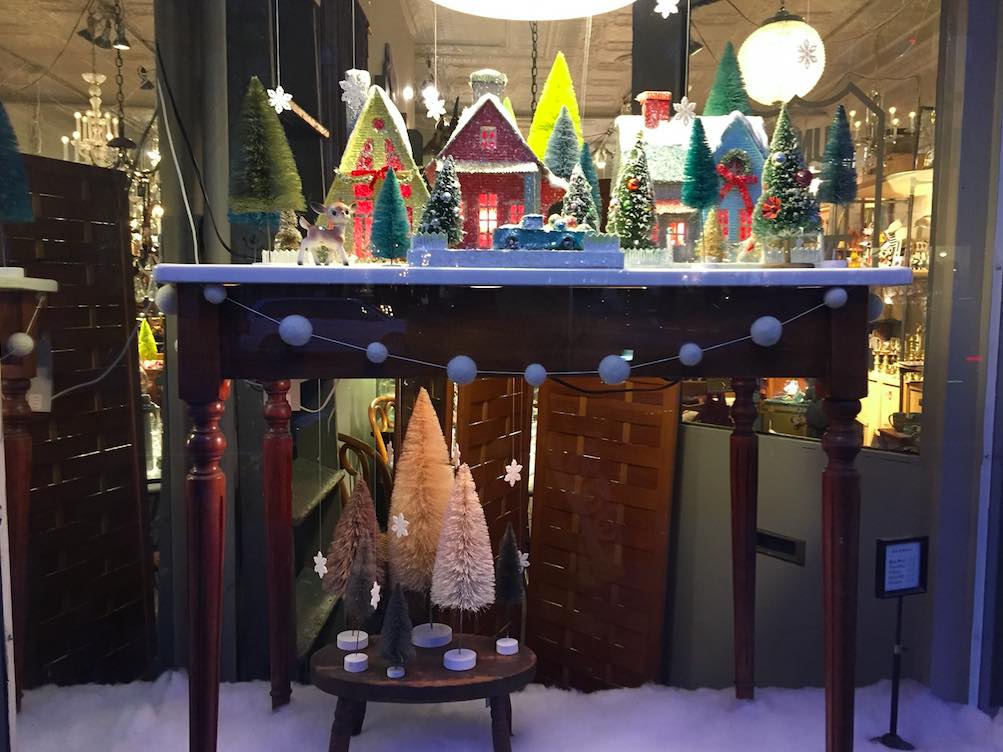 Mariela Estrella said she found each window a "reflection of what the store is." The judges agreed that all the stores successfully stayed on brand with their displays.
Mickey Heller added that several of the more fashionable shops had very refined "Martha Stewart-esque windows" with elegant packages displayed while others had more traditional presentations, "It was a nice gamut," he said. He then spoke on behalf of all the judges, thanking the Atlantic Avenue Local Development Corporation for allowing them to select this year's winners.
The Holiday Window winners will be announced at the Annual Tree Lighting Ceremony and Party scheduled for 6:00pm tonight, Thursday, December 8 at St. Cyril of Turov Belarusian Church located at 401 Atlantic Avenue (at Bond Street).
A Walk the Windows event is planned for Saturday, December 10 from 11am to 7pm. Several stores will be serving free holiday treats and offering special promotions. Participating merchants will have red balloons out front.