It's Always A 'Good Day' For Cantonese Cuisine In Bensonhurst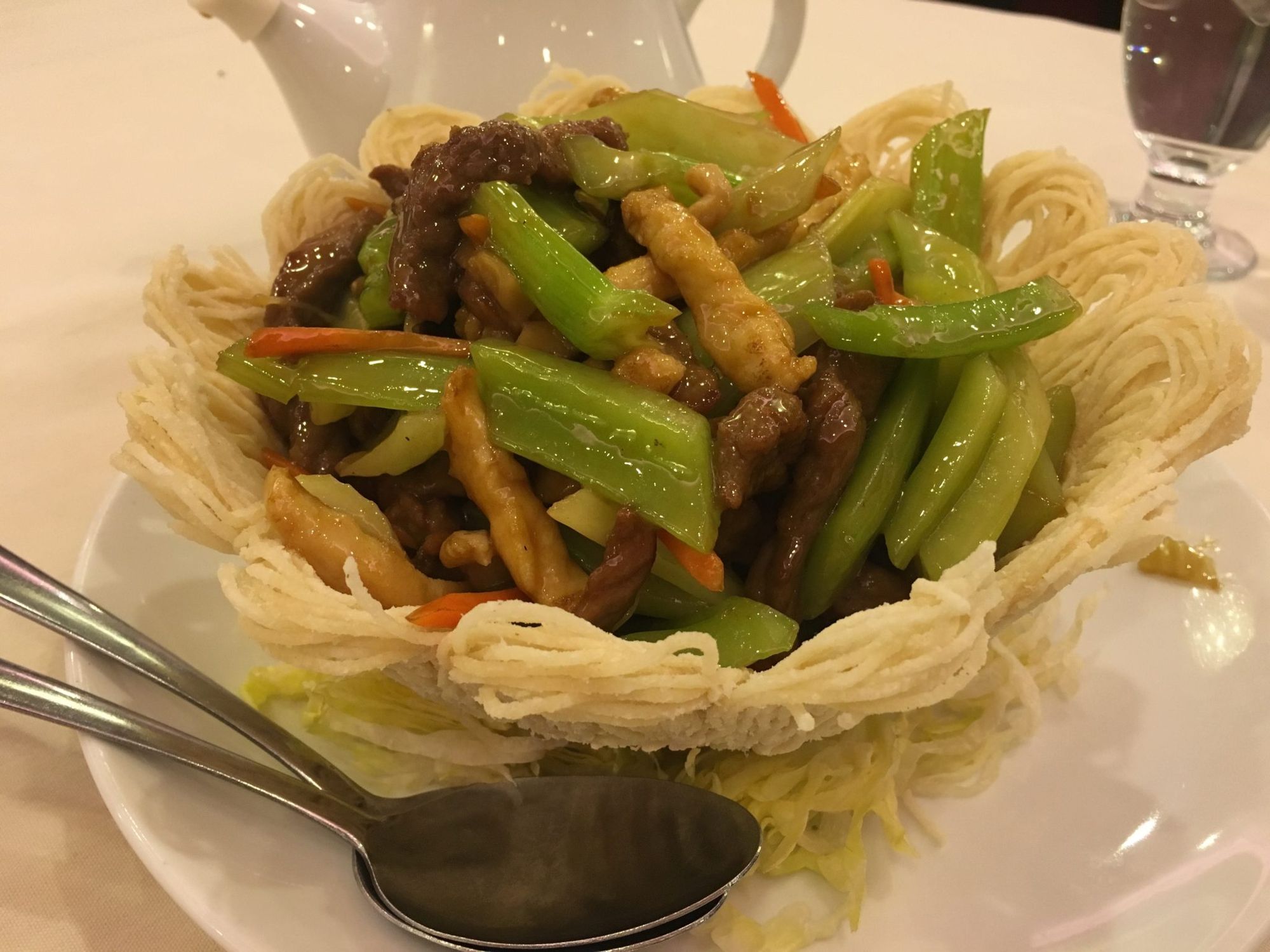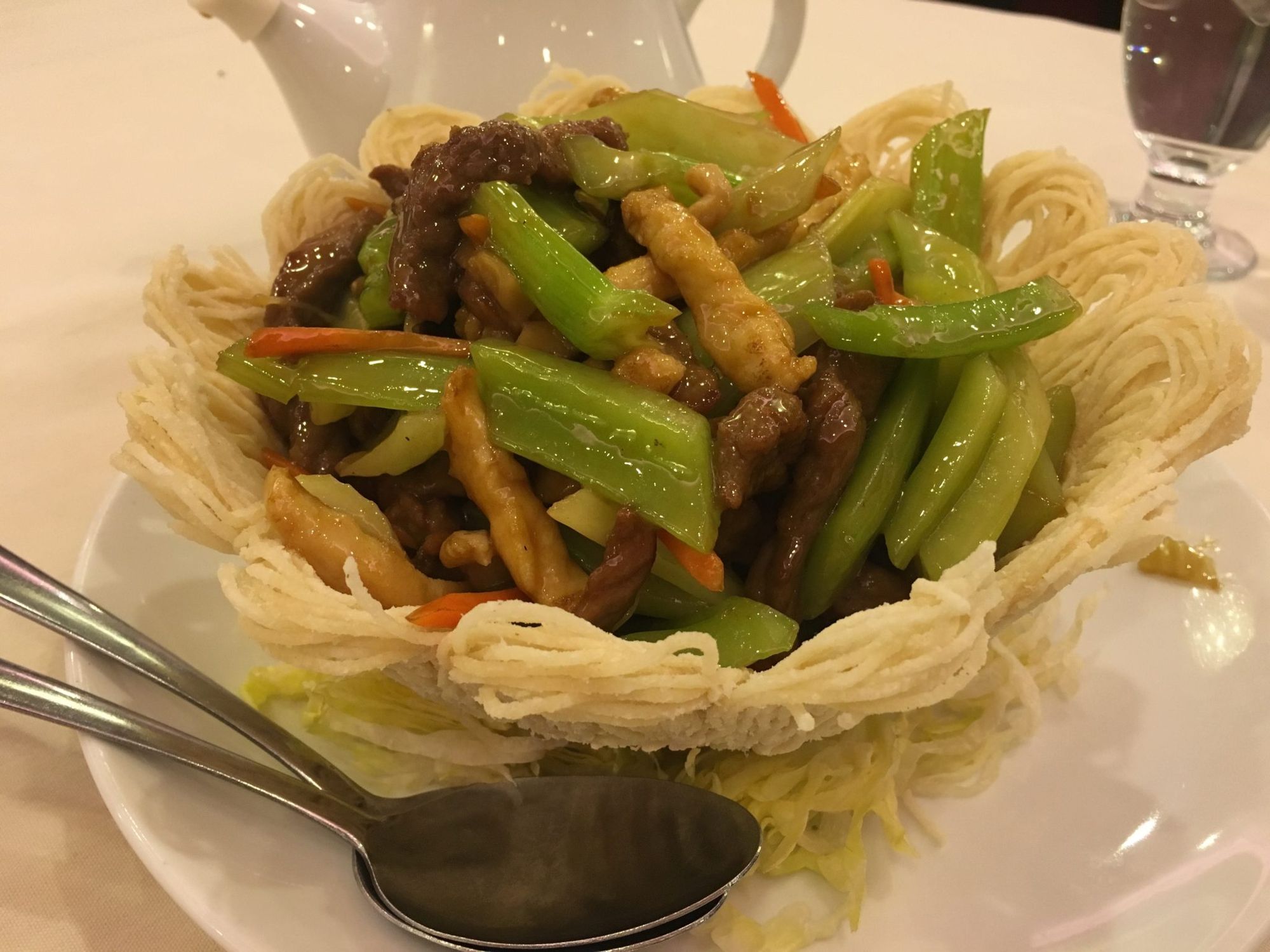 My three friends and I wandered into Good Day Restaurant on a day that could not be described as good — it was a a cold, January night punctuated by icy wind and bitter rain splashing up and down 18th Avenue in Bensonhurst.
But when we walked into the cavernous, family-style Cantonese restaurant, we perked up immediately from the warm atmosphere and enticing aromas.
Good Day, which used to be known as World Tong under previous ownership, is a go-to dim sum spot for many locals. The inside feels like an intimate catering hall (if such a thing exists!), with an intricate, glowing-eyed dragon relief sculpture carved into the back wall. There are no tables for couples or solo diners, only group seating with rotating Lazy Susans  and towers of soup cups.
When we showed up for early Sunday dinner at 6pm, the dining room was empty and I felt a pang of remorse. Maybe I'd made a mistake. But an hour later, the room was bustling with large families chatting as waiters lined up with plates of whole crab, Peking duck, heaping piles of unidentified fried objects, and wicker dumpling baskets — seemingly without any menus being passed around.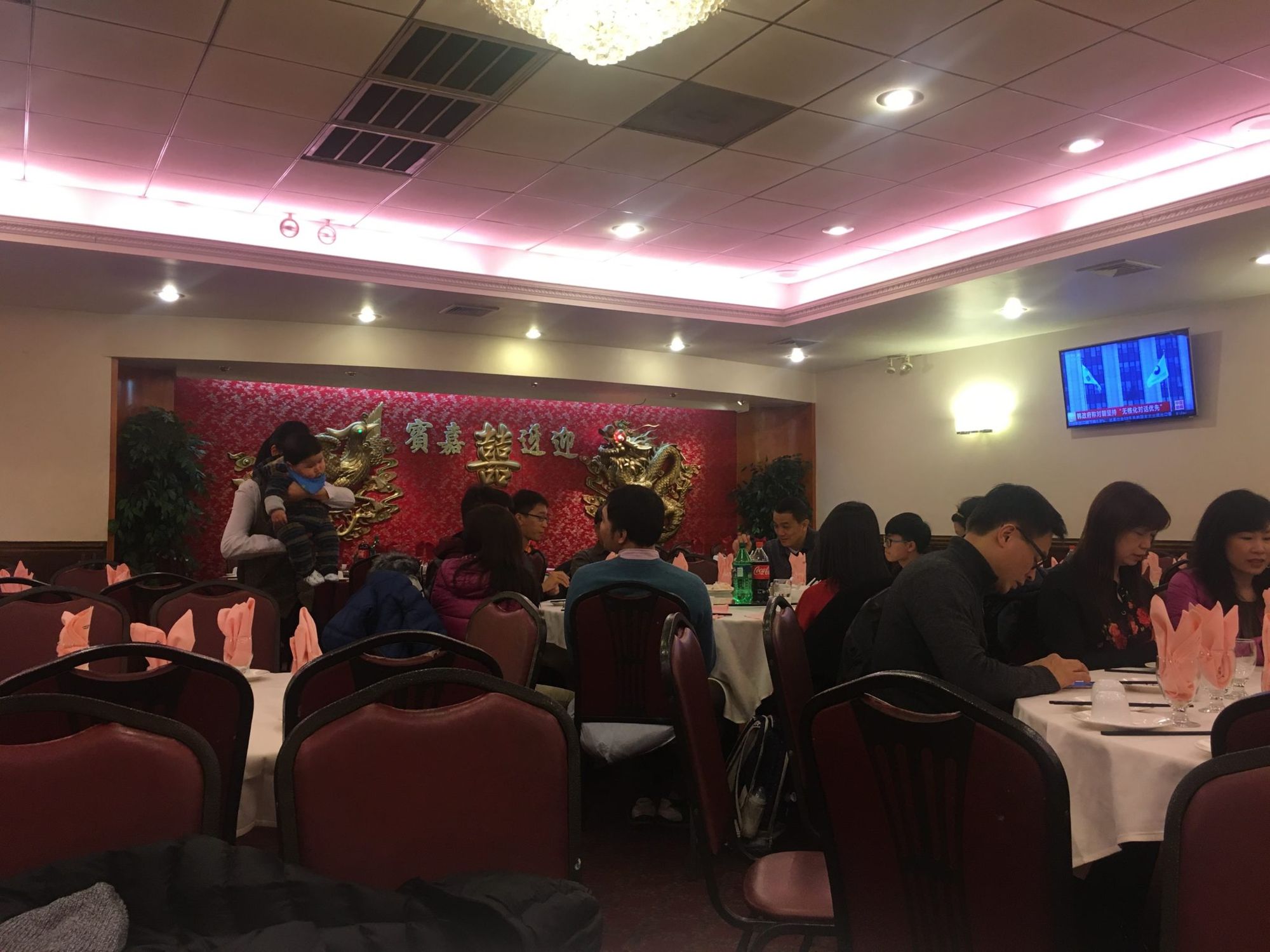 Presented with a multi-page menu that stretched the limits of my omnivore comfort zone — with dishes like fried pig intensine, beef stomach, and jellyfish — we chose two crowd-pleasers and one new venture: Chicken & beef in a fried taro shell, Green Chinese vegetable, and Bitter melon with minced pork & olives. The entrees range from about $11 to $20 each, so for us diners on a budget, there were no second chances.
The portions, however, were generous — three dishes were more than enough to feed three hungry people, with a hot & sour soup appetizer and complimentary starters and coconut-jello dessert plate to tie it all together.
We began our meal huddled around cups of hot, bitter tea we poured from a steaming porcelin pot on the table. For a cold, wet night it was the perfect hand-warmer and palate cleanser from the harsh world outside.
The waiter also plunked down a plate of pickled daikon radish cut into thick strips, which I devoured too quickly to photograph.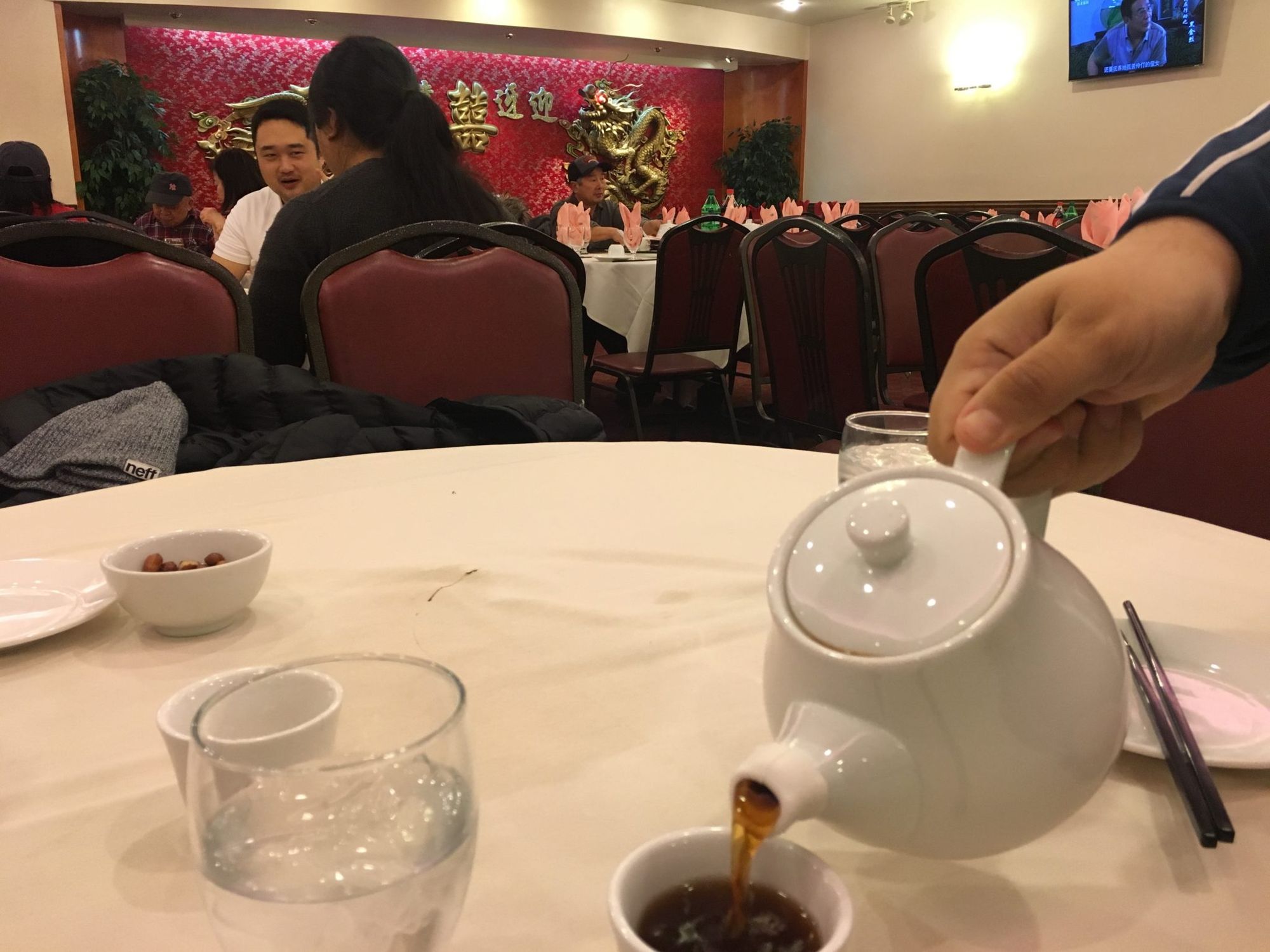 Before we knew it, the hot and sour soup arrived. It had a rich, earthy-flavor and a dense portion of goodies floating in the gelatinous broth, including wood-ear and enoki mushrooms, egg drops, sprouts, and soft tofu.
"It's the best hot and sour soup I've ever had," declared my soup coniossour friend after his first bite.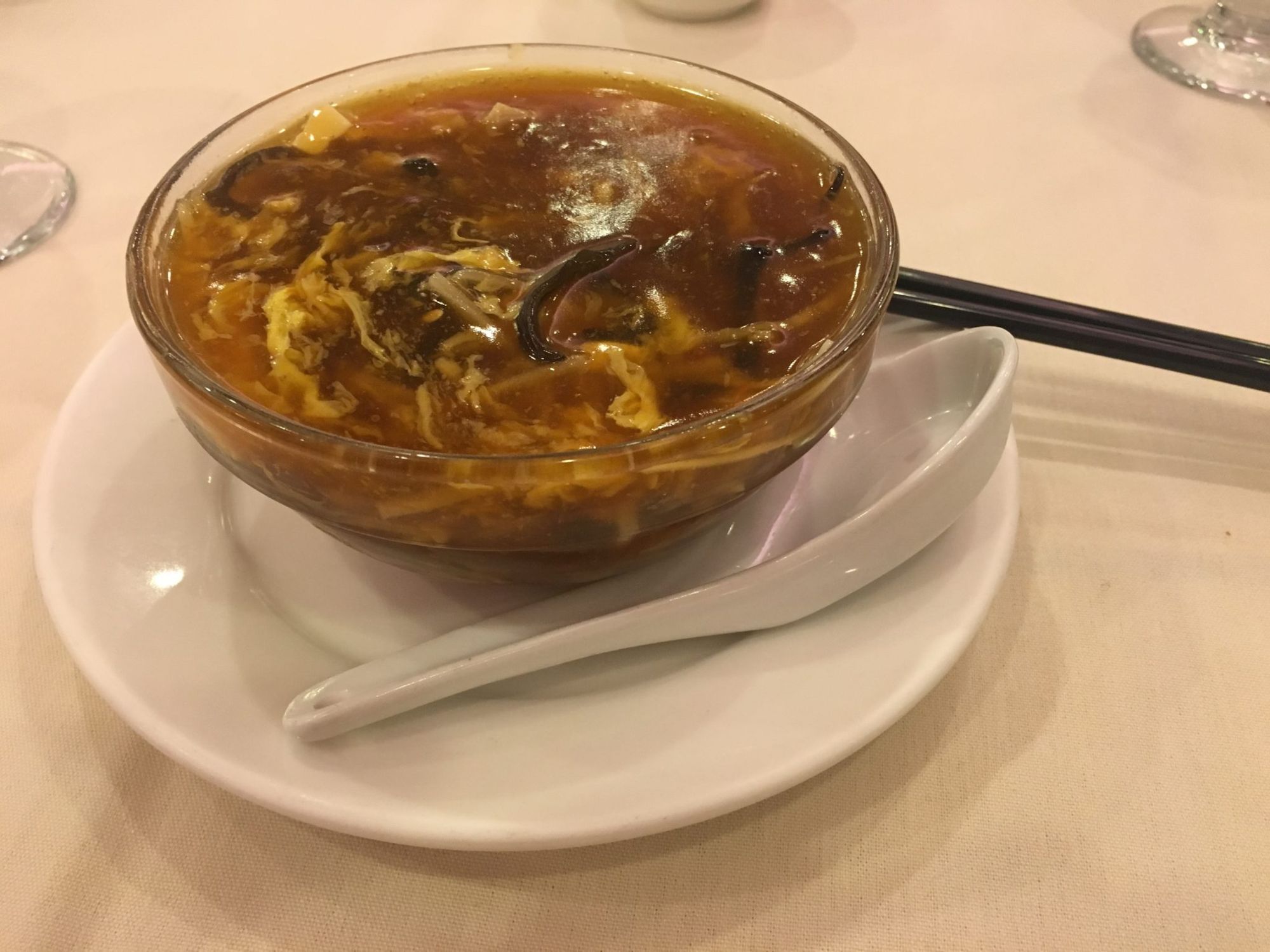 Though his meal piqued early, my favorite dish was still to come — the Taro bowl, with its flower-like crispy edges and centerpiece of glistening meat and celery. The interlaced strands of taro stayed crunchy, even at the bottom where the gooey brown sauce pooled.
Everything in the bowl tasted fresh, from the crunchy celery stalks to the thick-cut strips of beef and chewy chicken. Definitely a crowd-pleaser.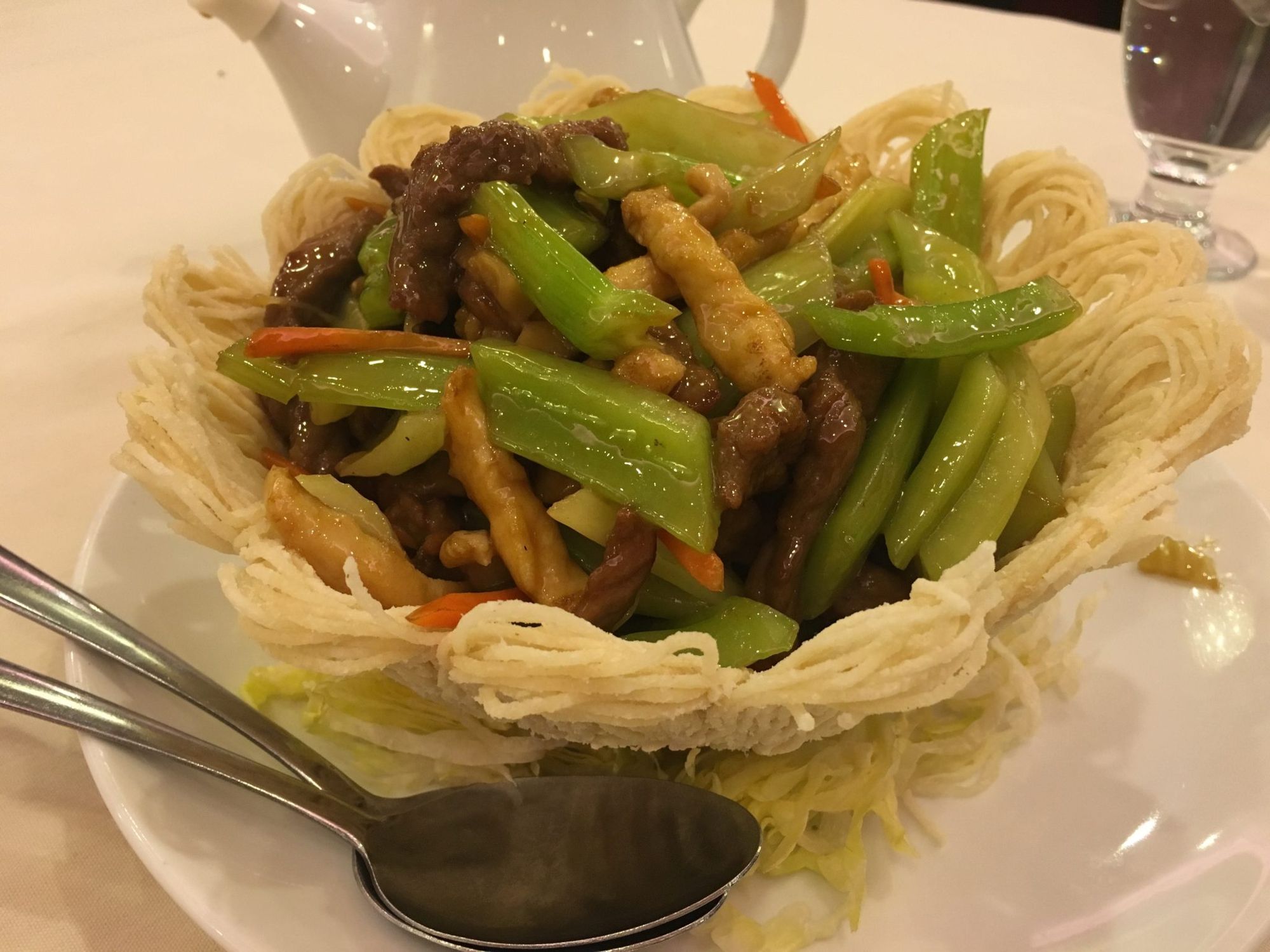 Unfortunately, I can't gush excitedly about the bitter melon entree — which was probably up to snuff for bitter melon standards — but was just too bitter for my palate (the name is a dead giveaway). Though to its credit, the dish was surprisingly complex, with the baser minced pork and salty shards of black olive providing a nice context for the bitter green vegetable.
The taste and shape of the melon slices had the gooey consistency and bitter bite of cactus I tasted at a Mexican restaurant in Kensington. But I couldn't eat more than a couple slices before giving up.
The dessert plates were a nice surprise at the end of the meal, with the melt-in-your-mouth coconut pudding squares jiggling from the plate to my fork.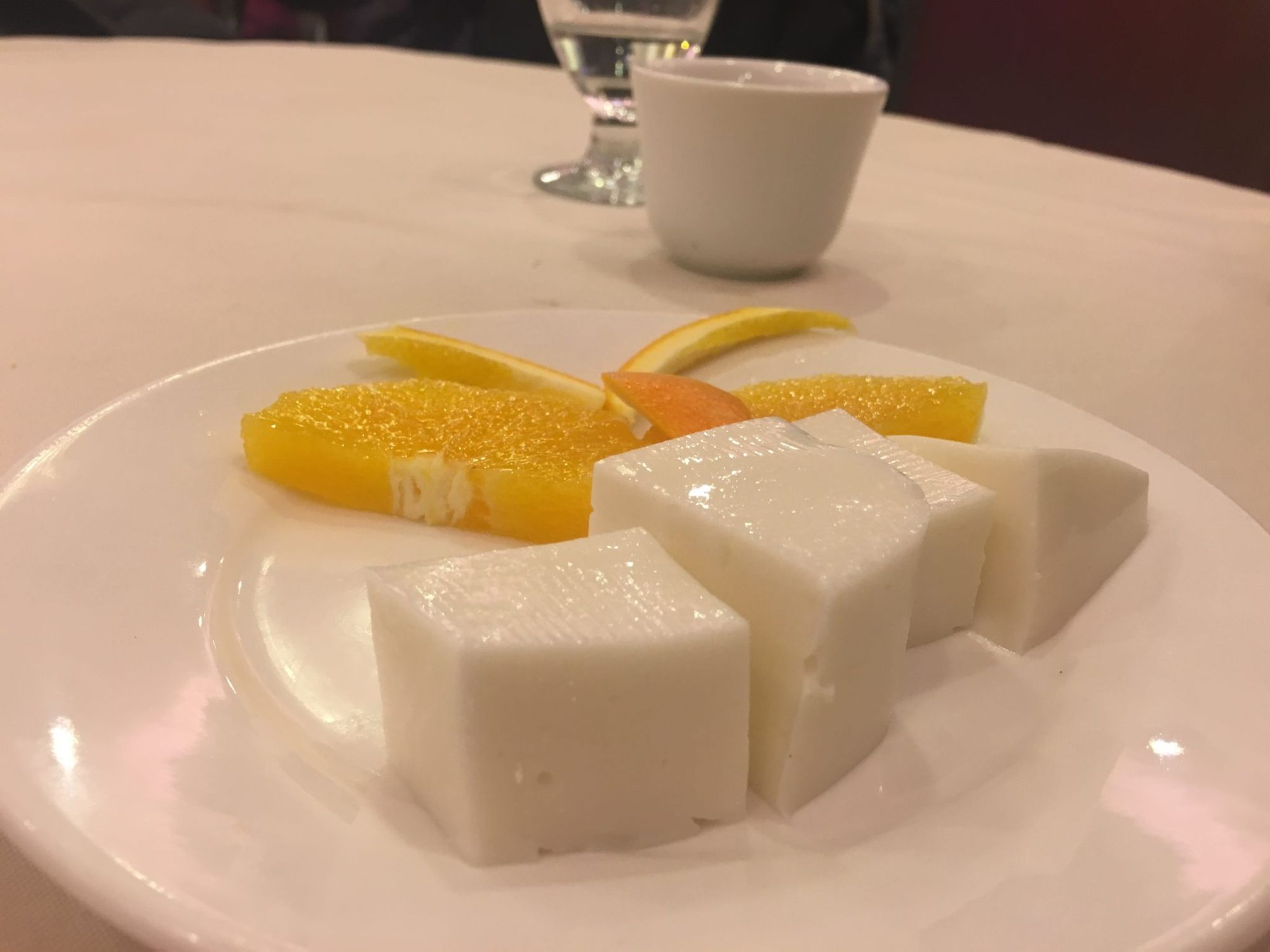 Yelp reviewers say that Saturday and Sunday dim sum is a must-try, but warn that the crowds really swarm on the weekends. So and if you go alone or as a couple, prepare to cozy up with strangers at the large, family-style tables.
Good Day Restaurant is open 7 days a week from 8am to 11pm, at 6202 18th Avenue between 63rd St & 62nd Streets, closest to the 18th Ave N train station. To make a reservation, call 718-236-8118.