A Peek Inside Dock 72, Brooklyn Navy Yard's Newest Office Tower
BROOKLYN NAVY YARD – Later this summer, the Brooklyn Navy Yard will officially open Dock 72, the complex's new 16-story, 675,000-square-foot commercial building along the East River. Dock 72 will provide space for 4,000 jobs as part of the Brooklyn Navy Yard Development Corporation's goal to create 17,000 jobs across the 300-acre campus by 2020.
A collaboration between Rudin Development Company, Boston Properties, and WeWork, Dock 72 is the "first ground-up, new construction Class A office building to be built in Brooklyn in over 15 years," according to Rudin Development's website.
"Dock 72 is designed to be a perfect addition to the Navy Yard's growing ecosystem of tech and innovation," said Michael Rudin, Principal of Rudin Development Company. "It is tailored to meet the needs of creative firms that are continuing to pour into Brooklyn and we are thrilled to be working with Boston Properties to create this home for the borough's next wave of dynamic job growth."
Bklyner took a tour of the site, which is currently still under construction, in late June with Boston Property's Senior Construction Manager, Kelly Lovshin, and Leasing Coordinator, Julissa Polanco.
The building offers more than 30,000 square feet of indoor amenities and over 10,000 square feet of outdoor amenities. Curated by WeWork, the amenities package includes  a food hall, a health center, and a rooftop conference center. Outside, tenants will be able to enjoy an expansive waterfront space with seating and a half basketball court as well as a landscaped terrace that wraps around the 16th-floor conference center. With setbacks on the 8th and 12th floors on the east side of the building, and floors 7, 10, 13, 15 on the west side, some tenants will have their own private terraces.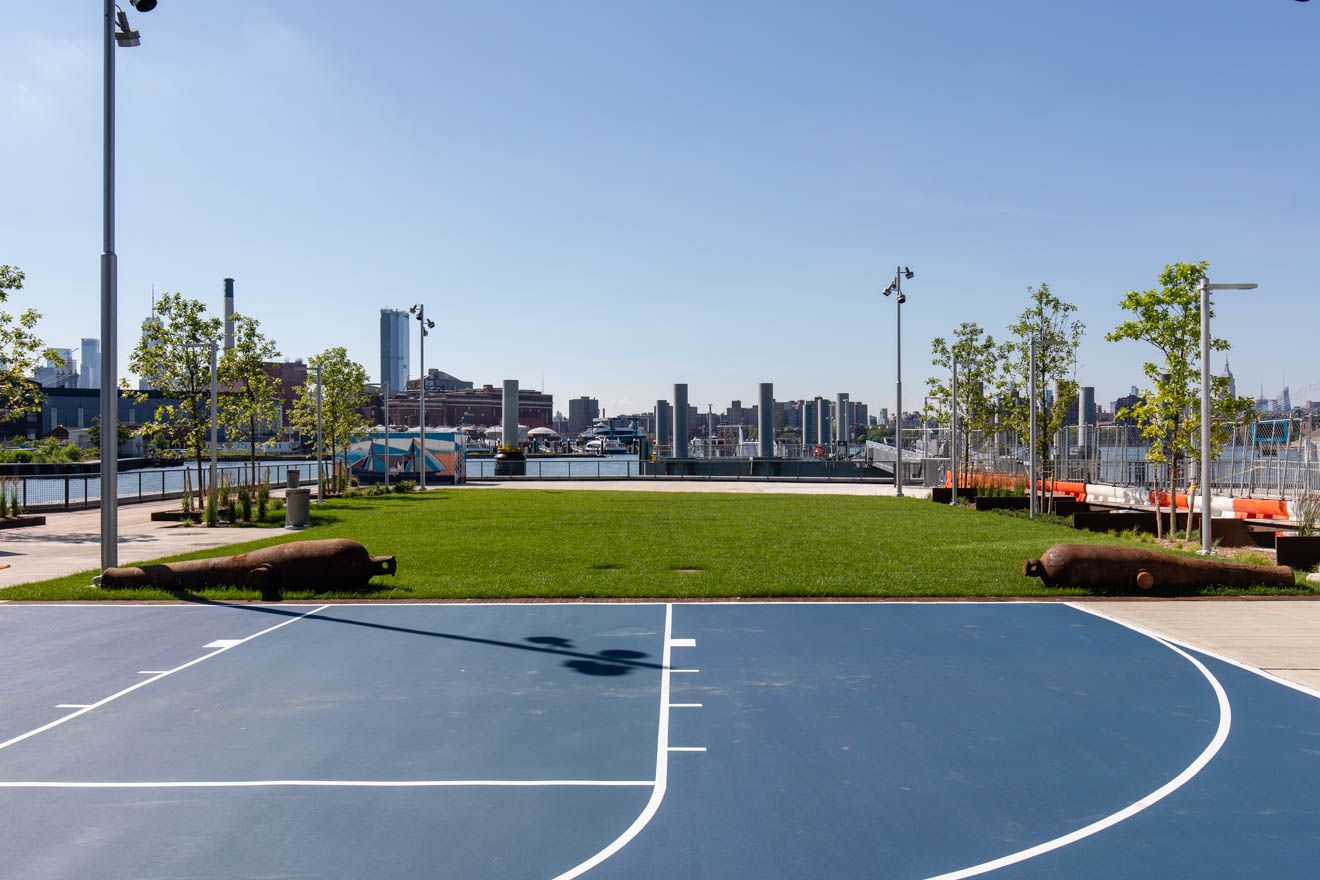 WeWork is Dock 72's anchor tenant and the company will occupy a third of the new building, setting up shop on the 7th and 8th floors as well as the western half of floors 3 through 6. While leasing of the other floors has not yet been finalized, the developers have been focusing on attracting tech, advertising, media, and information [TAMI] tenants, Polanco explained. "The types of tenants we're looking for are those TAMI tenants who value their employees, who are trying to retain those employees because their talent is high in demand."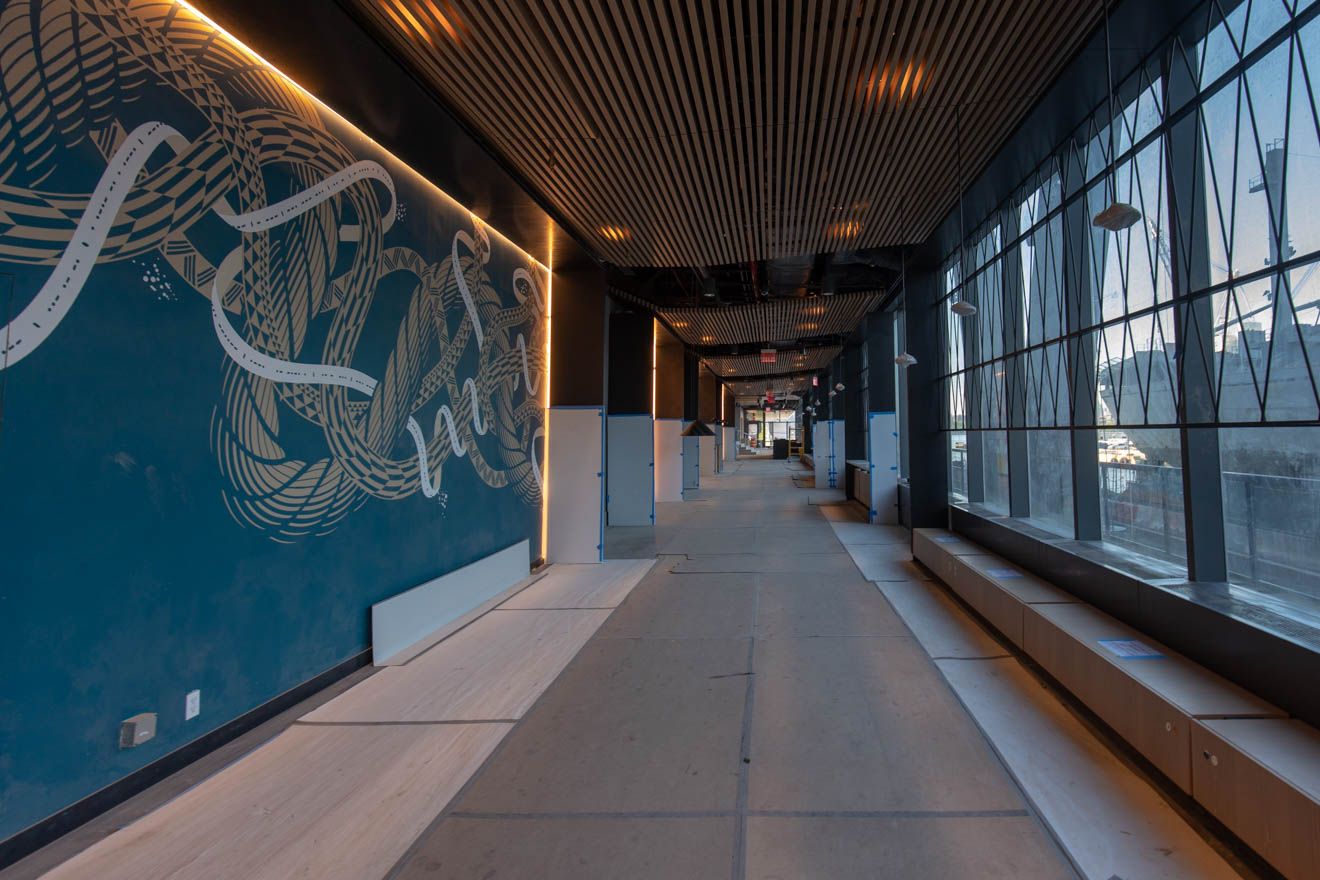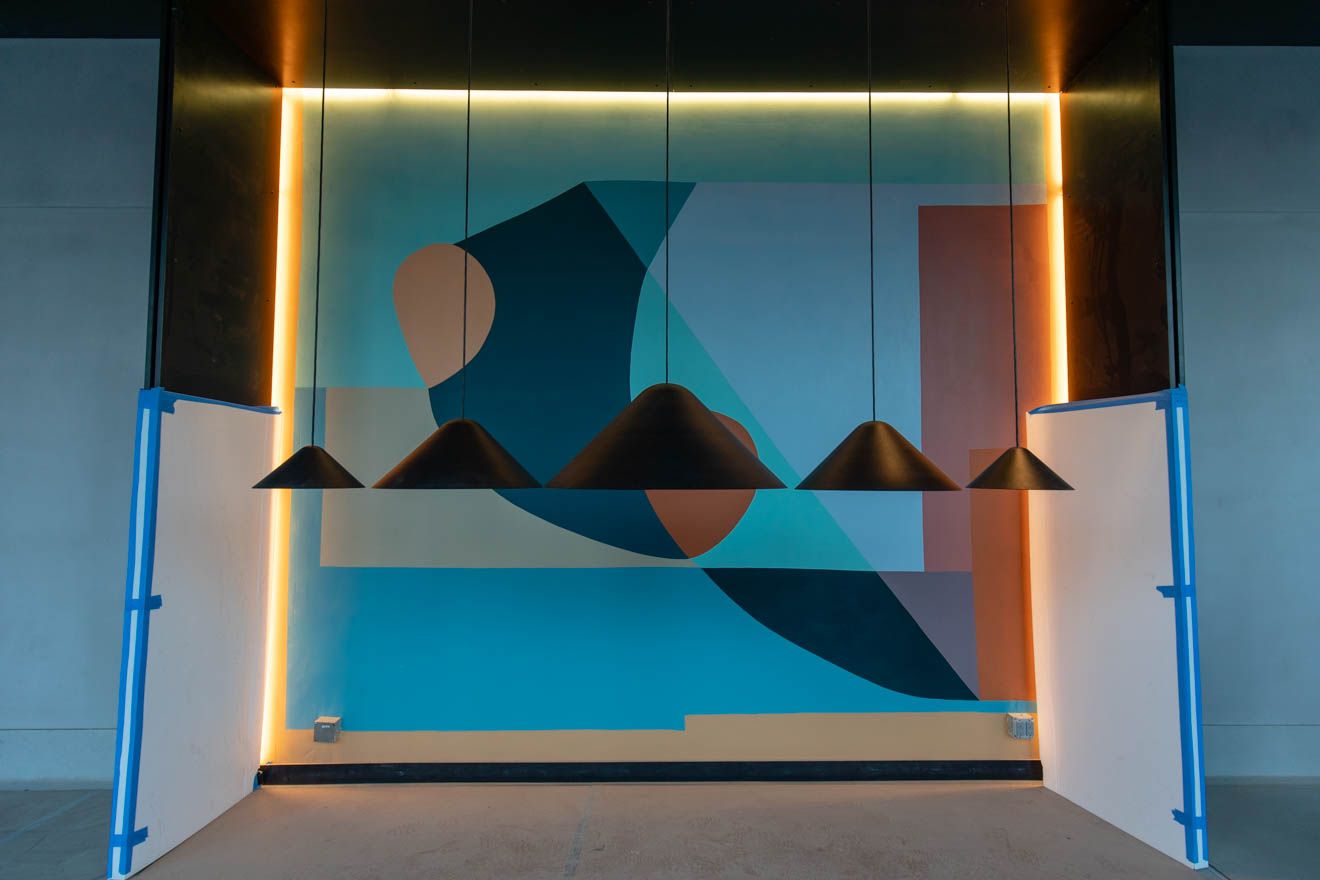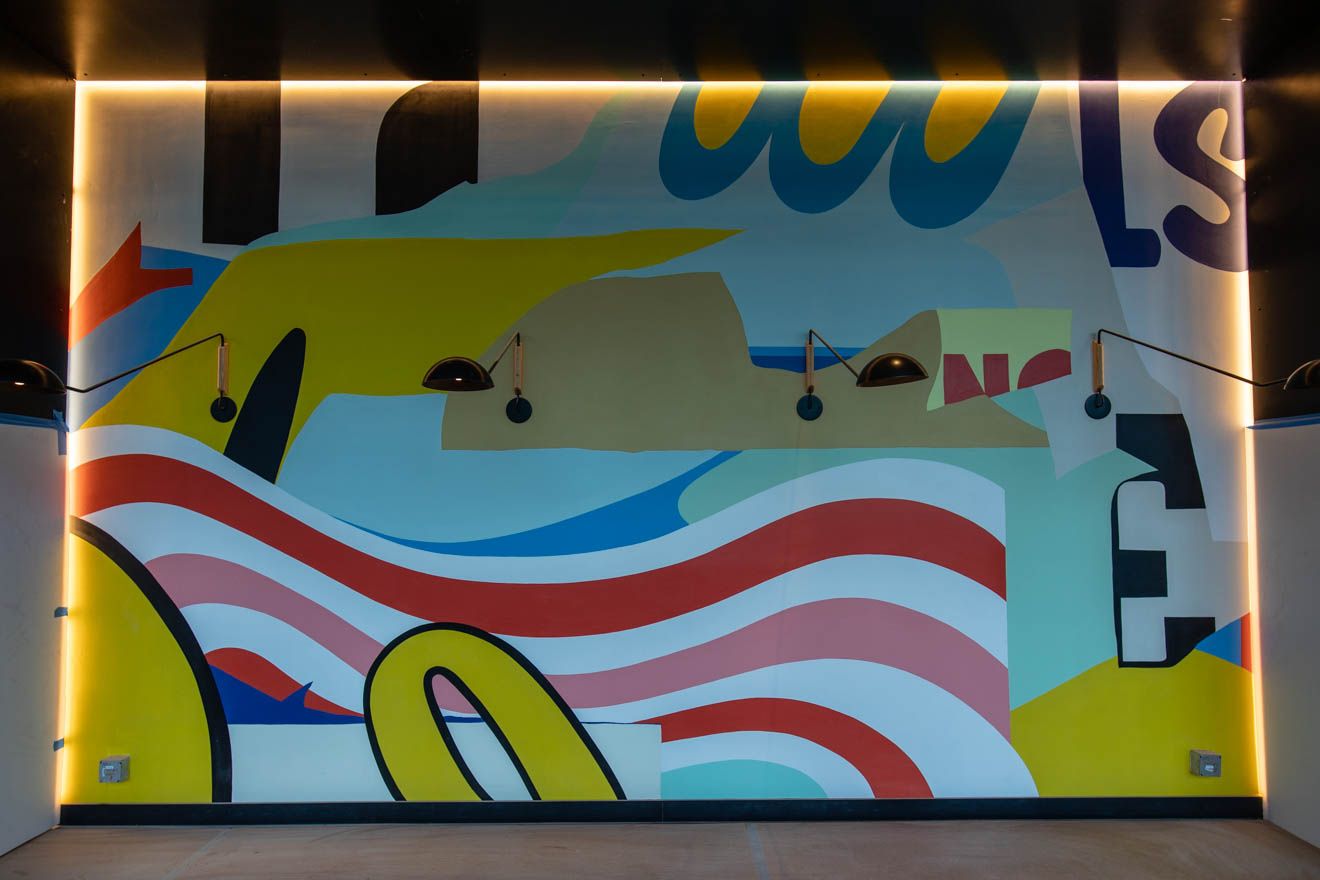 S9 Architecture designed Dock 72, Perkins Eastman is the architect of record, and Fogarty Finger created the interior and amenity spaces. The building's overall design celebrates the Brooklyn Navy Yard's maritime and industrial history. While the building's nautical feel was not part of the original plan, Lovshin and Polanco say the location's surroundings influenced its design.
"We like the fact that we're in the Navy Yard. We embrace the Navy Yard," Polanco said. "This is a functioning ship yard. You'll see the cranes moving from your desk, and we think that's cool."
The site's location by the water also influenced the design of the building in another way. Being in Storm Zone 1, the highest risk flood zone, special measures had to be taken. "We built the lobby one foot above the hundred-year floodplain and eight feet above grade," explained Lovshin. "Underneath that—we don't actually have a basement in this building—there are breakaway louvers and that allows the water to flow underneath." All of the building's main systems are located on the second floor, 19 feet above the floodplain, she added.
The building has two entrances—the east entrance faces the Navy Yard's BLDG 77 across the parking lot, and the west entrance faces the East River.
In May, the NYC Ferry debuted its Brooklyn Navy Yard stop just outside Dock 72. Ferry riders can access the stop by walking through the lobby of BLDG 77 (near the intersection of Flushing and Vanderbilt Avenues) and then taking the north road which runs alongside the Dock 72 building. Once the building is officially open, commuters will be able to walk through Dock 72's lobby.
Featuring four murals painted by local artists (two based at the Navy Yard), the layout of Dock 72's lobby is meant to encourage engagement and collaboration among  tenants.
"[We] want people to come in, sit, and have their coffee before they rush up to work," Lovshin said, noting there will be different areas where tenants can sit, check email, or have a meeting.
"A lot of Class A buildings…have big expansive lobbies," Polanco added. "We want people to collaborate, bump into each other in the lobby, sit down, grab their coffee and hang out on a sofa and meet somebody they might not have met in their office space."
Past the elevators, closer to the western entrance, is the food hall featuring eight vendor stalls, a lounge, and a coffee bar. A staircase leads up to the second floor health center. The 15,000-square-foot gym will be available to all building tenants.
Through the western revolving doors is the outdoor space, featuring a covered area where there will soon be tables and chairs, the half basketball court, a mural painted by local students, and a landscaped space by the water adorned with vintage cannons discovered when crews were digging the building's foundation. While providing outdoor space is not new for commercial developments, it was only introduced for commercial high-rises in recent years, Lovshin said, as a trend to lure both tenants and workers.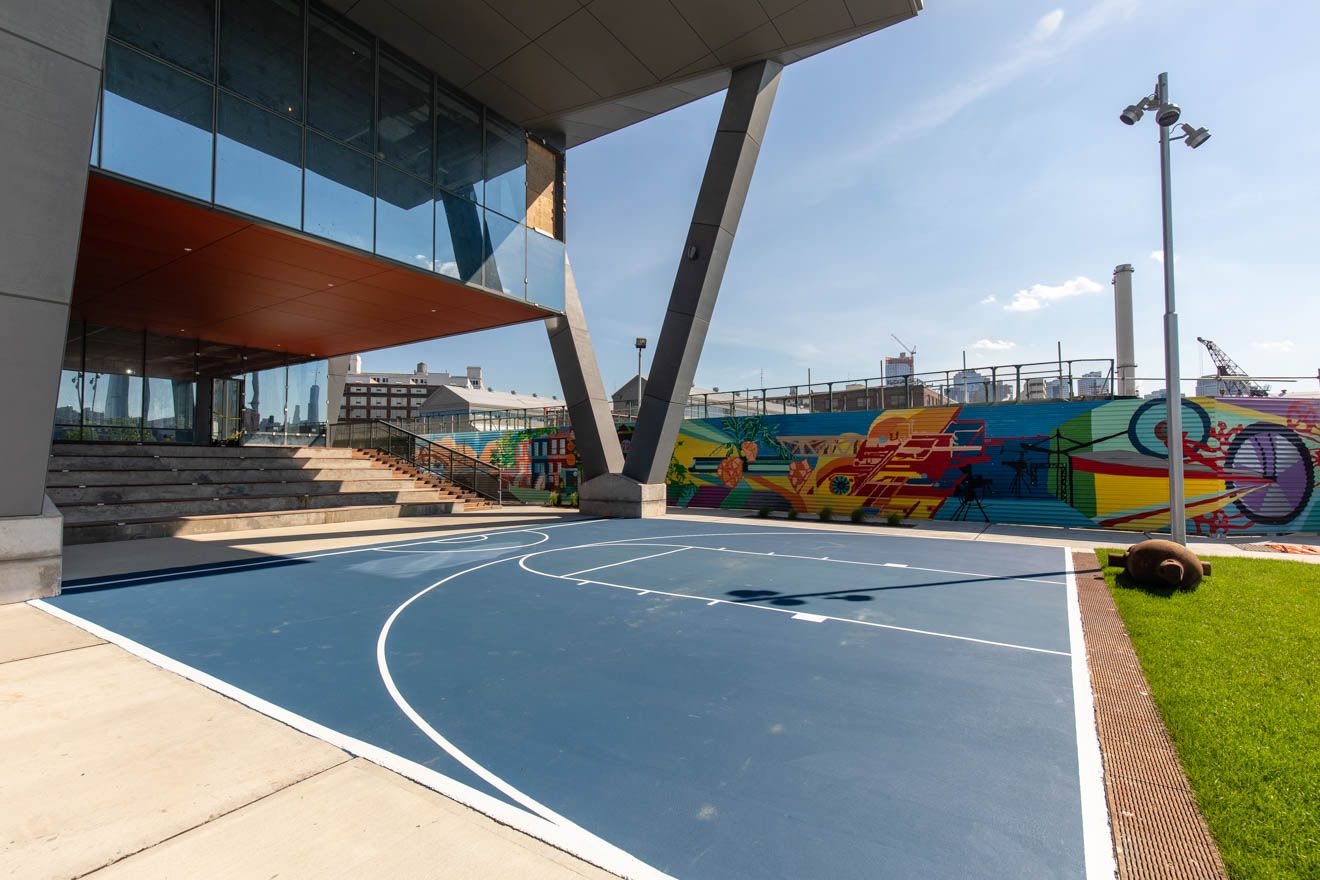 "This is just the way buildings are being built now," Polanco explained, adding that in Manhattan, many developers are struggling to find ways to incorporate green space or fitness centers into existing buildings. She noted the advantage of being able to build these amenities into a ground-up project as opposed to trying to fit them into a redevelopment. "You can have an entire full floor for a conferencing center, an entire floor of health and wellness, and entire floor of F&B [food & beverage]," she said.
Other perks for employees at Dock 72 include 150 parking spots, 24 electric car charging stations, and a bike valet station that can hold 116 bicycles.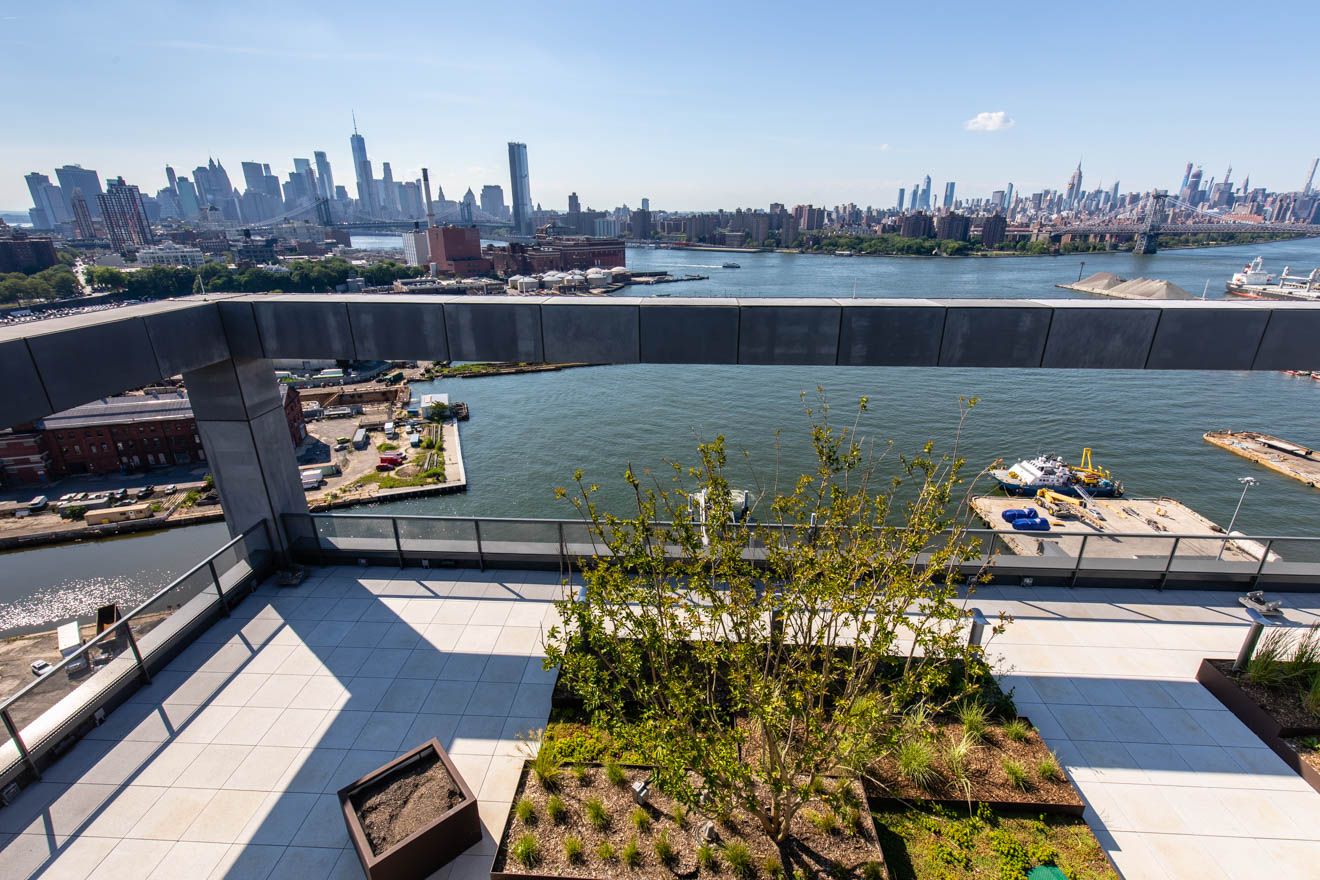 Up on the 16th floor, Dock 72's conference center features a large central meeting room with occupancy for 210. Moving partitions allow the space to be divided into three separate smaller rooms which can accommodate 70 people each. The top floor also features a small kitchen and lounge with a fully stocked bar as well as a wrap-around  terrace with unobstructed views of the city and the Brooklyn, Manhattan, and Williamsburg Bridges—or the "BMW view."
"This is how landlords are building for the next generation of workers," Polanco said, "because it's about a balance of work, live, and play."