A History-Making Inclusive St. Patrick's Day Parade In Brooklyn!
PARK SLOPE/WINDSOR TERRACE – History was made at the 44th Annual Brooklyn St. Patrick's Day Parade on Sunday when the Brooklyn Irish LGBTQ Organization (BILO) became the first LGBTQ group to march in the event.
The annual celebration started as usual with Parade Chair Mary Hogan introducing this year's Grand Marshall, Bernadette Buckley Kash of the Buckley School of Irish Dance, whose students march in the parade each year. Hogan also introduced special guests, including the Honorable Charles Flanagan, Ireland's Minister of Justice and Equality, who commemorated September 11th first responders. "Honoring the great apostle of Ireland," is what the parade is about, said Hogan, as well as remembering "those who have gone on and those who have made the ultimate sacrifice for our country and especially those who died in the World Trade Center," many who were Irish and lived in Brooklyn, she noted.
Following the brief ceremony, the parade kicked off with marching bands, bag pipers, and Irish dancers taking to the streets. BILO marched toward the end of the procession proudly wearing rainbow rosette pins and carrying their organization's banner, an Irish flag, and an American Flag.
"Loads of people along the route said, 'You're at the end of the parade,' but the best for last," said Brendan Fay, who founded the Lavender and Green Alliance in 1994 to celebrate Irish LGBT history and community. BILO founders, Lisa Fane and Matt McMorrow, invited the Queens resident to march with their group. Throughout the 90s, Fay rallied to be a part of the Brooklyn St. Patrick's Day parade, writing to the parade organizers and pleading for inclusion. He was part of a group that was arrested for attempting to join the parade in 1999.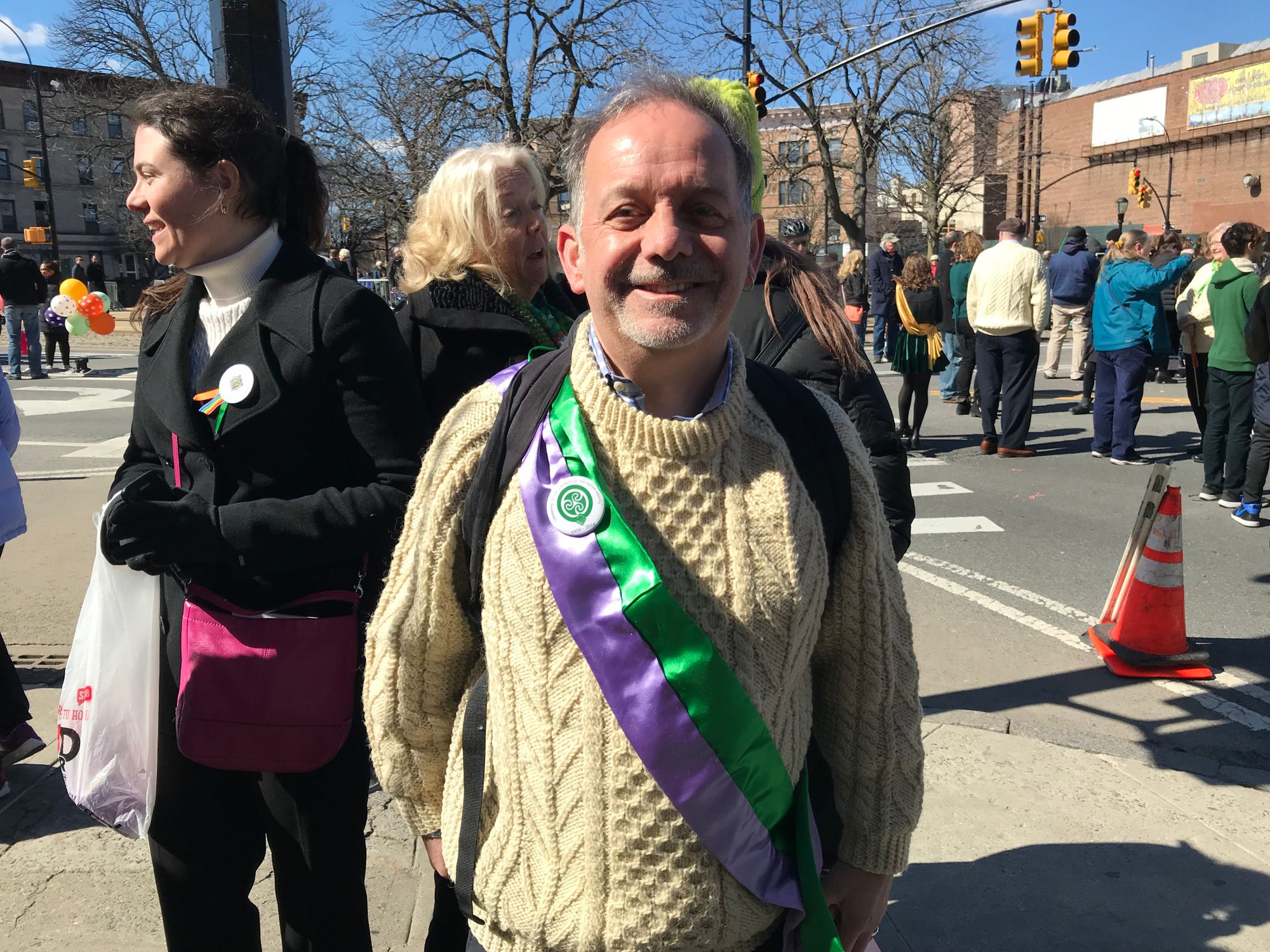 "As Irish immigrants, like every other immigrant, we're drawn to our own communities, that's where you want to belong, but we never wanted to hide who we are and we shouldn't have to," he told Bklyner as he marched along Prospect Park West.
He was told time and time again that his LGBTQ organization could not march in St. Patrick's Day parades across the city because it was "against Catholicism…against Irish-ness… or simply that we just didn't belong," he recalled. "Exclusion and the discrimination against LGBT people not only hurts the people to whom it's directed but it actually overshadowed the entire celebration for everyone. It didn't reflect the spirit of Brooklyn. In fact many people were so disappointed and disheartened that people actually stayed away from the parade," he added.
Several local politicians have shied away from the non-inclusive event in recent years. "This is the first time that a lot of elected officials came out too because a lot of them wouldn't march before because it wasn't an inclusive parade," McMorrow noted, "so that was very special."
"As an Irish American, with a board that has an openly gay Irish American Chair, Peter Fleming, this progress is great to see," said Brooklyn Community Board 6 District Manager Michael Racioppo. "It took a while but it's great and going forward it will make this parade an even greater tradition." CB6 Chair Fleming marched with BILO at the 44th Annual Brooklyn St. Patrick's Day Parade alongside elected officials including Brooklyn Borough President Eric Adams, Congress Member Yvette Clarke, Council Member Brad Lander, Assembly Member Jo Anne Simon, and Assembly Member Robert Carroll who worked with BILO to get the group included in the event.
"In 1999 Brendan Fay was part of a group that tried to march and they were excluded," said Assembly Member Carroll, whose grandfather, John Carroll, helped launch the parade in 1976 to commemorate the American bicentennial and celebrate his Irish heritage. "They were not welcome and they were arrested. My father used to announce the parade, that's when he stopped announcing the parade. A lot of people, a lot of elected officials, pulled back," said Carroll, who danced in the parade with the Buckley School of Irish Dance when he was a young boy. "I realized it can't just be pulling back, it can't just be saying, 'I'm not going to take part in it.' I wanted to be part of something that was pro-active," he continued.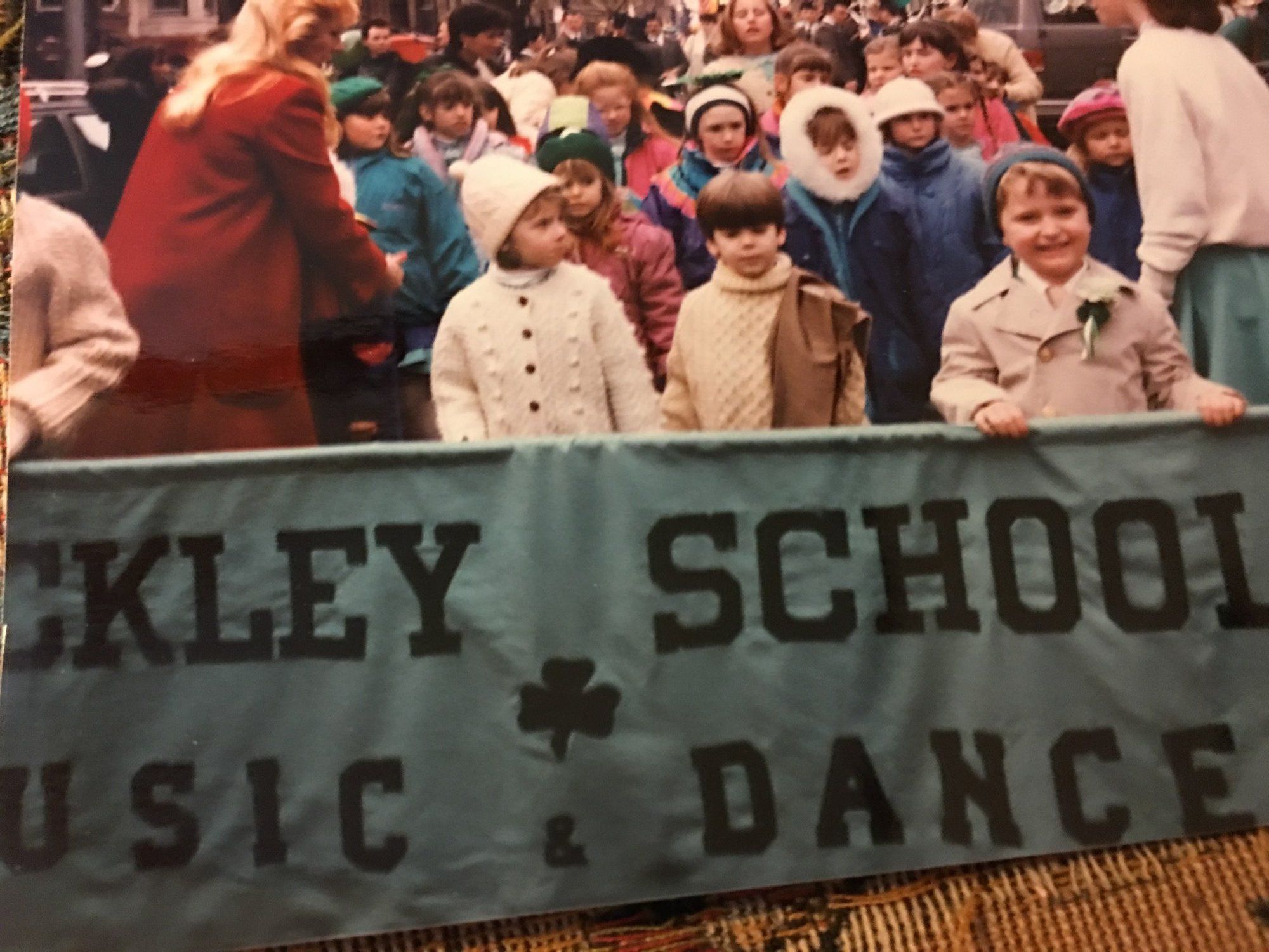 "When I was elected into this position I felt it was a responsibility that I help make sure that I correct this wrong," Carroll added. He worked with Fane and McMorrow in writing to the parade organizers requesting that BILO be included in the celebration and met with the Parade Committee in February. "I am absolutely overjoyed with the response of the crowds today, with everyone who came out," he said. "This is just going to make this parade so much greater and so much richer for the community since everyone can come out and celebrate the contributions of Irish Americans or Irish culture and also enjoy our beautiful neighborhood on a beautiful day."
When asked what he thought his grandfather's reaction might be to BILO's marching in the parade, Carrol responded, "He would be overjoyed. He passed away in the early 90s, before there was the incident in 1999 that made the parade exclusive. He was somebody who was very proud. He was born in Galway, he emigrated to America in 1949. He was very proud of his Irish heritage but he was also very proud of New York and America. He helped found this parade on the bicentennial and it was about both the Irish and the Irish Americans' contributions to our city and country. And that's everybody."
"The looks on people's faces as we walked down the avenues, it was just really joyful and heartwarming," said Fane following the parade. "To go through the streets and see people of all ages, all backgrounds, just really kind of stand up and take notice and give us good blessings and wishes…. This is a neighborhood parade," she continued. "That's what we've always said from the beginning, this is a celebration and we want to be a part of that celebration. We really feel a part of that and I think it's going to be better for the parade, it's going to be better for Brooklyn going forward. I'm really looking forward to next year and beyond."
"I teared up a few times," said McMorrow. "It felt so good to see all of our neighbors cheering us on and coming out and supporting us. It felt really special."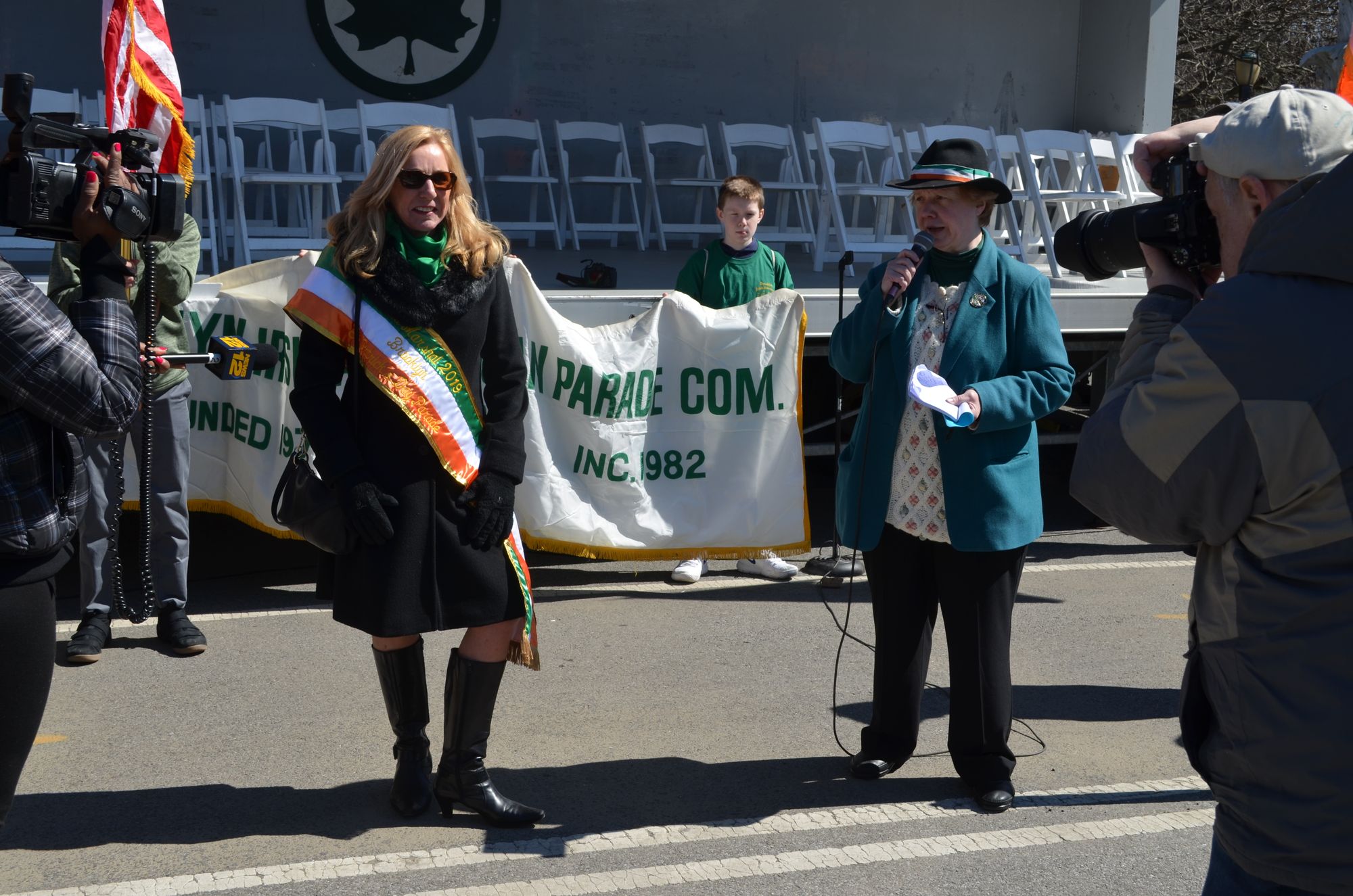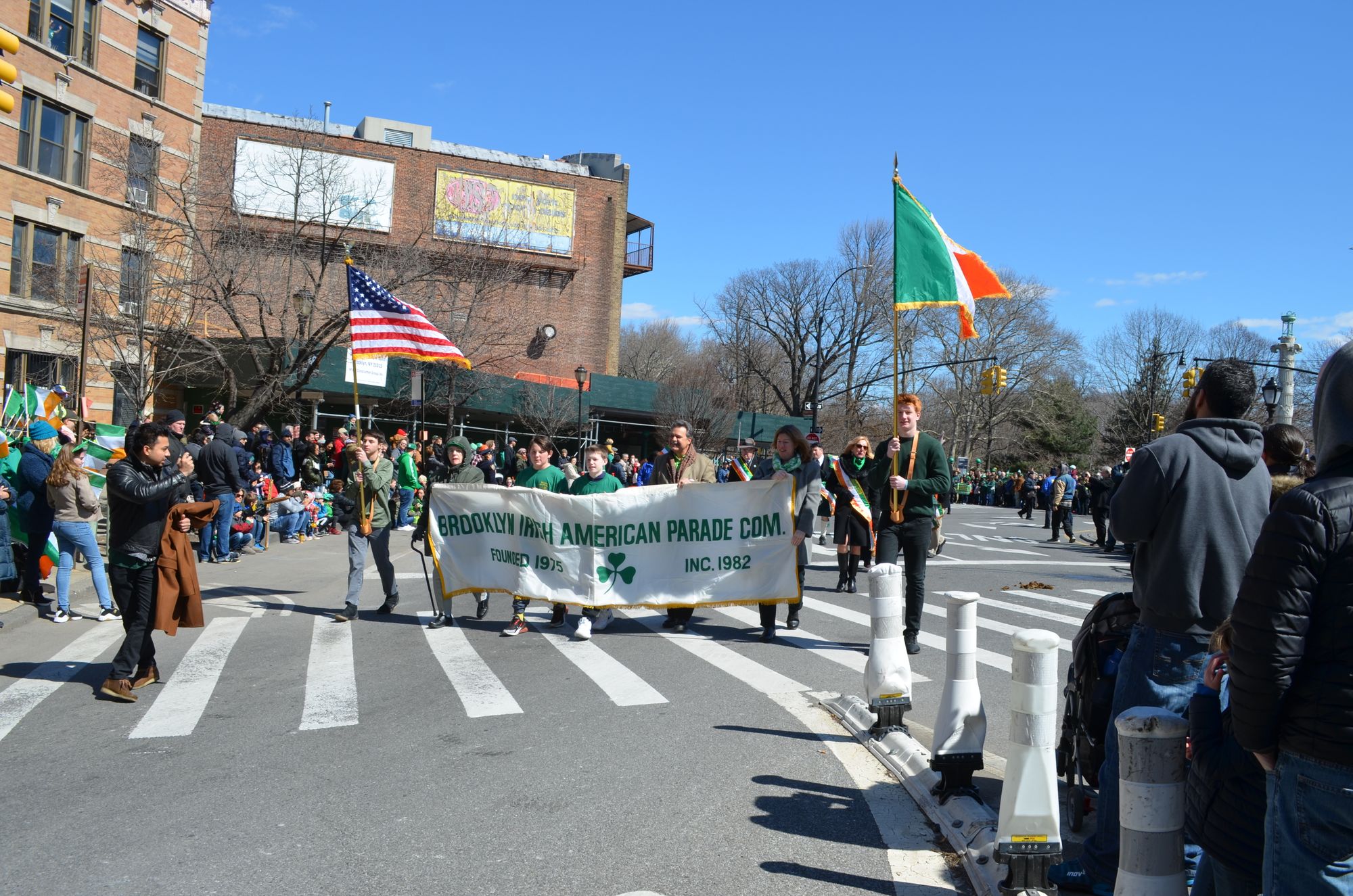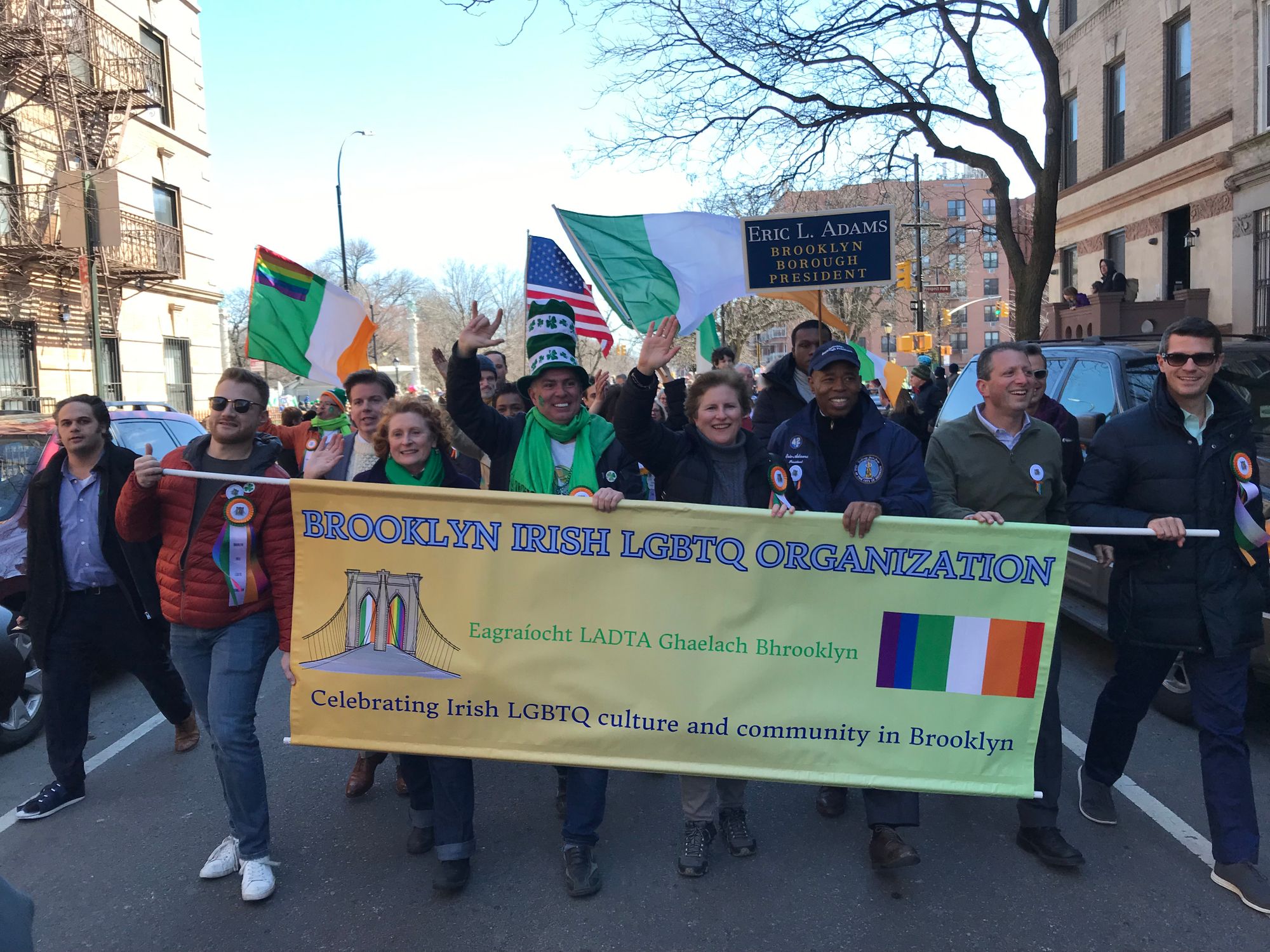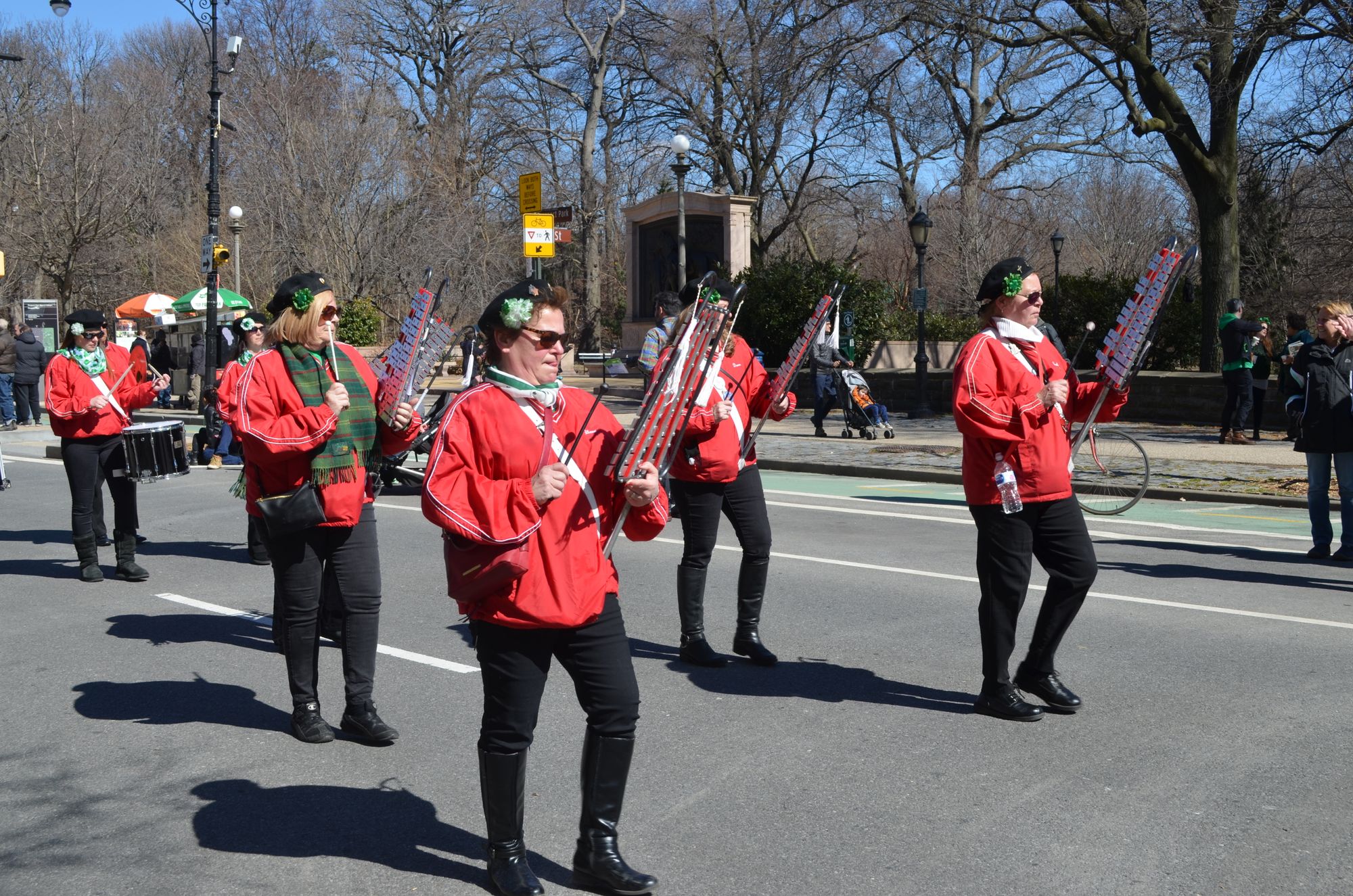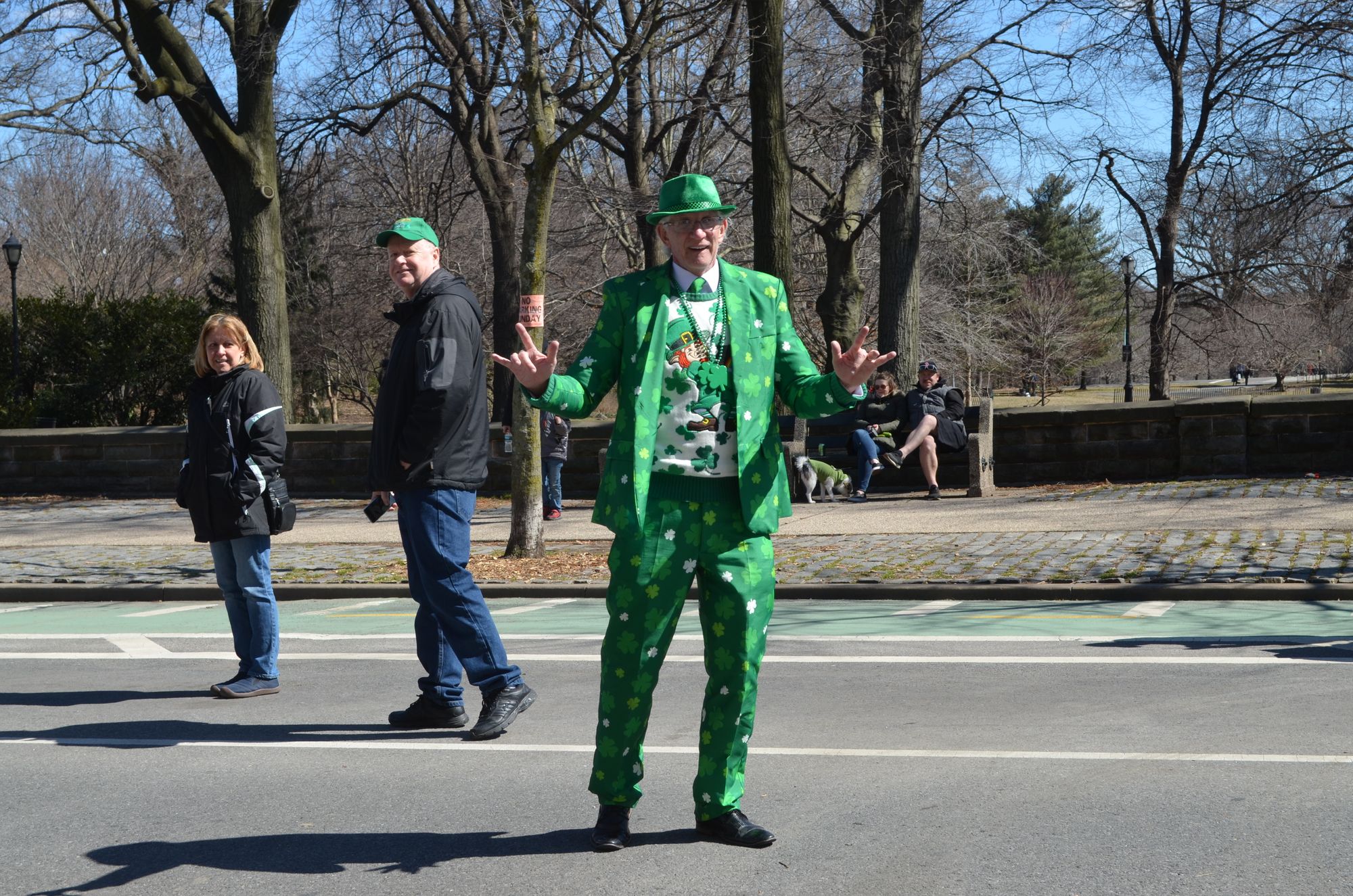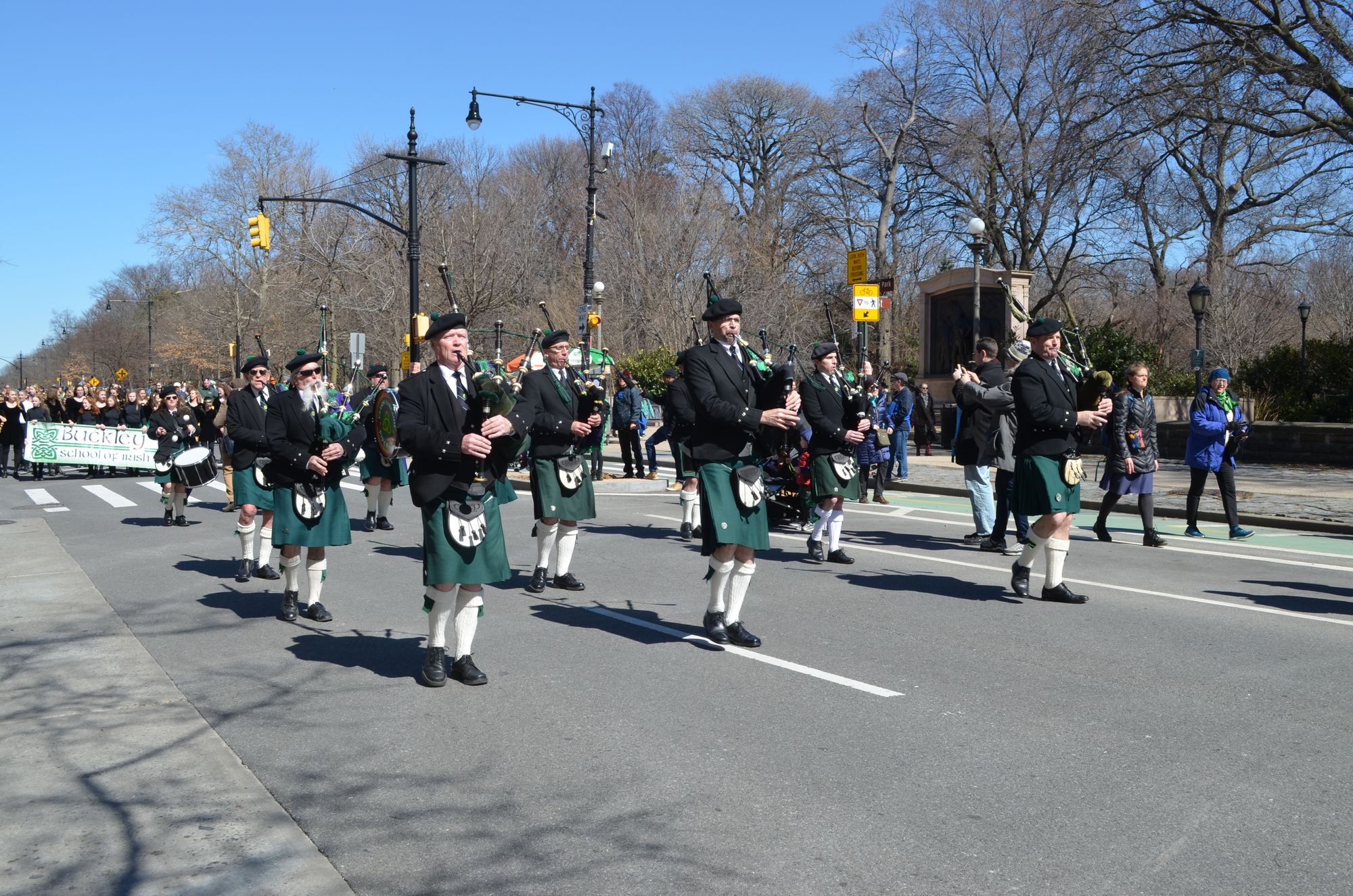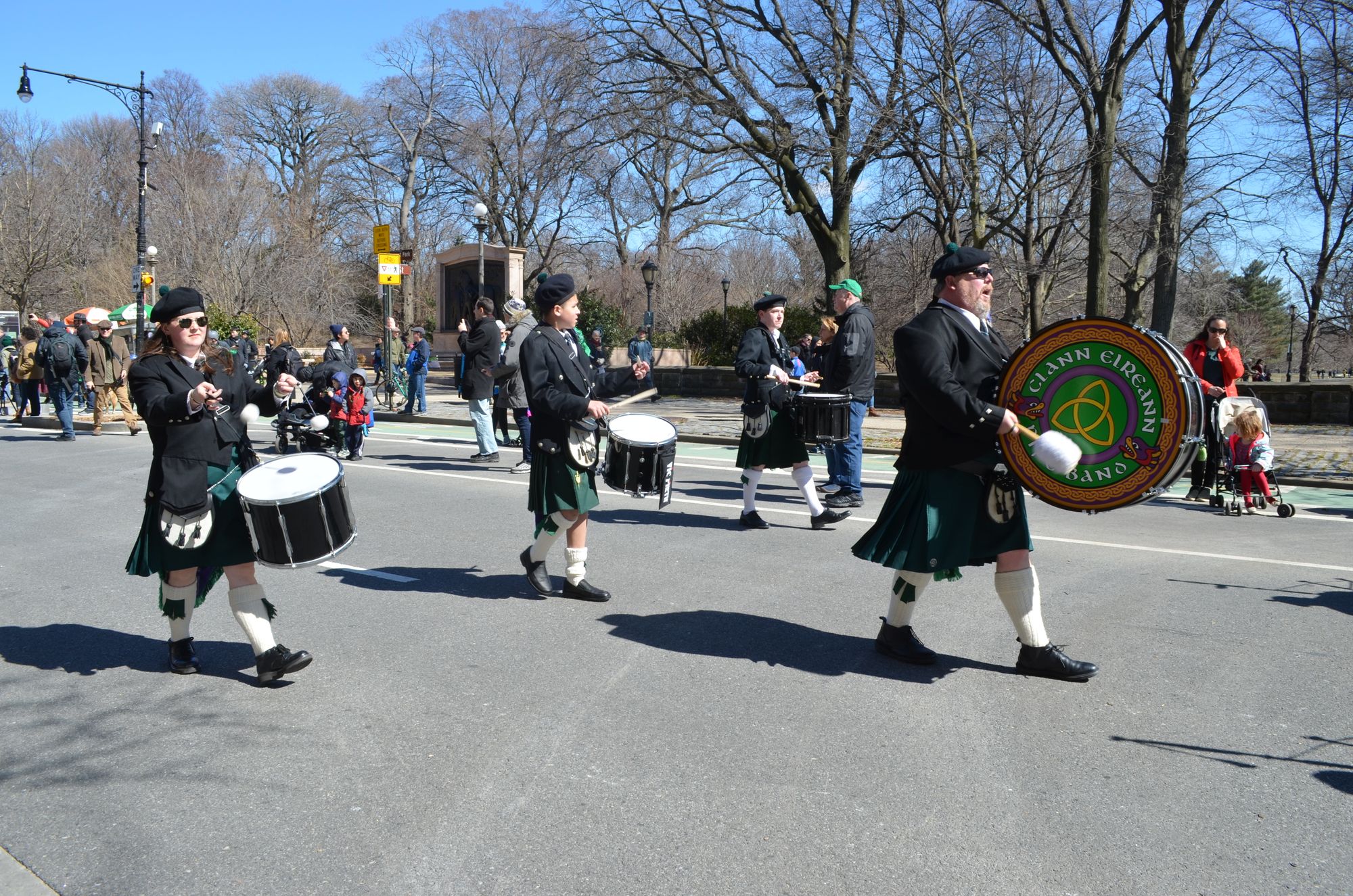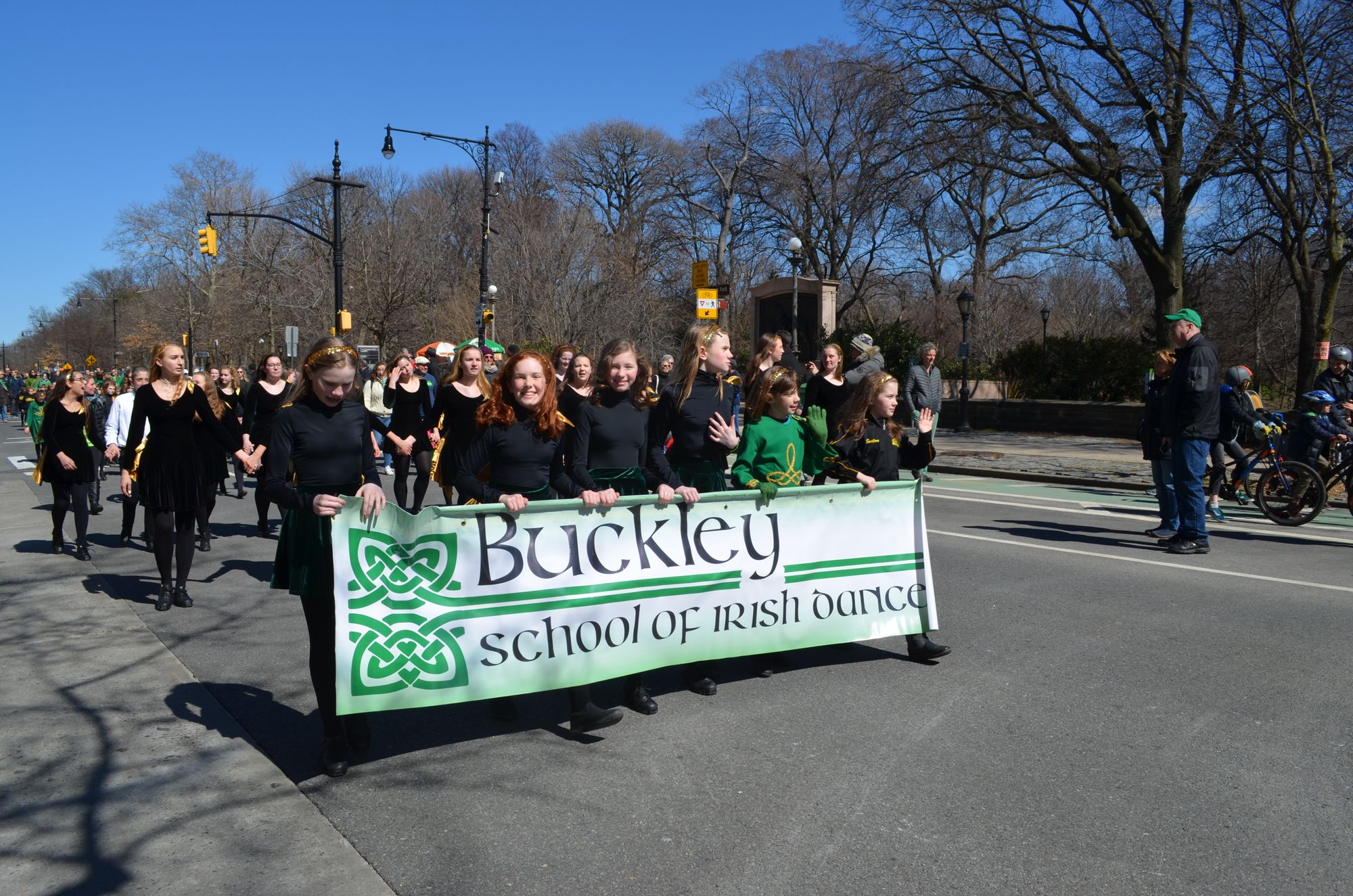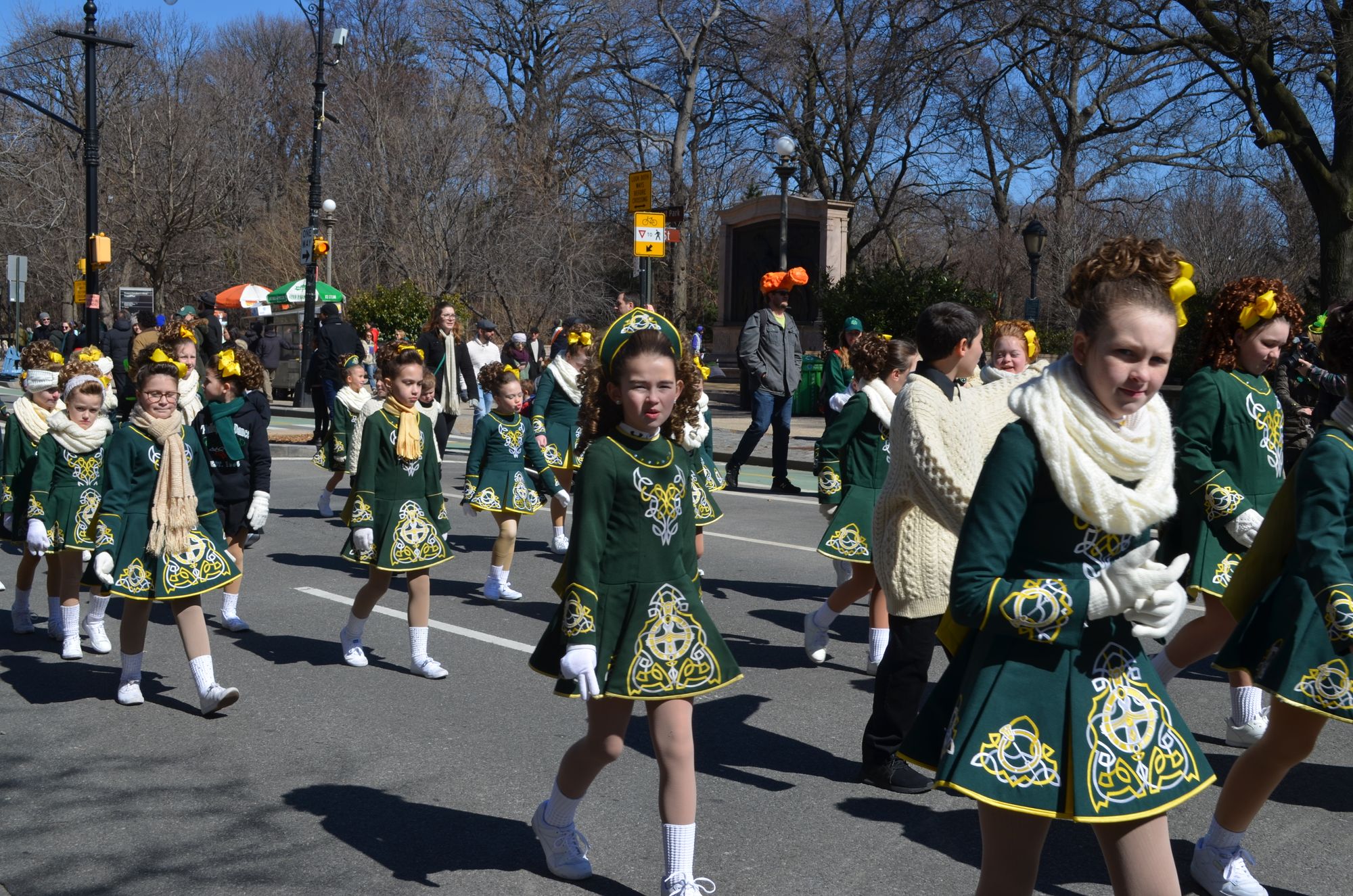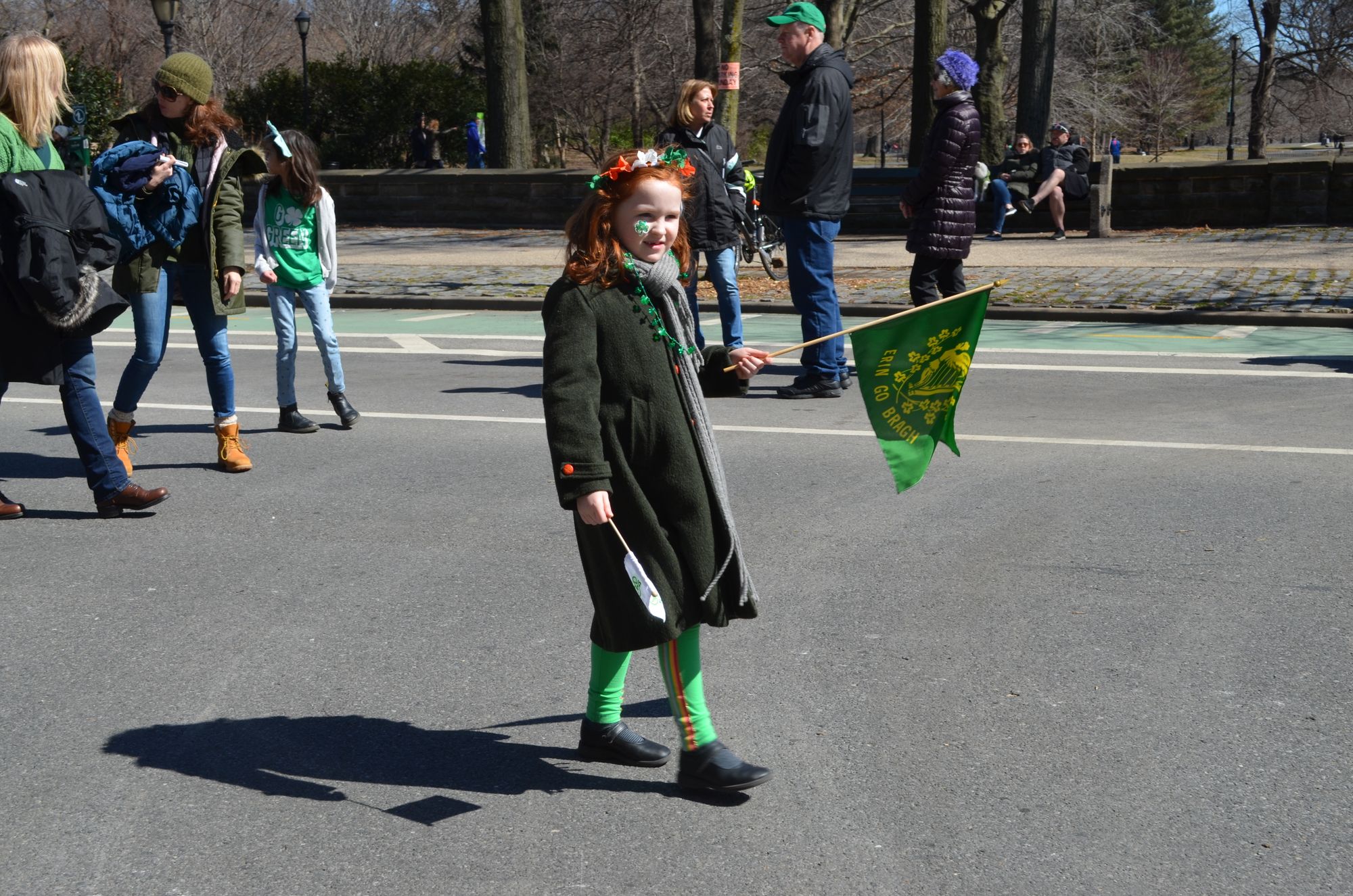 "We've come so far as an LGBT community and if you go to Ireland, they have come so far on LGBTQ issues. They voted overwhelmingly to pass marriage equality a few years ago [Ireland voted to extend civil marriage rights to same-sex couples in 2015], they currently have a gay prime minister…so much is changing over in Ireland and so much is changing here in America for LGBTQ issues that it really should be reflected in our parade here in Brooklyn," McMorrow added.
"I think all of us as human beings have a need to belong," said Fay. "We should not go through the experience of being outsiders, excluded, discriminated against…. To be excluded from a cultural celebration is discrimination and it doesn't reflect Brooklyn, it certainly doesn't reflect New York."
Fay recalled in 2000 when he launched St. Pat's for All, New York City's inclusive St. Patrick's Parade in Queens. He said one of his first supporters was Father Mychal Judge, the Chaplain of the New York City Fire Department who died on 9/11. Born in Brooklyn, Judge was "a very proud son of Irish immigrants from County Leitrim. He always said 'Irish of all people should not be excluding anyone, especially our own,' because we in our history were discriminated against for so many years," Fay explained. "Today I'm thinking of Father Mychal Judge who died on 9/11, how his spirit is hovering over us today. Today is a historic moment for Brooklyn, a historic moment for our Irish community in New York City, for the LGBT community."
But Fay insists the fight continue to make all community celebrations inclusive—the St. Patrick's Day parade in Staten Island still does not allow gay marchers. "In New York City, every community has its moment on the avenue," Fay said. "I would love to see us doing our best to make sure that all our cultural celebrations are inclusive and welcoming, above all, an Irish parade, should be about welcoming and inclusion. That's what we're known for, although we lost that, and today I think we've recovered that—in the year when the city is about to celebrate Stonewall 50. I'm so glad for all the young people watching that they see our St. Patrick's Parade in Brooklyn includes an LGBT group. It's the way it should be."
Though it's taken decades of pleading for inclusion, Fay is pleased with the progress. "I'm very grateful today and I'm very moved to be here. This is all we ever wanted was to be in this parade."