A Day At Green-Wood Cemetery
GREEN-WOOD CEMETERY – Strolling along its miles of pathways, relaxing by one of its ponds, or just admiring the scenery, Green-Wood Cemetery is a peaceful respite from the chaos of the city. Designated a National Historic Landmark in September 2006, Green-Wood Cemetery boasts 478-acres of lush landscapes and spectacular views—a perfect spot for bird watchers, nature lovers, history buffs, and fans of art and architecture.
The majestic Gothic Revival gate at the Cemetery's main entrance on 5th Avenue is itself worth a visit. Designed by Richard M. Upjohn, the towering double gateway is composed of brownstone and features limestone panels illustrating stories of death and resurrection from the bible created by sculptor John M. Moffitt. The stunning entryway was designated an official New York City Landmark in 1966.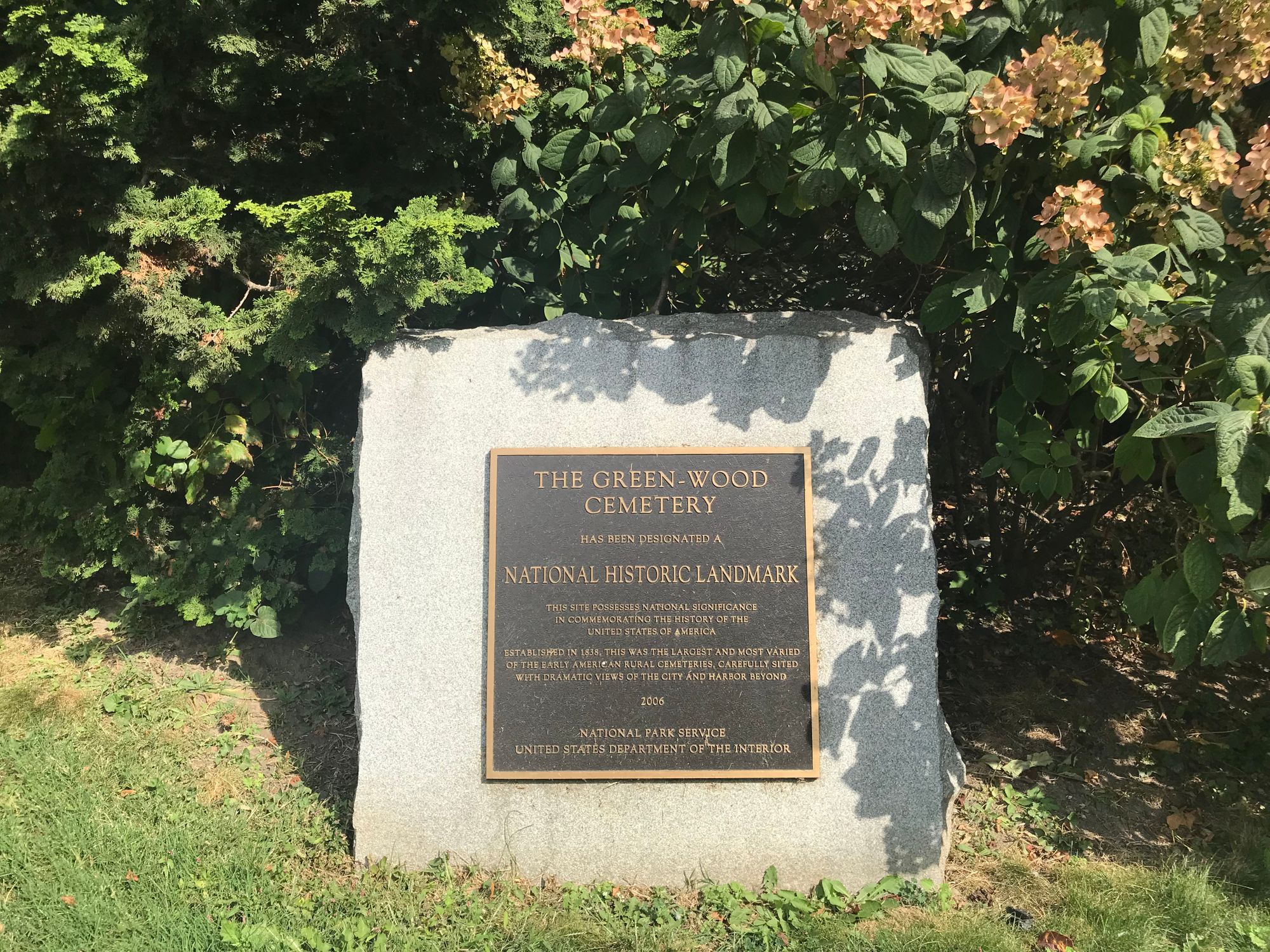 Founded in 1838, Green-Wood Cemetery is a registered member of the Audubon Cooperative Sanctuary System and is a Revolutionary War historic site, according to green-wood.com. The Battle of Long Island was fought across from the site in 1776. History enthusiasts will also enjoy searching for the final resting place of dozens of notable New Yorkers including artist Jean-Michel Basquiat, composer Leonard Bernstein, politician "Boss" Tweed, Brooklyn Dodgers co-owner Charles Ebbets, stained glass artist Louis Comfort Tiffany, New-York Tribune founder Horace Greeley, as well as many other historical figures, athletes, entertainers, and inventors. A team of volunteers has identified 5,000 Civil War and 161 World War I veterans who are interred at Green-Wood. The Cemetery is the final resting place of 560,000 permanent residents and features a vast collection of 19th- and 20th-century statuary, sculpture, and mausoleums.
The Catacombs is one of Green-Wood's oldest structures. Built in the 1850s, the subterranean crypt contains 30 burial vaults connected by a long central corridor. On September 21, artist Janine Antoni debuted her site-specific installation in the Catacombs. I am fertile ground features a series of photographs of various body parts displayed in elaborate gilded frames, reminiscent of religious iconography. The artist wrote in the exhibit's program, "I insert active bodies into the porthole of the icon, focusing the manifestation of the spirit into the body's movement, instead of the personhood of a specific saint or deity."
The far end of the space features a short set of stairs leading up to platform with the back wall covered in gold, lit from above by a large skylight. This niche is intended for reflection and contemplation, according to the exhibit's description.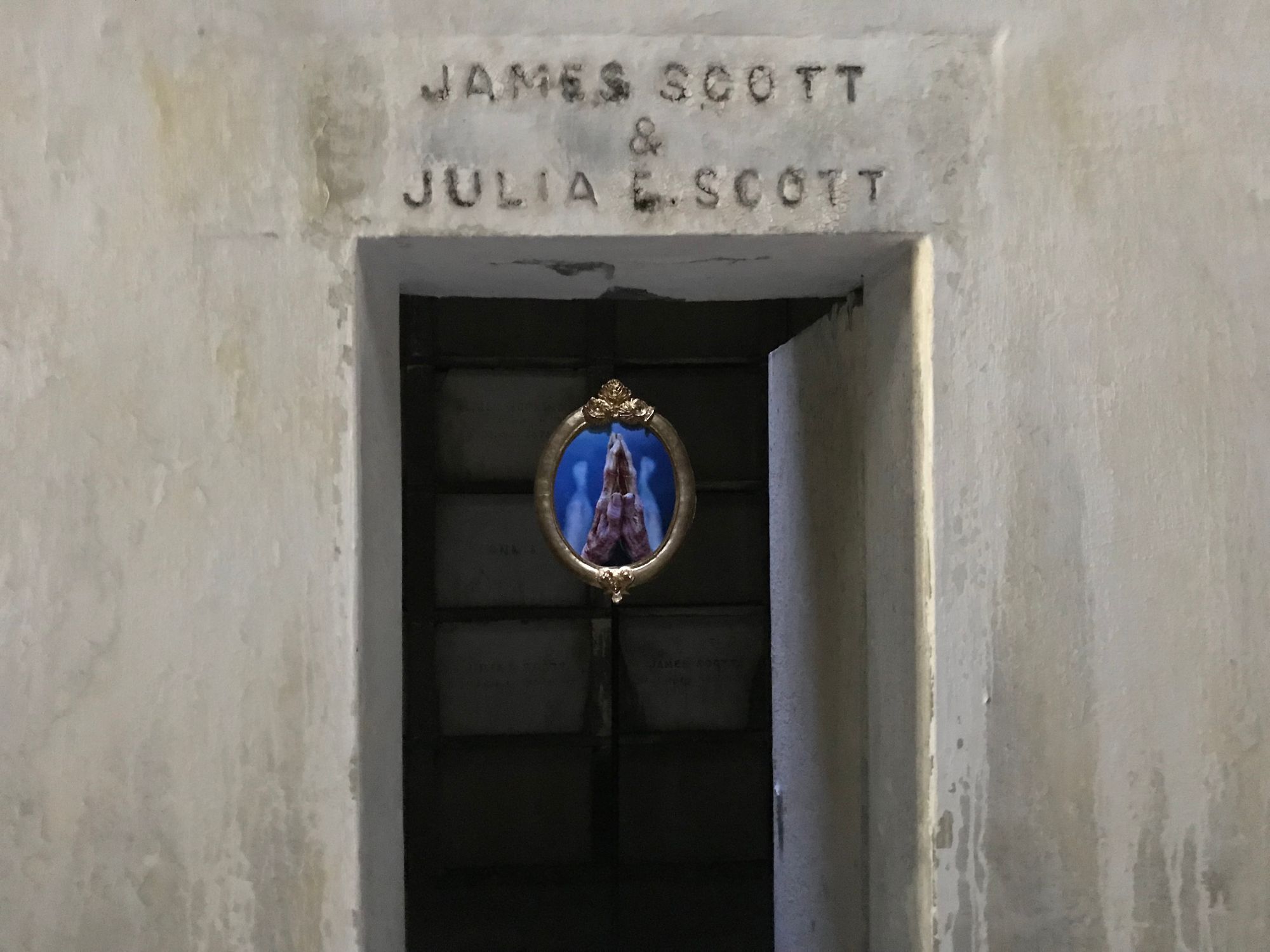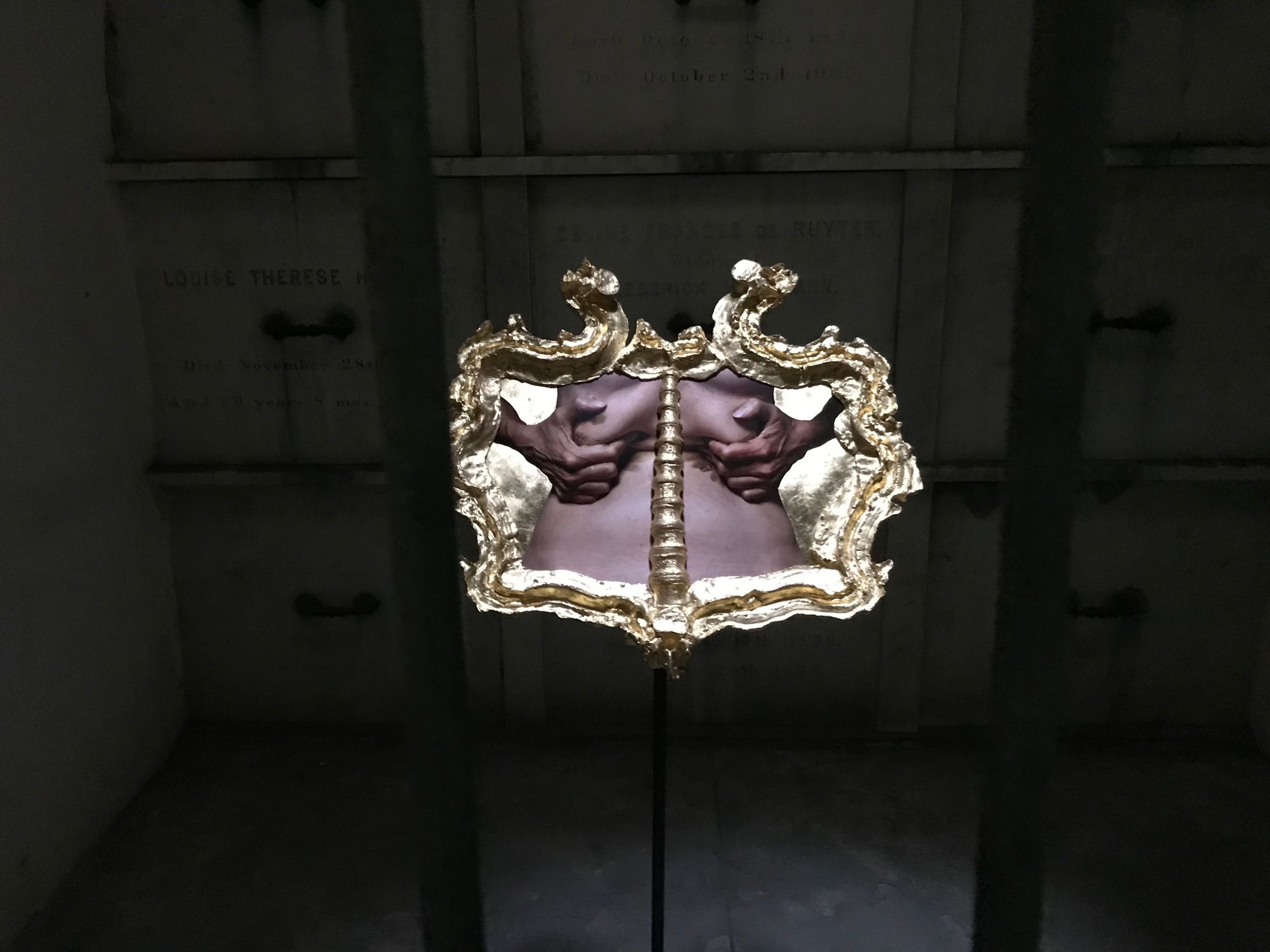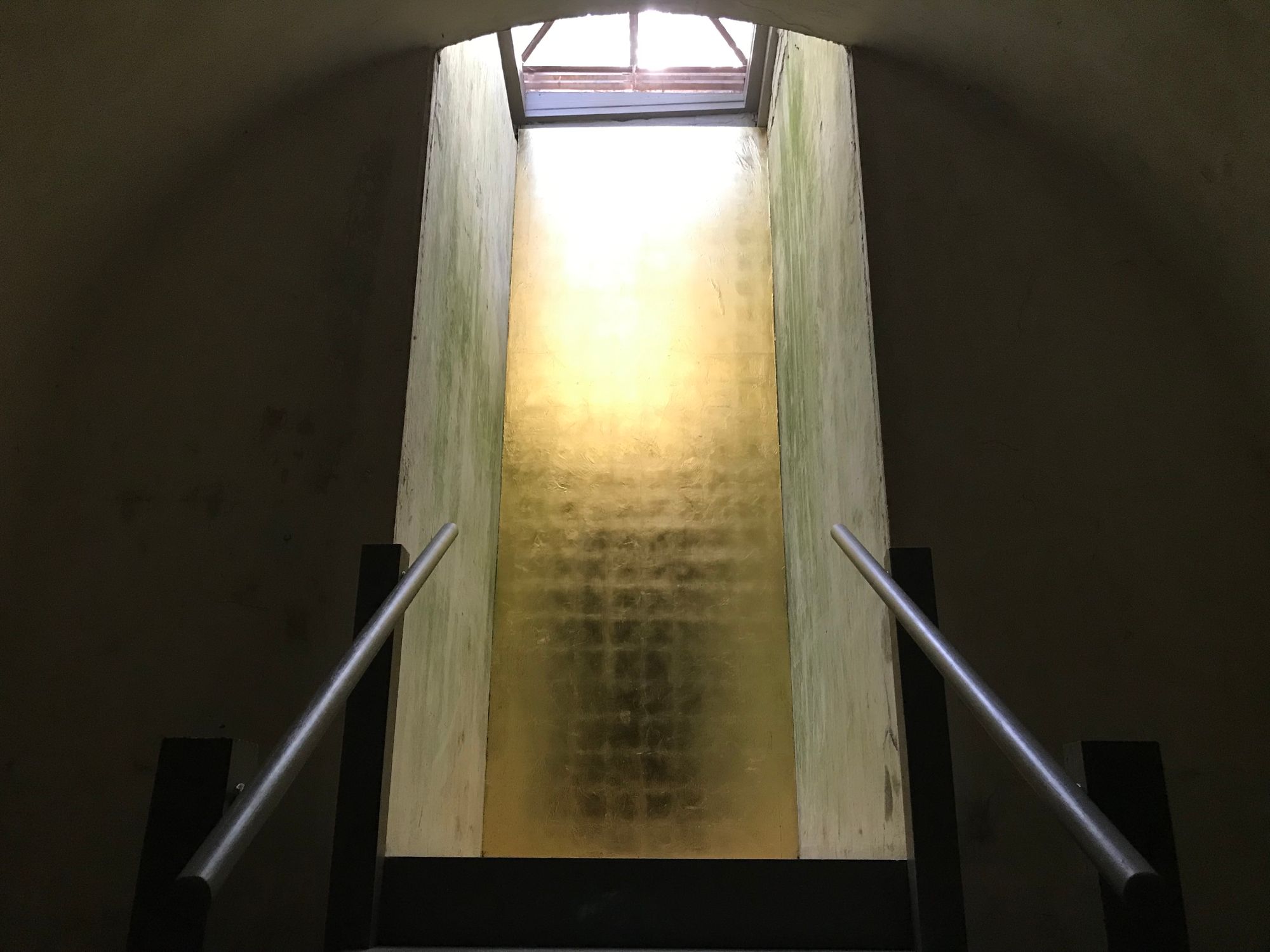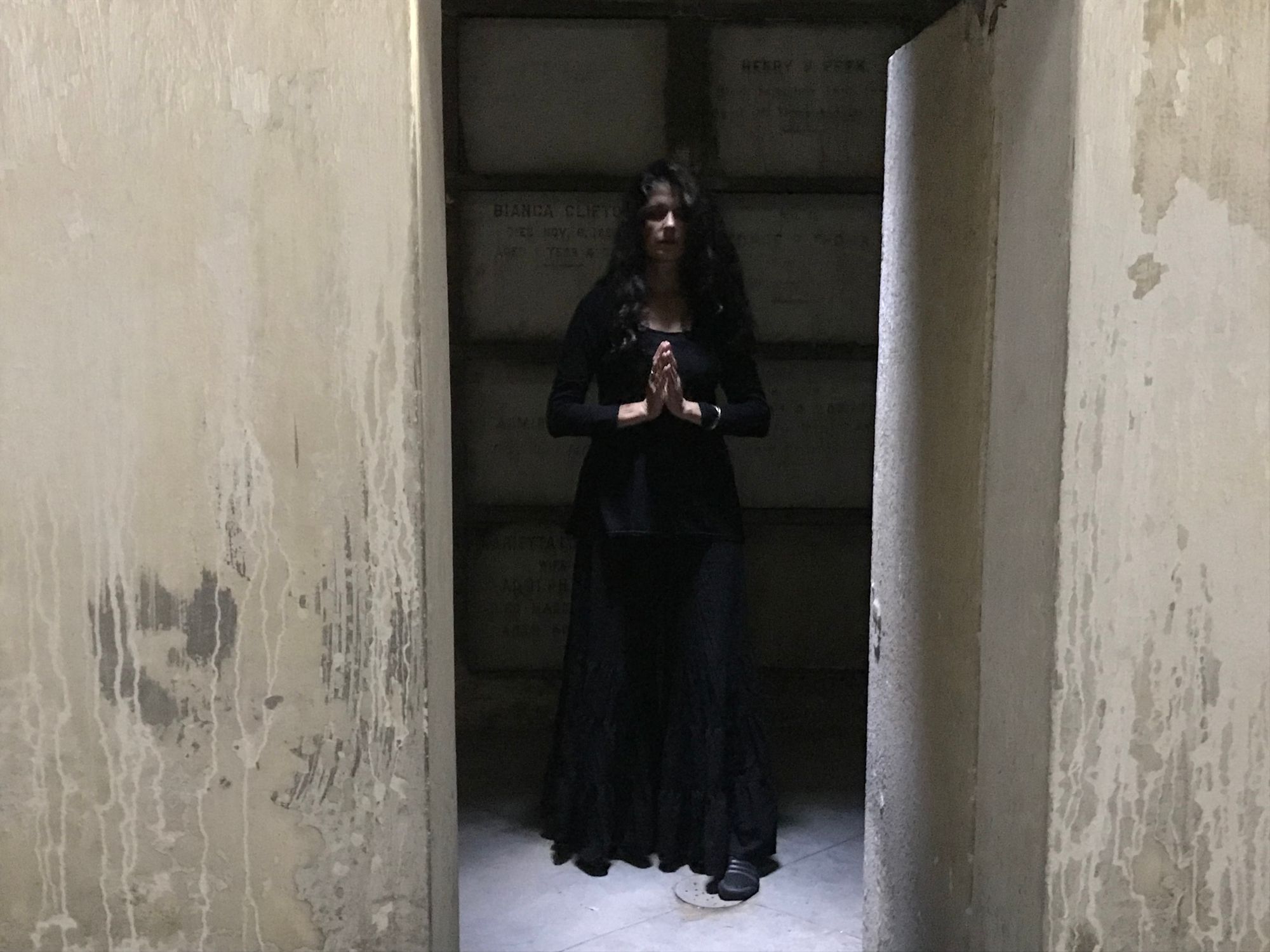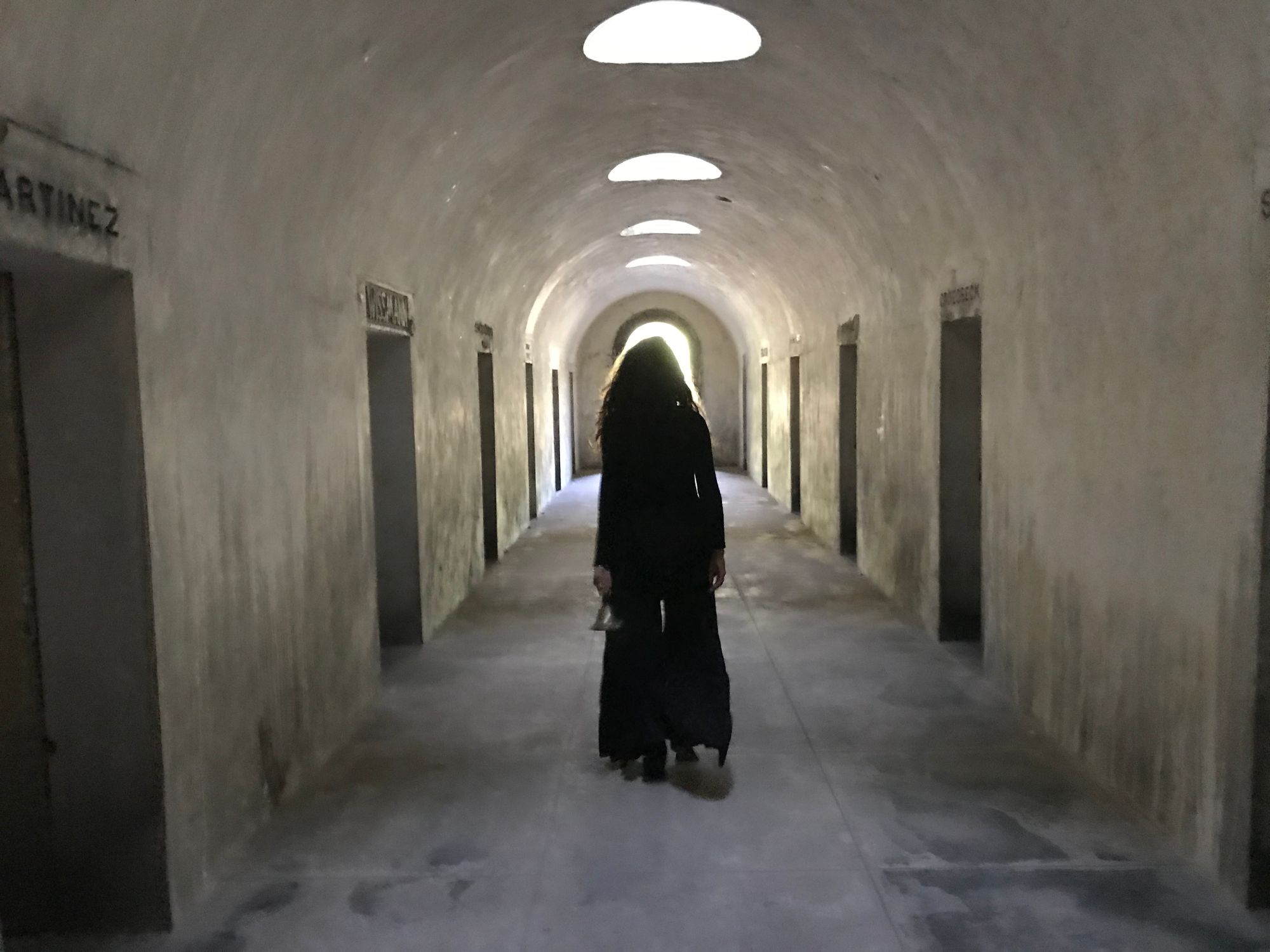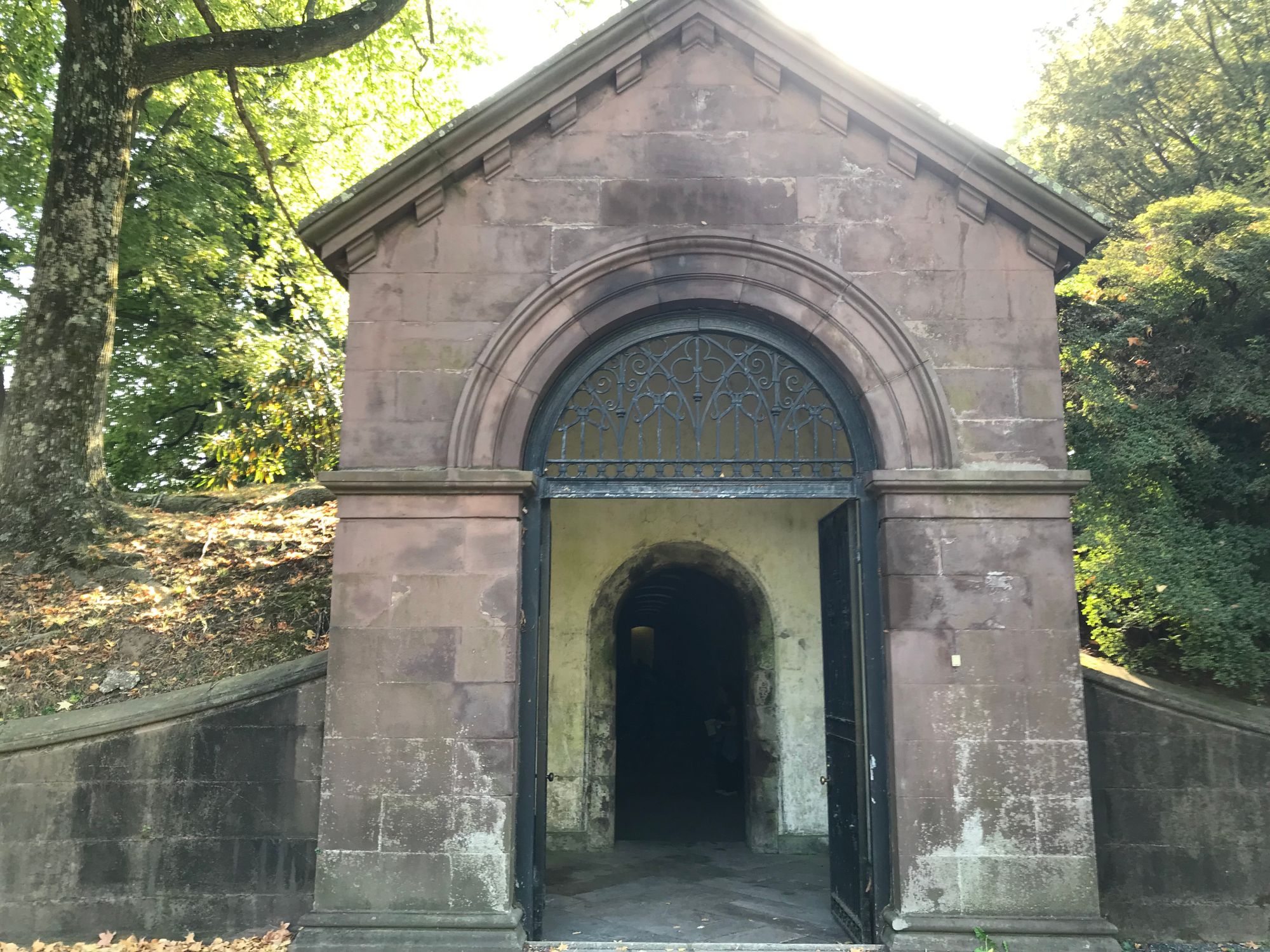 "Bones have been appearing in my work for the past few years, so the catacombs were the perfect place for me to come back to my love of the body and its bony armature," Antoni told Art News. "The vaults hold memories for the living, as our bodies do," she added.
Antoni was at the Catacombs when Bklyner visited on Saturday. Wearing her long dark hair loose and dressed in flowing black clothing, she rang a handheld brass bell as she emerged from one dark chamber and slowly walked down the corridor into another. Inside, barely lit by a skylight, she danced while chanting a meditative verse which included, "I stir the water, the water stirs me. In a storm, we dissolve. I love the water, the water's in me…." Antoni's voice can be heard softly throughout the space, creating a haunting and mesmerizing mood.
The artist will present various programs to accompany her installation, including a sold-out Artist Talk on Monday, October 21 (6:30pm to 8pm) where she will discuss her nearly three-decade career and I am fertile ground.
The Catacombs regularly hosts the musical series Concerts in the Catacombs as well as other special events.
Green-Wood is currently presenting another site-specific installation by acclaimed artist Sophie Calle. Here Lie the Secrets of the Visitors of Green-Wood Cemetery debuted in April 2017 and will remain onsite through 2042. The 25-year project invites visitors to write a personal secret onto a slip of paper and insert it into a marble obelisk designed by Calle. The artist will return periodically for the next quarter-century to collect the confessions and cremate them in a ceremonial bonfire. It may be best to jot down secrets ahead of time as paper and pencils are not provided at the site.
This past Saturday (Sept. 28) marked the return of Morbid Anatomy to Green-Wood Cemetery's Fort Hamilton Gate House. Now in its fourth season, Morbid Anatomy began displaying temporary exhibits in the lower level of the Gate House in the spring of 2018, nearly two years after The Morbid Anatomy Museum shuttered in Gowanus.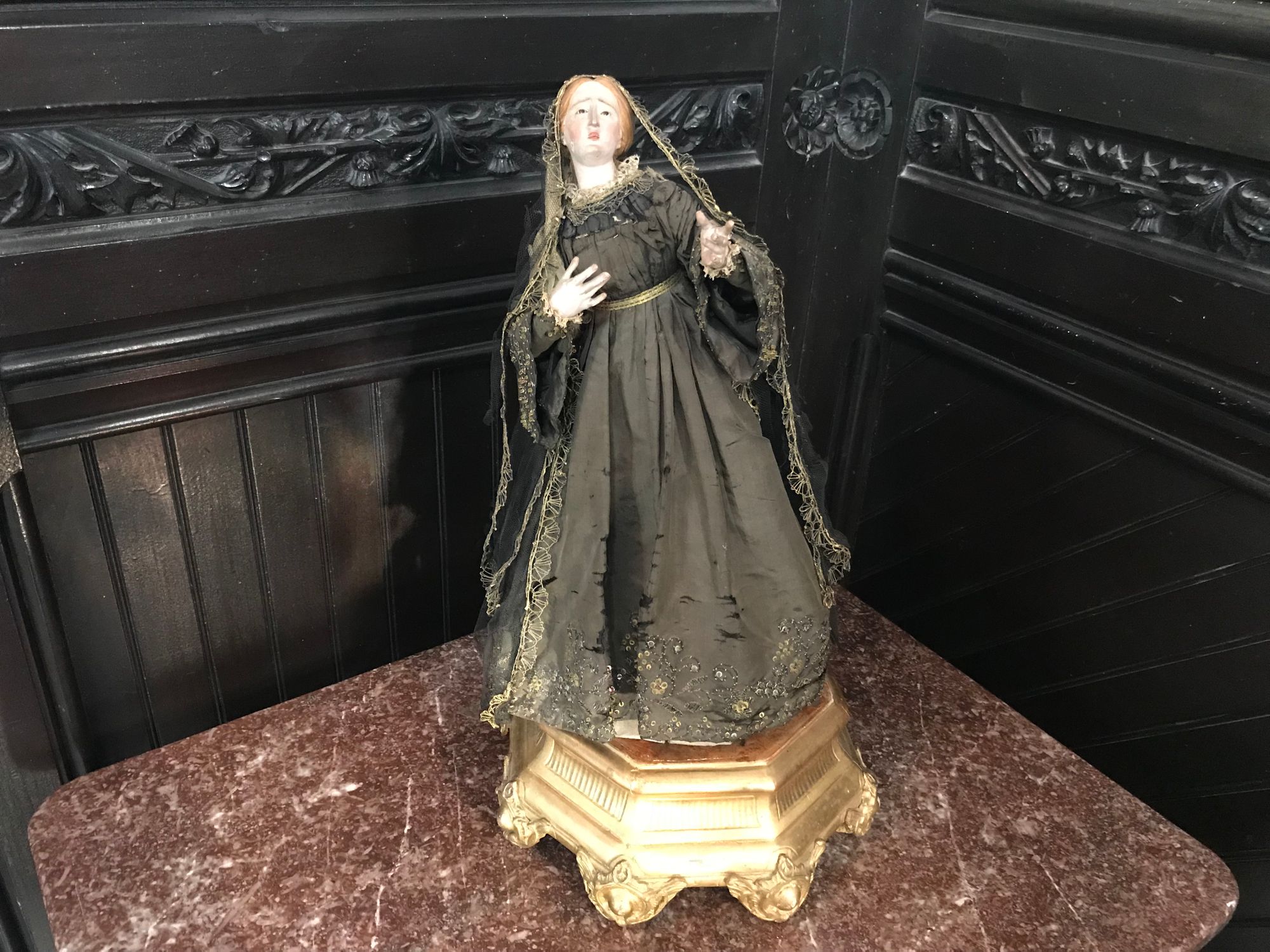 The current exhibit, Ladies of Sorrow: A Visual Exploration of Grief And Feminity examines mourning and womanhood through art and material culture from around the world.
The first exhibition The Morbid Anatomy Museum ever presented, at its former Gowanus home, was entitled The Art of Mourning co-curated by founder Joanna Ebenstein and Evan Michelson of Obscura Antiques.
"It focused, as the name suggests, on mourning arts, most of which were created by, and displayed in the home by, women," Ebenstein told Bklyner in an email. "In fact, most of the acts of memorialization and caring for the body–until they were outsourced to the male-run professional funeral home–were women's work. My colleague Laetitia [Barbier] thought it would be interesting to expand that idea into a broader approach that took in the many places where femininity and grief intersected, allowing us to include wonderful phenomena such as the Mater Dolorosa, the Virgin Mary in her aspect as mourning mother, with her heart pierced by daggers representing her seven sorrows."
Curated by Ebenstein and Barbier, Ladies of Sorrow features pieces from both their personal collections as well as Michelson's.
The upper level of the Gate House continues to showcase a curated selection of Morbid Anatomy's extensive library including books on art and medicine, medical museums, and embodiment. "We have added a number of new books. We have also installed a new temporary exhibition of objects related to the theme of the [main] exhibition, including some extraordinary dolls made by French artist Candice Angelini," Ebenstein noted of the library.
The most popular books focus on art and death, esoterica, alternative spirituality, and "gentleman's erotica," which Ebenstein says includes "early 20th century erotic books couched as a detached, anthropological interest in bodies and sex practices around the world."
When asked if Morbid Anatomy is seeking another permanent home, Ebenstein replied, "We are very happy at Green-Wood Cemetery. They are the perfect partner, in so many ways. It is a great honor to be a part of the exciting cultural offerings they—under the leadership of visionary Programming Director Harry Weil—are making available. We could not imagine a better fit, a better space, or better people to work with!"
On Thursday, December 12, Morbid Anatomy will host Now and at the Hour of Our Death: The Sorrowful Mother in Italy and Italian-American Communities, a discussion with Mallorie Vaudoise. Learn more and purchase tickets ($10) here.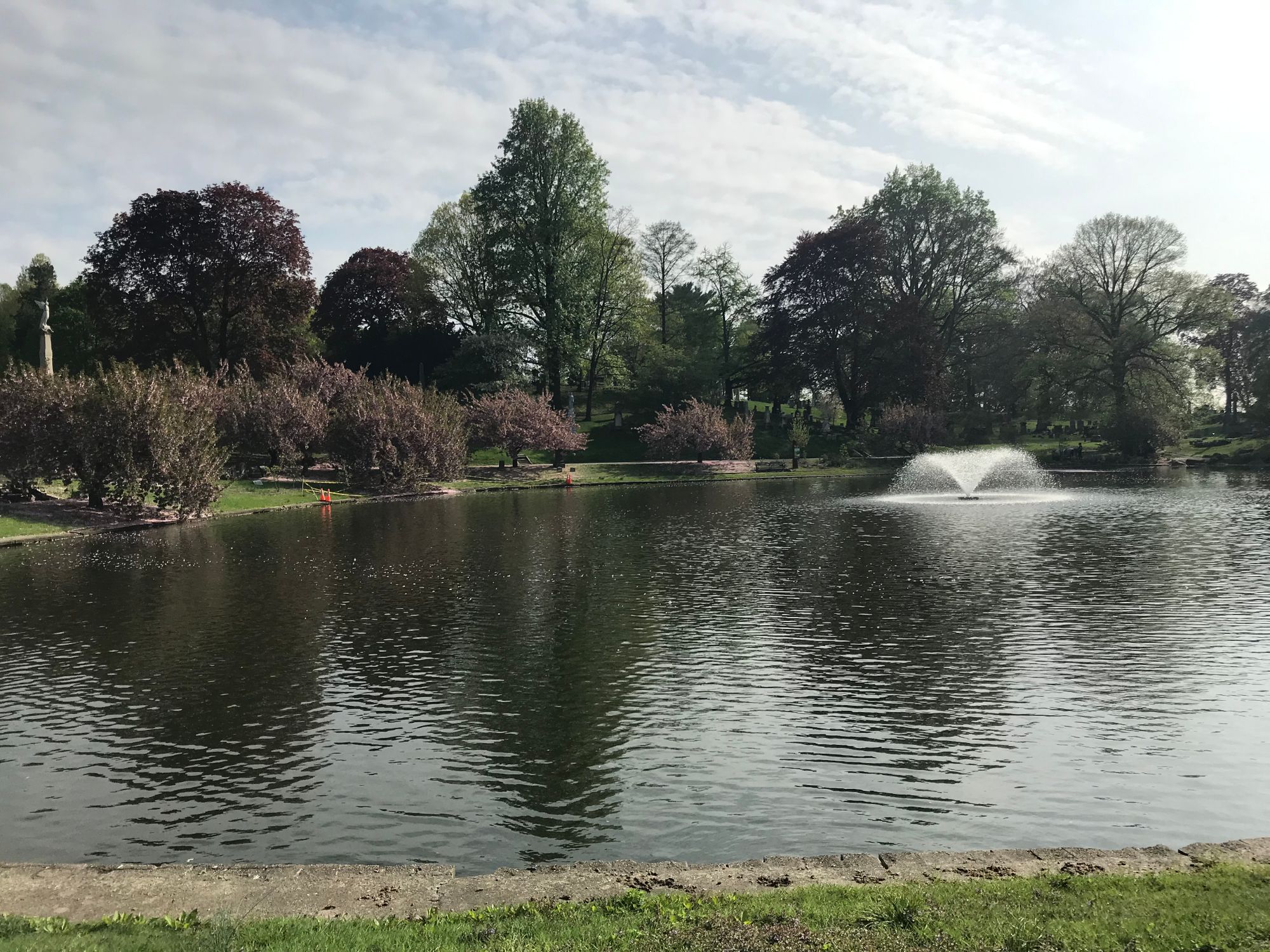 Green-Wood is hosting a variety of events throughout the fall. In October the Cemetery will present: Green-Wood At Night, evening walking tours; Tiffany at Green-Wood (Oct. 5), a tour of its collection of stained glass windows by Louis Comfort Tiffany and his staff; Saturday Strolls (Oct. 5), a 90-miute walking tour; Pergolesi: Stabat Mater (Oct. 8-10), a chamber music concert held in the Catacombs; Murder, Mayhem, and Disaster (Oct. 12), a guided tour of the final resting places of New Yorkers who met violent and tragic ends; and Nightfall (Oct. 25 & 26), an evening of music, performances, and moving images illuminated by candles.