5 Places To Get Your Sandwich Fix In Park Slope
Everyone who loves a good sandwich in Park Slope is hurting a bit these days, with the closure of Zito's, and Bierkraft reportedly temporarily shuttered for construction (and let's not even talk about our lingering pain over City Sub). But guys, don't worry! We've still got some pretty fantastic sandwiches in the neighborhood, and we've rounded up our top five favorite spots where the confluence of bread, meats, cheeses, veggies, and more may help you forget the places you might be missing.
Russo's Mozzarella and Pasta
312 5th Avenue, between 2nd & 3rd Streets, 718-788-6699
If you want a big old traditional sandwich, but you're looking for something a bit nicer or with a bigger selection than what you'll get at the corner deli, this is the spot for you. Russo's recently expanded into the old M&S space, adding to its nearby 7th Avenue location, bringing with it the great lineup of fresh pastas, prepared foods, and, yes, those sandwiches. We'd recommend anything with their house-made mozzarella, and that you wear elastic-waist pants — these sandwiches are big enough to last you two meals.
Pickle Shack
256 4th Avenue, between President & Carrol, 347-763-2127
This is the spot for those who want the beer/sandwich combo they love at Bierkraft — just don't expect the meat. The vegetarian and vegan menu has some very tasty options, including a BBQ pulled oyster mushroom that will probably keep carnivores from feeling like they're missing anything. As for the beer, they've got an interesting selection (while not, of course, as deep as that at Bierkraft), and happy hour gets you $2 off draft beers and $3 Lawnmower Lagers every Monday-Friday from 4-6pm.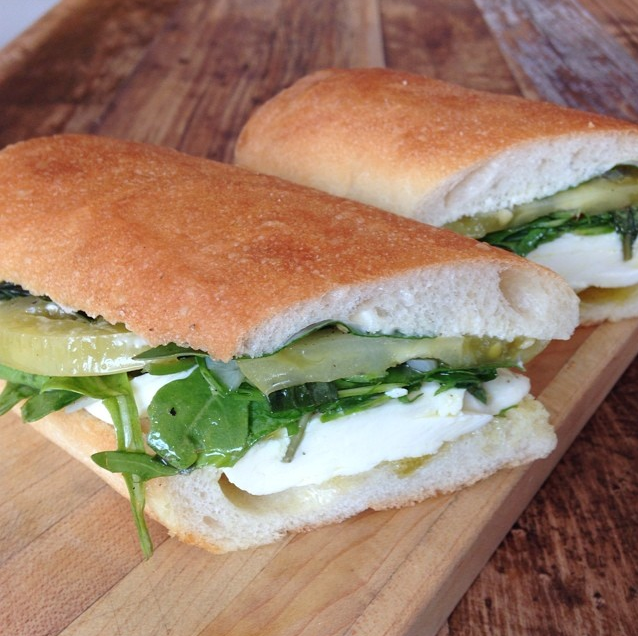 BKLYN Larder
228 Flatbush Avenue, between Dean & Bergen, 718-783-1250
Want to grab some bites for a picnic to impress in the park? Here's your answer, with fresh, interesting sandwich options that change up seasonally. You're going to pay pretty handsomely for it — that summery sandwich pictured above will run you $10 — and unless you're way more disciplined than us, you'll find it's hard to leave without getting at least a little something else, whether it's something from their great cheese selection or some house-made gelato.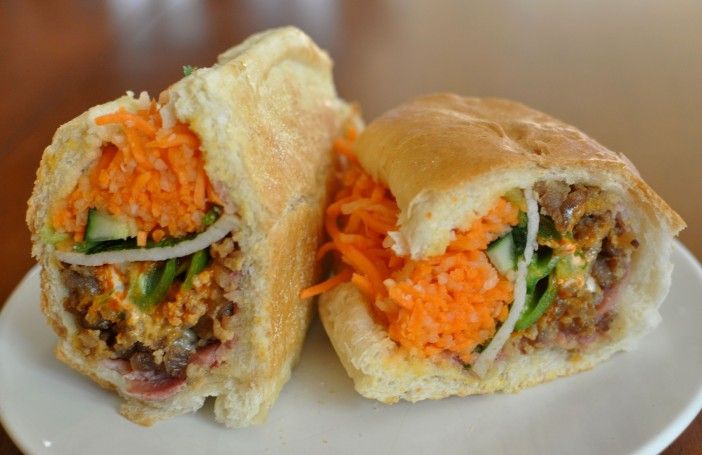 Banhmigos
178 Lincoln Place, between 7th & 8th Avenues, 718-399-3812
If you're looking for a new spin on the classic Vietnamese banh mi sandiwch — usually cold cuts and pate piled onto a baguette with crisp, pickled vegetables — they've got a few interesting options, like one with beef short ribs, or another with chicken-flavored tofu. And sure, there might be some places in the city where you can get a banh mi for around $4, but in our area — which has no shortage of them — you're not going to find anything under $6, so the ones here aren't a bad deal at $6.50. Plus, they've got a stamp card, so after eating nine sandwiches, the 10th is on them.
MeltKraft
442 9th Street, between 7th & 6th Avenues, 347-889-6290
Speaking of sandwiches we've got in spades, the grilled cheese is well represented in the Slope. But if you're looking for some of the best-quality cheeses in unique sandwich combinations — the Melter Skelter has BBQ potato chips in it! — then this is the only place to be, with really delicious Valley Shepherd cheeses getting melty between slices of bread. All that plus a pretty neat selection of beers and places to sit outside.
Got a favorite place for sandwiches in Park Slope? Share your picks in the comments below!